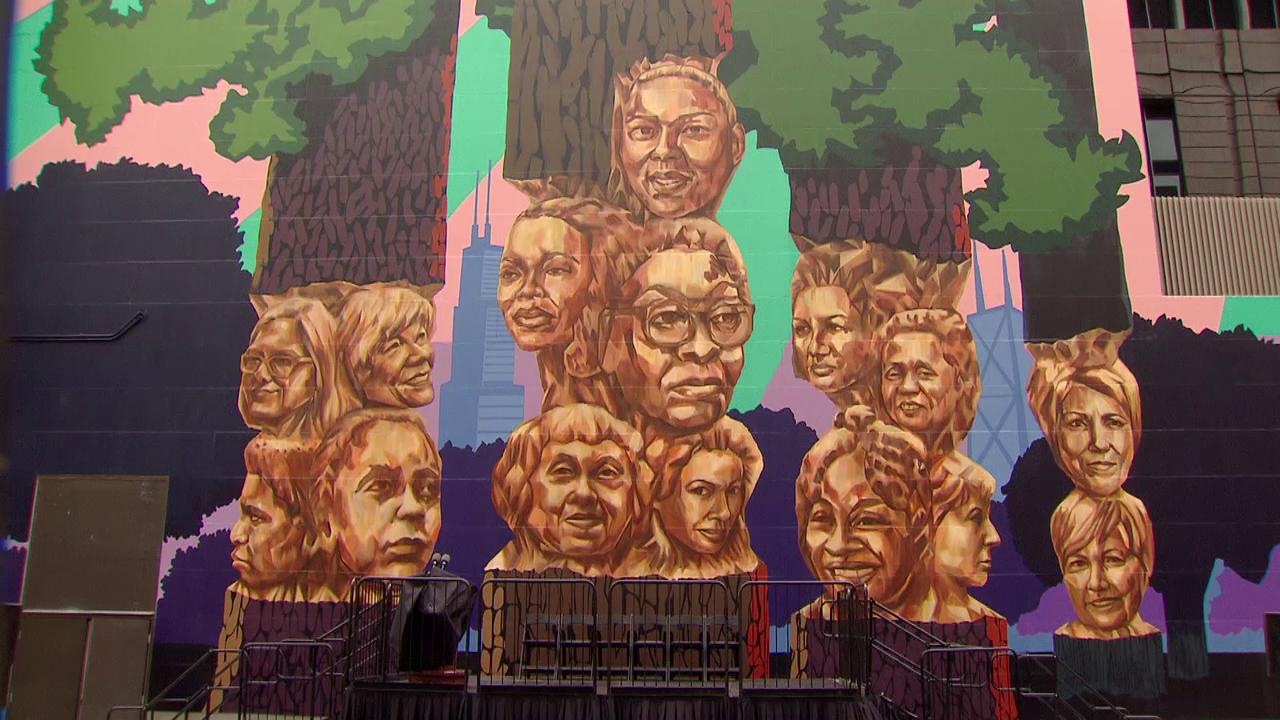 "Rushmore" by Kerry James Marshall (WTTW News)
The difference between graffiti and public art is generally in the eye of the beholder – and for some, they are one in the same. But discerning between the two will get a little easier for city crews in Chicago, thanks to the launch of a mural registry.
The registry was proposed last year after city workers erroneously removed several murals, including one that had been commissioned by the Lakeview Chamber of Commerce.
According to city officials, the registry was developed to help communities identify, explore and preserve murals, including graffiti art, throughout Chicago neighborhoods.
"Chicago is home to talented artists, working across all mediums, creating public art and adding to the cultural fabric of our communities," said Mayor Rahm Emanuel in a statement. "This registry will strengthen Chicago's legacy of public art and enable artists to share their work with the world."
Artists, organizations and property owners may register completed murals by submitting an application. Murals must be in good condition in ordered to be registered, according to the application.
City officials will not register murals if they contain known gang symbols or depict "an unreasonable or offensive act, utterance, gesture, or display that creates a clear and present danger of a breach of peace or imminent threat of violence," according to the application.
Approved murals will be assigned a unique mural registration ID and receive an official emblem from the city of Chicago, which must be affixed to the mural within 30 days of receipt. There is no cost to register murals.
The registry will be maintained and updated regularly by the Chicago Department of Cultural Affairs and Special Events.
"Not only will the new registry help protect these critical cultural assets, it will also create a portal for the public to access and explore where murals are located in every corner of the city," said DCASE Commissioner Mark Kelly in a statement.
The city will not be responsible for maintaining registered murals or protecting them against vandalism. DCASE reserves the right to remove murals from the registry for various reasons, including if they contain prohibited content or have become significantly altered or damaged, according to the application.
If an owner chooses to remove a mural from the registry, they must notify DCASE at least seven days before removal or alteration of the mural, according to city officials.
DCASE will hold information sessions about the mural registry and its registration process on Monday, April 22 (5-6 p.m.) and Tuesday, April 30 (noon-1 p.m.) at the Chicago Cultural Center's Millennium Park Room (78 E. Washington St.). City officials encourage artists, arts organizers and business/property owners to attend.
Contact Kristen Thometz: @kristenthometz | [email protected] | (773) 509-5452
---
Related stories:
After Mistaking Murals for Graffiti, City Considers Public Art Registry
Keith Haring's Chicago Mural Speaks to Youth, Artists
Kerry James Marshall Unveils Monumental Mural in the Loop
Pilsen Murals Blend Art and Activism
Why a Chicago Building Appears to be Cracked Like a Melting Iceberg
---