During a brief but dazzling career, American artist Keith Haring brought street culture to museums and public spaces all over the world. In 1989 Haring visited Chicago and worked with local high school students to create a massive mural in Grant Park.
Parts of that mural are now on display at the Chicago Cultural Center. We spoke with some of those 1980s teenagers who worked with Keith Haring – and grew up to become artists themselves.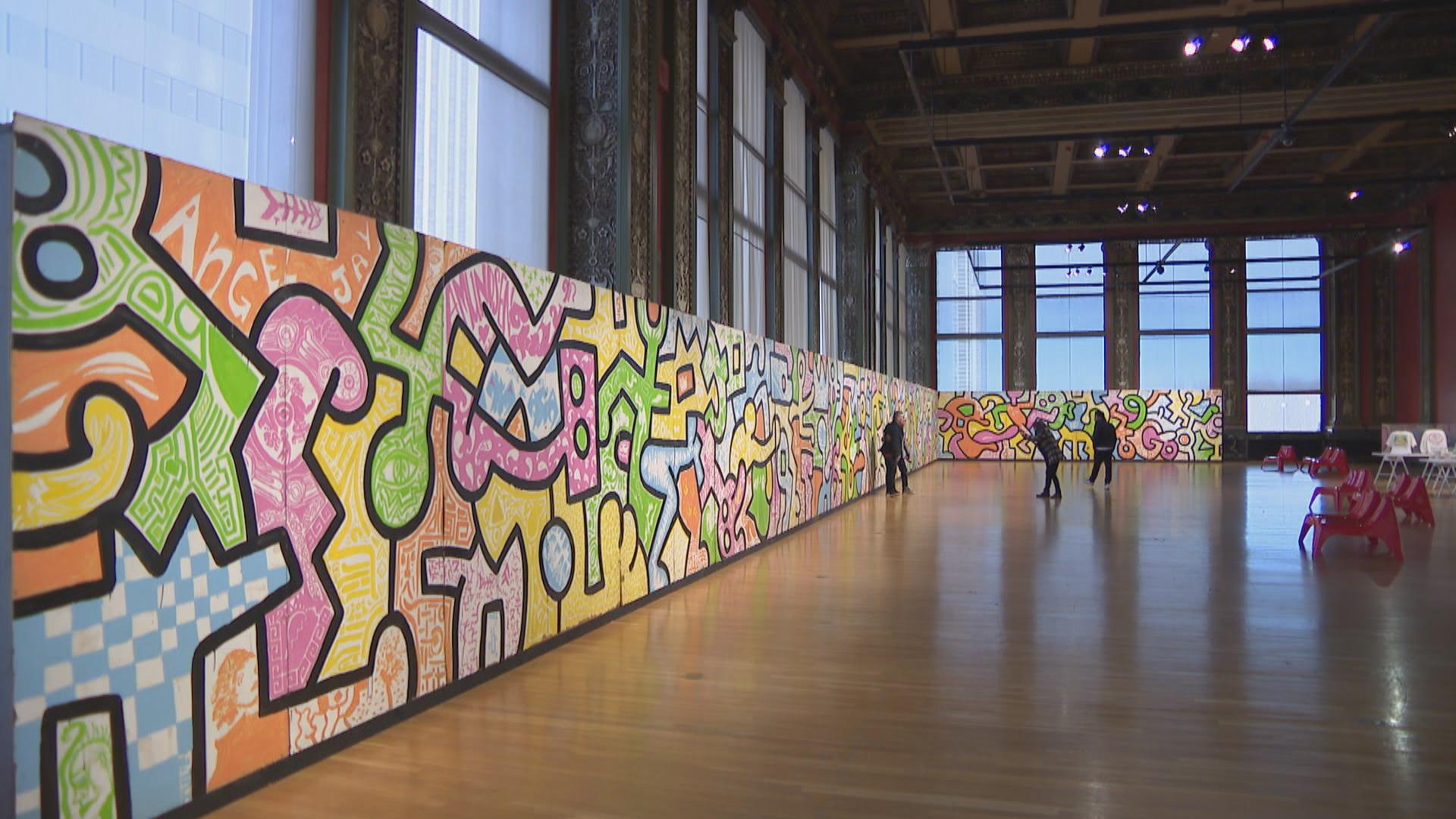 TRANSCRIPT
Phil Ponce: At the Cultural Center, 36 panels add up to 144 feet of a mural painted in 1989. This graphic ribbon of color is the product of Chicago Public Schools students, with guidance from the artist Keith Haring.
Keith Haring: The idea is each shape is a different color.
Ponce: In May of that year, a WTTW camera crew followed Haring and his young team as they executed a nearly 500-foot long mural on the north end of Grant Park on the site of what is today Millennium Park.
Eddie Alvarado, artist: It's good to have her around. I haven't touched this thing in 30 years. 
Ponce: Recently, three of those former students revisited the mural they helped to paint nearly 30 years ago. Each of them is now a working artist in Chicago.
Anthony Lewellen, artist: As an adult you can look back at things that happened to you when you were younger, and start to kind of break them down and analyze and understand them a little bit better. But he had a huge impact on me. And it was definitely a seed-planting kind of experience. 
Anthony Lewellen
Alvarado: He's one of the reasons that I'm still doing what I do. His art is very accessible, and it's fun. It's public. It's a $20,000 painting or you could get a T-shirt for $20.
Erik DeBat, artist: Getting the opportunity to meet someone that you kind of looked up to and, you know, having him mentor you was pretty fantastic.
Ponce: 500 Chicago Public Schools students from 63 area high schools helped paint the 488-foot mural. But first, Haring met them and offered career advice.
Haring: If money is the goal, I don't recommend it. If you want to make money, you should get into banking or real estate or something else because it's not a reason to be an artist. But if you're an artist, you are whether you like it or not.
Ponce: Then he provided the blueprint for his largest mural to date.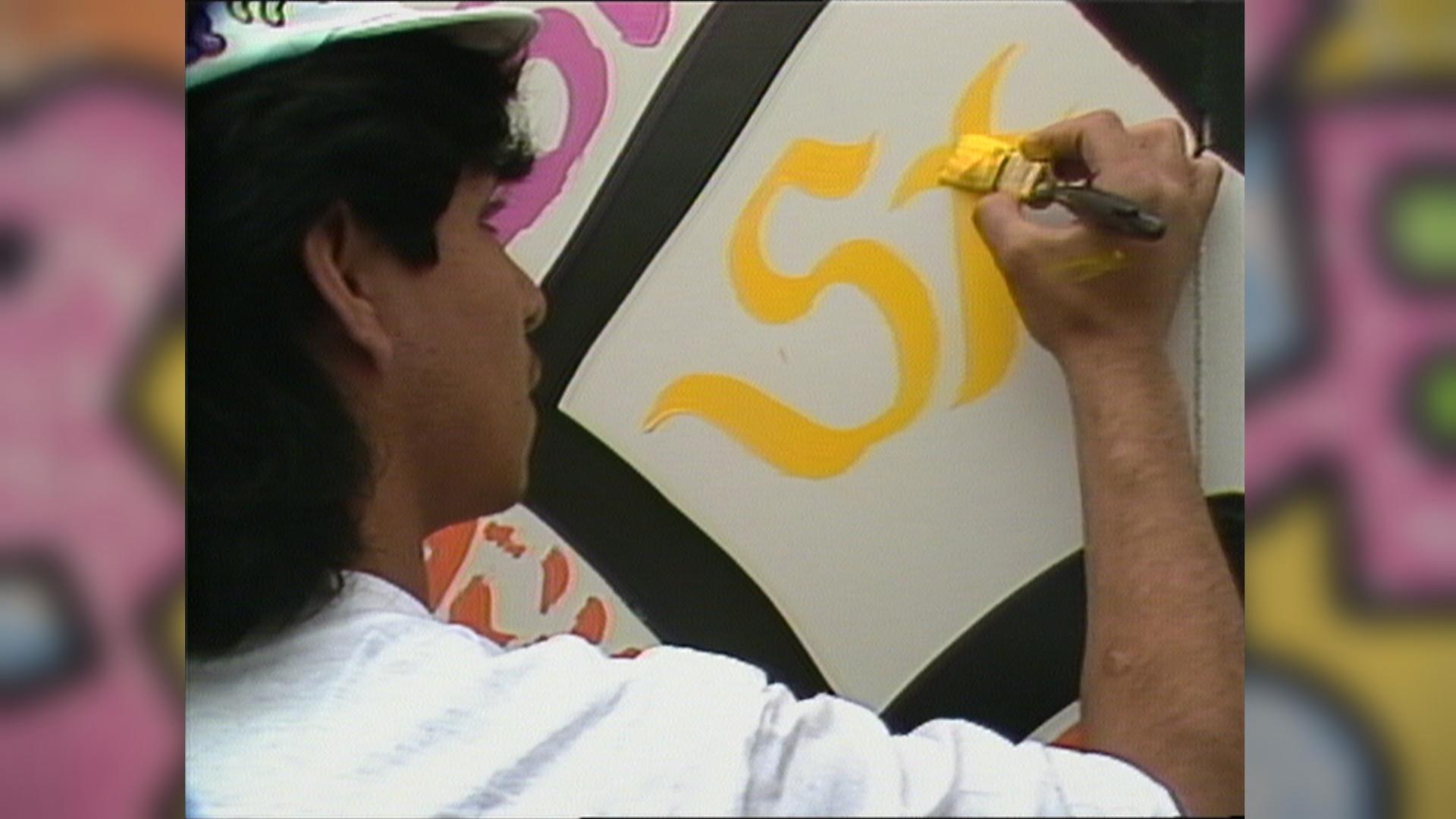 Nathan Mason, curator: He painted the entire black outline of the mural in one day, in about 10 or 11 hours. Keith always enjoyed working with kids and it was part of him thinking about a legacy. He liked to do it. He liked to do public art. He also did not charge for public art, because he was making enough money that that was not the issue, and then it allowed a great deal of creative freedom.
Ponce: Haring first attracted attention in the 1980s with his graffiti-like drawings on New York City subways. Before long, he was an artist in demand around the world.
Haring came to town at the invitation of Irving Zucker, a Chicago Public Schools teacher who had mutual friends in the art world. The young artists who worked with Haring remember the experience.
Lewellen: Here was somebody who was extremely successful and really cool to hang out with, he seemed like a regular person, to have somebody at that level of success be that close to you, just kinda raised the bar really high in terms of what was possible.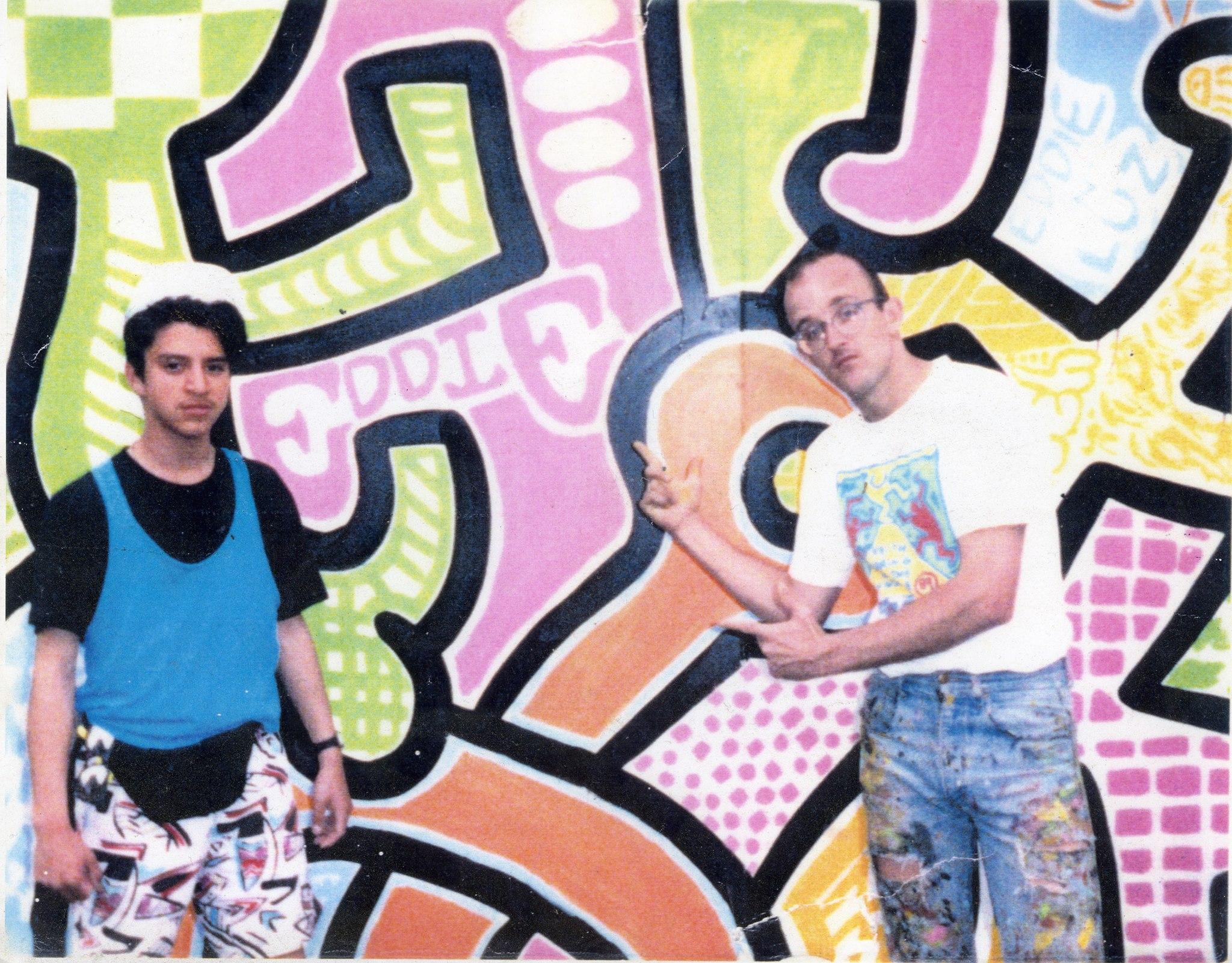 Eddie Alvarado and Keith Haring in 1989.
Alvarado: Super cool, laid-back, I mean ya know, just like one of the guys. I mean, a lot of artists have these big egos but he was just like one of us. He just hung out, we kicked it, and I think we might've had some Burger King.
Mason: These 36 panels have been hanging for many years in the CTA passageway from the station to the terminal at Midway airport, and because Midway is about to undergo an extensive renovation, that passageway is being rebuilt, so the mural had to come out of it. The mural will not be going back. CPS is coming up with a strategy to figure out where the mural will go, and probably back to various high schools.
Ponce: Other panels exist in Chicago Public Schools, but there are many that are unaccounted for. Chicago Tonight asked CPS for an update on the status of the missing mural pieces, but we didn't hear back from them in time for this story.
Haring: I'm still a kid at heart, in my head I'm still 15 years old and I think part of the reason that I wanted to – that I keep doing things like this is to stay young in a way or to stay in touch with it.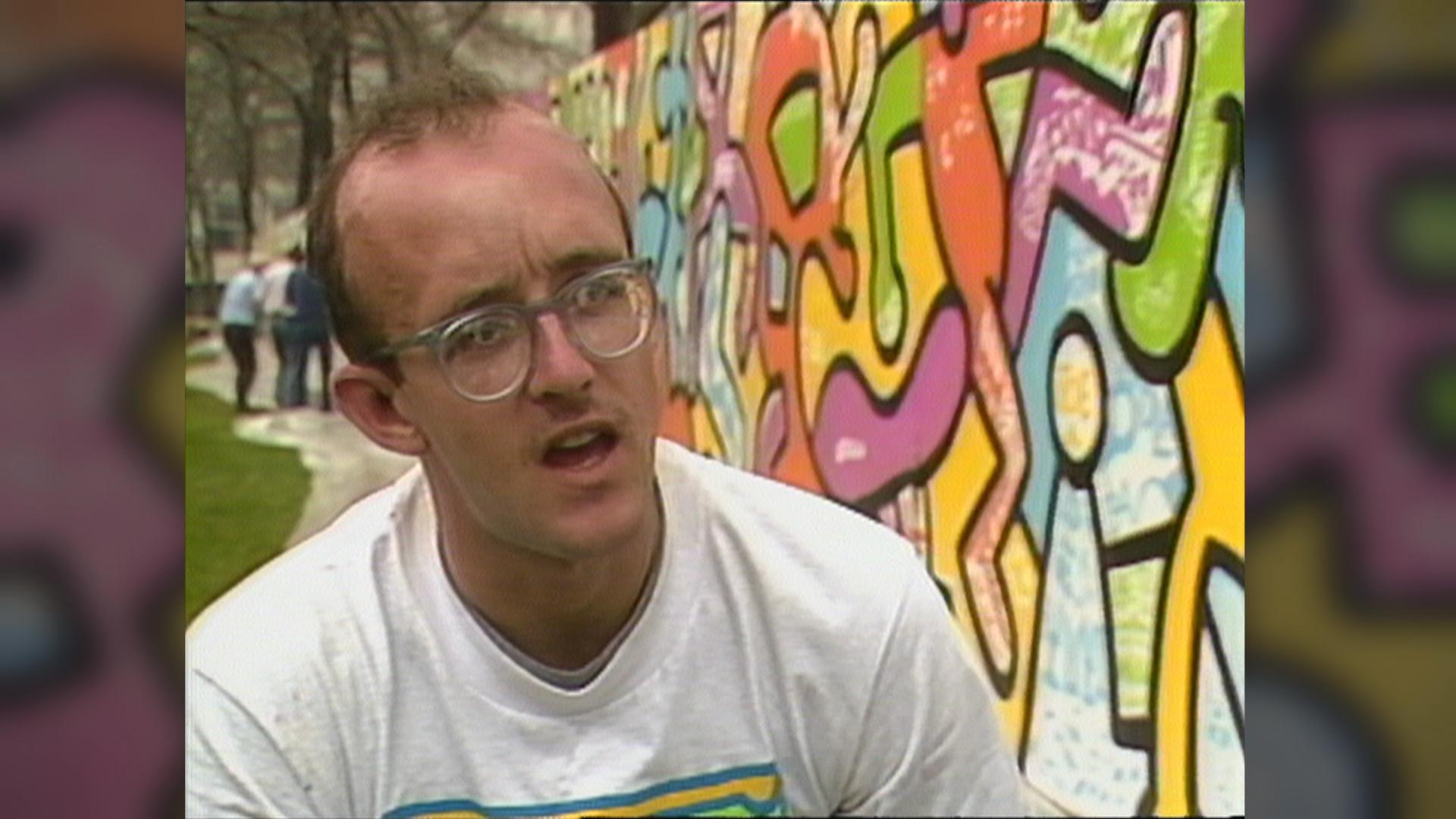 Keith Haring
Ponce: In February 1990, just nine months later, Keith Haring died of AIDS-related complications at the age of 31.
Mason: His humor, his virtuosity in drawing, his characters all touched people back in his day and still do today.
Alvarado: It's universal, man. I mean it just, it just speaks to you.
DeBat: It's really amazing that this has finally happened, that we're able to see it and talk about all this stuff. I think the only thing that would make it better is if Keith was here with us. 

More on this story
Keith Haring's Chicago Mural project became the inspiration for Gallery 37, Chicago's long-running arts education program. The exhibition on the mural will be at the Chicago Cultural Center until Sept. 23.
---
Related stories: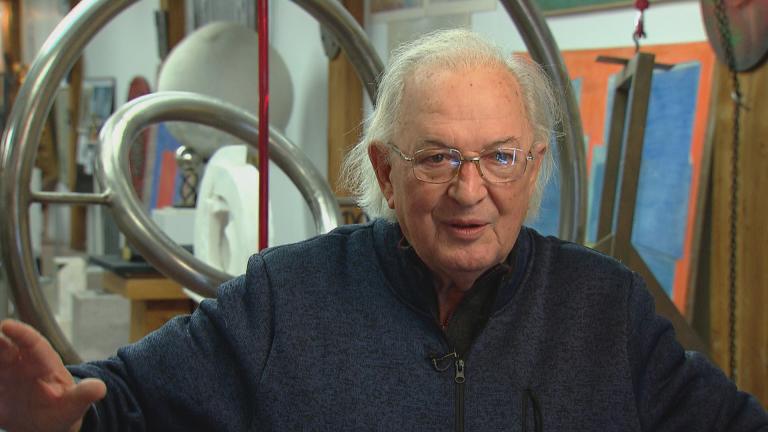 Inside the Studio of an Italian Sculptor Who Made His Name in Chicago
Jan. 9: Born in Italy, Virginio Ferrari came to Chicago in the 1960s, and he blossomed into an internationally sought-after sculptor. We visit the 80-year-old in his Bridgeport studio.
---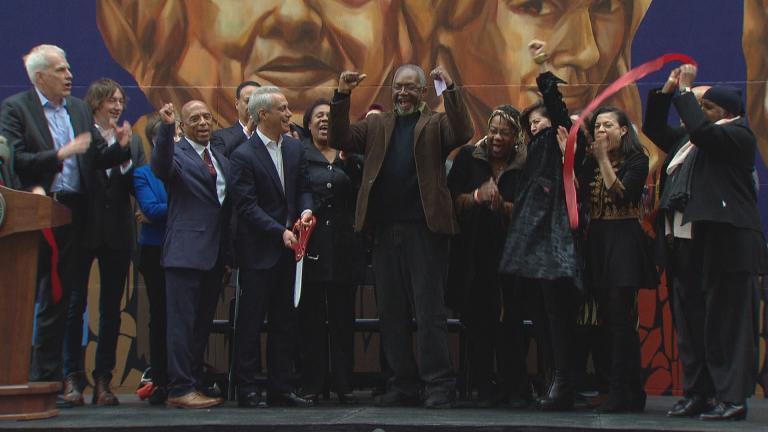 Kerry James Marshall Unveils Monumental Mural in the Loop
Dec. 4, 2017: A new mural at the Chicago Cultural Center honors 20 women, past and present, who contributed to the cultural life of the city. "Chicago Tonight" was on site throughout the creation of the work, the largest to date by Chicago artist Kerry James Marshall.
---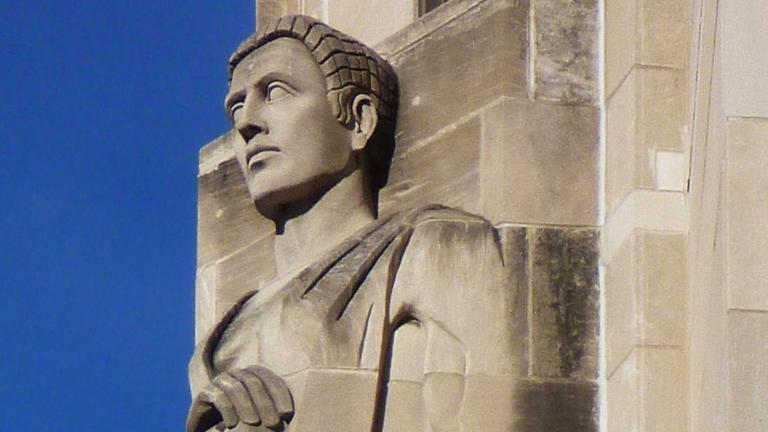 Ask Geoffrey: What Are Those Faces on Michigan Avenue?
Oct. 25, 2017: Geoffrey Baer gets eye-to-eye with some sky-high building ornament and gets beneath the surface of a towering metal figure in this week's edition of Ask Geoffrey.
---