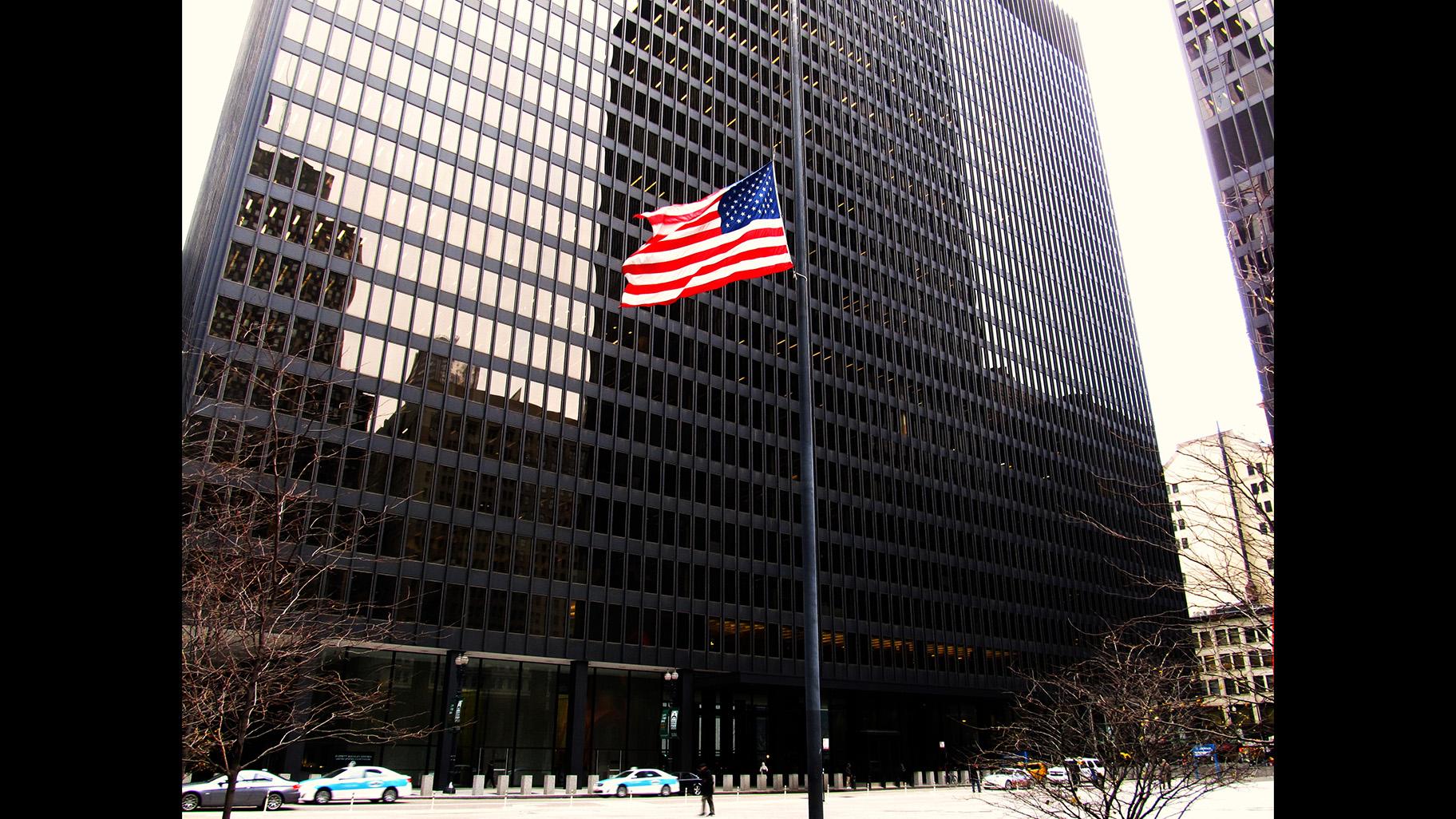 Dirksen United States Courthouse (Ken Lund / Flickr)
Dozens of individuals are facing drug conspiracy charges following a joint investigation into heroin and fentanyl trafficking in Chicago, federal authorities announced Tuesday.
Thirty-five men and women mostly from the greater Chicago area have been charged this month across a series of cases tied to a multiyear drug trafficking investigation between state and federal authorities dubbed "Operation Road Rage."
The investigation centered on dealings within the West Garfield Park neighborhood, according to authorities, and led to the seizure of 1 kilogram of heroin, most of which contained fentanyl, along with approximately $100,000 in cash, five firearms and four vehicles.
The largest case stemming from the operation involves 14 defendants now facing drug conspiracy charges after operating a "heroin hotline" that would allow buyers to call a phone number and set up a drug purchase on the West Side.
Authorities reviewing phone records for this group, identified as "Sean DTO," observed a "colossal" number of communications between July 2017 and August 2018, according to charging documents. Across two phone lines, the group had more than 100,000 communications – the vast majority of which were incoming calls lasting under one minute. Authorities say that type of volume and call length is "consistent" with the operation of a narcotics hotline.
Undercover law enforcement officers disrupted the "Sean" organization by conducting approximately 50 narcotics purchases after calling the phones and meeting with the distributors, according to the complaint.
"In total, over the SEAN Phones alone, defendants distributed and coordinated the distribution of over 582 grams of heroin, 464 grams of which also contained fentanyl, to the (undercover officers)," the complaint states.
Two other defendants are charged in a separate case tied to the "Sean" traffickers. They are accused of being regular customers who purchased "distribution quantities of narcotics" on three occasions last summer.
In a third case, four men are accused of conspiring to sell nearly 100 grams of fentanyl-laced heroin to an undercover officer between August 2017 and March 2018. One of the defendants in that case, 33-year-old Michael Pitts, allegedly distributed about 386 grams of heroin and fentanyl-laced heroin to undercover officers from August 2017 to May 2018, according to the complaint.
The "Road Rage" investigation was conducted by the Organized Crime Drug Enforcement Task Force and the Chicago High Intensity Drug Trafficking Task Force – groups comprised of federal, state and local law enforcement agencies which identify, disrupt and dismantle serious drug trafficking organizations.
The defendants in these cases each face between 20 years and life imprisonment if convicted.
Contact Matt Masterson: @ByMattMasterson | [email protected] | (773) 509-5431
---
Related stories:
6 Men Charged in Trio of Harvey Corruption Cases
Former Federal Prosecutor Talks Charges Against Ald. Ed Burke
Englewood Gang Members Face Federal RICO Charges in Wave of Killings
Chicago Man Facing Federal Charge After Near North Carjacking