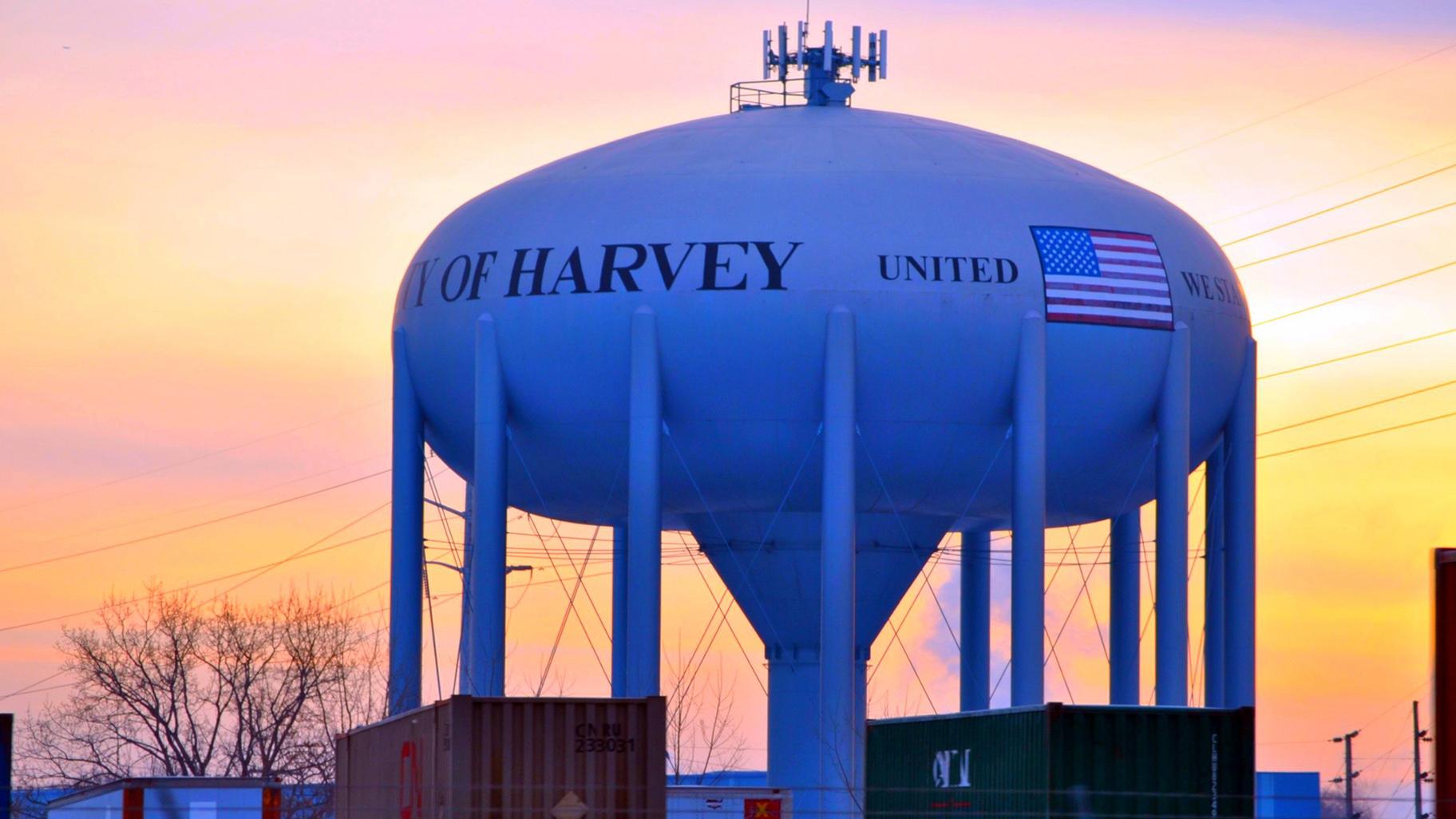 (Loco Steve / Wikimedia Commons)
Six men are facing federal charges stemming from a trio of alleged corruption schemes in south suburban Harvey, hours after federal investigators conducted an early morning raid at the city's police department.
Charging documents unsealed in federal court in Chicago on Wednesday detail three separate corruption plots involving two Harvey police officers, a private consultant to the city and two cousins with "high-ranking relatives" inside the city's government.
Prosecutors allege the cousins – Rommell Kellogg, 66, and Corey Johnson, 63, both of Harvey – extorted cash from a strip club owner from 2012 to 2016, threatening that the city would shut down the club if those payments were not made.
"The charges allege that in exchange for the payments, city officials allowed the business to operate, knowing that acts of prostitution were occurring onsite," federal prosecutors state in a press release.
Federal and state authorities had been investigating the club from 2015 to 2017, and found it operated several booths where female dancers would perform commercial sex acts in exchange for money, according to the complaint.
Kellogg is the brother of Harvey Mayor Eric J. Kellogg. Both Rommell Kellogg and Johnson are charged with conspiracy to commit extortion.
In another case, two Harvey police officers – 70-year-old Derrick Muhammad and 48-year-old Derrick Moore – were charged with obstruction of justice and conspiracy to obstruct justice after they allegedly falsified a police report last year in order to protect two acquaintences, a father and son, from possible firearm charges.
A criminal complaint states that in March 2018, the operator of a local towing company informed Muhammad of a handgun found in a Chrysler 300 sedan that had been discovered after it was reported stolen in nearby Calumet City.
The sedan had been in the possession of the father and son, both of whom are convicted felons, according to prosecutors, and cannot legally possess a firearm. But the officers allegedly "schemed to conceal the firearm's connection" to those men through a false police report.
The father called Muhammad after the firearm was located, stressing that he needed to discuss something "very important," but couldn't do so over the phone, according to the complaint. That same day, Muhammad called Moore and the two allegedly discussed retrieving the firearm and ensuring it wouldn't "come back on nobody."
"We ain't, we ain't gonna make it no, like we ain't gonna make it no, no criminal investigation," Muhammad told Moore in a recorded phone conversation, according to the complaint.
A month later, federal investigators intercepted a phone call from the father in which he discussed the firearm, an Uzi, that was found in the car. Those investigators then contacted Harvey police to ask if they had recently recovered any such weapon. In doing so, they obtained Moore's report, which indicated the weapon had been found not in the sedan, but rather "in the brush" along the perimiter of the tow company lot. The report allegedly made no mention of the father or the son.
The third case involves Donald Luster, 55, of Dixmoor, and Will Wiley, 56, of Harvey, who are charged with a count of conspiracy to commit federal program bribery.
Prosecutors allege Luster, a private consultant to the city who previously served as mayor in Dixmoor, began working with Wiley in November 2017 to solicit bribes from the owner of a towing company in a nearby suburb. In exchange for those bribes, Luster allegedly promised the owner a lease to a parcel of land owned by the city near 150th Street and Loomis Avenue, while Wiley allegedly operated as the "bagman," collecting the cash.
But Luster and Wiley were apparently unaware the towing company owner was already cooperating with federal investigators, according to the complaint, and had agreed to record their conversations and meetings with the defendants.
The company owner paid bribes of $5,000 and $7,000 in the ensuing months, and in return was granted access to the land, the complaint states. However, an official lease was never turned over.
Harvey, a town of about 25,000, is located just 22 miles from downtown Chicago.
The charges come the same day FBI agents raided the Harvey Police Department and the city planning office. After news of the raids broke, Eric Kellogg issued a statement saying he had "informed the Chief of Police to cooperate fully with the investigators."
A city spokeswoman did not immediately respond to a request for comment Wednesday.
Each of the defendants is expected to appear in court Wednesday afternoon. Prosecutors also state anyone looking to notify investigators of suspected corruption in Harvey can email the FBI at harvey.info@fbi.gov.
Contact Matt Masterson: @ByMattMasterson | mmasterson@wttw.com | (773) 509-5431
---
Related stories:
Former Federal Prosecutor Talks Charges Against Ald. Ed Burke
Englewood Gang Members Face Federal RICO Charges in Wave of Killings
Chicago Man Facing Federal Charge After Near North Carjacking