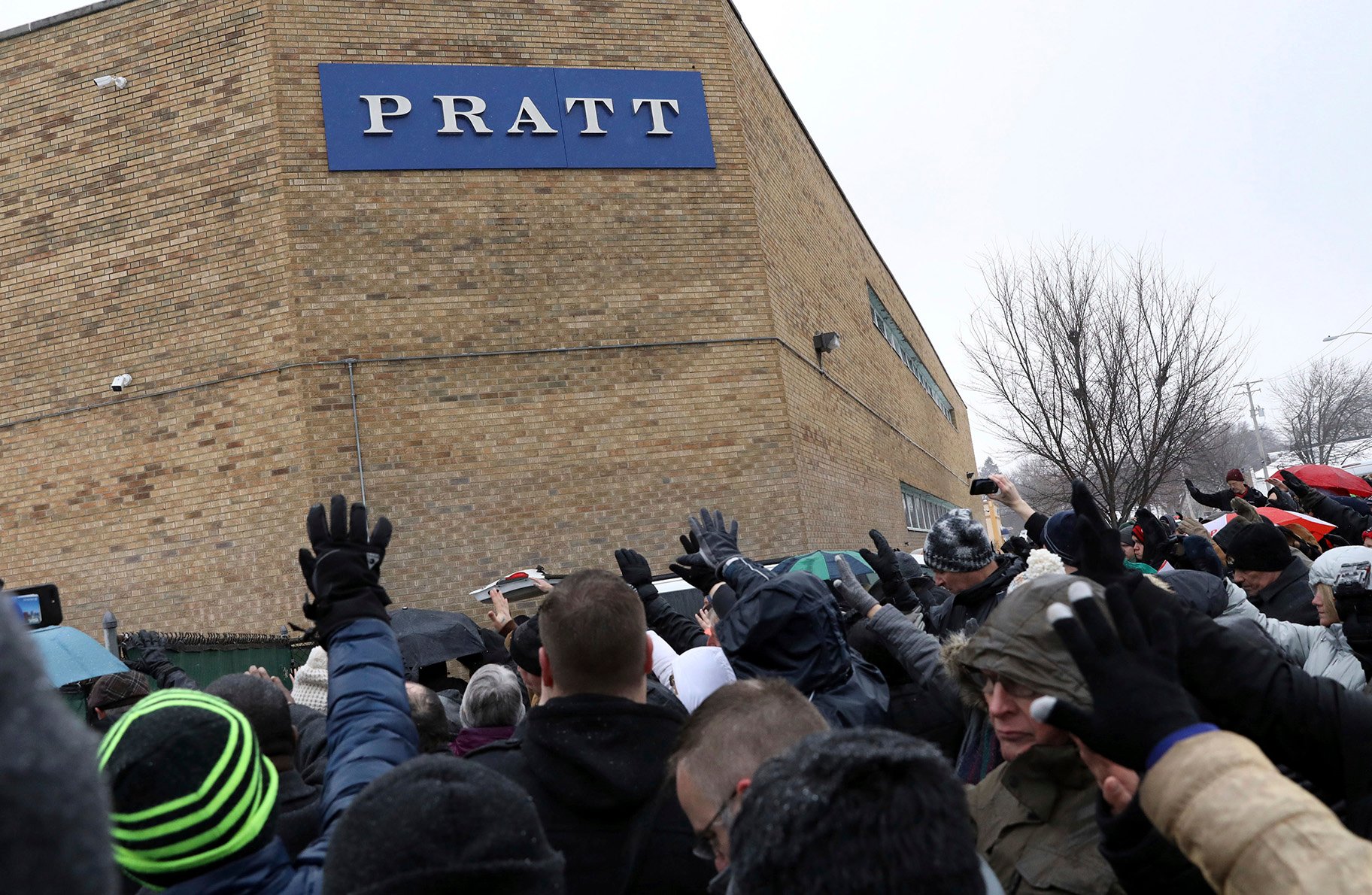 Family, friends and community members attend a vigil Sunday, Feb. 17, 2019, in Aurora, Illinois. (AP Photo / Nam Y. Huh)
A man who was shot three times during a mass shooting at an Aurora manufacturing facility last month has filed suit against the Illinois State Police, claiming the department was negligent in allowing the gunman to illegally possess a firearm after learning he was a convicted felon.
Timothy Williams is seeking $2 million in a lawsuit filed Friday, nearly a month after Gary Martin, a disgruntled employee, killed five people and wounded seven others inside the Henry Pratt Company. 
Williams, who was struck once in his right arm and twice in his back during the Feb. 15 shooting, claims Martin wouldn't have possessed a firearm had state police "properly followed and implemented their internal protocols."
The lawsuit claims Martin, 45, purchased the .40-caliber Smith & Wesson handgun used in the shooting back in 2014 after lying about his past. He checked a box on his application for a Firearm Owner's Identification card (FOID) indicating he had never been convicted of a felony despite the fact he had pleaded guilty to felony assault in Mississippi in 1995.
That lie was missed and Martin was granted the card.
"The ISP did not contact Mississippi and failed to discover Mr. Martin's violent felony conviction in the criminal history background check it performed for Mr. Martin's FOID card application," the lawsuit states.
Two months later, Martin applied for a concealed carry permit. He again lied about his criminal past, but this time state police did contact law enforcement in Mississippi and learned of his previous conviction, the lawsuit states.
Martin's concealed carry permit was denied. He was informed his FOID card was being revoked and he was ordered to turn over any firearms in his possession. But it's unclear if he ever turned over his FOID card and ISP records don't show any notifications sent to local law enforcement about the revocation, according to the lawsuit.
"Had the ISP properly entered the information into the (Law Enforcement Automated Data System) regarding Mr. Martin's revoked FOID card, failure to surrender his firearm (a class A misdemeanor), and/or ongoing illegal ownership of a hand and gun (a class 4 felony), this information would have been known to the law enforcement officers who encountered Mr. Martin prior to the mass shooting at the Henry Pratt Company," the lawsuit states.
Martin was killed in a shootout with Aurora police during the rampage.
The shooting quickly sparked calls for legislative changes within Illinois. Days after the attack, Cook County Sheriff Tom Dart called for the creation of countywide units to recover weapons from those who have their FOID cards revoked.
"Too many times there are clear warning signs about deadly violence," Dart said in a statement. "We must do more as a state to ensure law enforcement is reacting to those signs and has the information and tools necessary to do so. As we are constantly and tragically reminded, lives are at stake."
Martin was no stranger to police in Aurora, where he had been arrested six times over the years on various issues including violating an order of protection.
Records stemming from his 1995 conviction in Mississippi described Martin as an extremely violent man who abused a former girlfriend, at one point hitting her with a baseball bat and stabbing her with a knife.
The bullet that struck Williams in the arm "destroy(ed) bone, tissue, vessels and skin," according to his lawsuit. The two other bullets remain in his back.
"The claimant has experienced, and will experience, pain, suffering, disability, loss of a normal life, medical expenses, lost earnings and a loss of earning capacity," the lawsuit states, "all because of the injuries suffered due to the ISP's negligence. Many of claimant's losses are permanent."
Williams claims the "non-economic" damages he's suffered have already exceeded $2 million.
Police identified the slain workers as human resources manager Clayton Parks of Elgin; plant manager Josh Pinkard of Oswego; mold operator Russell Beyer of Yorkville; stock room attendant and fork lift operator Vicente Juarez of Oswego; and Trevor Wehner, the new intern and a Northern Illinois University student who lived in DeKalb and grew up in Sheridan.
A GoFundMe established to support the families of the victims has since raised more than $230,000.
The Associated Press contributed to this report.
Contact Matt Masterson: @ByMattMasterson | [email protected] | (773) 509-5431
---
Related stories:
Aurora Shooter's Permit Was Revoked But Gun Wasn't Seized
Officials: 5 Dead, 5 Police Wounded in Aurora Shooting
Chicago Police Officer Among 4 Killed in Mercy Hospital Shooting
---