A chest sensor, measuring 5 centimeters by 2.5 centimeters, as seen on an infant in the neonatal intensive care unit. (Courtesy of Northwestern University)
Like most parents, Taschana Taylor was excited to bond with her newborn daughter, Grace. But after an emergency cesarean section, Grace was admitted to a neonatal intensive care unit (NICU) where clinicians could monitor her and provide care.
NICU patients, like Grace, have electrodes placed on them that are connected via wires to machines that monitor breathing, blood pressure, blood oxygen, heartbeat and more. These wires, though they ensure a newborn's health and safety, constrain the baby's movements and pose a barrier to physical bonding and parent-baby cuddling.
"Trying to feed her, change her, swaddle her, hold her and move around with her with the wires was difficult," Taylor said in a statement.
Within a few years, researchers hope to replace those wires with a pair of wireless sensors developed by an interdisciplinary team that included materials scientists, engineers, dermatologists and pediatricians at Northwestern University.
"Anybody who has had the experience of entering a NICU immediately notices how tiny the babies are, and how many wires and electrodes are attached to them," said Dr. Debra Weese-Mayer, a Northwestern University professor and chief of pediatric autonomic medicine at Lurie Children's Hospital, in a statement. "The opportunity to go wireless has enormous potential for decreasing the burden for nurses, for the babies and for the parents."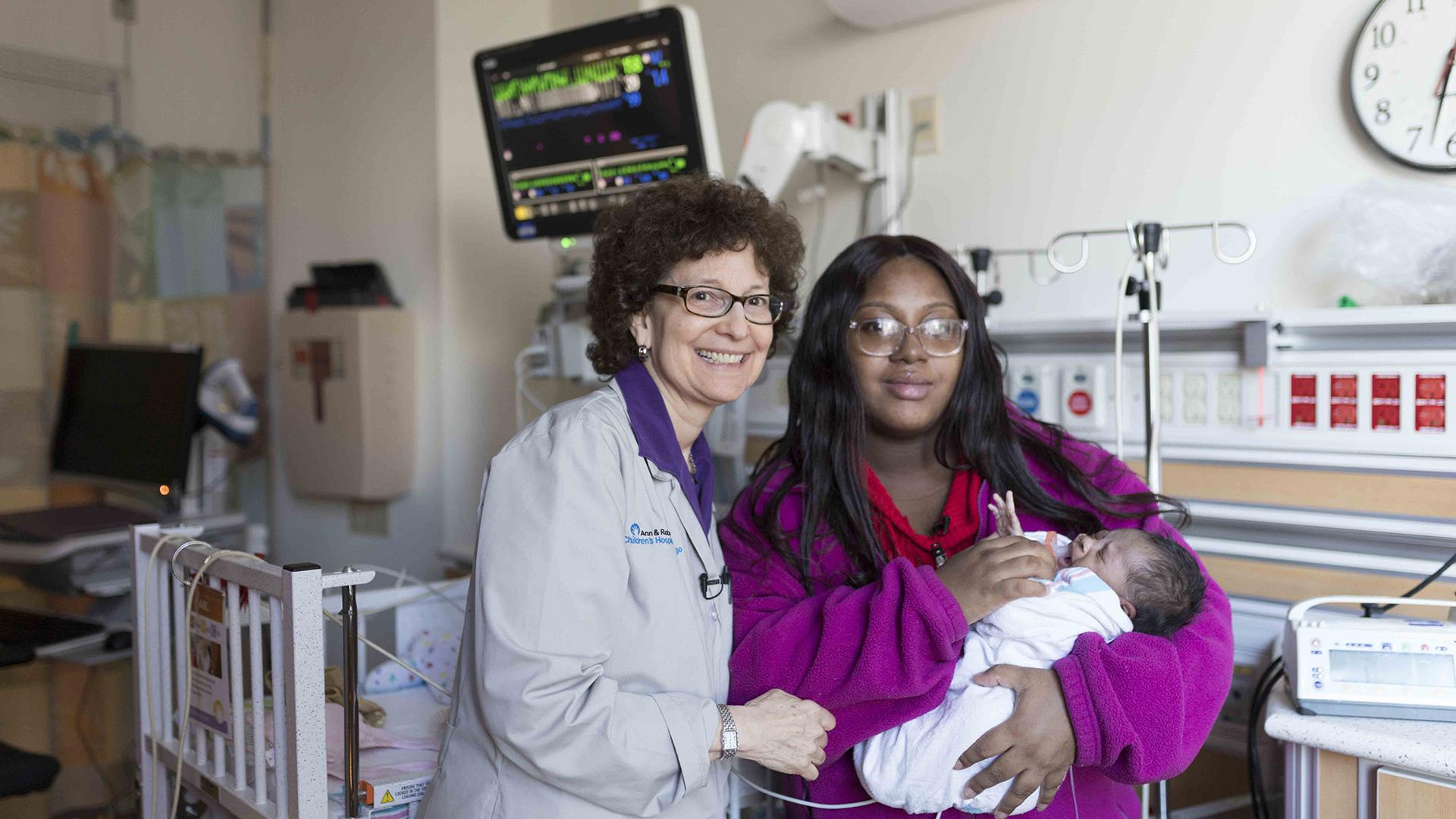 Dr. Amy Paller, left, and Taschana Taylor with her daughter, Grace, who participated in the Northwestern University study. (Courtesy of Northwestern University)
Researchers tested the soft, flexible wireless sensors on more than 70 premature babies, including Grace, alongside traditional monitoring systems. (Initial data from more than 20 babies is included in a study that will be published March 1 in the journal Science.)
"We were able to reproduce all of the functionality that current wire-based sensors provide with clinical-grade precision," said John A. Rogers, a Northwestern professor who led the technology development, in a statement. "Our wireless, battery-free, skin-like devices give up nothing in terms of range of measurement, accuracy and precision — and they even provide advanced measurements that are clinically important but not commonly collected."
The paper-thin device is composed of biocompatible, soft elastic silicone that embeds a collection of tiny electronic components connected with spring-like wires that move and flex with the body. Rogers worked with Yonggang Huang, a stretchable electronics and theoretical mechanics expert, to develop an optimal design.
"The strength of the adhesive required to keep our lightweight device on the skin is much lower than that of the kinds of adhesives needed to maintain an interface between a hardwired sensor and an external box," Rogers said. "We have seen no adverse side effects in our study, not even a hint of skin injury even in the most frail babies."
The dual wireless sensors monitor babies' vital signs – heart rate, respiration rate and body temperature – from opposite ends of the body. One sensor, measuring 5 centimeters by 2.5 centimeters, is placed on the baby's chest or back, while another, measuring 2.5 centimeters by 2 centimeters, is wrapped around its food. This allows clinicians to monitor an infant's core temperature as well as body temperature from a peripheral region.
A foot sensor, measuring 2.5 centimeters by 2 centimeters, as seen on an infant in the neonatal intensive care unit. (Courtesy of Northwestern University)
"Differences in temperature between the foot and the chest have great clinical importance in determining blood flow and cardiac function," Rogers said. "That's something that's not commonly done today."
Currently, there isn't a good way to collect a reliable blood pressure measurement as a blood pressure cuff can bruise or damage an infant's skin. An alternative to a blood pressure cuff is to insert a catheter into an infant's artery, which can be difficult and poses a risk for infection, clotting or even death. With the wireless sensors, physicians can measure blood pressure continuously.
"We are missing a great deal of information from variations in blood pressure over the course of the day," said Dr. Aaron Hamvas, a Northwestern University professor and division head of neonatology at Lurie Children's Hospital. "These variations in blood pressure may have a significant impact on outcomes."
The transparent sensors can also be worn during X-rays, MRIs and CT scans – an advantage over the current wire-based system. "Wires are not just a physical impediment to interacting with the baby but also disrupt imaging if left in place," said Dr. Amy Paller, dermatology department chair at Northwestern University.
The wireless sensor communicates through a transmitter placed underneath a crib's mattress. Using radio frequencies the same strength as those in RFID tags, the antenna transmits data to displays at the nurses' station. Although it can be sterilized and reused, the sensor is cheap enough (about $10) that it can simply be discarded after 24 hours and replaced with a new one to eliminate any risk of infection.
Contact Kristen Thometz: @kristenthometz | [email protected] | (773) 509-5452
---
Related stories:
Survey: Gun Violence, Bullying Top Social Issues Facing Chicago Youth
Study Accurately Predicts Severity, Length of Postpartum Depression
Noninvasive Wearable Device Monitors Brain Shunt Performance
---