Video: Patrick Malia, a West Dundee resident and a COVID-19 long-haul patient; and Dr. Igor Koralnik, chief of neuro-infectious diseases and global neurology at Northwestern Medicine join "Chicago Tonight" to break down the study's findings. (Produced by Blair Paddock)
---
Wheaton resident Emily Caffee, 36, was a competitive athlete before she contracted COVID-19 in 2020.
"Before my infection, I was working as a hospital physical therapist – a very physical, cognitively demanding job – training six days a week for indoor rowing competitions," Caffee said.
Her initial symptoms – body aches, fatigue, chest pain, heart palpitations and dizziness – in March 2020 got worse over time and she had to take medical leave for three months. She says she went from being a "very active person to barely being able to stand for 5 minutes without getting very acutely dizzy."
More than two years after her initial infection, Caffee says she's "made mostly a full recovery," but still experiences fatigue and cognitive symptoms.
Her experience with long COVID-19 isn't unique.
A new Northwestern Medicine study of 52 long haulers, who were not hospitalized and only experienced mild symptoms like cough and sore throat, found that most continued to experience neurologic symptoms, fatigue and compromised quality of life up to 18 months after their initial infection.
The study is the longest follow-up of its kind about long haulers who weren't hospitalized, according to Dr. Igor Koralnik, chief of neuro-infectious diseases at Northwestern Medicine.  
"We were surprised by the persistence of most of the debilitating neurologic symptoms of our patients," said Koralnik.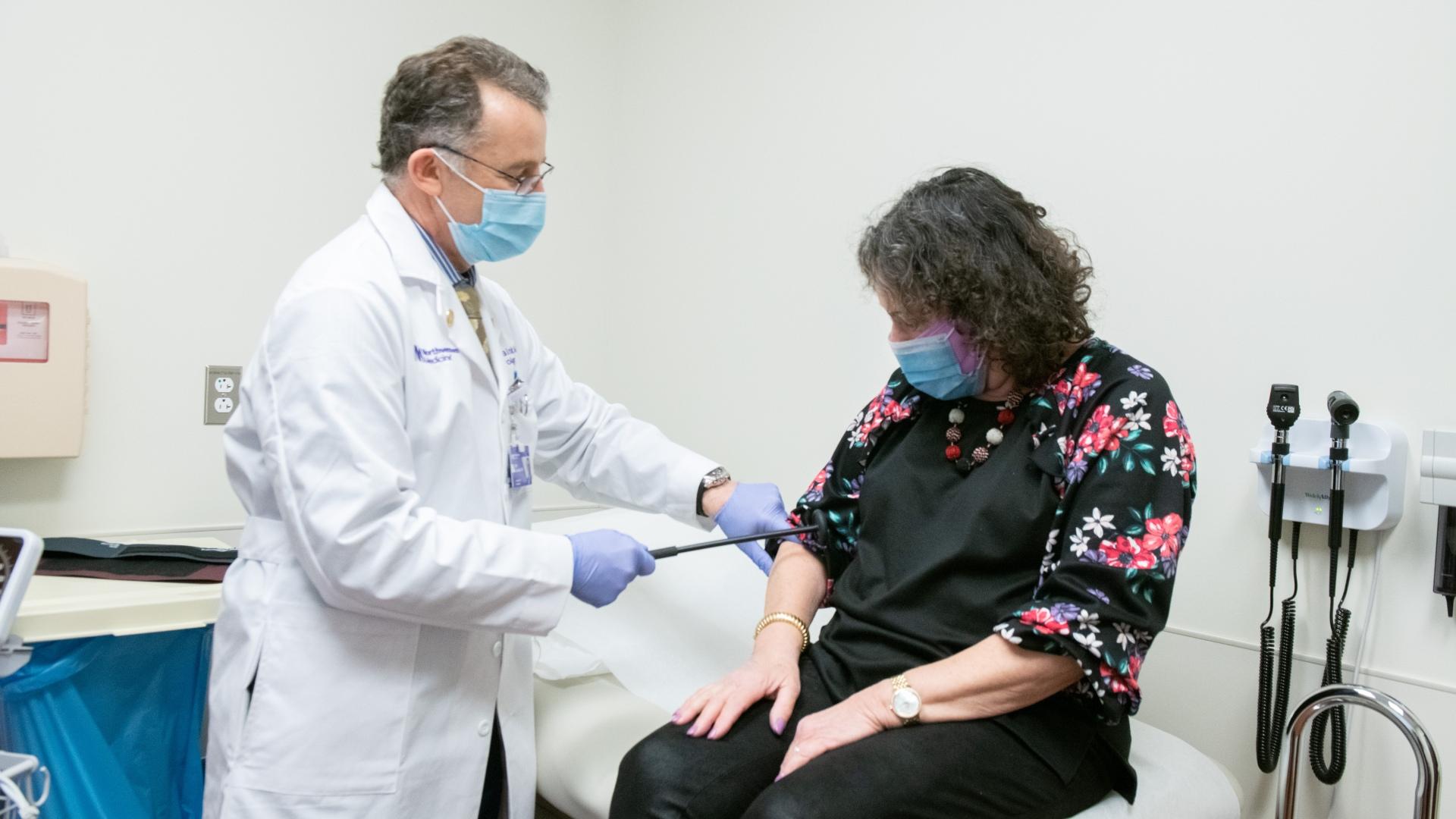 Dr. Igor Koralnik, left, examines a patient. (Credit: Northwestern Medicine)
The study is a follow-up of Northwestern's March 2021 study that found 85% of long haulers experienced four or more neurologic symptoms that impacted their quality of life. For the new study, researchers analyzed patients six to nine months after their initial visit to the Northwestern Medicine Neuro COVID-19 Clinic.
Between long haulers' first and follow-up appointments at the clinic, there was no significant change in the frequency of most neurologic symptoms, including brain fog, numbness/tingling, headache, dizziness, blurred vision, tinnitus and fatigue, according to researchers.
Loss of taste and smell decreased from 63% and 58%, respectively, at initial appointments to 27% and 21% at follow-up appointments, respectively.
Researchers found increases in heart rate and blood pressure variations (35% vs. 56%) and gastrointestinal symptoms (27% vs 48%) at follow-up appointments compared with initial visits.
"This is one of the surprising aspects of this study (and) indicates that those symptoms appear late after onset and need to be taken care of accordingly," Koralnik said. "(These findings) suggest disfunction of the autonomic nervous system that oversees all the things we don't need to think about our body."
Of the 52 patients in the study, 73% were female and the average age was 43. While 77% of participants received a COVID-19 vaccine, researchers say vaccination didn't have a positive or detrimental impact on cognitive function or fatigue.
"(Vaccination) didn't cure long COVID and it didn't make long COVID worse," Koralnik said. "We encourage patients to get vaccinated and boosted according to CDC recommendations."
As new COVID-19 variants emerge, researchers will continue to study the disease.
"What happened in March 2020 is not the same as May 2022," Koralnik said. "We are constantly looking for better ways to diagnose, treat and manage those patients and also (find) a cause for long COVID that could be treated with various interventions."
Note: This story was originally published May 24. It has been updated to include our "Chicago Tonight" discussion.  
Contact Kristen Thometz: @kristenthometz | (773) 509-5452 |  [email protected]
---