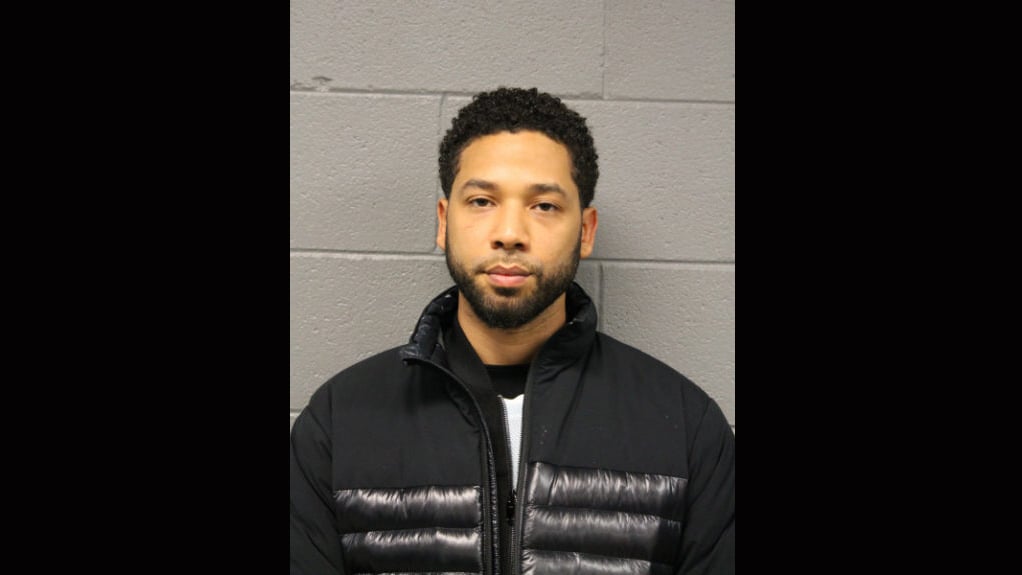 Booking photo of Jussie Smollett (Chicago Police Department)
"Empire" actor Jussie Smollett took advantage of the "pain and anger and racism" in Chicago in order to promote his own career, police Superintendent Eddie Johnson said Thursday, hours after Smollett turned himself in on a charge of filing a false police report.
Smollett allegedly paid a pair of brothers $3,500 to stage an attack on himself last month because he was dissatisfied with his salary on the hit Fox television show. He is now facing a felony count of disorderly conduct, accused of lying about the incident to Chicago police.
The case began last month when Smollett reported to Chicago police that he had been attacked in the early morning hours of Jan. 29 in the Streeterville neighborhood. Early police statements indicated two suspects had yelled racial and homophobic slurs at Smollett before they hit him in his face, poured "an unknown chemical substance" on him and wrapped a "rope" around his neck.
After weeks of investigation, police determined that "attack" was a hoax designed by Smollett to further his own career.
"Why would anyone, especially an African-American man, use the symbolism of a noose to make false accusations?" Johnson said during a press conference Thursday, calling this alleged hoax a slap in the face to everyone in Chicago. "How could someone look at the hatred and suffering associated with that symbol and see an opportunity to manipulate that symbol to further his own public profile?"
Smollett, 36, allegedly told detectives the attackers also yelled he was in "MAGA country" in an apparent reference to President Donald Trump's "Make America Great Again" campaign slogan. The actor did suffer minor injuries, but police believe those were self-inflicted.
The incident was initially treated as a possible hate crime and came a week after Smollett said he had received a letter containing a homophobic message and a "white powder." That powder was later determined to be crushed aspirin. 
Whispers about Smollett's account started with reports that he had not fully cooperated with police after telling authorities he was attacked. Once Smollett's true motive was learned, Johnson said "quite frankly, it pissed everybody off."
Detectives in a city bristling with surveillance cameras could not find video of the beating. Later, two brothers were taken into custody for questioning but were released after two days, with police saying they were no longer suspects.
Investigators reviewed hours of video from dozens of public and private cameras to track the brothers' movements around the time of the alleged incident. They were eventually able to identify them through a ride share vehicle they used after the staged attack.
After being held by police for 47 out of a possible 48 hours, those brothers began cooperating with investigators, according to Johnson. They turned over the check Smollett allegedly used to pay them and their phone records indicate they were in contact with Smollett an hour before and an hour after the "attack." The two brothers then testified this week before a grand jury, which resulted in Wednesday's charge against Smollett.
Johnson believes Smollett may also responsible for the letter sent to him, but that is being handled by federal investigators.
"This publicity stunt was a scar that Chicago didn't earn," he said, "and certainly didn't deserve."
The incident quickly garnered national attention. After Johnson's press conference Thursday, President Donald Trump tweeted a message saying Smollett "insulted" tens of millions of people with "racist and dangerous comments."
.@JussieSmollett - what about MAGA and the tens of millions of people you insulted with your racist and dangerous comments!? #MAGA

— Donald J. Trump (@realDonaldTrump) February 21, 2019
---
Mayor Rahm Emanuel also issued a statement Thursday, saying "a single individual who put their perceived self-interest ahead of these shared principles will never trump Chicago's collective spirit."
Smollett's attorneys said in a statement Wednesday that "like any other citizen, Mr. Smollett enjoys the presumption of innocence." He faces probation or up to three years in prison along with a fine of up to $25,000.
Asked what penalty he believes is fair, Johnson said "justice" in this case should start with an apology.
"Absolute justice would be an apology to this city that he smeared," he said, "admitting what he did and then be man enough to offer what he should offer up in terms of all the resources that were put into this."
More than a dozen CPD detectives stood beside Johnson during Thursday's press conference. The superintendent said no resources were pulled from ongoing shooting or homicide investigations to assist on this case.
Johnson seemed frustrated with persistent media coverage of the case, saying he wished the families of shooting victims saw the same type of consideration.
"This shouldn't have garnered the attention that it did," he said, "but it did because of his celebrity status."
The Associated Press contributed to this report.
Contact Matt Masterson: @ByMattMasterson | [email protected] | (773) 509-5431
---
Related stories:
'Empire' Actor Jussie Smollett Charged with Disorderly Conduct
Chicago Police Seek Follow-Up Interview with Jussie Smollett
Chicago Police: 2 Questioned in Smollett Attack Are Suspects
Chicago Police, Fox Dispute Reports About Smollett Attack
Police Questioning 'Persons of Interest' in Smollett Case
Smollett Says He Redacted Phone Files to Protect Privacy
Smollett Told Police Attackers Knew He Was on 'Empire'
'Empire' Star Jussie Smollett Breaks Silence on 'Horrific,' 'Cowardly' Attack
---