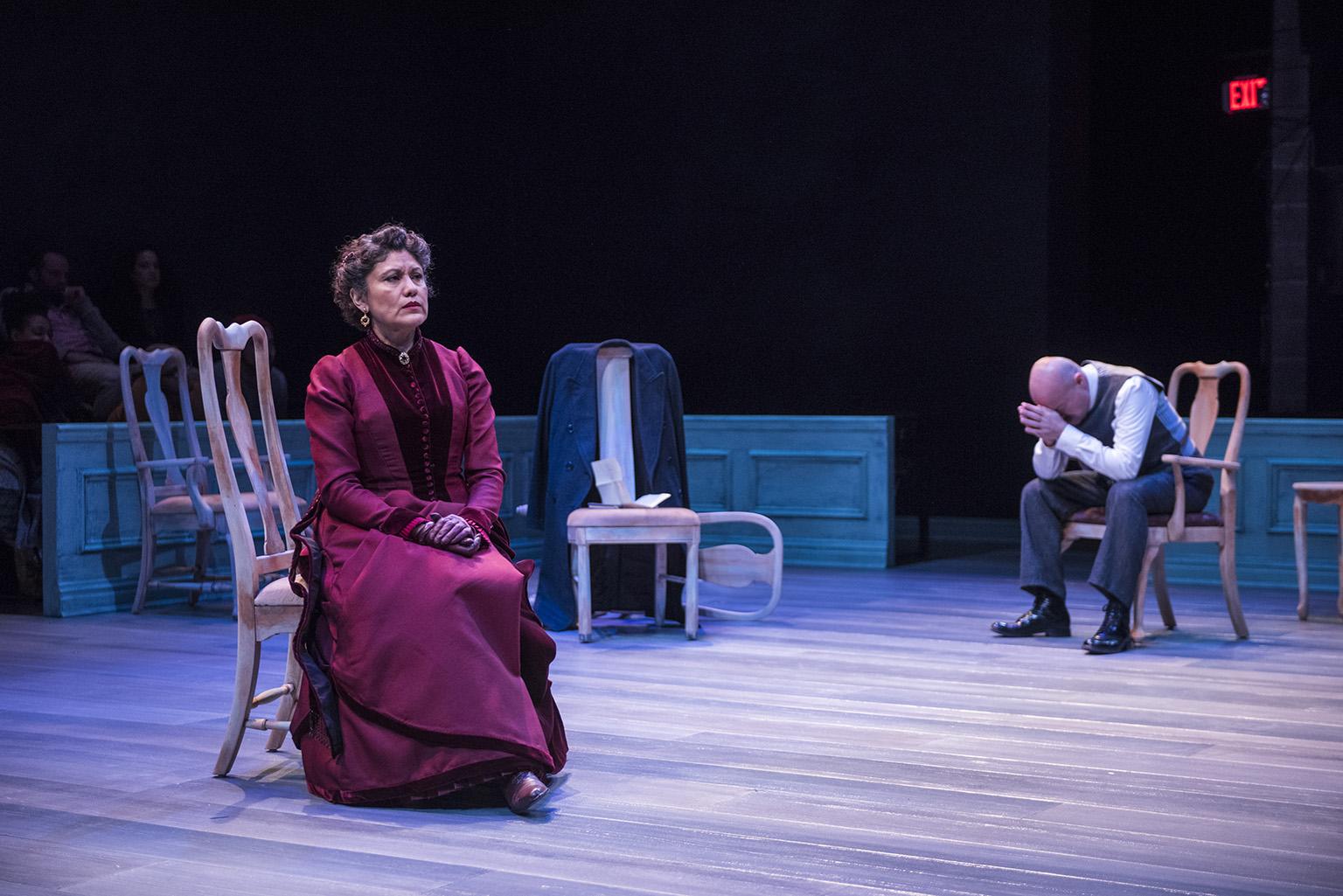 Sandra Marquez and Yasen Peyankov in Steppenwolf's Chicago premiere production of "A Doll's House, Part 2." (Photo by Michael Brosilow)
Henrik Ibsen's groundbreaking, proto-feminist play, "A Doll's House," ended with a famously slammed door as Nora Helmer did the unthinkable: She walked out on her comfortable but stultifying bourgeois marriage, leaving behind her husband, Torvald, a very proper banker, and their three young children.
Lucas Hnath's play, "A Doll's House, Part 2," begins with a loud knock on that same door. It has been 15 years since Nora's dramatic departure, and she is returning "home" (though that is not at all how she would refer to it) for the first time.
Ibsen's play debuted in 1879 and captured the state of Victorian-era society as it existed in his native Norway. Hnath's play, which had its world premiere on Broadway in 2017, and is now receiving its Chicago debut at Steppenwolf Theatre, arrives at a moment when a whole new tsunami-like wave of feminist rebellion has gathered force. And listening to the response of the audience – which, at the performance I attended, ranged from knowing laughter, to stunned silence, to barely suppressed cheers – is a drama all its own.
Hnath is a fascinating playwright who has demonstrated his remarkable gift for arguing the many sides of complex issues in such works as "Isaac's Eye," "Death Tax," "Hillary and Clinton" and "The Christians" (all of which have been produced on Chicago stages). And in imagining this sequel to Ibsen's play he not only suggests the long-term outcome of Nora's action, but lets her choices reverberate in the current moment in subtly non-dogmatic ways. True, his dialogue tends to be more stylized than organic, and the sporadic use of a common four-letter word is more jarring than useful. But this is an argument play and everyone gets a chance.
In addition, director Robin Witt and set designer Courtney O'Neill have intensified the situation by partially framing the Steppenwolf stage with a jury-like enclosure in which a portion of the audience is seated. This has the effect of making the guilt or innocence of Nora and Torvald more of an open question.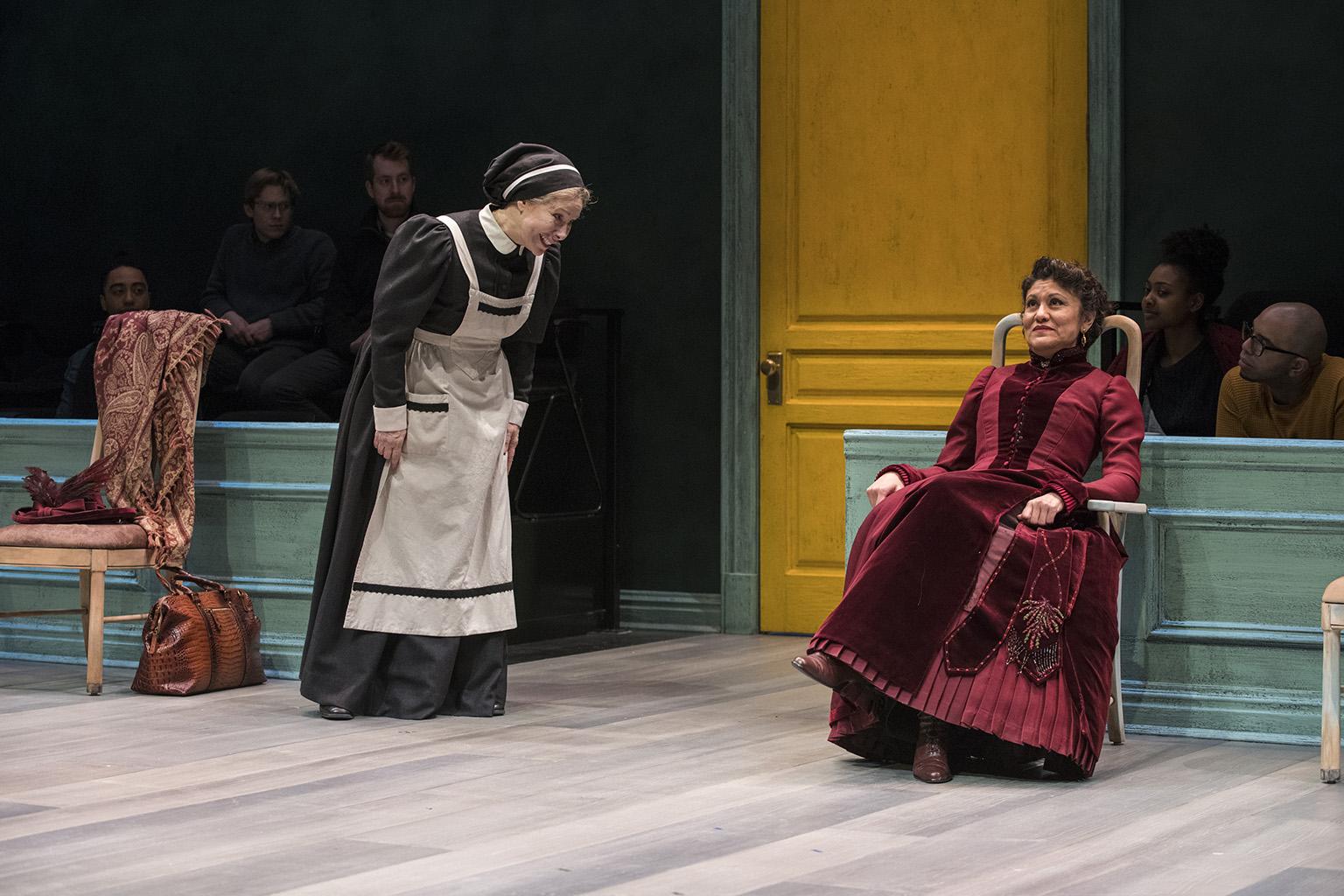 Barbara Robertson and Sandra Marquez in "A Doll's House, Part 2." (Photo by Michael Brosilow)
And there are two additional characters: Anne Marie (Barbara Robertson), the now elderly woman who raised Nora, and then became nanny and surrogate mother to her children, and Emmy (Celeste M. Cooper), Nora's grown daughter. They serve as both witnesses and victims, each having suffered the collateral damage of Nora's momentous original decision.
Nora (Sandra Marquez, in a performance that expertly captures her character's intensely determined, angry and controlling nature, but also suggests brief moments of vulnerability), has not come to pay a nostalgic visit. She arrives, dressed in an extravagant outfit of burgundy velvet (beautiful work by costume designer Izumi Inaba) that suggests she has achieved considerable success. And indeed she has, becoming the widely read author of books (penned under a pseudonym) that are more than a little autobiographical and decidedly anti-marriage.
But Nora has recently discovered that she is not at all free. For Torvald (Yasen Peyankov, who is very good at suggesting how clueless he was, and how lost and confused he has remained since she slammed the door on their marriage), has never officially divorced her. And this has now put her in jeopardy of serious legal consequences. Making matters worse is that the divorce process is far more restrictive for women to pursue, so she must now ask Torvald for a favor, and clearly she resents that he still has some sort of power over her.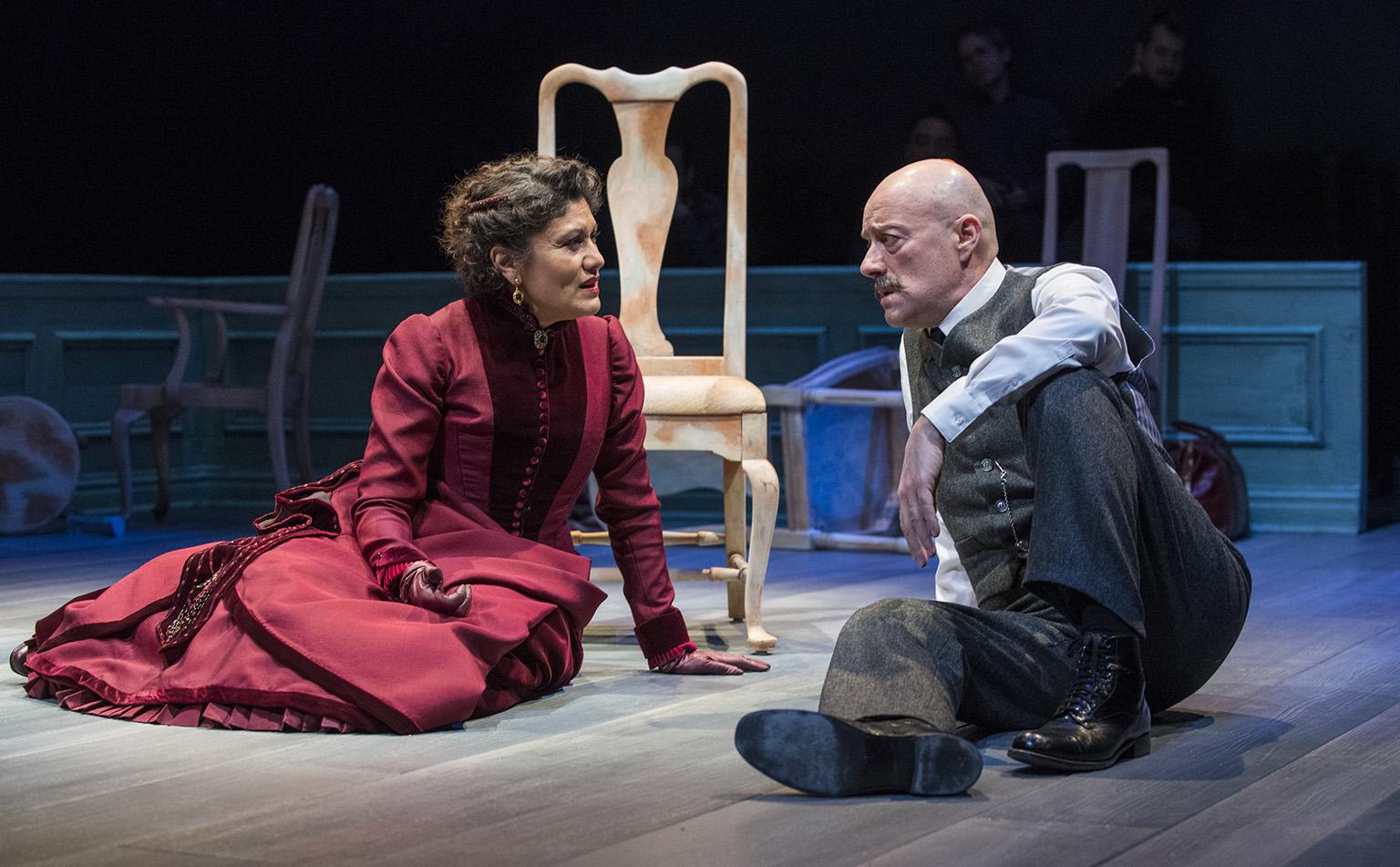 Sandra Marquez and Yasen Peyankov in Steppenwolf's Chicago premiere production of "A Doll's House, Part 2." (Photo by Michael Brosilow)
The unresolved tension between Nora and Torvald is hardly surprising, and each makes their particular "defense," with she asserting her need for independence, and he believing that he always acted honorably. But it is the scenes between Nora and the other two women in the play that are in many ways the most intriguing.
Anne Marie (very cannily played by Robertson) has in many ways been trapped in the Helmer household, too – a poor woman eking out a living by caring for another woman's children at the cost of being unable to care for her own child.
And then there is Emmy. In an exquisitely etched, razor-sharp portrayal, Cooper suggests that her mother has essentially been dead to her, yet she is very much her mother's daughter in terms of her resourcefulness and bluntness, while at the same time fully embracing the idea of life and marriage.
Celeste M. Cooper, left, and Sandra Marquez in "A Doll's House, Part 2." (Photo by Michael Brosilow)
And what about Nora? It might be enough to say that as she leaves the "dollhouse" once again she more fully understands that there is a price to be paid for her freedom, and that there can be no turning back.
"A Doll's House, Part 2" runs through March 17 at Steppenwolf Theatre, 1650 N. Halsted. For tickets ($20-$99) call (312)335-1650 or visit steppenwolf.org. Running time is 90 minutes with no intermission.
Follow Hedy Weiss on Twitter: @HedyWeissCritic
---
A Brilliantly Subversive Take on 'The Producers' at the Paramount
At Lyric, an Electrifying 'Elektra' With a Rip-Roaring Female Cast
'The Father' Captures Fractured Reality of Dementia to Blistering Effect
---