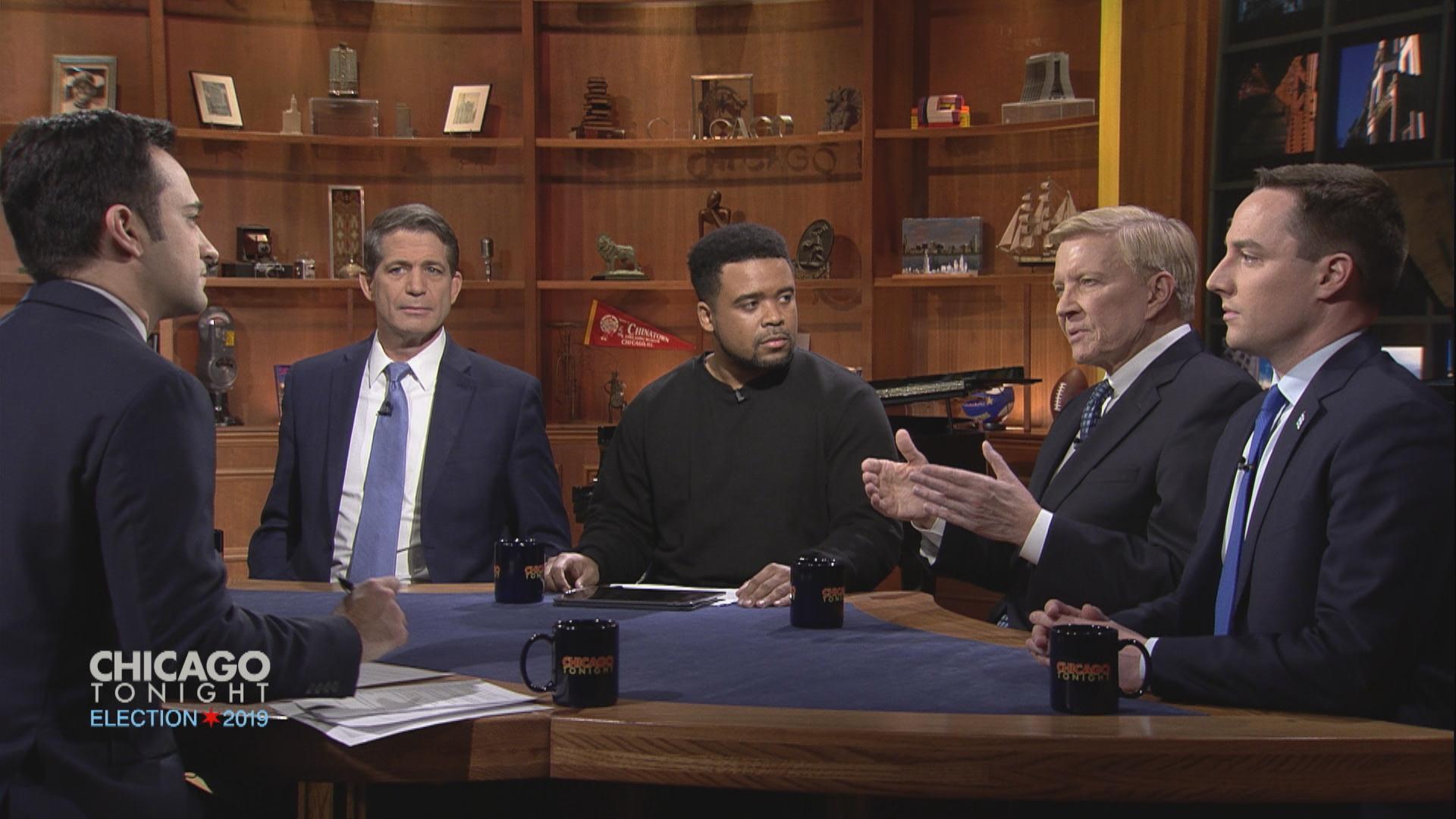 Paris Schutz moderates a forum with, from left, mayoral candidates Jerry Joyce, Neal Sales-Griffin, Bob Fioretti and John Kozlar on Thursday, Feb. 14, 2019.
Chicago Tonight kicked off its series of forums Thursday with four of the 14 candidates vying to be Chicago's next mayor: attorney Jerry Joyce, tech entrepreneur Neal Sales-Griffin, attorney and former 2nd Ward Ald. Bob Fioretti and attorney John Kozlar.
Candidates face a host of issues, from municipal finances to crime, ethics reform and – should the mega-retailer be convinced to take another look at Chicago – incentives for Amazon's second headquarters.
On the topic of public safety, Fioretti and Kozlar butted heads while discussing their plans to restore trust between communities and the police.
"I have a specific plan in place called the 60/40 plan, that in order to police any district, 60 percent of police officers have to live in that district," said Kozlar. "So now they'll be seen as community members and not as outsiders, and therefore there will be more cooperation between the community members and the police."
Fioretti said that plan won't work, even though it's "a fine idea in principle or in concept." He says he favors a system of bike patrol. "That's a key to doing this in the neighborhood. They got to get out of their cars and talk to the people," he said.
The four candidates agreed on some points, including campaign donations from developers (limiting them), the $6 billion Lincoln Yards Proposal (not supporting it) and property taxes (not raising them).
"We've had [former Cook County Assessor] Joe Berrios for so long, doing things in the wrong way … we need to work with Fritz Kaegi to make sure we're actually honoring poor people who've been regressively taxed through these property deals that are completely imbalanced," Sales-Griffin said.
Video: Watch our full candidate forum.
---
Another thing the four candidates have in common: none have released their tax returns. When asked if – and when – they plan to do so, they answers were mixed. Joyce said he will release his tax returns next week. Sales-Griffin said he'll either release his tax returns or "some explicit breakdown" to prove he's been working for nonprofits. Fioretti said he will release his tax returns "as soon as when the people that make the decisions, that ask us questions, release theirs."
Kozlar said he's abided by all the ethics boards questionnaires and doesn't plan on releasing his tax returns.
As for the last good book they've read and their favorite musical artists?
For Joyce, it's "Catcher in the Rye" by J.D. Salinger and singer-songwriter Waylon Jennings.
Sales-Griffin said he recently enjoyed "Electric Arches" by Eve Ewing and listens to rapper MF Doom.
The book "Leadership: In Turbulent Times" by Doris Kearns Goodwin was Fioretti's choice, in addition to music by blues musician Buddy Guy (who donated more than $500,000 to Fioretti's campaign, he said).
Kozlar said his recent favorite is "The Alchemist" by Paulo Coelho and rock band Pearl Jam topped his band list.
---
More election coverage:
Spotlight Politics: Mayoral Money Machine Revs Up
The Week in Review: Mayoral Candidates Ramp Up Attacks
Mayoral Candidates Take a Nuanced Stance on Chicago's Complex Issues
Early Voting – Now in All 50 Wards – Begins in Chicago
---