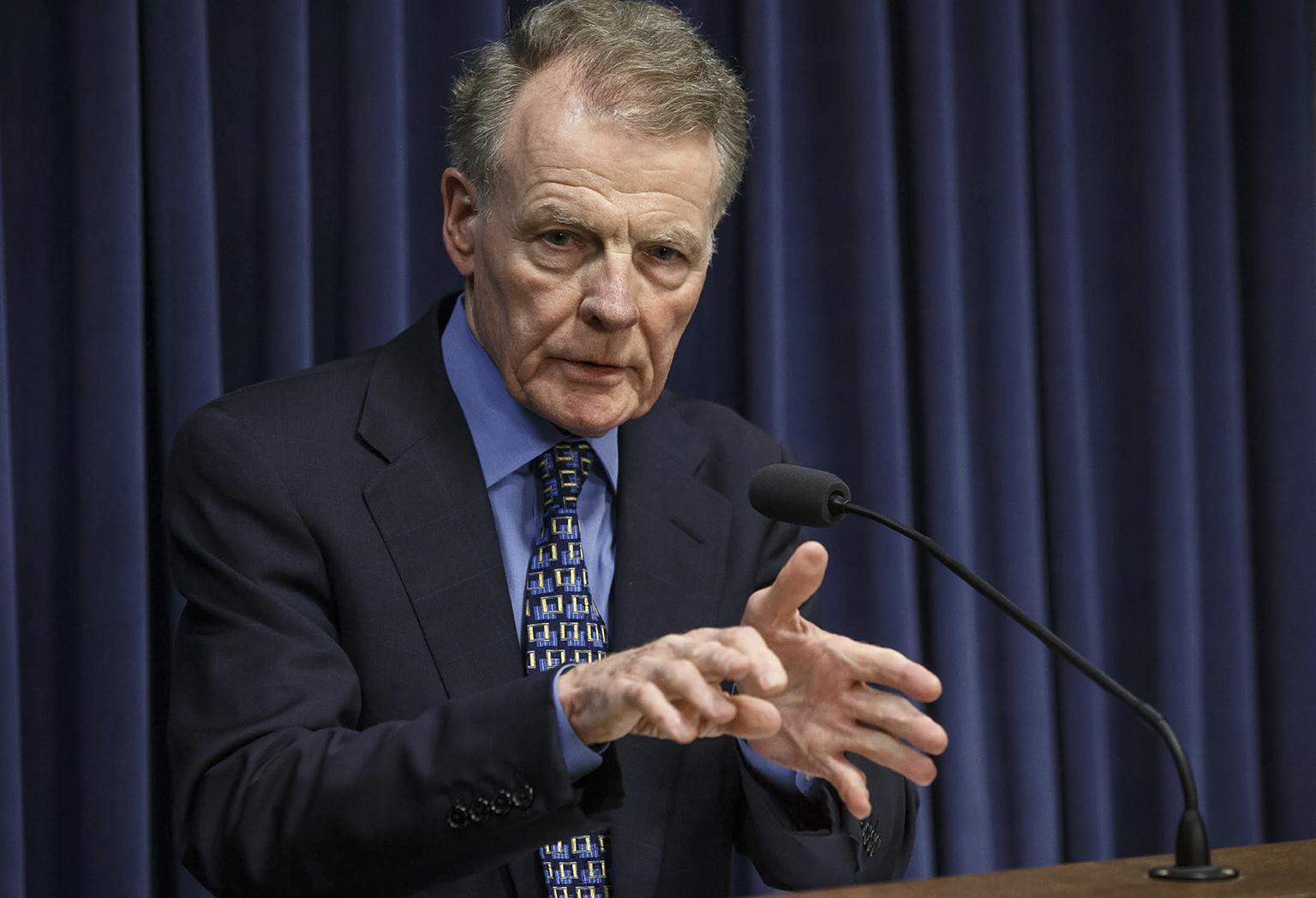 In this July 26, 2017 file photo, Illinois House Speaker Michael Madigan speaks at a news conference at the state capitol in Springfield, Illinois. (Justin Fowler / The State Journal-Register via AP, File)
The nation's longest-serving House speaker, Illinois' Michael Madigan, has been a player in state politics for the better part of his 76 years. But it wasn't until last September (Sept. 13, 2018, to be exact) that he gave his first-ever deposition. Madigan answered questions for nearly five hours from attorney Anthony Peraica, who is representing Jason Gonzales in a federal lawsuit. Gonzales accuses Madigan of recruiting a pair of "sham" candidates to split the Hispanic vote, to Gonzales' detriment, in the 2016 House 22nd District primary race.
Madigan ultimately won that contest; he went on to win his 24th two-year state representative term this past November.
While the lawsuit has yet to fully play out, the newly released deposition contains nuggets of little-known or buried information about the famously guarded speaker.
---
1
Madigan and his wife, Shirley Madigan, have been married since 1976 – long enough, apparently, that he struggled to spell her maiden name during the deposition. When Peracia asked him to, Madigan said, "You're going to cause a problem from me if I can't spell my wife's maiden name."
"I won't tell her," Peraica said.
"Obviously it's a French name so there's o-u-x- on the end, so like Romagoux. R-o-m-a-g-o-u-x."
---
2
While he's known as a classic Chicago South Side Irish politician and went to Catholic school (he graduated from St. Adrian elementary school, St. Ignatius College Prep in 1960, Notre Dame in June '64 and Loyola Law School in June '67), Madigan does not go to church. Madigan said "once upon a time" he regularly attended services as St. Adrian and that "for a time" he "would be a regular attendee at St. Nicholas of Tolentine" but he does belong to a church or parish.
---
3
Madigan's government career started as soon as he graduated from law school. He worked for the Illinois Commerce Commission as a hearing examiner in 1967, and as an assistant corporation counsel for the City of Chicago Law Department in 1969 he analyzed police reports for the liquor commissioner. Madigan then served as a delegate to the state constitutional convention, and shortly thereafter – in 1970 – won his first race for state representative.
---
4
He has a younger sister: 71-year-old Marita.
---
5
Madigan is a notary. Getting something notarized is a free service provided at two 13th Ward constituent offices Madigan shares with 13th Ward Ald. Marty Quinn (other services include help with rodent control, sanitation issues, tree trimmings and block party permits). Madigan's ward organization also pays for 13th Ward precinct captains to become notary publics (precinct captains also get their own business cards).
---
6
Madigan spends time at one of his two 13th Ward offices, at 6500 S. Pulaski Road, and he uses his "personal money" to pay for space in the suite. (Madigan also said he pays for out of his own pocket for one of the approximately 10 phone lines at that location). But he doesn't go to the other ward office. Ever. "I've never been inside the office at 6014 South Central. I've never been inside the office," he said in his sworn deposition testimony. "I've never been there."
---
7
Walking door-to-door is a must for Democratic candidates in tight Illinois House races if they follow the tried-and-true unofficial program of Madigan acolytes. But Madigan himself doesn't follow that program. When Percaica asked, "Do you join the committeemen to go door-to-door in any outreach efforts to the constituents?" Madigan answered "No."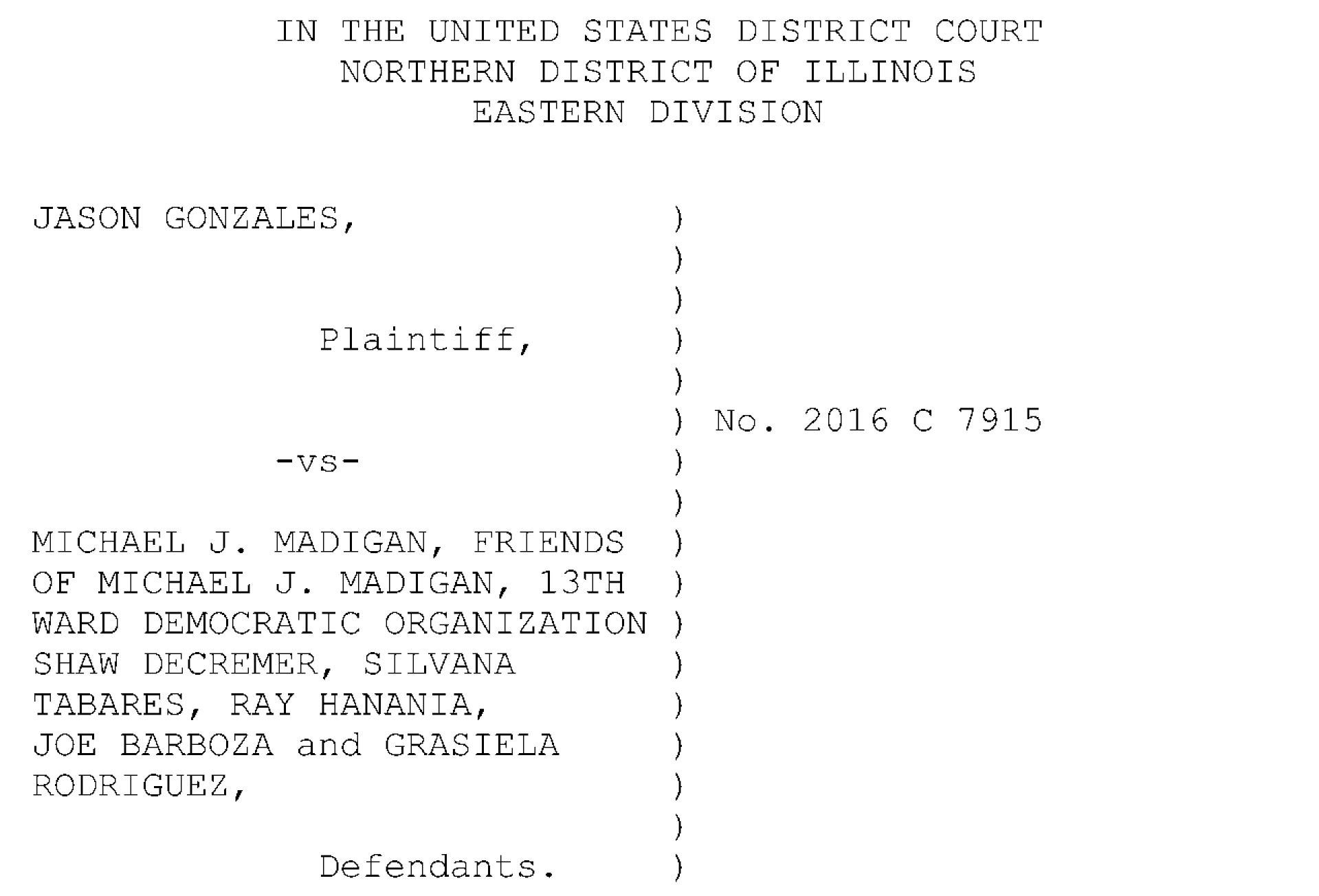 Document: Read the transcript Did Madigan do it when he was facing off during the 2016 primary against Gonzales, Joe Barboza and Grasiela Rodgriguez?
"No." 
"Did you go door-to-door-at all …?"
"No."
"… during that time?"
"No."
---
8
Madigan wears a lot of hats:
• Partner since 1972 and the law firm Madigan & Getzendanner
• Democratic Committeemen of the 13th Ward since July 1969
"My view of the responsibility of the Ward Committeemen is to work on behalf of Democratic candidates in the general election; to distribute their literature; to prepare a sample ballot, and to distribute the sample ballot. In the primary election, why everybody is a Democratic or claim to be a Democratic and you pick someone that you would support in the Primary Election," Madigan said of the position, according to an official transcript.
• State representative for the Illinois House 22nd District since January 1971
Peraica asked Madigan whether this is a full or part-time responsibility.
"I give all – I give whatever time is needed to my duties as a State Representative and as the Speaker of the House."
"So it could go 40 hours a week or more?" Peraica asked.
"Much more," Madigan responded.
• Illinois House Speaker since 1983, save for two years when Republicans held the majority (from 1995-97)
• Third Congressional District State Central Committeeman
Peraica spent some time on Madigan's duties.
Question from Percaica: "What would be the purpose of running for Third Congressional District State Central Committeeman with all the other responsibilities that you have?"
Answer from Madigan: "My purpose would be to become a member of the State Committee so I'm active in Illinois Democratic politics, and I would have a choice to be a member of the State Committee or not be a member of the State Committee. Given my level of interest in Democratic politics in Illinois, why I chose to attempt to become a member of the State Committee."
Question: "And what benefits do you get from that role?"
Answer: "Well, you'd be actively involved in the deliberations of the State Committee."
Question: "Any other benefits or roles?"
Answer: "You get to meet and talk to a lot of people."
• Member of the Cook County Central Committee
• Chair of the Democratic Party of Illinois since 1998 (elected within the ranks of the State Central Committee)
During the deposition, Madigan couldn't recall when he first won election as head of the state party, saying it had been "maybe more than 20 years. It's one of those situations where you have so much fun you forget things."
• Father of four (Lisa, Tiffany, Nicole and Andrew)
What about life beyond politics?
Madigan said he belongs to: The Union League Club, the Beverly Country Club, the State Bar Association and the Chicago Bar Association. He used to be a member of the Lakeshore Club, but "Tony, I think it was 30 years ago that was shut down."
---
9
In 2014, Madigan proposed a surcharge on income over $1 million to go toward education. He admitted that, should the surcharge take effect – it never passed – he'd have to pay it some years. Perhaps that's why Madigan was embarrassed to admit he doesn't know his take-home pay for his state job.
"What is your salary as Member of the House?" Peraica asked.
"You're going to embarrass me again, because I don't know the exact amount. I don't know exactly what it is," Madigan said.
"So you don't rely on it, huh?" Peraica said.
(State legislators make a base salary of $67,836, not counting per diems and a stipend for leadership roles. According to the Legislative Research Unit's latest online report, legislative leaders – such as the Speaker – can collect up to $27,477 more).
---
10
Despite having to juggle so many roles, Madigan does not have or use e-mail ("Do you have email yet or no?" Peracia asked at the tail end of the deposition. Madigan's reply was to the point: "No."). Madigan also said he keeps his own calendar though it's maintained on a computer by a secretary.
"Do you have someone who keeps your schedule?" Peraica asked.
"I do that," Madigan said.
"You do that personally?"
"Yes."
"No one assists you in that regard?"
"I do the schedule. It's maintained in a computer by my secretary in Springfield," Madigan said.
---
11
Just who is a part of Madigan's inner-circle? The deposition makes clear he puts a lot of trust in office-mate Quinn.
Madigan said he did not have a campaign manager during the 2016 election cycle, but Quinn in effect played that role.
Madigan said he did not personally review his own petitions that were necessary for him to get on the ballot "because they would have been reviewed by someone else": Marty Quinn.
Madigan said "to a certain extent" he delegated who would be hired and involved in his re-election campaign that March.
"Who did you delegate to?"
"Well, the main person would be Marty Quinn."
Other key people coordinated with Madigan. During the 2016 election cycle, Madigan spent a couple of hours each Sunday on a conference call to talk strategy. Among those who took part in the weekly conversations: Quinn, former right-hand man Tim Mapes (who was forced to resign following harassment allegations), Will Cousinea (a lobbyist who had been a top aide on the government side) and Steve Brown, Madigan's privately contracted spokesman.
Madigan appears to view other longtime Democratic elected officials more as  fair-weather friends.
"Did you consider Ed Burke an ally, still do?" Peraica asked.
"Sometimes yes, sometimes no," Madigan responded.
Same for the Lipinskis.
Question: "Would you consider former Congressman Bill Lipinski your ally, political ally"
Answer: "Sometimes yes, sometimes no."
Question: "How about his son current Congressman Dan Lipinski."
Answer: "Same answer."
Question: "Not a consistent ally, political ally?"
Answer: "… current Congressman Lipinski and I have some issue differences. That's the nature of the Democratic Party."
During the time of the deposition, then-Gov. Bruce Rauner was struggling in polls behind current Gov. J.B. Pritzker. Madigan didn't let up on his nemesis, though.
"Have you seen the TV ads put on by Rauner against me, which were running through the period of time?" Madigan asked Peraica. "The defamation that's been performed on me and my family simply because we've got a Governor that things he's a dictator."
---
12
Anyone seeking Madigan's help getting a job needs to pass a test.
"You can understand that many people come to me asking for recommendations for employment, and I render recommendations for employment in both the private and the public sector, I do it in both. But there's a test that people have to meet. They have to be, to my knowledge, they have to be honest hard-working people with integrity. And if they are, I'll recommend to a potential employer the best of my knowledge and my experience with this person, this would be a good worker for your office, a good worker for your business whatever it may be," Madigan said.
Peraica followed up to ask whether it's a function Madigan enjoys.
"No," Madigan said.
"Is that the least favorite part of your job?" Percaica followed up.
"That's a tough question. Give me some time to …" Madigan said.
His attorney Mike Kasper then interrupted, to protest asking Madigan for an opinion.
Another attorney cut with what was seemingly a joke, asking Madigan's least favorite duties "include giving depositions."
"You haven't spent much time in Springfield so that would be a whole new world for you," Madigan said in response.
Peraica spent a chunk of time asking Madigan about various individuals the powerful Democrat has apparently put in a good word for.
Among names mentioned: Edward Tully ("My memory is that I recommended him for his current job … somewhere in Cook County"), Thomas Siska (who Madigan said is now retired from the secretary of state's office; "My memory is that I would have recommended him for that job"), Erin Foley (a 13th Ward Organization member who Madigan said he "may have" recommended for a state post), Daniel Huicochea ("I think he's no longer with us," Madigan said, in reference to Huichochea's membership in the 13th Ward Organization), Karen Cicero, Hugo C. Chavez, Isidro Rosado, George Barrera ("I recommended him" to the Chicago House Authority), David Foley ("I recommended him to the Secretary of State"), Susan Moran ("either I did or a would recommend her"), Collin Gruca, Kyle Gruca and Fredy Moody.
Peraica also asked about several individuals who he said his records showed were paid by one of Madigan's political committees, but Madigan said he did not know them ("If he were to walk in the room, I wouldn't recognize the guy," he said of one, and, "Yeah, I don't know him," he said of another).
Peraica asked directly, "Does that test ever involve doing political work for you or any of your political committee?"
"The answer is no," Madigan said.
Peraica followed up. "Do you condition job recommendations upon doing political work for you or your political committees?"
Again, Madigan was direct with his response.
"The answer is no," he said.
---
13
His memory is spot-on. Until it isn't.
Madigan was sure of himself in instances. He often knew whether someone he'd recommended for a job still held it or if they had moved on. He recalled the percent of his district that was Hispanic (60 percent) in 2010, when the last legislative map was drawn.
But more often than not, his answer to Peracia's question was "I don't remember."
He uttered that phrase, or something similar in meaning, at least 120 times.
When did Madigan learn that other candidates would be filing to run in the 2016 Democratic primary?
"I don't recall."
When did the weekly telephone conference calls begin?
"I don't remember."
When was the last time he notarized a document for someone else?
"I don't remember."
Did Madigan's main campaign account, Friends of Michael J. Madigan Committee, "financially support candidates" during the 2015-2016 election cycle, beyond his own re-election campaign?
"I don't remember, but I would presume that it did."
Did Madigan and his advisors discuss the three Hispanic candidates running in the March 2016 primary?
"I have no memory at this time."
Peraica pressed: "Do you remember having conversations regardless of the substance?"
"No," Madigan said.
"You don't?"
"No."
At one point, in a line of questioning as to whether Madigan spoke with his advisors about Barboza and Rodgriguez prior to their filing petitions to get on the 2016 primary ballot, Percaica said, "You don't remember anything, right?" to which Madigan responded, "Correct." 
"Is there anything that would refresh your memory?" Peraica asked during that conversation.
"Just spending more time with you," Madigan responded.
Follow Amanda Vinicky on Twitter: @AmandaVinicky
---
Related stories:
Speaker Madigan the Latest Snared in Solis Wiretap
The Week in Review: New Faces, Veteran Leadership in Springfield
New Democratic Legislator Pushes Against the Machine
---