House Speaker Michael Madigan has been in office for 44 years. That means he has successfully won more than 20 elections, most of them with little or no competition.
But this year, Madigan is facing three opponents in the March 15 Democratic primary, and one is speaking out about his chances to unseat the longtime incumbent. Is it a David versus Goliath story in the making, or is Madigan himself manipulating the race to his advantage?
The top challenger's name is Jason Gonzales. He's a 41-year-old, first-time candidate who says he expects to raise $50,000 by the end of the calendar year. He says he is a pro-union Democrat who wants pension reform, a higher minimum wage and a freeze on property taxes. Gonzales says he'll work across the aisle on these issues. He graduated from Duke and has a graduate degree from Harvard after some rough teen years in which he got in trouble with the law and went to an alternative high school.
Gonzales says he believes Madigan is the problem, and he's banking on a grassroots campaign to beat the powerful house speaker and Democratic Party chairman.
"Our district is being neglected. There are issues that are concerning to people and they want a representative that is present to fight for working families and tax reform," Gonzales said. "I can't be concerned with where Mr. Madigan has spread his tentacles. We know he's spread them everywhere. But has he spread them into the hearts and minds of voters in this district that want a change?"
There are two other declared candidates in the primary: Joe Barboza and Grasiela Rodriguez. Neither have campaign websites or committee information. Gonzales says they were planted by Speaker Madigan's operation to dilute the Hispanic vote, which makes up the overwhelming majority of the district.
Gonzales says he filed his nominating petitions 15 minutes ahead of the deadline, before a longtime Madigan political worker, Shaw Decremer, spotted him. Decremer and other Madigan aides, according to Gonzales, then proceeded to file petitions for Barboza and Rodriguez immediately after Gonzales filed. Indeed, we found at least one petition circulator for Rodriguez who is on the Madigan campaign payroll. Gonzales says Madigan is trying to split the Hispanic vote to ensure his own re-election.
"Madigan thinks Hispanics in my district, which now comprises 70 percent of the district, are stupid," Gonzales said. "He thinks they'll punch Rodriguez or Barboza over Gonzales because he thinks we're not smart enough to figure out they are plants from him to take votes from me. We've come up with a strategy to neutralize these two candidates, and they're not going to do much harm."
A spokesperson for Speaker Madigan denied any knowledge of so called campaign "plants" or "stalking horses."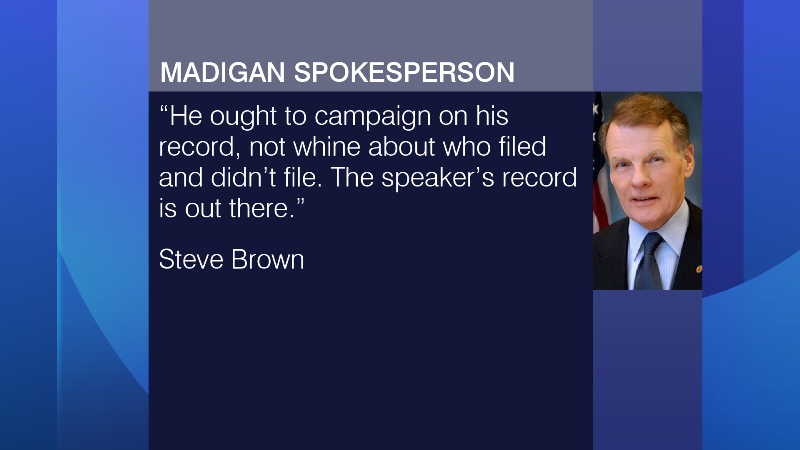 Brown also speculated that Gonzales could be running at the behest of Gov. Bruce Rauner. Gonzales denies this and there is no record of campaign contributions from Rauner's political committee.
Below, Gonzales talks more about his decision to challenge Madigan.
---
Barboza refused to appear on camera for "Chicago Tonight" but vehemently denied over the phone that he was being put up to this by anyone connected to Speaker Madigan. When asked why he was running, he responded: "I've been in this community for 16 years. I'm doing my own work now and have some time on my hands."
He says he currently works in custom flooring, and he seemed flustered when asked what he wanted to accomplish in Springfield, eventually telling "Chicago Tonight" that he supports unions.
"Chicago Tonight" was unsuccessful in reaching Rodriguez after knocking on her door.
There is no Republican primary opponent, but Illinois GOP chairman Tim Schneider told us the party could slate an opponent after the primary to run in a general election against Madigan. The party has been running campaign literature in other contested districts associating Democrats with Madigan, and the hash tag #TaxHikeMike, in reference to comments Madigan recently made at a City Club speech that he would start discussion on tax rates by reinstituting the 5 percent personal income tax rate.