A new museum show is being called the first of its kind. The cultural power of medieval Africa is the subject of the exhibition at the Block Museum of Art on the campus of Northwestern.
Before it opened, Chicago Tonight toured the galleries with a special guest from the Smithsonian.
TRANSCRIPT
Brandis Friedman: VIPs from three continents were on hand at the launch of a showcase of the splendor and influence of medieval West and North Africa.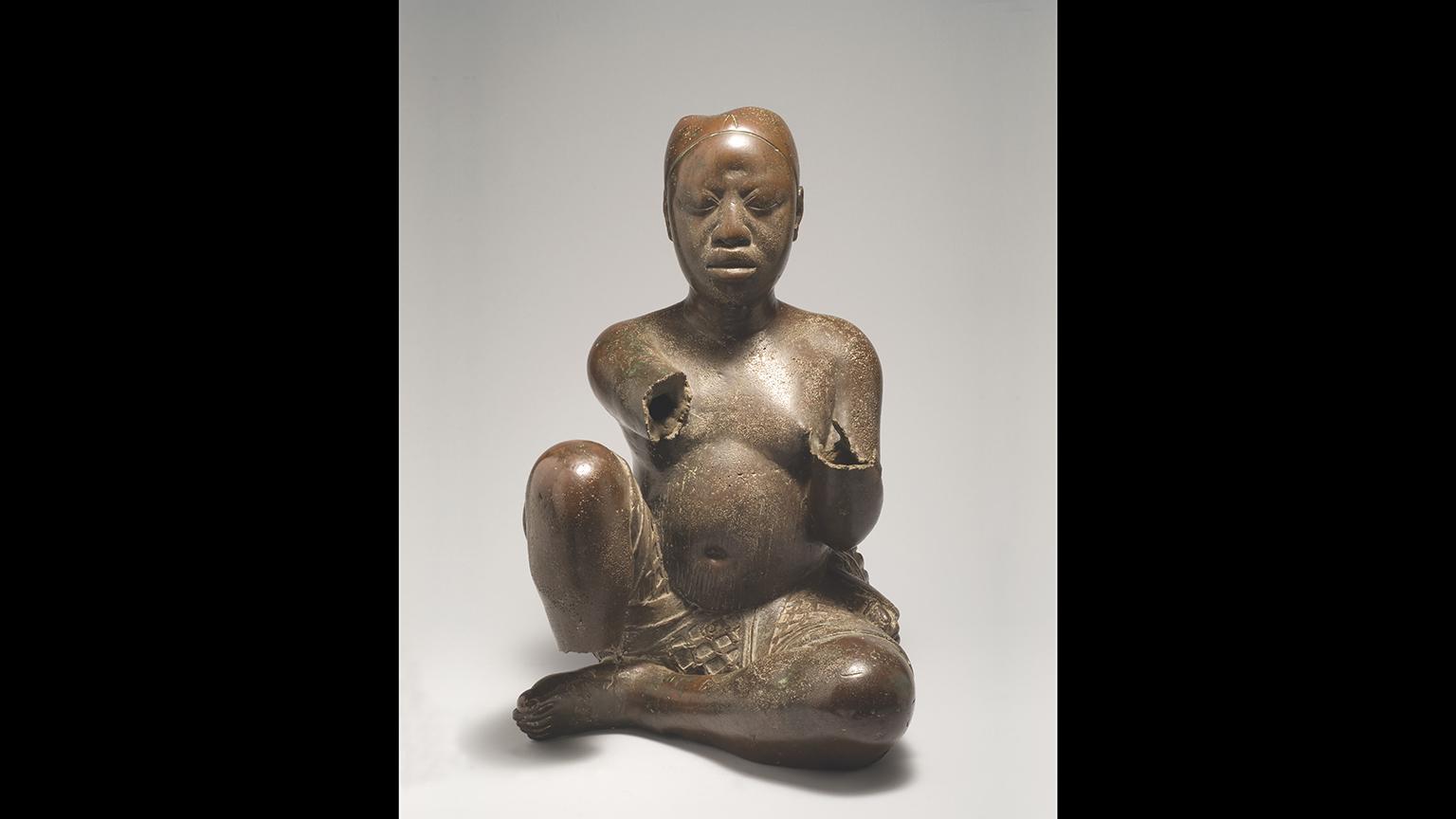 Seated Figure, Possibly Ife, Tada Nigeria, Late 13th-14th century, Copper with traces of arsenic, lead, and tin, H. 54 cm, Nigerian National Commission for Museums and Monuments, 79.R18, Image courtesy of National Commission for Museums and Monuments, Abuja, Nigeria.
The exhibition sheds light on how a trade network across the Sahara brought treasures to Europe and the Middle East – and back to Africa. It's called "Caravans of Gold, Fragments in Time," and it will eventually end up at the Smithsonian Institution.
We spoke with the director of the Smithsonian's National Museum of African Art.
Gus Casely-Hayford, National Museum of African Art: This is a very, very special exhibition that tells the story of desert cultures in the Sahara in the medieval period, and it's a story which has never quite been told in this way. And if you come here and you look at the quality of the work that you will see, and then just engage with the idea that these are African cultures in the medieval period producing some of the finest art and sculpture that you've probably seen. I think it is arresting.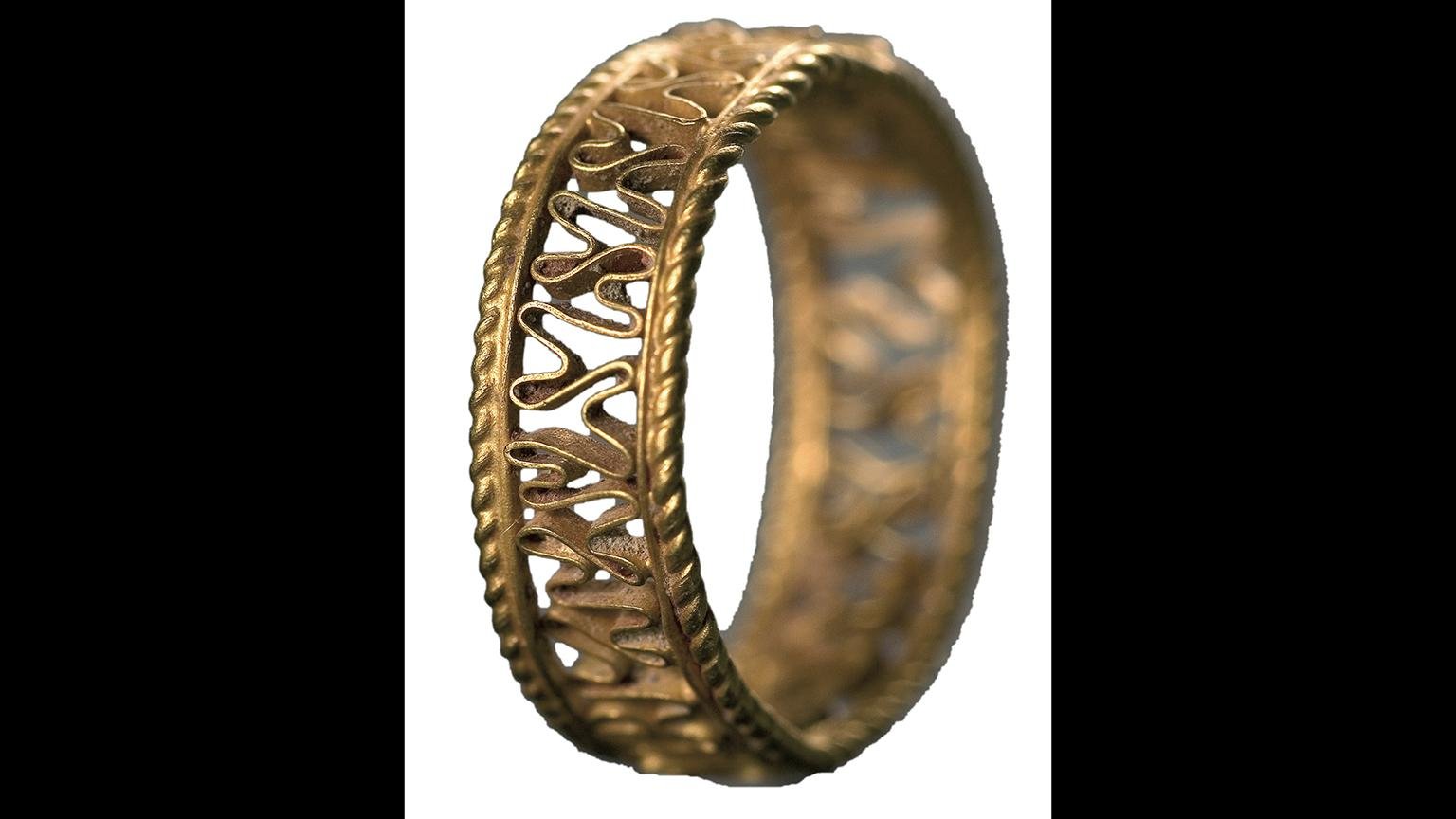 Ring excavated at Sijilmasa, Morocco, 9th/10th century. Gold, diameter 1.9 cm. Fondation nationale des muséesdu Royaume du Maroc, Rabat, 2006-1. Photograph by Abdallah Fili and Hafsa El Hassani
Friedman: One of the rarest objects here is this tiny gold band from the 9th or 10th century. It was excavated in a place called Sijilmasa, in what is present day Morocco, at the time, it was the gateway to trans-Saharan trade.
Casely-Hayford: What this story here tells you is of Africa being absolutely at the center of the medieval world, influencing communities, cultures beyond the continent, but also being a kind of centrifugal force, drawing in people from all over the region and transforming them with African intellectual ideas.
Friedman: "Caravans of Gold" includes European works of religious art – decorated with African gold, or carved with ivory from the continent.
Casely-Hayford: Seeing them from an African context, seeing how African ivories were carved in Southern Europe, seeing how copper that was produced in Southern Europe was then created into some incredible sculpture in Nigeria, these stories of how these intellectual practices, these creative practices, traversing continents in this period, they are just wonderful to behold.
Friedman: The show was seven years in the making. There are loans from the national collections of Mali, Morocco and Nigeria that have never been seen in the U.S.
Even the smallest objects offer clues to a much bigger story.
Kathleen Bickford Berzock, curator: These fragments are the starting point for understanding this medieval history. They are incredibly rare and important and also at times incredibly humble objects, but they're full of affect because they are all that's left materially of this past time. When we're in the presence of these objects, we're in the presence of the past.
Lisa Corrin, director, The Block Museum of Art: This is an exhibition that takes all of the clichés about the Middle Ages, about the history of Africa, about the Middle Ages being a dark time where people really didn't communicate with each other, and turns it all on its head.
You go to museums, you see African art – it's masks. It's totems. And what we learned about Africa usually starts with when the Europeans arrive, and of course the history of slavery, but Africa had an extraordinary past long before we ever set foot on that continent.
Berzock: This exhibition is an opportunity to think to a time well before that, when West Africa was at the center of a global network, a global economy,
Casely-Hayford: All of these things are, for me, they are astounding that we know so little about them, because Africa's this continent with this hugely long historical trajectory, with so much to teach us, and yet somehow we don't seem to tap into it. We don't seem to give our kids the opportunity to be inspired by its amazing cultures. And this, it tells a story which is a thousand years old but a story which still feels resonant.
More on this story
The exhibition "Caravans of Gold, Fragments in Time" just opened at the Block Museum of Art. The museum is on the campus of Northwestern University in Evanston, and it is free and open to the public.
---
Related stories:
Photographer Dawoud Bey Reimagines Journey on Underground Railroad
Art Institute Exhibit Brings 'Floating World' to Life
London Photographer Shines a Light on Chicago People, Places
---