History, beauty and pleasure are on display in the first public showing of a standout collection of Japanese art. These rare paintings from centuries ago depict cultural and carnal pursuits.
Chicago Tonight visited the Art Institute to navigate the seductive place known as "the floating world."
TRANSCRIPT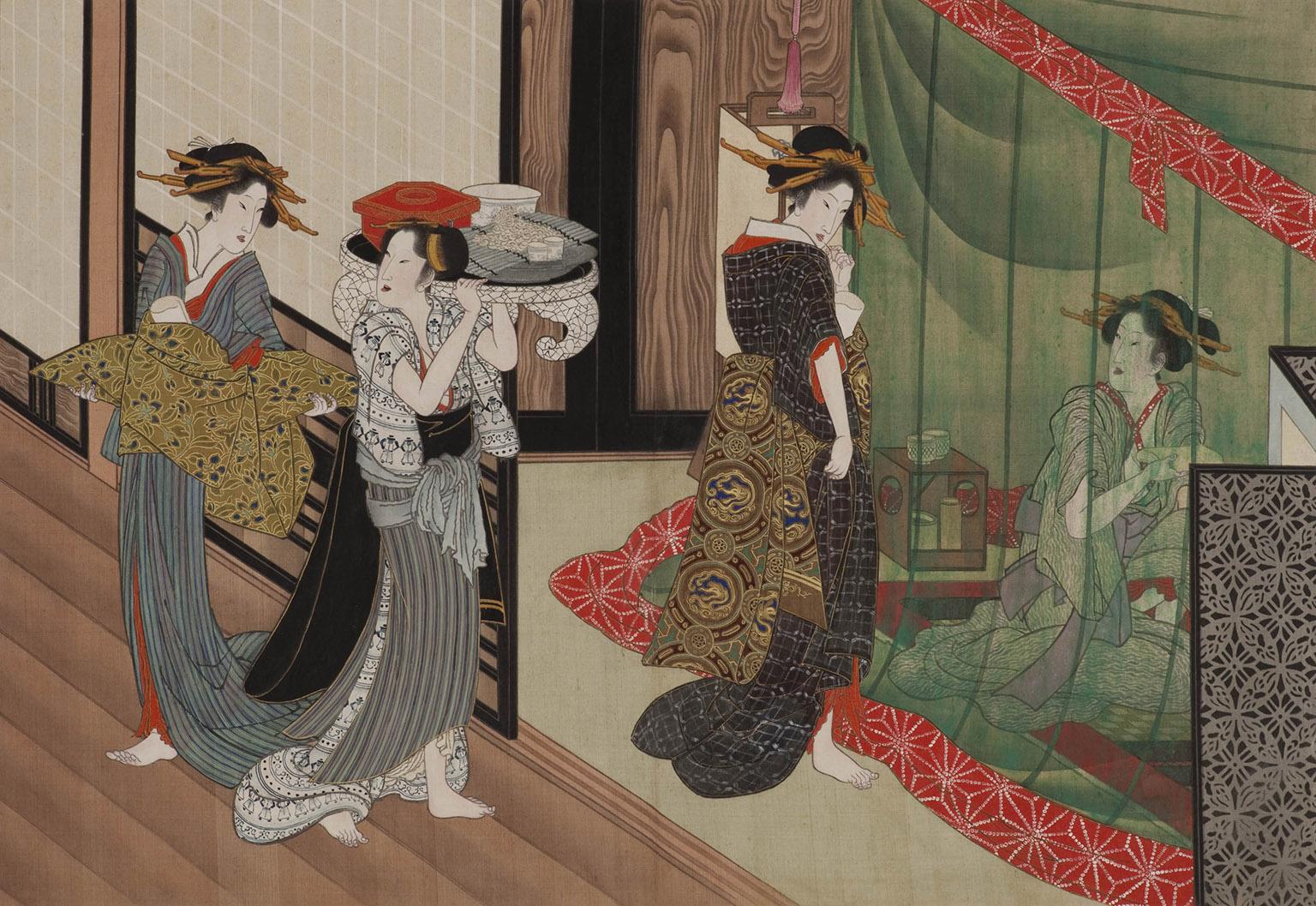 (Utagawa Toyokuni. A painting from One Hundred Looks of Various Women, 1816. Weston Collection.)
Brandis Friedman: There are courtesans and geishas, actors and entertainers. From the 17th through the 19th centuries, artists in Japan painted scenes of brothels, theaters and festivals. The paintings are called "ukiyo-e."
Janice Katz, curator at the Art Institute of Chicago: "Ukiyo-e" literally translates to "pictures of the floating world." And this idea of the floating world – it sounds very ethereal and conceptual –  it's actually something very specific. It's this mindset that grew up in the cities of Japan.
Japan was the most urbanized society on earth in the pre-modern period, so in the 18th century the capital city of Edo, which we call Tokyo now, was actually the largest city on earth in terms of population, and this was when people started to identify with being citizens of the city, with being urban residents.
So this real identity of being from the city, being educated and sophisticated sprang up. Being able to use whatever money you had, whatever class you were from, being able to use your free time, your money to enjoy the entertainments of the city.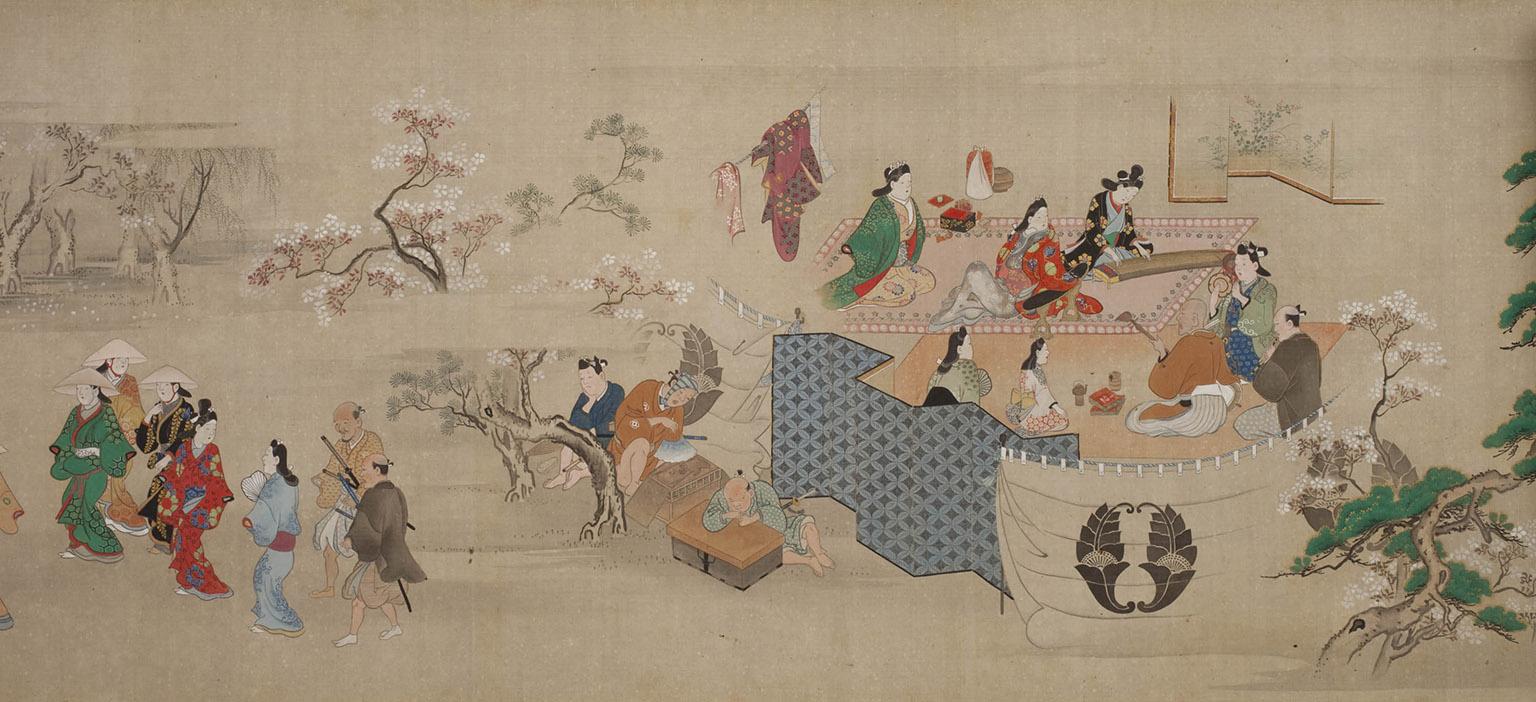 (Hishikawa Moronobu. Detail of Genre Scenes of Edo,1688/1704. Weston Collection.)
Friedman: To live in "the floating world" was to enjoy life in a buoyant and carefree manner.
Katz: These pictures of the floating world, they represent a revolution in art because before this in Japanese art you have paintings that are largely of historical subjects or religious subjects, legends.
And so now for the first time people – pretty much people of all classes – could see themselves in works of art, and see themselves in an ideal way going about enjoying their leisure time, enjoying seasonal activities, kabuki theater and other entertainments.
Friedman: Those activities included sexual pursuits. Japanese erotica called shunga can be quite graphic. This was the only image we could show and still keep our license.
Katz: For the most part these images are of beauties, and these beauties can be just about anybody. Many of them are courtesans from the pleasure quarters – the highest ranking courtesans in the licensed pleasure district: the yoshiwara. But then you also have other beauties such as tea house waitresses, you have farm workers, (and) you also have men who are beauties, particularly young men.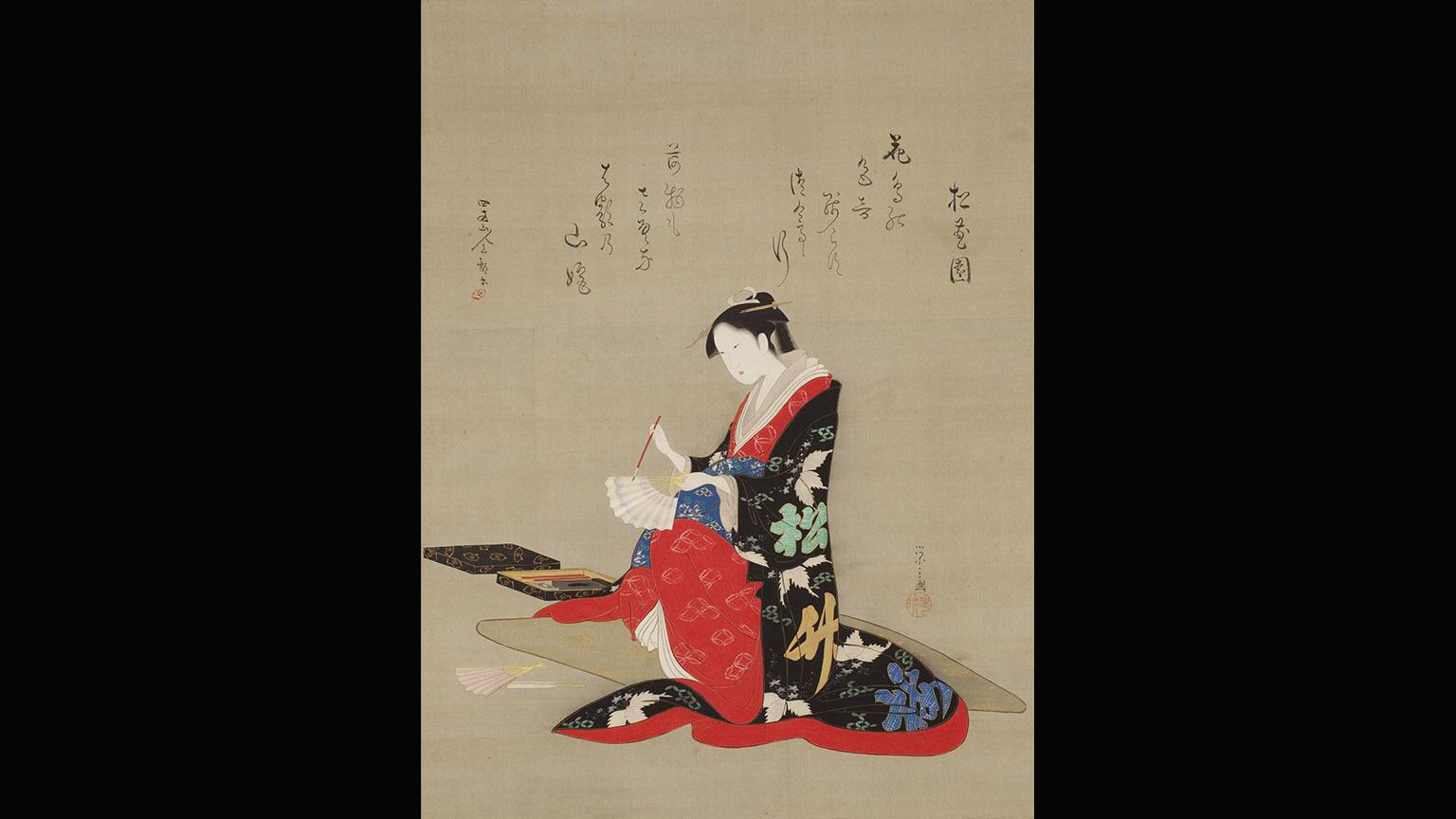 (Chōbunsai Eishi. Woman Writing a Poem on a Fan,1789/1801. Weston Collection.)
Friedman: Most of the more than 150 works are hanging scrolls. They were painted with vegetable and mineral pigments, including ground oyster shells used for a woman's complexion.
For canvas, the artists used silks and other luxurious fabrics.
All of the works are now part of the private collection of a museum trustee. Originally, they were commissioned works meant for individual owners and would not be displayed in a museum.
Katz: This is a rare opportunity for people to see a multitude of these "floating world" paintings – something that people at the time, of course, would not have been able to do. I mean, you'd never have an exhibition of this many works and also to be able to see such a variety of them and be able to walk through the entire genre from its beginning, all the way through its major developments in each period, to the last flowering.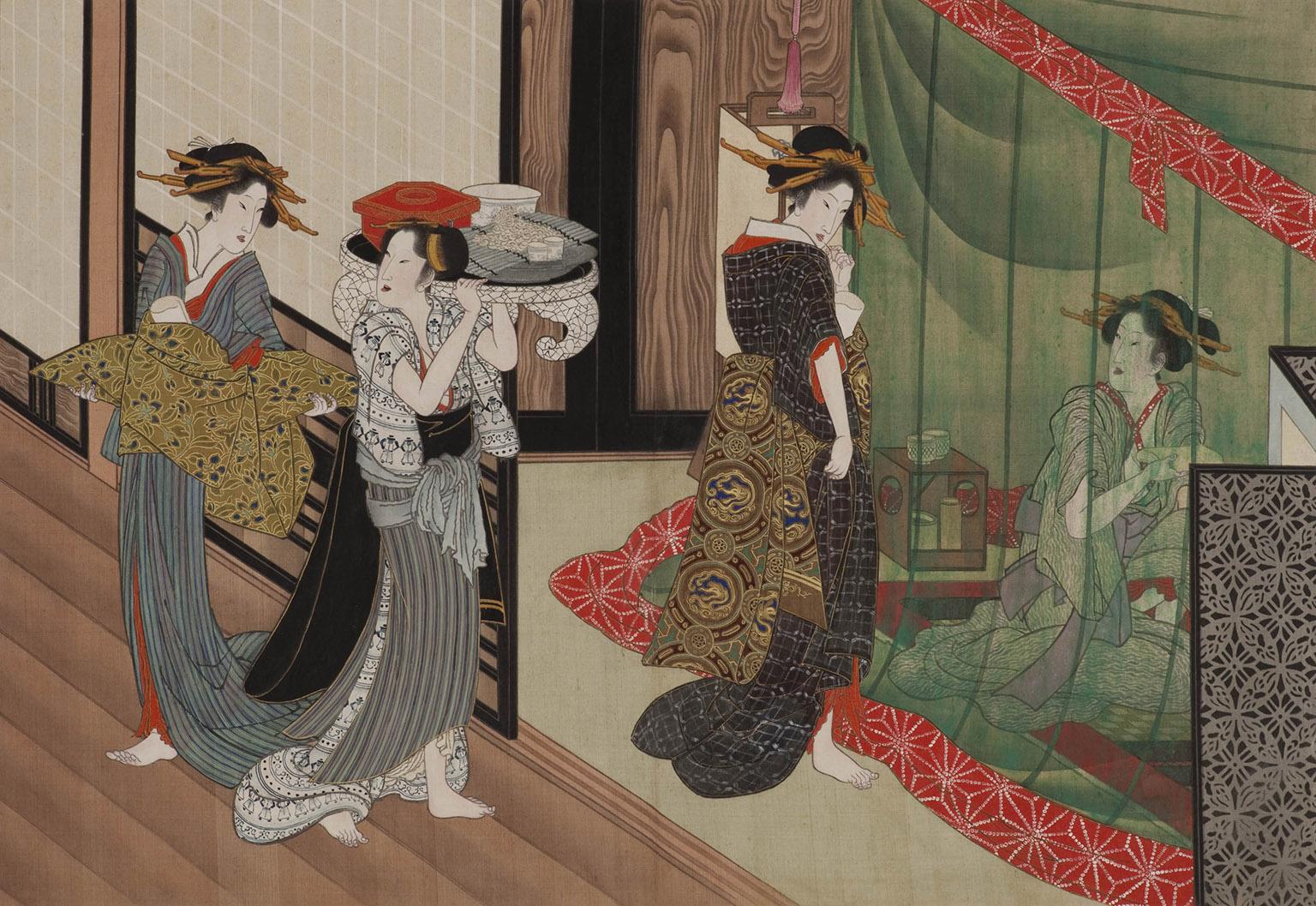 (Utagawa Toyokuni. A painting from One Hundred Looks of Various Women, 1816. Weston Collection.)
More on this story
The exhibition is called "Painting the Floating World: Ukiyo-e Masterpieces from the Weston Collection." It is at the Art Institute of Chicago through Jan. 27.
---
Related stories:
The Weird and Fanciful Art of the Hairy Who
Chicago Artist's Caricatures a New Yorker Staple
For South Side Native Dion 'No I.D.' Wilson, Hip-Hop About Intention
The Art Institute of Chicago Celebrates 125th Anniversary
---