Adrian Sampetrean, Michael Fabiano, Maria Agresta, Ricardo Jose Rivera and Zachary Nelson in "La Boheme." (© Todd Rosenberg Photography 2018)
It is a snowy Christmas Eve, and several penniless artists suffering from hunger, cold and lofty bohemian dreams can be found commiserating in their attic room while fending off threats from their wealthy landlord who wants them to pay their overdue bills. Meanwhile, the men are determined to celebrate the holiday at a favorite cafe where the many and varied complications that come with love and lust (and fatal illness) are sure to play out.
No, this is not "Rent," and we are not on the streets of New York's (formerly) down-market East Village. Rather, this is "La Boheme," Giacomo Puccini's ever-popular 1896 romantic tragedy that unfolds in Paris' Latin Quarter, and that in recent decades has become known to a whole new generation as the inspiration for Jonathan Larson's hit 1996 musical.
I didn't catch the brief initial run of Lyric Opera's "La Boheme" this fall. But the production, directed by Richard Jones and designed by Stewart Laing (first staged in 2017 at the Royal Opera House Covent Garden), has returned for a fittingly wintry engagement. And along with the weather came the announcement of a couple of health-related issues at the Jan. 10 reopening, including the news that lyrical tenor Michael Fabiano would be soldering on as the poet/playwright Rodolfo despite a cold.
However, the role of Musetta, the ex-girlfriend of the jealous painter Marcello (the strong baritone Zachary Nelson), soprano Danielle de Niese was replaced by Ann Toomey, a current member of Lyric's Ryan Opera Center. And Toomey – it should be noted at the very start – won a well-deserved and enthusiastic ovation for her vivid portrayal of the lusty, tempestuous, but heart-of-gold free spirit. (De Niese has since returned to the role.)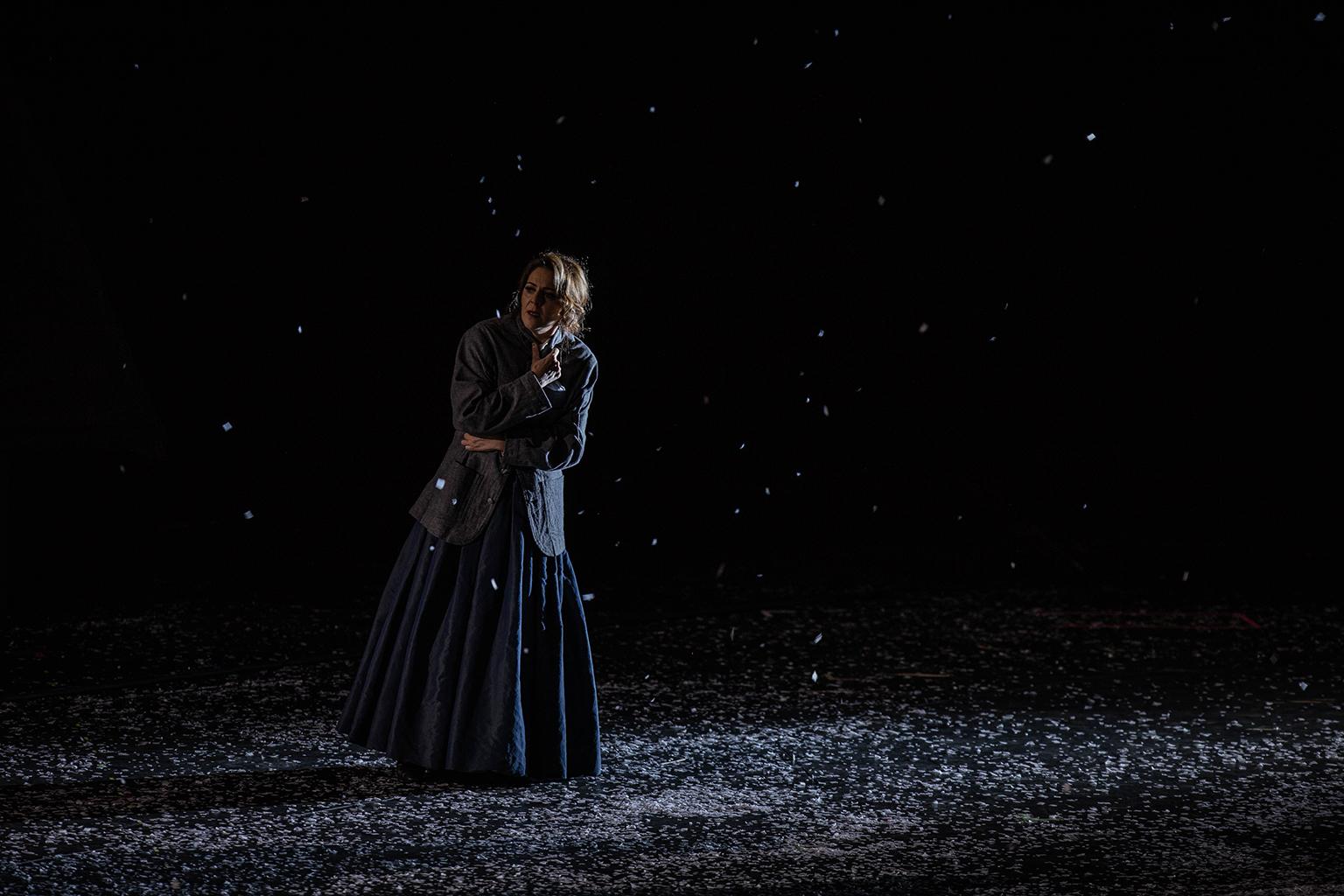 Maria Agresta in "La Boheme" (Courtesy of the Lyric Opera of Chicago)
Puccini, of course, is a great melodist, and the score for this opera, with its Italian libretto by Giuseppe Giacosa and Luigi Illica, hardly needs more praise for its mix of the tender, the sardonic and the raucous. And Jones has cast the production with singers who not only fit their roles ideally but know how to act. This includes the lovely soprano Maria Agresta as Mimi, the shy, delicate-spirited, romantic young woman who barely ekes out a living with her embroidery and flower-making, and whose love-at-first-sight encounter with her neighbor, Rodolfo, ends in tragedy.
There is also winning work by way of baritone Ricardo Jose Rivera as Schaunard, the playful musician whose quirky gig entertaining a rich man's parrot supplies the cash that will pay for his friends' visit to Cafe Momus; by bass Adrian Sampetrean as the philosopher Colline, who brings a note of gravity to the group; and by bass-baritone Jake Gardner as both Benoit, the elderly married landlord with amorous intentions, and Alcindoro, the lecherous old government official Musetta deftly manipulates for his money.
That is the good news about the production. More problematic are designer Laing's sets which not only involve some exceptionally clunky transitions between acts, but also are oddly out of scale. The artists' attic room, pushed to the lip of the stage, feels far too big given their circumstances, and has lighting by Mimi Jordan Sherin that is far too bright for a winter's night. The trio of stunning Paris arcades (or "passages") packed with holiday shoppers, also is moved to the edge of the stage, so the fashionable crowds in Laing's lush costumes (including the Lyric chorus and the marvelous Chicago Children's Choir), have no place to move as they shop for toys and other gifts. The Cafe Momus, with its long line of tables, fares better (even if Musetta's triumphant mock humping of Marcello atop those tables seems a step too far).
Michael Fabiano and Maria Agresta in "La Boheme." (© Todd Rosenberg Photography 2018)
The lovers' quarrels were beautifully sung, as were the conversations between the men. And Mimi's consumptive (but cough-free) death scene was expertly played by the pale, graceful Agresta, with Toomey deeply moving as the brassy woman who also has the instincts of a guardian angel.
Throughout, conductor Domingo Hindoyan was winningly sensitive to the balance between the Lyric orchestra and the distinctive voices in the opera's crucially intimate scenes. And you might even be forgiven if you find yourself humming Larson's "Would You Light My Candle?" on the way out of the theater.
"La Boheme" runs through Jan. 31 at the Lyric Opera House, 20 N. Wacker Drive. For tickets ($39-$279) call (312) 827-5600 or visit www.lyricopera.org. Running times is 2 hours and 15 minutes with one intermission.
Note: A great variety of productions are coming up at the Lyric, including "Elektra"(Feb. 2-22), Richard Strauss' take on the ancient Greek legend; "La Traviata" (Feb. 16-March 22), Verdi's tragic tale of a courtesan who longs for true love; Handel's "Ariodante" (May 2-17), a tale of rival lovers set in Scotland that features an element of puppetry; "An American Dream" (March 15 and 17 at the Harris Theater for Music and Dance), a Lyric premiere of a work by Jack Perla and Jessica Murphy Moo that explores the lives of a Japanese-American and German-Jewish woman in post-World War II America; and "West Side Story" (May 3-June 2), the dance-filled Broadway classic that needs no further description.
Follow Hedy Weiss on Twitter: @HedyWeissCritic
---
Related stories:
High School Playwrights Probe Painful Personal and Social Issues
Music Theater Works Casts an Enchanting Spell With 'Into the Woods'
In 'La Ruta,' the Plague of Unavenged Murders of Poor Mexican Women
---