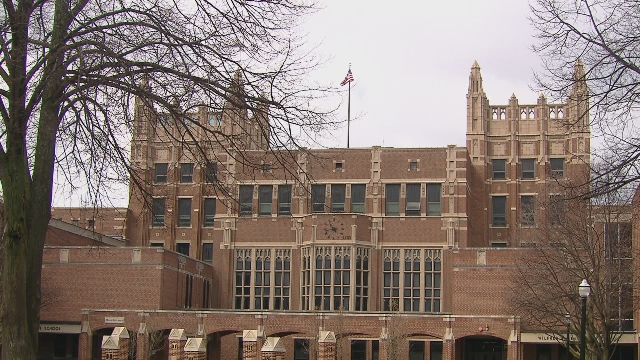 Evanston Township High School
Evanston police are investigating a local high school employee following allegations of "inappropriate contact" with at least two students.
ETHS Superintendent Eric Witherspoon informed parents and families Thursday that the district was cooperating with police and had begun its own internal investigation after learning on Tuesday of the employee's alleged behavior. An Evanston police spokesman on Friday confirmed the department is running an ongoing investigation.
"School officials immediately launched a thorough internal investigation and took appropriate measures to inform the Evanston Police Department (EPD)," Witherspoon wrote in the letter. "The District is actively cooperating with EPD during their investigation and will determine what further action is necessary according to District policy."
Neither Witherspoon nor Evanston Police Cmdr. Ryan Glew would comment on any specifics regarding the alleged incidents. Glew did say the employee is not a counselor, coach or teacher at the high school, and that the allegations involve multiple students.
"The investigation includes more than one student," he said. "This is a timely (investigation). This is not like last year's investigation into the decades old (accusations). This is a timely investigation."
Those previous investigation involved Bruce Siewerth, a retired ETHS drama teacher who was accused of sexual abuse by dozens of former students in the 1970s, '80s and '90s. Evanston police last year said they had investigated at least 35 individual allegations against Siewerth, but criminal charges were never brought because the statute of limitations had run out.
Glew said these recent allegations do not involve Siewerth. He also acknowledged there may be other students involved who police are not yet aware of.
"Once there's an accusation made, we know that there could or could not be more people coming forward," he said. "That's always a possibility."
An ETHS spokesman did not immediately respond to requests for comment Friday. Anyone with information regarding these allegations is asked to contact the Evanston Police Department at 847-866-5000.
Contact Matt Masterson: @ByMattMasterson | [email protected] | (773) 509-5431
---
Related stories:
No Criminal Charges for Retired Evanston Teacher Accused of Sexual Abuse
New Lawsuits Detail Sex Abuse Claims Against Retired Evanston Teacher
Former Students Describe Alleged Sexual Misconduct of Evanston Teacher
Former Lake Bluff Students Sue School District Over Sex Abuse Allegations
After Springfield Sexual Harassment Exposed, Legislation on Fast Track