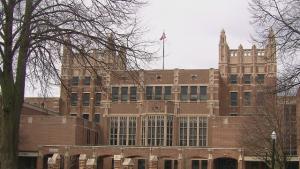 Last week, Evanston Township High School was ranked in the top 3 percent on a list of the most challenging schools across the country. 
The list, created by the Washington Post, is based on how many rigorous courses, like Advanced Placement, a school offers. But administrators at ETHS say while they've always offered AP courses, and others like it, not all students were participating.
Students here at Evanston Township High School outside Chicago can take anything from automotive service excellence certification to astrophysics.
They also have their pick of almost 30 Advanced Placement courses. Dale Leibforth heads AP recruitment.
"Portfolio studio or Latin, art history, music theory, statistics and calculus," Leibforth said, naming several AP courses offered at ETHS.
Even though it's a top-rated school, with a diverse student body, until recently only certain students were picking AP courses.
"We had students of color and low-income students terribly underrepresented in our Advanced Placement courses," said ETHS Supt. Eric Witherspoon. "There's still a predictability among student achievement in our school district based on race, and we do see a wide gap in some areas." 
When Eric Witherspoon became superintendent eight years ago, he noticed that AP classrooms were filled with mostly white students, while regular classrooms were filled with mostly minority and often low-income students, who make up 41 percent of the student body.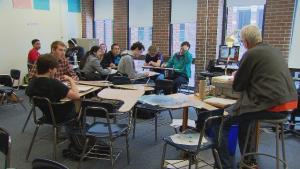 Witherspoon said he realized students were being tracked into AP courses through honors classes based on their eighth grade standardized test performance, while other students were tracked into less rigorous courses.
"It didn't take a rocket scientist to figure out that here we're getting disparate results, but in fact, we have a structure that may be even is causing some of those disparate results. But certainly if not causing, certainly not doing anything to change those results," Witherspoon said. 
To bridge that gap, Evanston Township High School began enrolling all incoming freshmen in the honors English and history class, called humanities.
Eventually, all ninth-grade students–except for those reading below grade level—were also enrolled in the honors level biology, no matter how they performed on their eighth grade standardized test.
The school is hoping to implement the same strategy for ninth-grade math.
"We've put a lot of work into convincing students that this is something everyone can do. This is a place where you belong," Leibforth said. "Where you have shown you can show resilience, you can show this grit, you can show the hard work and effort that it takes to be successful."
The idea is to set higher expectations of all students early, so that more of them are prepared for an AP class by eleventh grade.
But the work didn't stop there.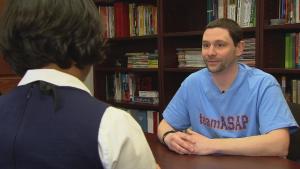 "The recruitment, the access, stripping away barriers, we've done that. Now, it's you're in the class," Leibforth said. "We've done the easy part. Now, it's how can you be successful? We have instituted just a series of supports for the kids." 
The school developed ways to be sure students who enrolled in honors, and eventually Advanced Placement classes, didn't fail.
One of them is a program called Team Access and Success in Advanced Placement or Team ASAP. It's a support group for AP students.
"For me it's kind of like a stress reliever. I don't know, just whenever I'm having an issue in one of my classes I can just kind of come here and talk about it, and talk to other students who might be having the same issues," Vanessa Senecal, an eleventh-grade student, said.
"It's a great way to just get AP study strategies, and I know that I plan on taking AP classes next year," said Cypher Eason, a tenth-grade student.
Senior Jonathan Senecal said black male students are often still underrepresented. But he said this push to diversify AP classes is making a noticeable difference.
"The Advanced Placement is traditionally kind of a white space, but, like in recent years, we've seen it changing a whole lot. I know that even in my stats class, it's like everyone's very well-represented," he said. "What it helps to do is you get a lot of unique perspectives, people got different kinds of analogies, they're bringing different things to the table and everyone really improves just because of that."
The district says early numbers show the changes it's made are making a positive difference for all students.
Between 2011 and 2014 alone, the number of students taking the AP exam is up 31 percent.
White students showed a 19 percent increase, black students taking AP tests are up 35 percent, and Latino students showed the most growth, up 78 percent in those three years.
Not only are more students taking AP tests, but the number of students scoring a three or higher—a score that can lead to college credit—is up too.
For white students, it's up by 31 percent, black students by 98 percent, and Latino students by a whopping 116 percent.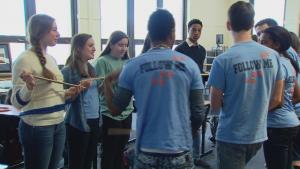 "It's a lot more about truly educating yourself to your own curiosities, as opposed to just regurgitating facts. You really get to, like she said, challenge yourself. Test your skills. You discover new skills that you have," Jonathan Senecal said. "It's a lot more helpful in terms of like letting you figure out what you'd like to spend the rest of your life doing, what you'd choose as a career." 
Northwestern University professor and researcher David Figlio is also an Evanston Township High School parent.
He's volunteering his research expertise to study if and how well these changes are working.
"What they are doing, I think, could be seen as risky, right? Evanston high has a formula in some regards for success for the advantaged kids. And so any monkeying around with that formula could be risky," Figlio said. "But then at the same time, it could pay off in big ways. So we need to know what's happening with the students who would've been in the honors classes anyway before this happened, as well as the students who wouldn't have been in the honors classes had this not been happening."
Students say that while they appreciate the increased number of students of color, when they are in class, they should have just one focus.
"I feel like there are classes that are more diverse than other classes, but it's not something that you should pay attention to," Deyon Keaton, a senior, said. "If it's what you want, go after it."
Figlio adds that a community like Evanston is an ideal place to test this model. It's rich in diversity, resources and the will to make a change – a change that educators hope could be replicated in other districts.
---
ETHS parent Sara Polonsky's eleventh-grade daughter, Shanti, is enrolled in both AP calculus and AP physics classes. Shanti recently scored a 34 (out of 36) on the ACT exam. She says while the AP calculus is challenging, she's frustrated with what she calls the "watering down" of the AP physics class.
What's your daughter's experience been with her AP physics course? 
It's been so frustrating. They're trying to make everything "mixed honors," which means people of all skills can be in the same class. I totally understand the intention: for kids who're struggling and if they're in the class with kids who're doing well, then you have children to serve as the role model to improve behaviors, demonstrate study skills, answer the questions correctly in the classroom. So, for my daughter, who's doing well, she's teaching other people, which is great for her self-esteem and she's giving back to the community. But, then she doesn't have that same experience. She never gets to be with people who're challenging her and pushing her to improve, if she's always the best in the class.
The other issue is that she's been in classes where the teacher is so wrapped up in discipline, because it's a mixed ability class where people just aren't motivated to be there, that she doesn't feel like she's getting the teaching that she should because the teacher is so involved in other issues.
So that's the downside, when you're a very bright person in the class and you're not receiving the academic rigor that you would like.
What are your thoughts on the structure of the ETHS honors/AP program?
The one that's kind of been a waste for her is this physics class. I feel like the College Board is watering down the APs by even creating that class. It's essentially an honors-level physics class, rather than a college-level physics class.
It'll be interesting to see what the AP scores are. If they're pushing more people to take the APs and all their AP scores are going down, what have you accomplished? And not so much for the school, but really, what are you accomplishing for the kids? They're taking this class, and if you don't get a 4 or 5, it's not going to work in terms of giving you college credit. Now, it may expose you to supposed college-level rigor, which might be helpful in terms of getting people toward college readiness, so in that sense, maybe it's useful or helpful.
 Does she feel like it's always been this watered down, like in her previous honors classes?
She's been very frustrated by the chemistry honors. She was frustrated by some of the behaviors in some of her classes, by the other students. Just people in the classes have different motivation. As she's gotten into classes where it's at a level that's engaging to her and the other kids are more engaged, she enjoys it more. 
Interview has been condensed and edited.