It's the scourge of the wealthy politician: Winning public office necessitates a hands-off approach to the source of all of that wealth.
Illinois Gov.-Elect J.B. Pritzker, currently ranked No. 251 On Forbes' "The Definitive Ranking of the Wealthiest Americans" list due to his estimated net worth of $3.2 billion, will fulfill his campaign pledge to put his assets in what the campaign describes as a blind trust.
His campaign shared a memo prepared by the law firm Perkins Coie LLP.
"Governor-Elect Pritzker believes that public service is a public trust. As Governor-Elect and Governor, he is committed to taking all steps necessary to comply with the Illinois ethics rules and to promote transparency and accountability to avoid even the appearance of a conflict of interest in the Governor's Office," the memo begins.
The procedures are similar to what outgoing Gov. Bruce Rauner put in place just prior to his 2015 inauguration (Rauner is also wealthy, though not enough to make Forbes' list). The Pritzker campaign, however, maintains it went further to set boundaries, calling Rauner's commitment a "charade," given a lawsuit that alleged Rauner met with a former colleague at the governor's mansion about a business investment.
"Extensive work has taken place to eliminate potential conflicts of interest while also ensuring the Governor-Elect can meet Illinois' reporting requirements," Pritzker spokeswoman Jordan Abudayyeh said in a statement.
To that end, Pritzker promises to hire an "independent compliance advisor" who will oversee a "team of attorneys and ethics experts to advice the connected parties on compliance considerations regarding potential conflicts that arise."
Pritzker is divesting from assets he personally holds that have contracts with the state or that rely on state funds.
The rest of his personally held assets will be put in a trust to be managed by Northern Trust; Pritzker will not be permitted to manage investment decisions and his communication with the trust's managers will be limited to what Pritzker needs in order to file his tax returns and the economic interest statement that Illinois' elected officials are mandated by law to file with the state.
Should the trust invest in, and make money from, a company that has a contract with the state, Pritzker promises to make a charitable contribution equal to the amount of the positive return.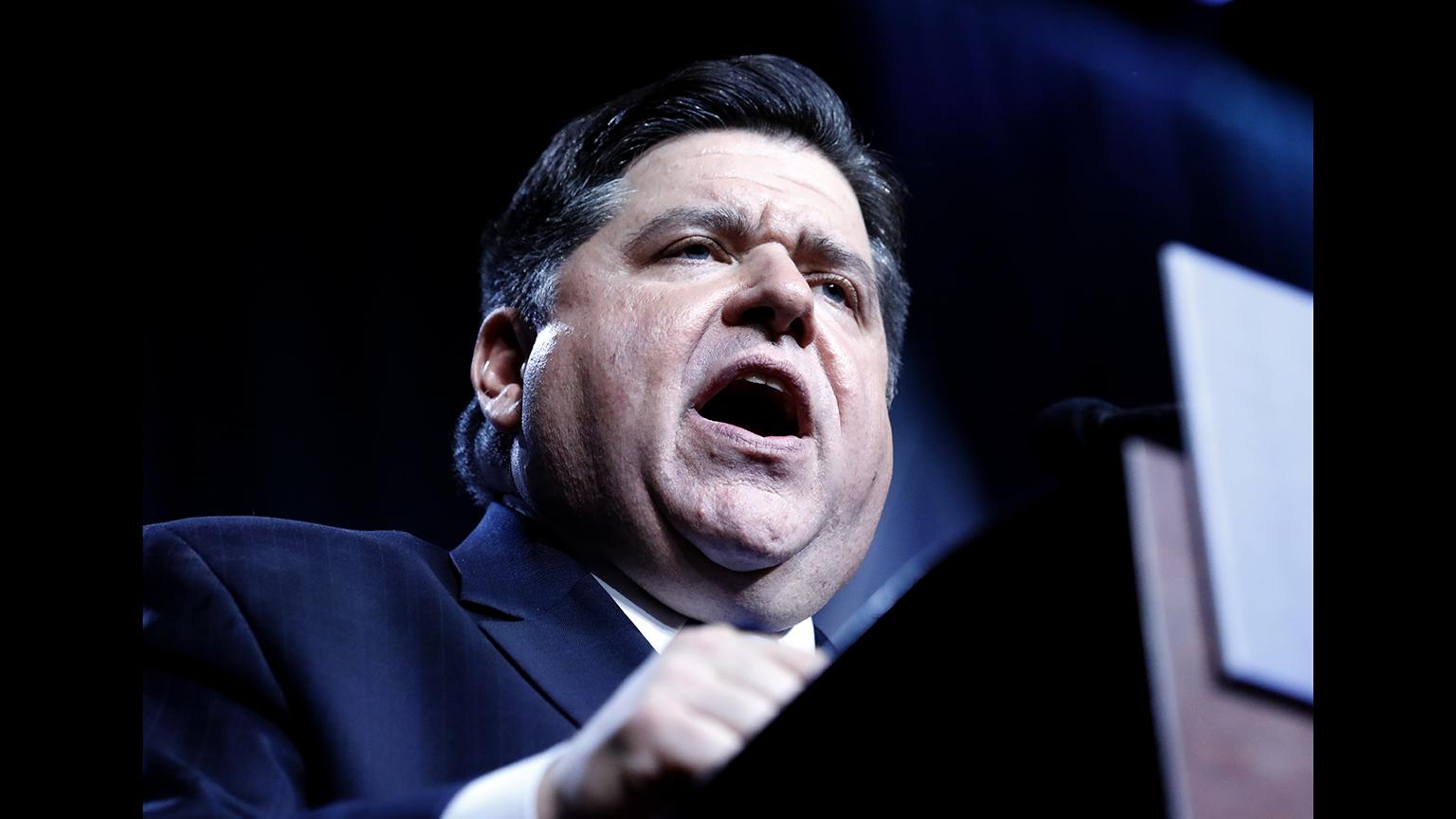 In this Nov. 6, 2018 file photo, Democratic gubernatorial candidate J.B. Pritzker speaks after he is elected over Republican incumbent Bruce Rauner. (AP Photo / Nam Y. Huh)
Outside of that blind trust for his personally held interests, Pritzker – heir to the Hyatt fortune – remains a beneficiary of family trusts; questions surrounding those and other offshore holdings became a campaign issue after questions raised in a Chicago Tribune investigation.
Pritzker released partial tax returns, but did not make available information about those trusts.
According to the Perkins Coie memo, "Governor-Elect Pritzker is a beneficiary of several domestic and foreign trusts. These trusts are irrevocable" and he isn't "granted the authority to alter or terminate the trust or its investments."
Pritzker's Northern Trust trustees will make asset allocation and risk decisions for him, and trustees will provide him with only minimal information about their performance.
It's not a complete relinquishment of control for Pritkzer's immediate family; wife M.K. Pritkzer is not held to the same standards, though state ethics law prohibits any pecuniary interest in state contracts.  
Pritzker and his brother are partners of the Pritzker Group private capital and asset management firm. The Democrat spent a national record-breaking $171.8 million to win the governor's office, his first elected position.
He will take the oath of office Monday.
Thursday, Pritzker announced a new round of appointments, which will put women in key positions. Among them: Alicia Tate-Nadeau, currently director of the Chicago Office of Emergency and Communications, will lead the Illinois Emergency Management Agency; Chicago's Chief Operating Officer Janel Forde will take over the state Department of Central Managmenet Services; Thersea Eaagleson – who previously served as Illinois' Medicaid director – will become director of the Illinois Department of Healthcare and Financial Services; and Heidi Mueller will remain the director of the Illinois Department of Juvenile Justice.
Separately, Illinois House Speaker Michael Madigan announced Thursday his appointment of Rep. Greg Harris, D-Chicago, as the majority leader – a key position held by former Rep. Barbara Flynn Currie from 1997 through her retirement Tuesday.
Harris is the first openly gay legislator to serve in such a role; Currie had been the state's first female majority leader.
"Throughout his tenure, Representative Harris has shown a dedication to meeting our state's biggest challenges head on," Madigan said in a statement. "Throughout his career, he has worked to advance progressive ideals, while also building bipartisan consensus. He led a historic effort to make Illinois one of the first states to pass legislation ensuring equal rights for same-sex couples; he has spearheaded complicated Medicaid reforms with an eye toward compassion and expanded access to health care; and his leadership was most critical during the budget crisis, when Representative Harris was instrumental in bringing together Democrats and Republicans to enact a bipartisan budget that protects lifesaving services like breast cancer screenings, child care, health care for the elderly and much more."
It's the first of a series of forthcoming announcements of leadership appointments, Madigan said.
It comes after high turnover in the General Assembly. Some appointments may also be on hold as certain Democratic legislators are weighing taking positions with the Pritzker administration.
Follow Amanda Vinicky on Twitter: @AmandaVinicky
---
Related stories:
New Class of Illinois Lawmakers Will Face Enduring Challenges
In Final Days as Governor, Rauner Opens Up on Trump, Taxes, Unions and Burke
Chicago Organizer Picked to Finish Raoul's State Senate Term
---