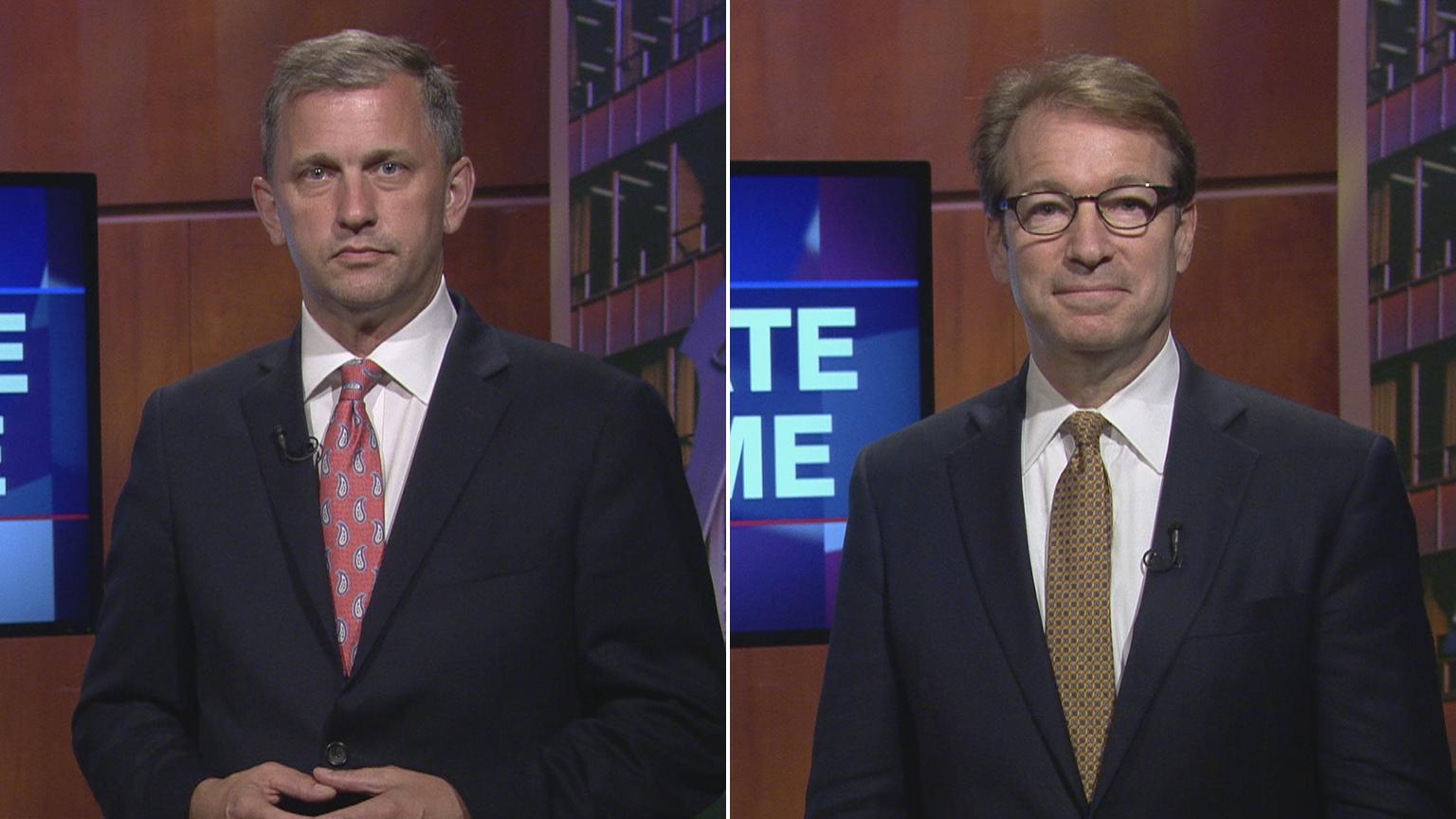 Sean Casten, left, and U.S. Rep. Peter Roskam appear on "Chicago Tonight" on Oct. 22, 2018.
In a political upset, political neophyte Sean Casten (D-Downers Grove) has defeated six-term conservative Republican incumbent Peter Roskam (R-Wheaton) in the 6th Congressional District.
The last time the district was held by a Democrat was in 1972 by U.S. Rep. George Collins, who was killed in a plane crash flying back from Washington, D.C.
"I was a year old when George Collins died," said Casten in his victory speech. "When I'm sworn into Congress in January, I will be 47 years old, the same age George Collins was when he died. I will also be the first Democrat since George Collins to represent the 6th District," Casten said to thunderous applause.
The tone was much more somber at Roskam's election night headquarters.
"While I would wish I had won the election tonight, I didn't," Roskam said in his consession speech. "That is how democracies work. And so, look, as we move forward and we deal with disappointment in the short run, we've got to recognize that in God's great plan he's got a wonderful plan for each one of us. And I am so looking forward to interacting with each of you in these days and weeks and months ahead."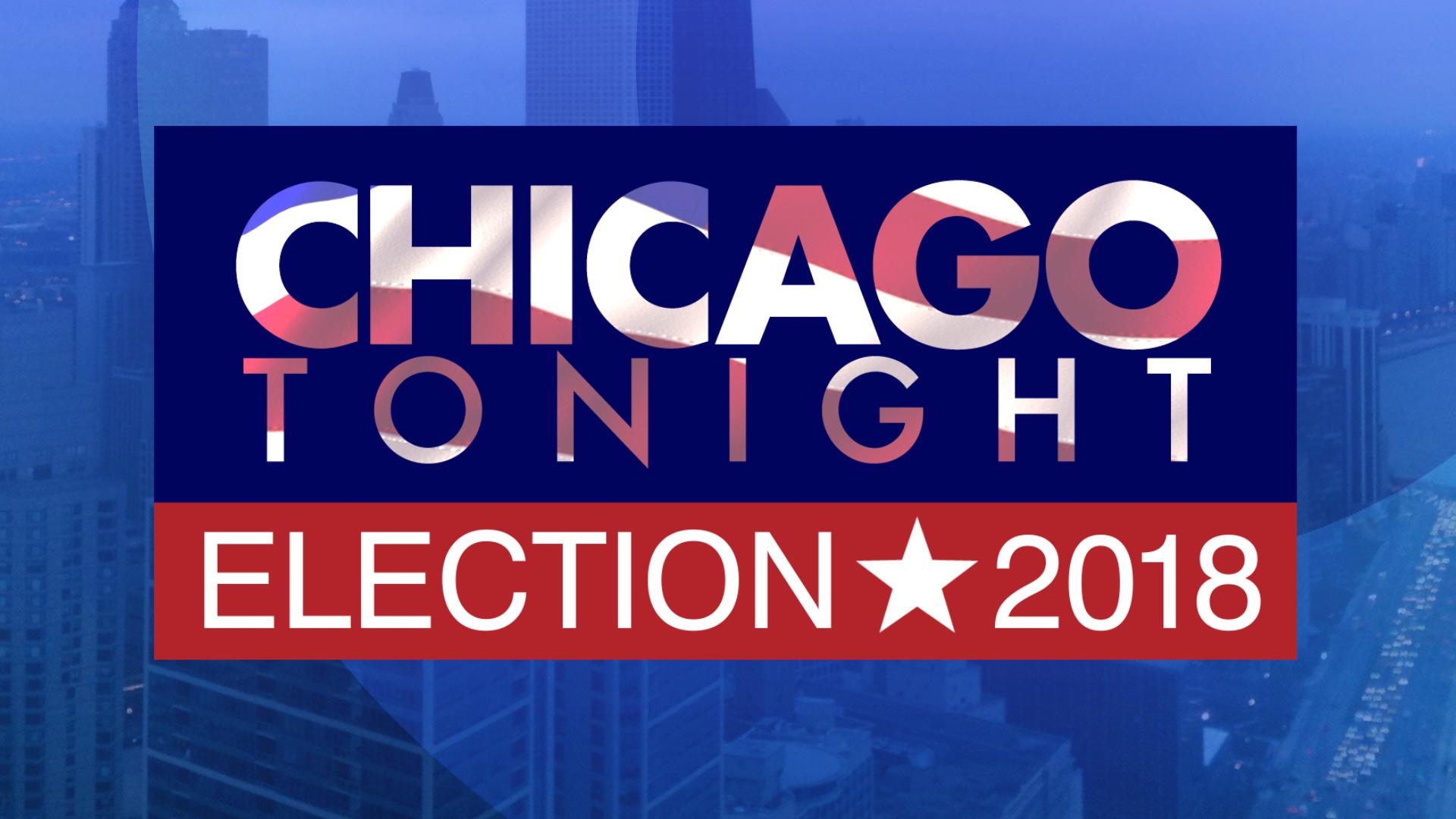 More election coverage from WTTW News and Chicago Tonight
---
Democrats showed early confidence that voters would flip the U.S. House. "We are going to win," House Minority Leader Nancy Pelosi (D-California) said Tuesday.
Illinois Democrats have helped turn two red districts blue in the state. Political newcomer Lauren Underwood (D- Naperville) defeated U.S. Rep. Randy Hultgren (R-Plano) in the Republican-leaning suburban 14th Congressional District.
In the 13th Congressional District downstate, which includes Champaign and Normal, the lead has bounced between Democrat Betsy Dirksen Londrigan (D-Springfield) and three-term Rep. Rodney Davis (R-Taylorville).
Republican Reps. Mike Bost (R-Murphysboro) and John Shimkus (R-Collinsville) both won re-election in their southern Illinois districts.
Democrats needed to win 23 Republican seats to take control of the House and need to flip two GOP seats in the Senate. Republicans held back an early and overwhelming Democratic "blue wave" on election night.
"All that talk about a blue wave, let's just make sure that blue wave hits a red wall," said Vice President Mike Pence at a campaign rally last week.
With the votes still being counted in the western states, the final congressional results aren't in yet.
A steady stream of voters cast their ballots Tuesday after a record number voted early. The Illinois State Board of Elections reports over 1.1 million people in the state voted either in person or by mail. In all, 36 million Americans voted early, up from the 2014 midterm early voting turnout of 27.2 million.
Roskam narrowly won his first election to Congress in 2006 with 51 percent of the vote, beating Tammy Duckworth who is now a U.S. senator. But changing demographics in the Illinois suburbs may alter the final makeup of Congress in 2019.
Congressional Outlook: Another 'Year of the Woman'?
---
In the U.S. House, a total of 54 representatives are not seeking re-election, according to Ballotpedia. Thirty-six Republicans and 18 Democratic House members are walking away from Congress, including U.S. Rep. Luis Gutierrez from the 4th Congressional District. 
If Democrats pick up House seats in the midterms, the composition of Congress could look completely different. "Democrats have nominated a whopping 180 female candidates in House primaries — shattering the party's previous record of 120, according to Rutgers' Center for American Women and Politics," writes Politico. "Democrats have also nominated at least 133 people of color and 158 first-time candidates to run for the House."
Republicans currently hold a slim 51-49 majority in the U.S. Senate and hope to maintain or build on that. Democrats are trying to keep and add to their 26 seats up for election in the Senate. Meanwhile, Republicans have only 10 seats on the ballot in the Senate. Three Republican senators, Bob Corker (R- Tennessee), Jeff Flake (R-Arizona) and Orrin Hatch (R- Utah), are not running for re-election.
Currently, women comprise about a fifth of Congress, which is still mostly white and mostly male. But that could change with the election. "The majority of [the] women running for House seats – 185 – are Democrats while 52 are Republicans. About one-third are women of color," writes USA Today.
Demographics of the 115th Congress, according to Ballotpedia:
U.S. Senate: There are three black, four Hispanic, and three Asian senators. There are also 21 women and one openly LGBTQ member of the Senate. Overall, 26 percent of the Senate is made up of women or minorities, and the remaining 74 percent is white men.
U.S. House of Representatives: There are 94 racial or ethnic minorities in the House and 83 women, as well as six openly LGBTQ members. Overall, 34 percent of the House is made up of women or minorities, and the remaining 66 percent is white men.
Religious Affiliations: Over 90 percent of Congress identify as Christians, while roughly six percent of members are Jewish. There are also three Buddhists, three Hindus, two Muslims, and one Unitarian Universalist. One member of Congress, Rep. Kyrsten Sinema (AZ-9), describes herself as unaffiliated with any religion.
It is not unprecedented in a midterm election for the president's party to keep control of and possibly even gains seats in one chamber of Congress while losing seats in the other, according to FiveThirtyEight.com. "Looking back at the 18 midterms in the post-World War II period, the president's party has accomplished this feat only three times — 1962, 1970, and 1982," writes Geoffrey Skelley.
6th District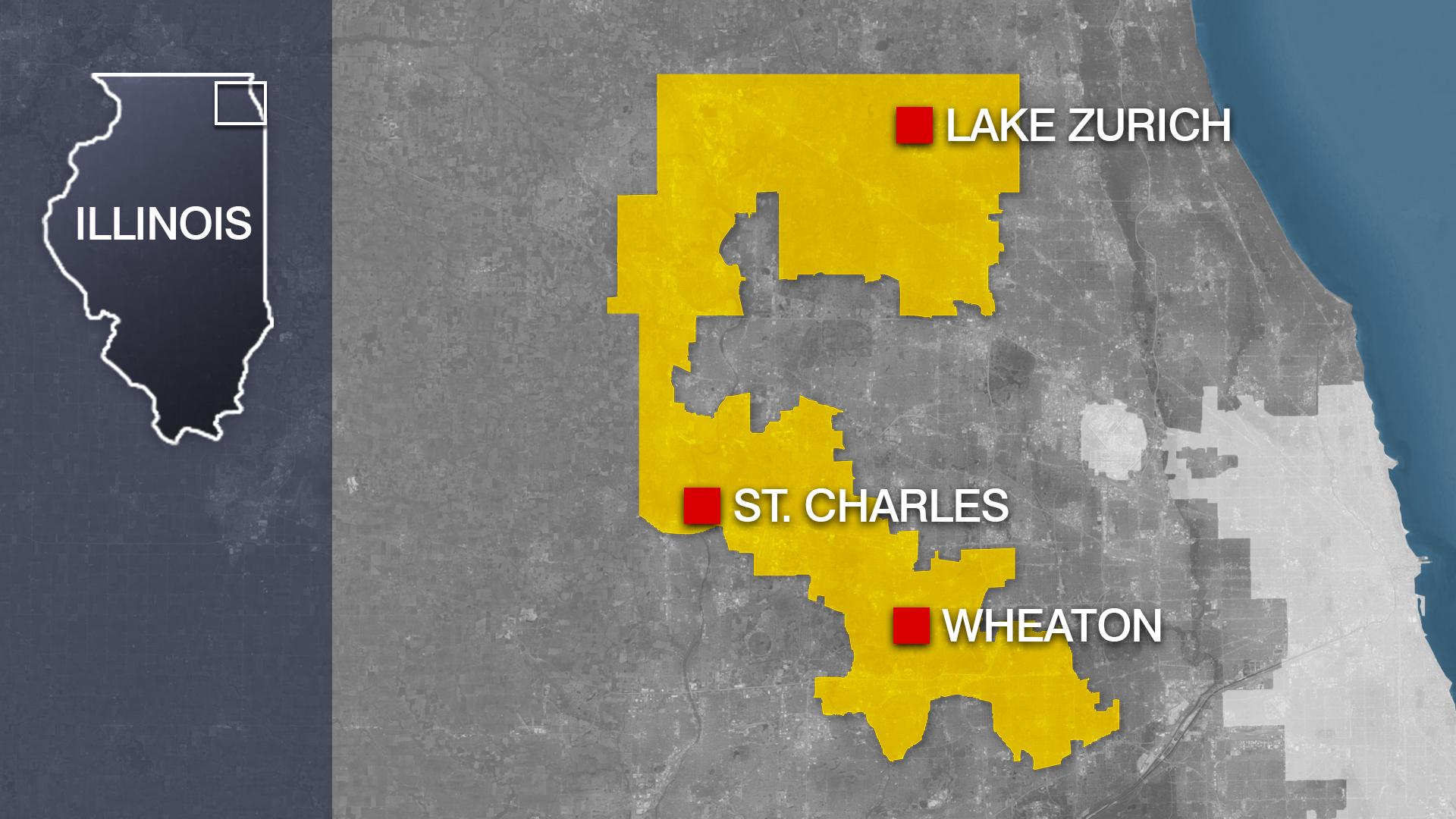 The C-shaped district includes the suburbs of Barrington, Lake Zurich, Naperville, Downers Grove, St. Charles and Wheaton, touching parts of Cook, DuPage, Lake, Kane and McHenry counties. The 6th District has traditionally been a Republican area, but in 2016, Hillary Clinton beat Donald Trump by 7 percentage points.
Candidate bios, in ballot order:
Sean Casten has an undergraduate degree in molecular biology and biochemistry from Middlebury College and master degrees in engineering management and biochemical engineering from the Thayer School of Engineering at Dartmouth. In 2007, he co-founded Recycled Energy Development LLC, a company that sought to reduce greenhouse gas emissions by recovering wasted energy. He sold that company in 2016 to Ironclad Energy Partners. He won a primary against six other Democrats running to unseat Roskam.
Peter Roskam serves on the House Ways and Means Committee and as the chairman of the House Ways and Means Tax Policy Subcommittee. He was one of the architects of the 2017 tax overhaul. He also sits on the Health Subcommittee. He graduated from the University of Illinois and earned his law degree from IIT Chicago-Kent College of Law. Before running for Congress, he also served in the Illinois House of Representatives and the Illinois Senate.
---
Related stories:
6th Congressional District Forum: Sean Casten, Peter Roskam
2018 General Election: US House of Representatives
Sean Casten: Candidate for Congress, 6th District
Peter Roskam: Candidate for Congress, 6th District
---