A male hihi bird on Tiritiri Matangi Island, New Zealand (Duncan Wright / Wikipedia)
For the second time this year, Chicago's DryHop Brewers is joining forces with Lincoln Park Zoo in the name of wildlife conservation.
The Lakeview brewery is set to release a new dry-hopped India pale ale – the "Hopped Hihi" IPA – made with New Zealand hops in a nod to one of the island nation's rarest birds.
Commonly called stitchbirds, the hihi is a forest-dwelling, honeyeater-like species that was once abundant throughout New Zealand's mainland. But by the late 19th century, the species had become extinct, a result of habitat loss, the introduction of mammalian predators like cats and rats and collection of the birds for the pet trade, according to the zoo.
Through a series of wildlife translocations to other predator-free islands, conservationists have managed to support a few small, managed populations, and they continue to monitor breeding and nesting, along with providing nectar feeders and artificial nest boxes.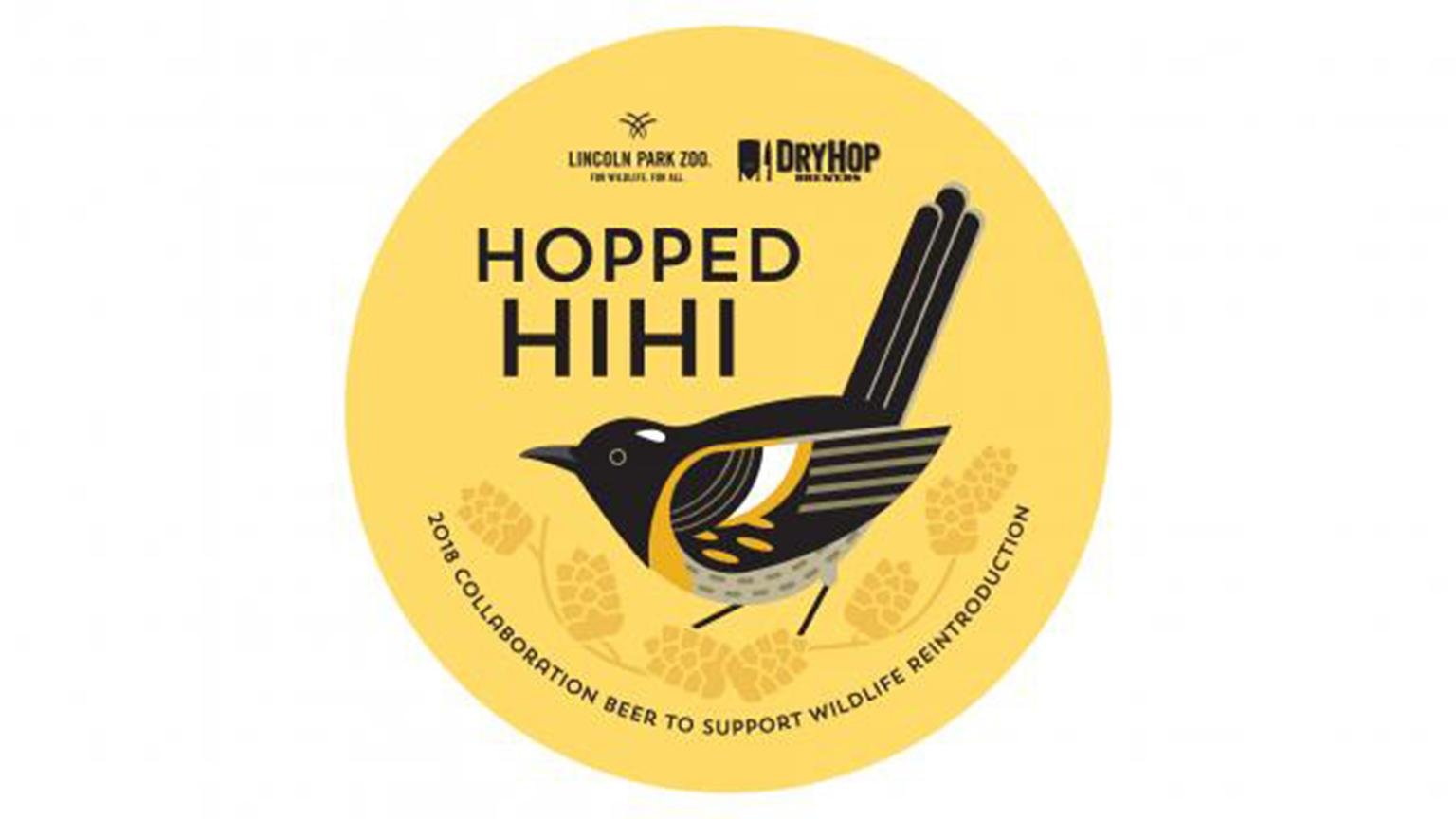 The coaster design for DryHop Brewers' new "Hopped Hihi" IPA (DryHop Brewers / Lincoln Park Zoo)
In an effort to help save the species, DryHop will donate $1 from the sale of every "Hopped Hihi" IPA to Lincoln Park Zoo and its conservation efforts worldwide.
DryHop will unveil the new brew during a kickoff event at 5 p.m. Wednesday at its brewery at 3155 N. Broadway. The "Hopped Hihi" IPA will also be served as the exclusive beer for scientists attending the upcoming International Wildlife Reintroduction Conference at Lincoln Park Zoo, which runs from Nov. 13-16. 
Earlier this year, DryHop and the zoo partnered on the release of a beer to raise money for conservation of the Puerto Rican parrot, whose habitat was devastated by Hurricane Maria. The "Coco Loro" was a coconut milk stout with Puerto Rican spiced rum flavors. (Coco translates to coconut in Spanish, while loro means parrot.)
Contact Alex Ruppenthal: @arupp | [email protected] | (773) 509-5623
---
Related stories:
Chicago Zoo, Brewery Partner on Beer to Help Parrots Hurt by Hurricane