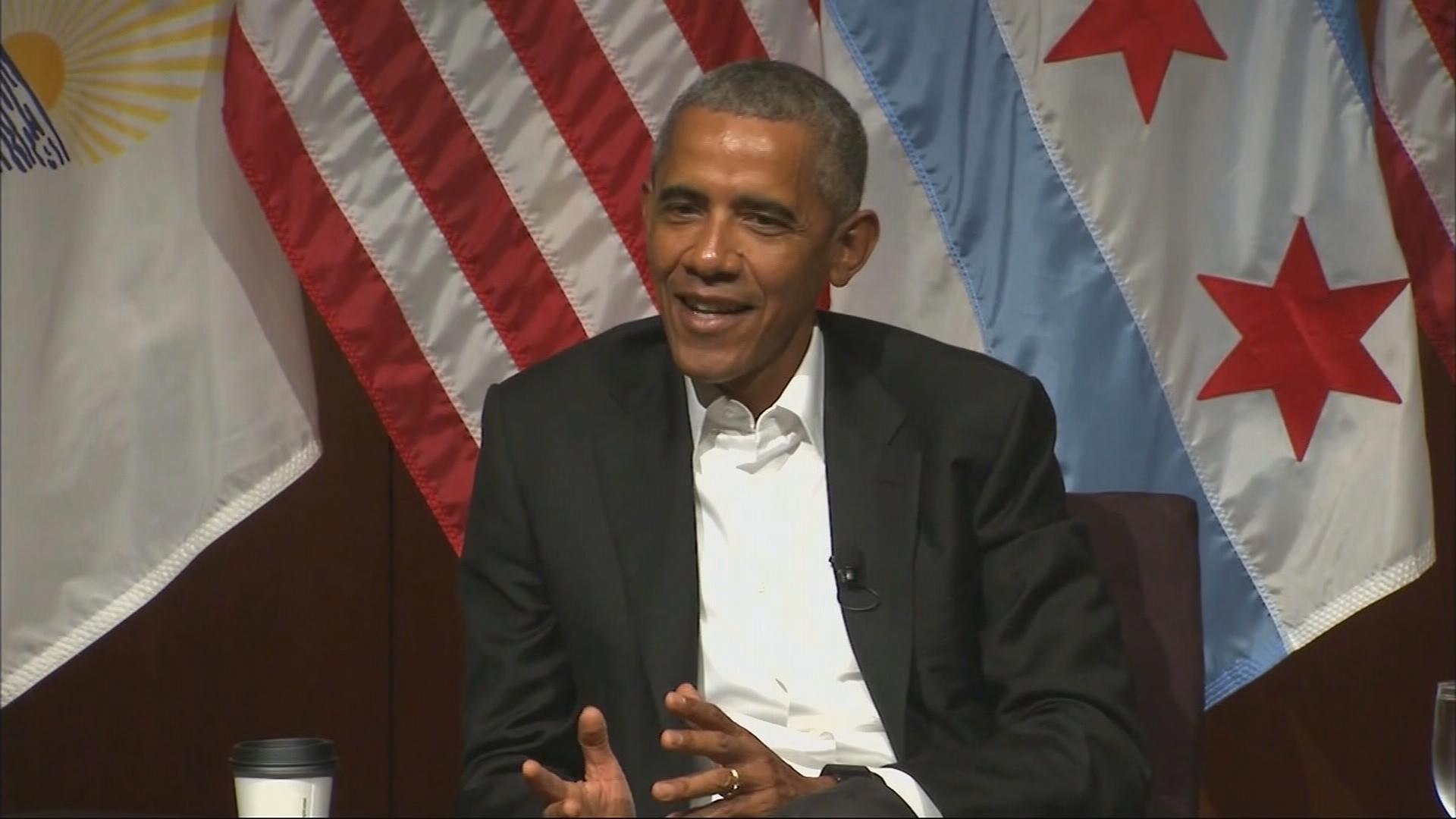 Former President Barack Obama speaks on Monday, April 24, 2017 at the University of Chicago.
UPDATE: Obama Stumps for Pritzker, Democrats in Chicago
Fresh on the heels of winning City Council approval for his planned presidential center in Jackson Park, former President Barack Obama is heading back to Chicago.
Obama will headline a get-out-the-vote rally Sunday afternoon at the UIC Pavilion on the campus of the University of Illinois at Chicago.
Illinois Democrats are counting on Obama's political star power to help them ride a "blue wave" – the name of the party's statewide coordinated campaign largely funded by gubernatorial nominee J.B. Pritkzer – on Tuesday.
Rauner's campaign said the event shows that the governor's race is close, though polls show Pritkzer leading by double digits.
"JB Pritzker has spent the last month being investigated for tax fraud and sued for discrimination, so it's no wonder he's bringing in President Obama at the last minute. This proves that this race is much tighter than public polling and pundits have indicated, and the momentum is with Governor Rauner in this final stretch," Rauner spokesman Will Allison said in a statement.
President Donald Trump last weekend visited southern Illinois to rally behind GOP candidates in downstate races. Rauner attended the event, but he and the president did not meet, and Trump didn't mention Rauner during his on-stage remarks.
Doors open at 1:30 p.m. Sunday for the 3 p.m. rally. The event is advertised as a way to energize campaigns "up and down the ticket"; highlighted in promotional emails are Pritzker and his running mate Juliana Stratton, attorney general nominee Kwame Raoul and a pair of Democrats in toss-up suburban Congressional races: Sean Casten (6th District) and Lauren Underwood (14th District).
Tickets are free, but they are required and according to the Pritkzer campaign website, they "do not guarantee admission." First-come, first-served ticket pickup began Thursday at select Pritzker campaign offices throughout Chicago.
Obama's presence could help to soothe African-American voters uneasy about Pritzker after a dozen field workers took the unprecedented step of filing a lawsuit against the Pritzer campaign alleging racial discrimination. Pritkzer denies the allegations.
Pritkzer also ruffled feathers after private FBI wiretaps of his phone conversations with former Gov. Rod Blagojevich were made public; on the calls, Pritkzer is heard making disparaging remarks about black politicians. Prizker has apologized, but Rauner says it is the "language of racists."
Still, it could be Raoul who has the most to immediately gain from time in the spotlight with Obama.
Raoul – who was appointed to Obama's Illinois Senate seat when Obama joined the U.S. Senate -- faces Republican Erika Harold, an Urbana attorney and former Miss America, in what's expected to be the closest statewide matchup.
RELATED: Illinois Attorney General Forum: Kwame Raoul, Erika Harold
Obama on Thursday released a radio ad for Raoul, saying: "I was proud to see Kwame Raoul chosen to fill my seat in the state Senate. I couldn't be more impressed with the work he's done since, fighting for the issues we care about and the values we share … Kwame Raoul is precisely the attorney general we need. He'll protect our health care, protect a woman's right to choose, protect our environment, and protect our right to vote, because he believes that every voice matters."
Sharing the stage with Obama could boost Comptroller Susana Mendoza later down the road, as she sets her sights on other positions. While polls predict Mendoza will coast to re-election ahead of Republican nominee Darlene Senger on Tuesday, she has pointedly refused to rule out a run for Chicago mayor in 2019.  It's widely expected that once she secures the comptroller's office, Mendoza will immediately turn her attention to campaigning for mayor --- and campaign literature featuring Obama could help her stand out in a crowded field.
Attendees must go through "airport-like security" and are advised to bring as little as possible with them as bags, liquids and signs are not permitted. Cameras and phones are acceptable, according to Pritzker's campaign website.
Follow Amanda Vinicky on Twitter: @AmandaVinicky
---
Related stories:
The Race for Illinois Governor 2018: J.B. Pritzker
Pritzker Campaign Staffers Allege Racial Discrimination
Pritzker, Rauner Release Partial 2017 Tax Returns
AP: Political Money in State-Level Campaigns Exceeds $2B
---