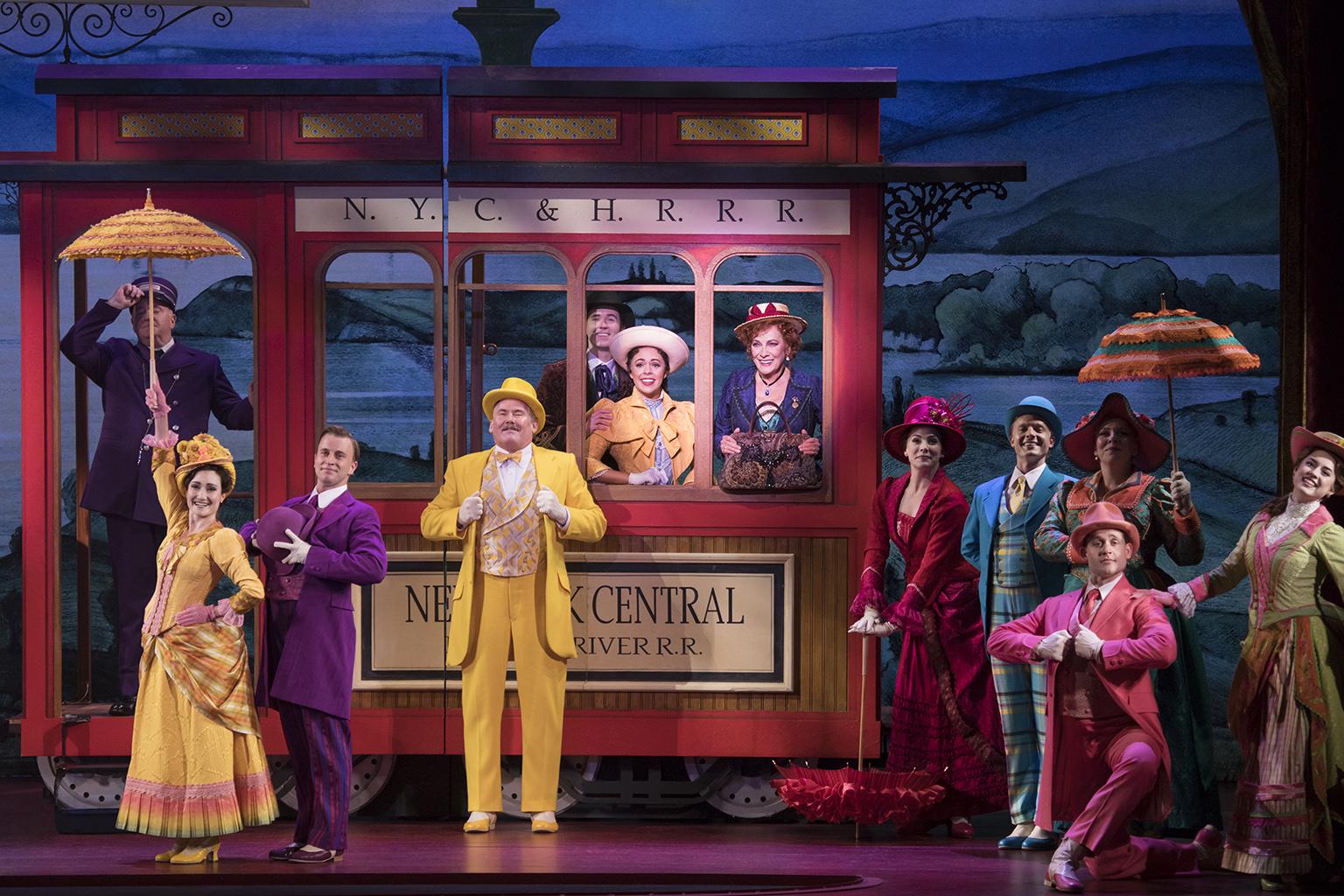 "Hello, Dolly!" National Tour Company – 2018. (Photo credit: Julieta Cervantes)
If you like your musicals full of darkness, despair and dysfunction you've certainly had plenty to choose from over the decades, starting with "Show Boat," and moving on to "Carousel," "South Pacific," "Camelot," "Sweeney Todd," "Assassins," "Phantom of the Opera," "Miss Saigon," "Passion," "Spring Awakening," "Fun Home" and the list goes on.
But then there is "Hello, Dolly!" the enduring 1964 hit with an impossibly catchy score by Jerry Herman (now 87), and a book by Michael Stewart adapted from Thornton Wilder's classic comedy, "The Matchmaker." The show has long defied the plague of gloom and doom, and instead fervently championed the quest for love, adventure, mischief and the all-important joy (and necessity) of seizing the day.
Last year's Broadway revival of "Dolly" turned out to be a huge success, with Bette Midler, and subsequently Bernadette Peters, among the latest stars to follow in the footsteps of Carol Channing, the doll-eyed blonde who originated the role of the indomitable Dolly Gallagher Levi, the irrepressible matchmaking widow from Yonkers, New York, who is hell-bent on restarting her life.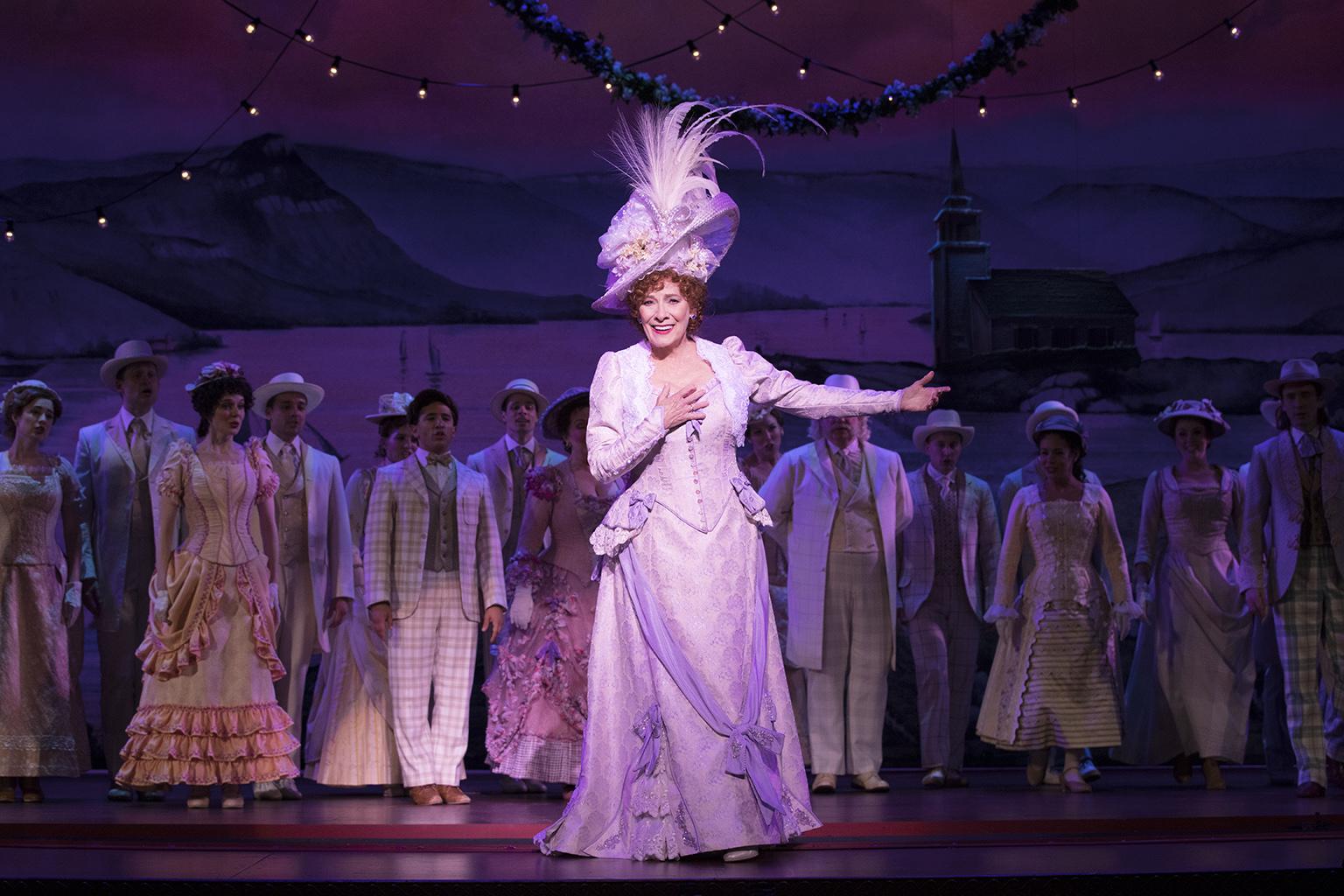 Betty Buckley, center, and the "Hello, Dolly!" National Tour Company – 2018. (Photo credit: Julieta Cervantes)
And now, in its lavish national touring incarnation, which opened Wednesday at the Oriental Theatre, it is Betty Buckley who gets to put her stamp on the character. And the veteran, award-winning actress has turned Dolly – who can sometimes seem like a caricature – into a warm, flesh-and-blood woman, singing with a voice just a bit more throaty than usual because of what seemed to be a skillfully camouflaged cold.
Make no mistake, this is a vintage piece, zestfully directed by Jerry Zaks and brilliantly choreographed by Warren Carlyle who has retained the most thrilling elements of Gower Champion's original. But at a moment when money seems to be the name of the game in so many aspects of life, it also feels wonderfully timely (and restorative) in its way. And even a song like "It Takes a Woman," sung by Horace Vandergelder (the deftly crusty Lewis J. Stadlen), a widowed, penny-pinching businessman who knows the price of everything and the value of nothing, and who could easily do with some feminist enlightenment, takes on an easily self-mocking, laugh-generating wisdom as it notes the many skills and multi-tasking ingenuity of the opposite sex. (Horace also confesses that for a man, marriage is the art of making a housekeeper think she is a householder.) Another timely song, "Motherhood," turns a parade in downtown Manhattan into something of a proto-feminist march.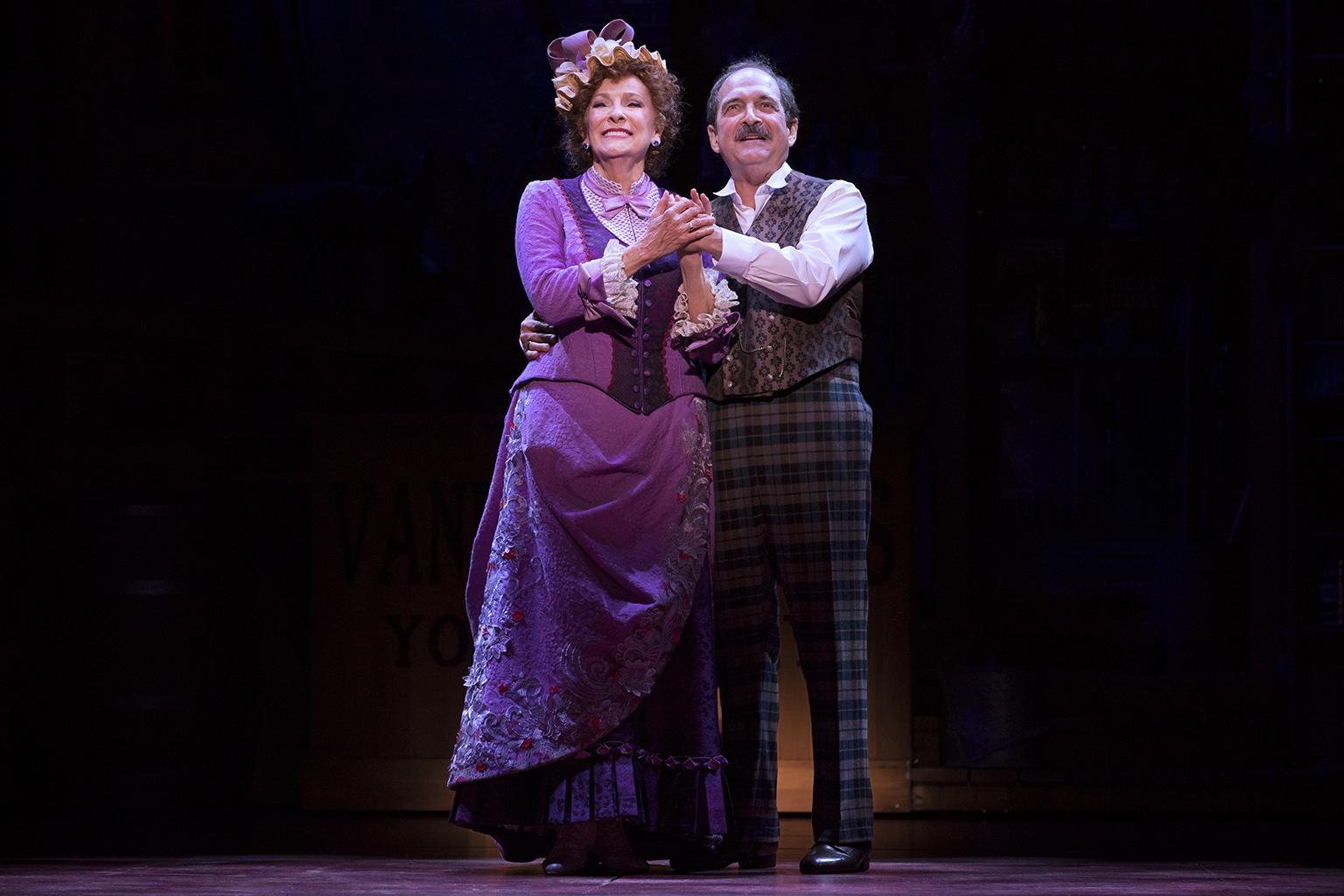 Betty Buckley and Lewis J. Stadlen in "Hello, Dolly!" (Photo credit: Julieta Cervantes)
Set in Yonkers and Manhattan in 1885, the musical chronicles Dolly's brilliant machinations which are designed to get Vandergelder, "a half-millionaire," to marry her and rescue her from the financial insecurity of her jack-of-all-trades "gig-like" existence since the death of her beloved husband, Ephraim Levi.
At the same time, the show follows the zany escapades of Vandergelder's two near-penniless clerks, Cornelius Hackl (Nic Rouleau, a wonderful actor with a golden voice who will be familiar to audiences who caught the Chicago production of "The Book of Mormon"), and Barnaby Tucker (Jess LeProtto, an absolutely sensational dancer who alone is worth the price of a ticket). They have decided to flee Yonkers for a day, and, if nothing else, experience their first kisses and visit a stuffed whale in the Barnum Museum. As it turns out, they get a whole lot more than they bargained for as they meet the free-thinking milliner, Irene Malloy (Analisa Leaming, a lustrous-voiced soprano), and her assistant, Minnie Fay (the perfectly zany Kristen Hahn).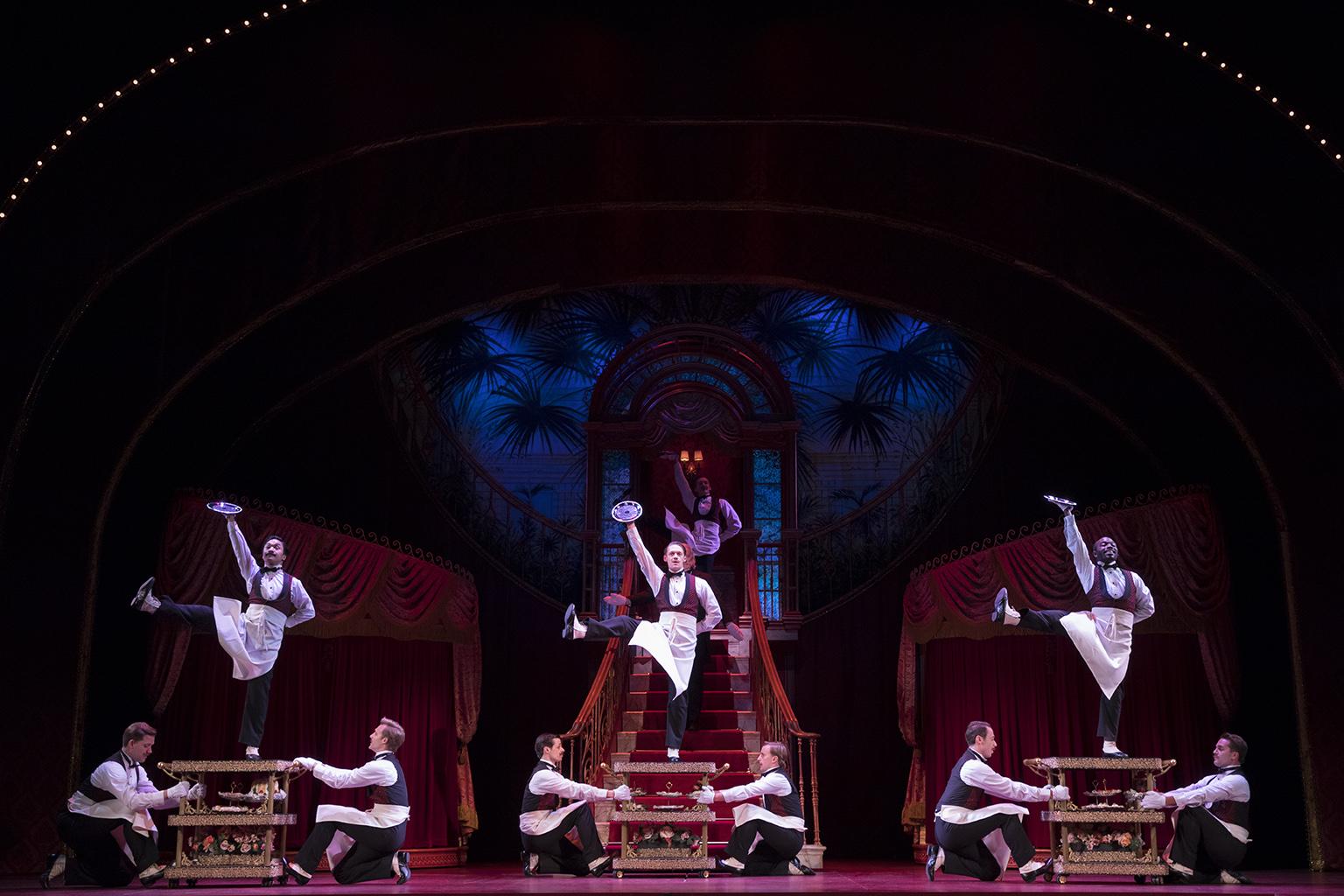 "Hello, Dolly!" National Tour Company – 2018. (Photo credit: Julieta Cervantes)
Of course it is the second act scene at the Harmonia Gardens Restaurant on the Battery that is the show's extravagant centerpiece – the place where Dolly is welcomed back after an absence of many years, and where she descends a red-carpet staircase. It also is the site of the sensational "Waiters' Gallop" in which a large ensemble of virtuosic male dancers whips through spectacular, acrobatic moves at top speed as they wield trays, meat spears and much else in a piece of pure dance wizardry.
Although I did not make it to the recent Broadway revival, a friend who did see it assured me that Santo Loquasto's optically ingenious, richly painted sets have arrived here totally intact. And they are at once vivid evocations of the period and wonderfully fresh.
I confess I had some worries at the very start of the show as the overture was played at a surprisingly sluggish pace. But once the curtain opened and the actors arrived the show began to pop, with Buckley and the rest of the cast exuding all the energy of a great parade passing by and leaving a sense of exhilaration in its wake.
"Hello, Dolly!" runs through Nov. 17 at the Oriental Theatre, 24 W. Randolph St. For tickets ($27-$98) call (800) 755-2000 or visit www.BroadwayInChicago.com. Running time is 2 hours and 40 minutes with one intermission.
Follow Hedy Weiss on Twitter: @HedyWeissCritic
---
American Blues Theater's 'Buddy Holly Musical' Tops 2018 Equity Jeff Awards
Joffrey Ballet Dancers Demonstrate Their Prowess in 'Swan Lake'
In Porchlight's 'Gypsy,' a Mama Rose of Hurricane Force
African-American Women Assert Their Independence in 'Flyin' West'
Fall Theater Recommendations from Hedy Weiss
---