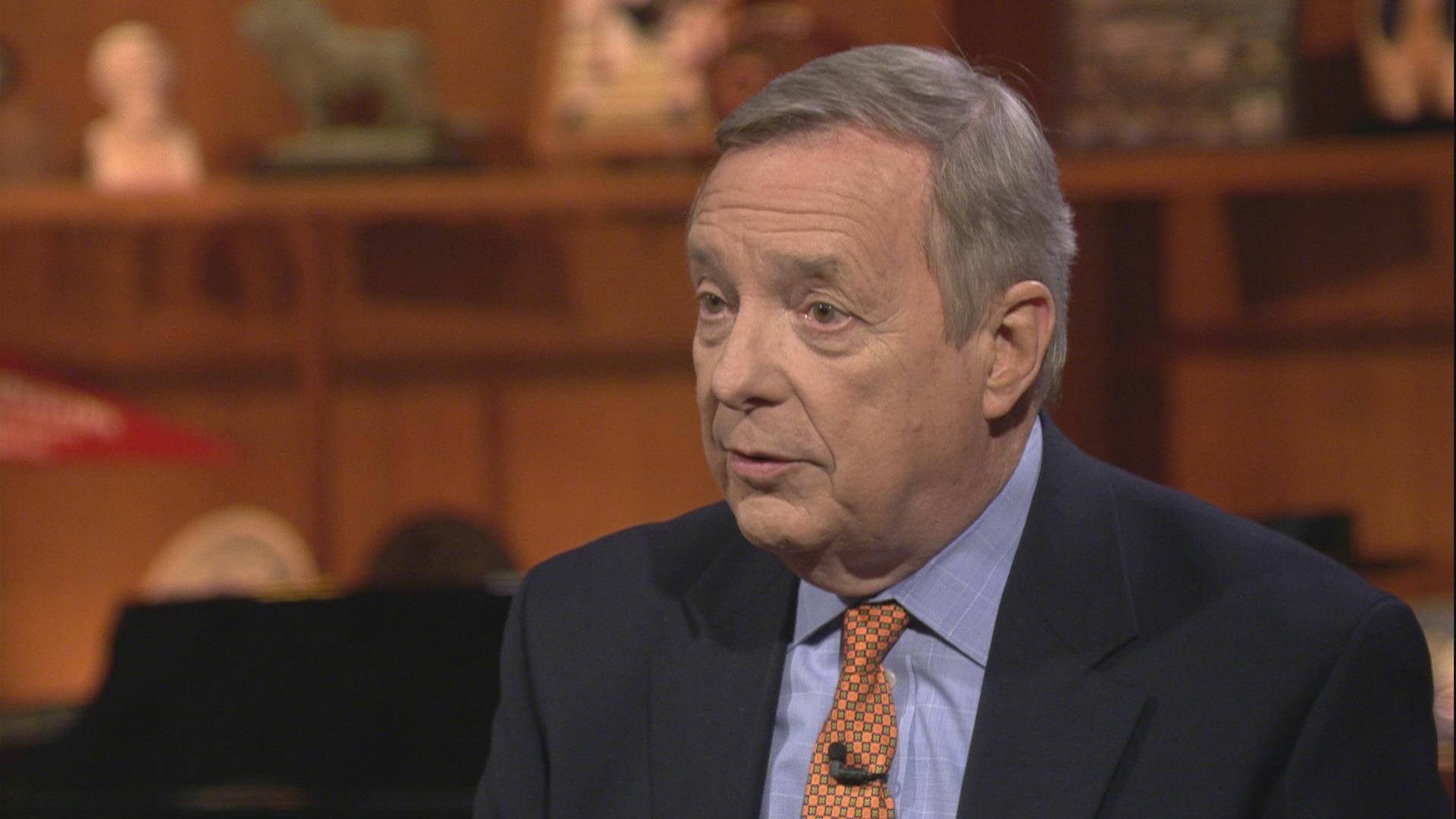 U.S. Sen. Dick Durbin appears on "Chicago Tonight" on Feb. 21, 2018.
U.S. Sen. Dick Durbin is calling for federal action following a report highlighting widespread pollution issues at meat-processing plants throughout the country, including in Illinois.
The report, released earlier this month by the nonprofit Environmental Integrity Project, examined federal records for nearly 100 large meat-processing plants nationwide that together release hundreds of gallons of pollutants into waterways each year. Of those plants, more than 75 percent exceeded their permits for nitrogen, fecal bacteria and other pollutants at least once last year, with more than half of them accumulating at least five violations, according to data from the U.S. Environmental Protection Agency.
The worst-polluting plant in the country, according to the study, was found to be an Illinois pork-processing plant located an hour northwest of Springfield in Beardstown. The plant, owned by Brazilian meat company JBS, released an average of nearly 2,000 pounds of harmful nitrogen per day into a tributary of the Illinois River last year – equivalent to the load in raw sewage produced by a city of 79,000 people. 
The JBS plant was also responsible for a spill of 29 million gallons of hog waste in March 2015, which killed nearly 65,000 fish, according to the study. 
In a statement released after the EIP report, JBS disputed some of the study's findings.
Durbin is now calling on the EPA to set tougher standards for water pollution limits, increase monitoring of the JBS plant and require large plants to install more advanced water pollution control equipment.
In addition, Durbin said the EPA must work with state agencies to establish more stringent standards for meat-processing plants that discharge pollutants into sensitive waterways, like the Illinois River.
"I urge EPA to use its full authority to protect public and environmental health by requiring meat-processing plantings, including the JBS plant in Beardstown, Illinois, to use every available method to reduce the pollution they emit in the rivers, lakes and streams we use for recreation and drinking water," Durbin said in a letter to EPA Acting Administrator Andrew Wheeler. "Illinois communities are counting on it."
In his letter, Durbin said tougher national standards regulating pollution from meat-processing plants are "long overdue."
"Illinois waterways are a vital life line to communities big and small, and we can't let slaughterhouses get away with dirtying the rivers, lakes and streams we use for recreation and drinking water," Durbin wrote.
Contact Alex Ruppenthal: @arupp | [email protected] | (773) 509-5623
---
Related stories:
Illinois Has Worst-Polluting Meat-Processing Plant in US, Study Finds
Activists Call on McDonald's, Whole Foods to Clean Up Meat Supply Chains
Bill Would Allow Illinois Residents to Challenge Environmental Permits