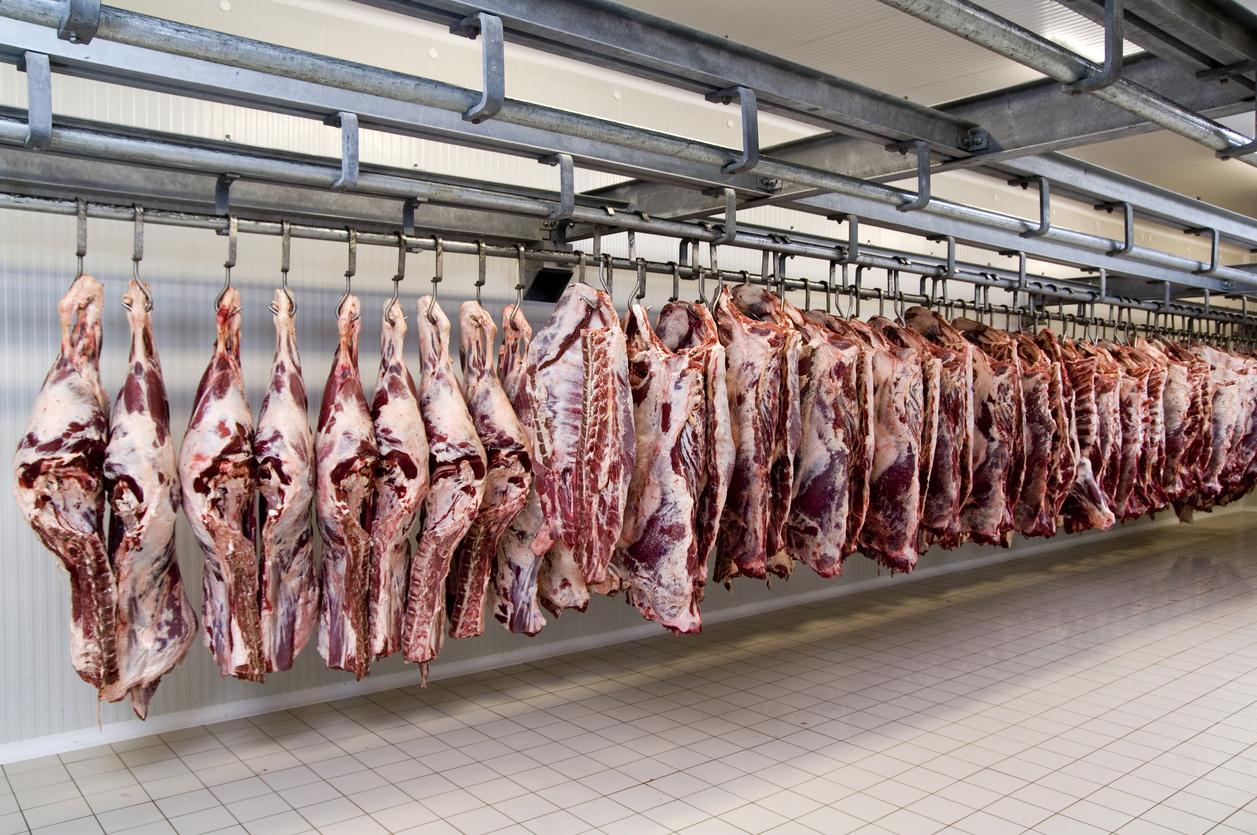 A beef-processing plant (istanbulimage / iStock)
A pork-processing plant in western Illinois released an average of nearly 2,000 pounds of harmful nitrogen per day into a tributary of the Illinois River last year – equivalent to the load in raw sewage produced by a city of 79,000 people.
That's according to a new report from the nonprofit Environmental Integrity Project, which ranked the plant, located an hour northwest of Springfield in the small city of Beardstown, as the worst-polluting meat-processing plant in the U.S. last year.
EIP examined federal records for 98 large meat-processing plants across the country that together release hundreds of thousands of gallons of pollutants into waterways each year. Of those, 74 – or more than three-quarters – exceeded their permit limits for nitrogen, fecal bacteria and other pollutants at least once. More than half of the plants had at least five violations, according to data from the U.S. Environmental Protection Agency.
The Beardstown pork plant, owned by Brazilian meat company JBS, ranked the worst in terms of total nitrogen pollution, which fuels excessive algae growth and creates low-oxygen "dead zones" that kill off fish, according to the EIP report. The JBS plant was also responsible for a spill of 29 million gallons of hog waste in March 2015, which killed nearly 65,000 fish, according to the report.
But the plant did not exceed its permit limits. And it's not the only one. EIP found that many plants that are not violating their permits are actually discharging more pollution than those breaking the law. The group's report suggests that state regulators in these cases are failing to set strong enough pollution limits in permits issued to meat-processing plants, making it difficult to protect waterways used for swimming, fishing and other public uses.
---
"State and federal regulations are far too lax for polluters like JBS that are dumping huge quantities of nitrogen pollution into our streams and rivers," said Carol Hays, executive director of the Illinois-based nonprofit Prairie Rivers Network, in a statement. "The state needs to pass nitrogen pollution standards and make sure slaughterhouses do their share to reduce nutrient pollution."
A JBS spokesperson issued the following statement in response to EIP's report:
"The JBS Beardstown pork facility is well within its permitting requirements and has achieved improved environmental compliance since our acquisition of the facility in late October 2015. The facility has not experienced a water noncompliance issue since December 2015. We also dispute the report's 2017 average daily discharge calculation, as the report's calculation is inconsistent with our internal data.
"Our environmental teams remain focused on nitrogen reduction and ensuring that the Beardstown facility continues to provide economic opportunities for team members and family farmers, while safeguarding the environment through compliance with all applicable environmental regulations and standards."
Another Illinois plant, Tyson's beef-processing plant near the Quad Cities, also made the list of the country's 10 worst-polluting plants, in terms of nitrogen pollution. Last year, the plant released nearly 1,300 pounds of nitrogen per day into the Rock River, a tributary of the Mississippi River.
The EIP report noted that not all meat-processing plants studied were run poorly or in violation of their permits. The worst-polluting plants in the study released about 30 times more nitrogen per day than the cleanest plants.
"This a sign that these dirty slaughterhouses can improve substantially simply by installing wastewater treatment systems already used by their competitors," said Eric Schaeffer, EIP's executive director, in a statement. "Requiring these improvements across the U.S. would level the playing field for the industry, while improving protections for waterways and public health."
Contact Alex Ruppenthal: @arupp | [email protected] | (773) 509-5623
---
Related stories:
Activists Call on McDonald's, Whole Foods to Clean Up Meat Supply Chains
Bill Would Allow Illinois Residents to Challenge Environmental Permits
Dramatic Recovery of Illinois Sport Fish Traced to Clean Water Act