It is one of the most ambitious books ever on the subject.
"Art in Chicago" tells the history of Chicago visual art from before the Great Chicago Fire until today. With photos, essays and new work from Kerry James Marshall and Chris Ware, it is a big book on a big topic.
Joining us is one of the editors of "Art in Chicago," Maggie Taft.
Below, an excerpt from "Art in Chicago: A History from the Fire to Now."
In 1933  and 1934 the Century of  Progress International Exposition, Chicago's second world's fair, featured a groundbreaking display that recognized DuSable as the city's founding father, but it represented his dwelling as a primitive log  cabin in a wilderness, scraggly and smelly like the wild onion plants — shikaakwa in Miami-Illinois — from which the city took its name. There were no French walnut cabinets in the exhibition. There were no paintings.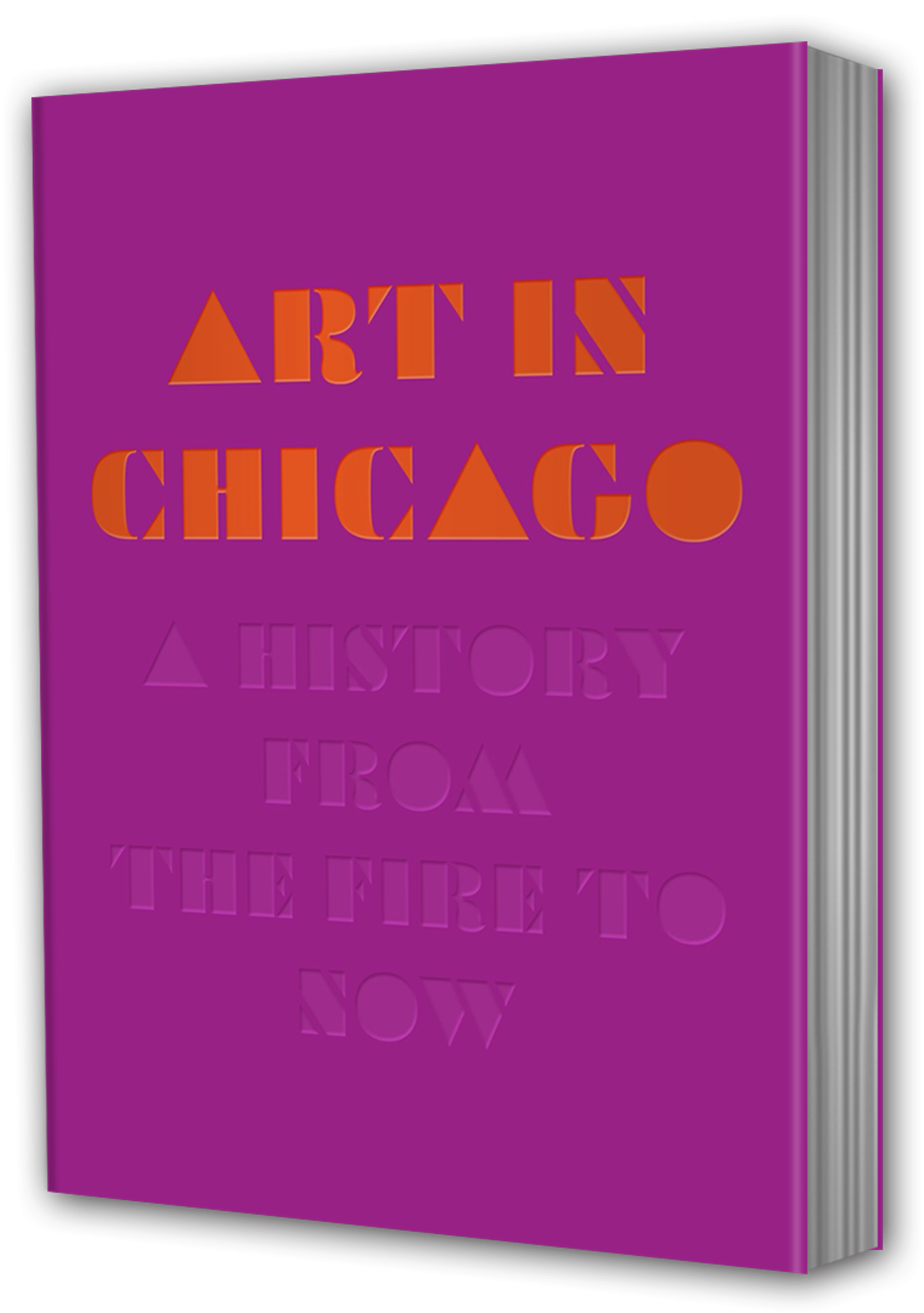 A tendency to overlook the presence of art profoundly influenced the city's sense of itself until at least the middle of the twentieth century. Locals were anxious about the role of culture in Chicago, an industrial city emerging from a devastating fire and to some East Coast observers forever associated with the frontier. Generations of artists have shared that anxiety, eloquently addressing the challenges of living and working in Chicago, but artists have just as often used adversity as a platform for change. Some have expressed frustration, feeling alienated from the art world's economic centers, while others have enjoyed the freedom of working beyond the shadow cast by New York's vast international art scene. Artists in other big  cities — Paris, London, New York — may assume they are in exactly the right place to make art, but in Chicago artists have never taken place for granted. Indeed, they tend to be  reflective, even preoccupied with what it means to work in their midwestern metropolis.
A constant questioning of Chicago and its working conditions has prompted some artists to leave and others to dig  in, making the artistic population and the character of Chicago art fluid. The city has always been less a destination than a crossroads. As  historian Donald L. Miller writes of the city's early years, "A major railroad center that was still a frontier town, Chicago was always filled with people passing through: tourists, farmers, immigrants, and businessmen."2 For innumerable artists, the city has been but a way station, leading to the perennial refrain that Chicago's talent will eventually flee. But viewed another way, Chicago's revolving doors have made the city a bustling arts hub, enticing those with a venturesome spirit and constantly pulsing with new ideas, new connections.
Art in Chicago offers the first history of Chicago art from the nineteenth century through the twenty-first. While ours may be  the first volume to present such a long view of the city's art and artists, it does not aspire to be  encyclopedic. Instead, what we  offer is a rich history that surveys the many ways artists have made art in Chicago, rebelled against its institutions, expressed anxiety about place, asserted independence from New York, transformed their communities through collaboration, and changed the places to which they subsequently moved with practices learned in Chicago. The first six  chapters offer histories of  particular periods but spill over into one another, overlapping and picking up recurrent themes. They are complemented by sidebars on topics relevant to the period, such as music, publishing, or artists like Henry Darger who worked outside of  Chicago's "art world." And when it comes to describing the past thirty years, we  invited artists and curators to tell the story them- selves — to describe the scene and reflect on why they are here, what about the city may have influenced their practices, and what challenges remain. We understand Chicago's complex art history to be fluid and alive and have attempted to bring forth a book that conveys that.
---
As Wendy Greenhouse points out in chapter 1, the city had an active art community even before the Fire of 1871. Chicago's art world was anchored in the robust education offered by the School of  the Art Institute. Founded in 1866 as the Chicago Academy of  Design, it has been an enduring pillar, enrolling young artists from Georgia O'Keeffe to Claes Oldenburg, employing recognized instructors from sculptor Lorado Taft to video artist Gregg Bordowitz, and establishing Chicago as an international center of art education. From early on, the school accepted female and black students, a fact consistent with two other features of Chicago's art scene from the nineteenth century to the present day: female artists, curators, and collectors have consistently had educational and leadership opportunities in Chicago's art world that they were denied elsewhere, and African American cultural institutions have flourished, contributing to the Black Arts Movement and beyond. Women like curator Katherine Kuh, feminist collectives like Artemisia, institutions like the South Side Community Art Center, and artists like AfriCOBRA members Barbara Jones-Hogu and Jeff  Donaldson have been instrumental in shaping Chicago's art world.
The history of art in Chicago is distinguished not only by gender and racial diversity but by the character of the work made here. Artists in Chicago have been collaborating with communities and creating participatory art since long before such activity was formally recognized by the art world and christened "social practice." From Jane Addams and Ellen Gates Starr's Hull-House, founded in 1889, to Theaster Gates's twenty-first-century Rebuild Foundation, artists and organizations in Chicago have mobilized art to serve community development and urban transformation. Even the city's largest and oldest collections and institutions have their origins in civic ambition. In the nineteenth century, women's clubs built significant art collections, and titans of  business and industry like Chicago Board of  Trade member Charles D. Hamill and department store entrepreneur Marshall Field had a hand in organizing what eventually became the Art Institute of  Chicago and its affiliated school. These society men and women shared the notion that Chicago needed art and culture — Hamill, for instance, was also instrumental in drumming up support for an orchestra — to provide relief from the dingy environs and a moral antidote to the rough-and-tumble streets. More recent forays into cultural activism, such as Dan Peterman's Experimental Station, have conceived of art less as an antidote than as part and parcel of a cultural infrastructure capable of serving local needs. Artists and patrons throughout the city's history have shared a belief in the civic function of art. In Chicago, the city that works, so too does art.
---
What is the legacy of  Chicago's art? What can we  learn about its present-day identity through an exploration of its past? Rather than pretend to deliver the final word on the history of  art in Chicago, Art in Chicago offers a starting point. We hope it will inspire debate and curiosity, moving other scholars to study Chicago, plumbing its depths even further. As DuSable's mysterious collection suggests, art in Chicago has been robust since the start. There are still many stories to tell.
Reprinted with permission from Art in Chicago: A History from the Fire to Now, edited by Maggie Taft and Robert Cozzolino, published University of Chicago Press. © 2018 The University of Chicago. All rights reserved. 
---
Related stories:
South Side Artists of the '60s and '70s Get Spotlight in 2 Exhibitions
After Mistaking Murals for Graffiti, City Considers Public Art Registry
'Strange Worlds' First Solo Show for Late Chicago Artist Todros Geller
---