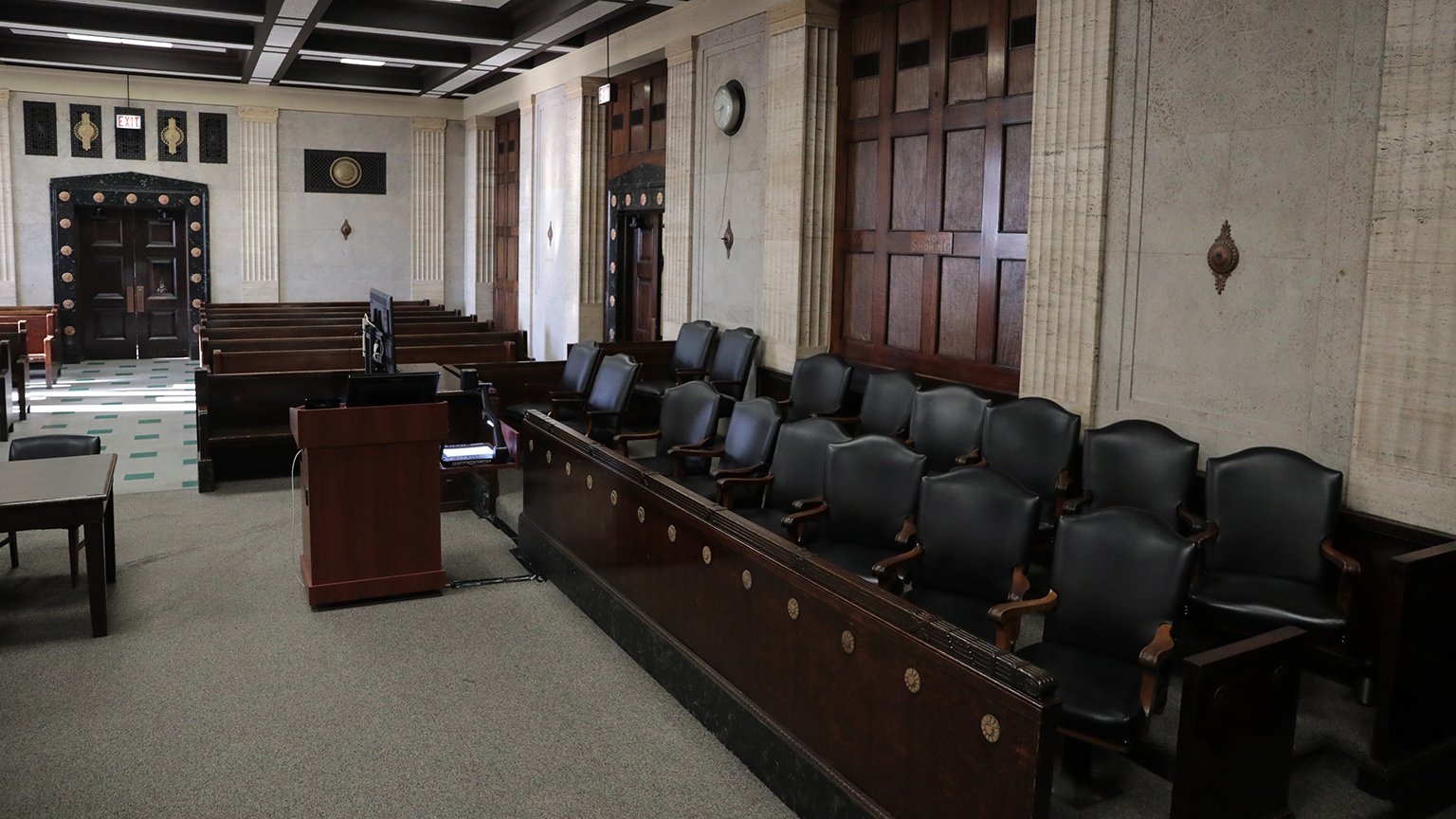 Empty jury box area readied for members of the jury in the courtroom of Judge Vincent Gaughan at the Leighton Criminal Court Building on Tuesday, Sept. 4, 2018. (Antonio Perez / Pool / Chicago Tribune)
UPDATE: Van Dyke Opts for Jury Trial as Venue Decision Looms
A full jury has been selected to hear the murder case of suspended Chicago police Officer Jason Van Dyke, but his attorneys will have until Friday to decide whether that jury will be needed in a case that's likely to begin in full early next week.
Two more people were selected Thursday to serve on the jury in the high-profile murder case, but Cook County Judge Vincent Gaughan has allowed Van Dyke's attorneys to take some more time before deciding if they want a jury or bench trial in the 2014 shooting death of teen Laquan McDonald.
Eleven of the 12 jurors have been sworn in, but the judge held off on swearing in the last juror on Thursday. Once the full jury is impaneled, Van Dyke can no longer opt for a bench trial – which would do away with the jury and put Gaughan in charge of deciding whether Van Dyke is guilty. The officer is charged with six counts of first-degree murder in the shooting death of McDonald, who he shot 16 times during a police call on a Southwest Side road in October 2014. Van Dyke also faces 16 counts of aggravated battery and one count of official misconduct.
Van Dyke and his attorneys are expected to announce their decision at a hearing Friday morning. Lead defense attorney Daniel Herbert has continued his push to move the case out of Cook County after a defense expert concluded that finding a fair jury in the county would likely be impossible.
Related: Van Dyke Defense Believes Judge Too 'Prejudiced' to Decide Trial Venue
But the defense and special prosecutors were able to agree on 12 jurors and three alternates in less than three days of selection interviews. The two new jurors added Thursday include a white middle-aged man who said he believes Van Dyke "had violated the law by shooting multiple times" and a woman who said she has not seen dashcam video of the shooting and has no opinions on the case.
Both said they believe they can give Van Dyke a fair trial.
The full jury includes eight women and four men. Only one of those jurors is African-American.
Three alternates were also chosen before lunch Thursday: a female employee of the Cook County Clerk's Office, a retired black man who worked security at the Art Institute of Chicago for more than two decades and a white female marketing agency employee. Two others were added later in the day: a man from El Salvador who has a family member in the Chicago Police Department, and a white woman who seemed less than enthused to serve on the jury.
"Do I want to hear this particular trial?" she said during her afternoon interview. "Not necessarily."
That woman said she had previously served on a jury that reached a verdict on a charge of aggravated battery against a police officer. She didn't say what that verdict was, but expressed her belief that no one should be above the law.
"They know the law so they should abide by it too," she wrote on her jury questionnaire when asked her thoughts about prosecuting law enforcement officers. "They shouldn't act above the law just because they have authority."
Defense attorneys used a peremptory strike to excuse a black woman who said her family members have been racially profiled by police in the past. She was asked to look directly at Van Dyke and say whether she could give him a fair trial. She said she could, but the defense still felt she shouldn't be sitting on the jury.
Five other jurors were picked Wednesday, including the only African-American juror and a Latina woman who is training to become a Chicago police officer.
Gaughan told selected jurors and alternates they'll likely be needed back in court next Monday, when opening arguments could begin.
Contact Matt Masterson: @ByMattMasterson | [email protected] | (773) 509-5431
---
Related stories:
Van Dyke Case: Jury Selection Continues as Defense Weighs Trial Options
Van Dyke Case: Judge Won't Rule on Bond Violation Until Next Week
Van Dyke Case: 'The More You Dig Into This, The Less Open-And-Shut It Is'
Van Dyke Case: Prosecutors Want Bail Revoked After Officer Speaks Out
A Timeline of the Laquan McDonald Shooting
---