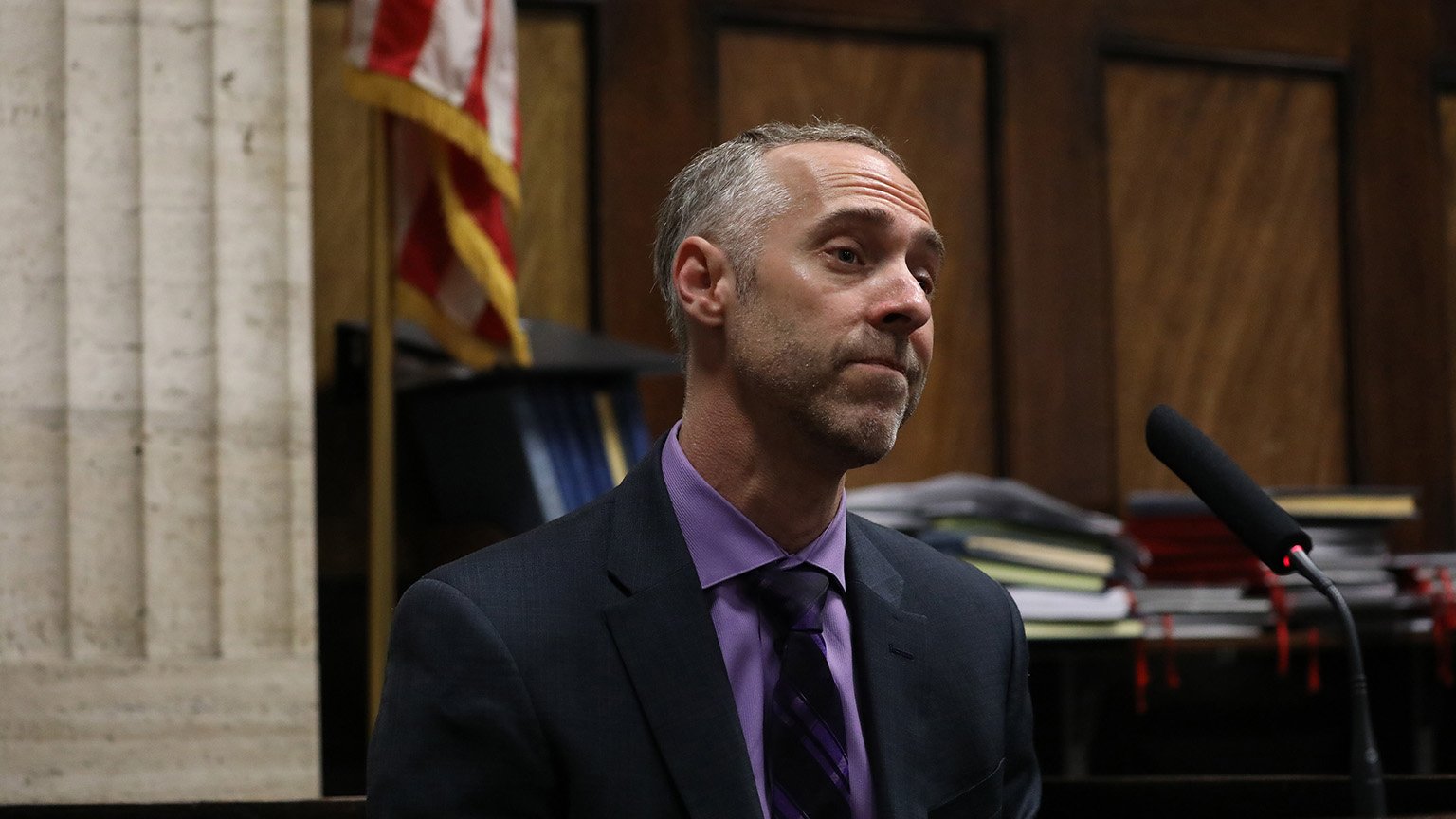 Witness Bryan Edelman, a trial consultant hired by the defense to conduct change-of-venue polls, answers questions at a hearing in the Jason Van Dyke case at Leighton Criminal Court in Chicago on April 18, 2018. (Nancy Stone / Chicago Tribune / Pool)
A California-based trial consultant contracted by attorneys for Jason Van Dyke believes a change of venue is necessary in order for the Chicago police officer to get a fair trial in the 2014 shooting death of Laquan McDonald.
After surveying hundreds of Cook County residents and gathering thousands of news articles on the case, defense expert Bryan Edelman has found a new venue for the upcoming murder trial would be "the most appropriate prophylactic measure for ensuring a trial by an impartial jury."
"Looking at the totality of the evidence, it is (Dr. Edelman's) opinion that (Mr. Van Dyke) would be put in the untenable position of having to prove his innocence if tried in Cook County," a memorandum filed Tuesday afternoon by defense attorney Daniel Herbert stated.
Van Dyke has been charged with first-degree murder in the shooting death of teenager Laquan McDonald, who was shot 16 times as he walked along a Southwest Side road carrying a knife in October 2014.
According to Edelman's survey of 399 Cook County residents, 86 percent were familiar with the case. Of those, 75 percent believe Van Dyke is guilty of murder. More than two-thirds of the Cook County respondents had also viewed dashcam footage depicting the shooting and 79 percent of those believed Van Dyke was not in danger of losing his life or suffering a serious injury.
Those who were familiar with the case were also asked to describe their thoughts or feelings about Van Dyke and used terms like "horrible person," "guilty" or "out of control," according to the memo, and described the shooting itself as "cold-blooded murder." Several respondents suggested Van Dyke was deserving of the death penalty.
"These findings suggest that many Cook County prospective jurors will enter the courtroom with preconceived notions about the key issues they will be asked to resolve during deliberations," Herbert said in the memo.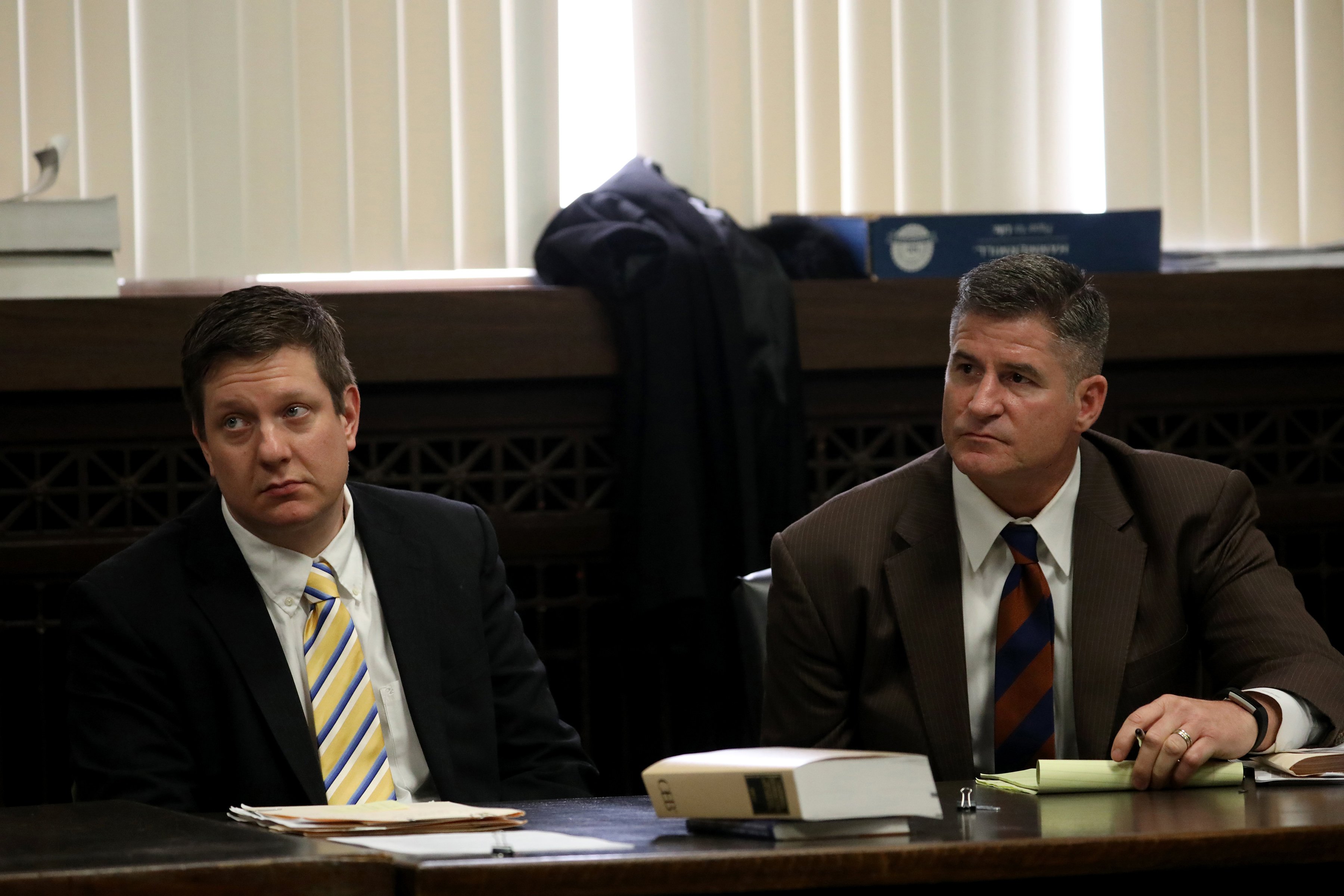 Jason Van Dyke, left, sits with his attorney Daniel Herbert at his hearing at Leighton Criminal Court in Chicago on April 18, 2018. (Nancy Stone / Chicago Tribune / Pool)
Edelman, the co-founder of Los Angeles-based Trial Innovations, was hired by the defense early this year in order to determine whether Van Dyke could receive a fair trial before a Cook County jury amid years of publicity from the high-profile case.
Change of venue motions are granted infrequently in high-profile cases. At a hearing earlier this year, Edelman himself acknowledged he rarely finds that such a move is necessary and often pushes instead for simpler measures like jury questionnaires and individual voir dire to weed out potentially biased jurors.
Herbert already argued a change is necessary in a motion made public last month in which he claimed "blatantly prejudicial" and "inflammatory" media coverage has saturated Cook County, making it impossible for a fair jury to be selected locally. In Tuesday's memo, he states that "unrelenting" pretrial publicity has "engrained a narrative of guilt" among the public that would be reflected in any pool of Cook County jurors.
A pretrial hearing in the case was scheduled for Tuesday morning but has since been postponed to July 16.
Contact Matt Masterson: @ByMattMasterson | [email protected] | (773) 509-5431
---
Related stories:
Van Dyke Case: Defense Seeking New Trial Venue, But Request a Tall Order
Van Dyke Case: Documents Could be Unsealed, Change of Venue Motion Pending
Van Dyke Case: Citing 'Serious Safety Concerns,' Judge Seals Courtroom for Witness Testimony
Van Dyke Case: State Supreme Court Orders Case Filings Be Made in Public