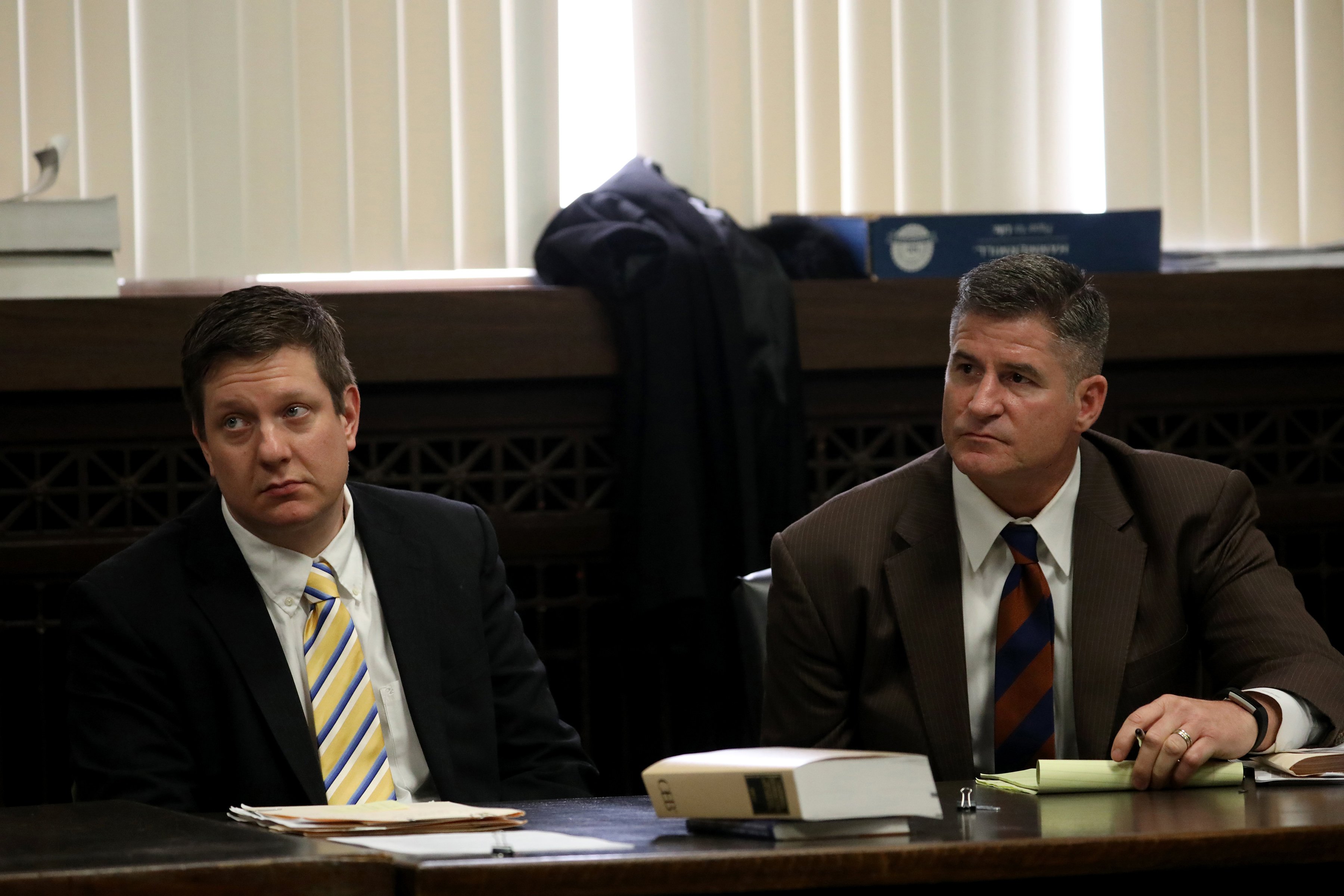 Jason Van Dyke, left, sits with his attorney Daniel Herbert at a hearing at Leighton Criminal Court in Chicago on Wednesday, April 18, 2018. (Nancy Stone / Chicago Tribune / Pool)
Attorneys for Chicago police Officer Jason Van Dyke claim the judge handling his murder case is "prejudiced" against their motion to move the trial outside Cook County and should recuse himself from deciding the matter.
In a defense motion filed late Wednesday afternoon, attorneys representing the suspended officer argue Cook County Judge Vincent Gaughan has already decided to deny their motion seeking a change of venue and claim upcoming hearings on the matter will be "nothing more than a show, much like a professional wrestling match, wherein the outcome has been predetermined."
The motion does not ask Gaughan to recuse himself from the case entirely, but instead allow another judge to decide where the trial will be held.
Van Dyke is charged with first-degree murder in the shooting death of teenager Laquan McDonald, who was shot 16 times as he walked along a Southwest Side road carrying a knife in October 2014.
Defense attorney Daniel Herbert has already claimed "blatantly prejudicial" media coverage of the case thus far has created, arguably, the most compelling example in history of the need for a change of venue.
Earlier this month, he presented results from a monthslong study fashioned by California-based trial consultant Bryan Edelman, who found Cook County residents familiar with the case are far more likely to believe Van Dyke is guilty than those in surrounding areas.
Gaughan earlier this month set a trial date in the high-profile case for Sept. 5 – before prosecutors or the defense have had a chance to argue their case about a possible venue change. A hearing to discuss that motion is slated for Aug. 3.
In their motion, Van Dyke's legal team reference comments the judge has made about technological improvements being inside his courtroom to handle the intense attention the trial will likely draw. They also point back to a June hearing wherein they state Gaughan said "only Cook County residents will be jurors in the case."
Prosecutors have not yet filed a response to the change of venue request, and Herbert says he had planned to fly Edelman out to testify at next month's hearing.
"All of these efforts are apparently in vain, as the Court has effectively denied Defendant's motion without considering the evidence," Herbert states in his motion. "If the court intended to determine this issue after a careful analysis of the evidence, it could not have set the mater for trial on September 5, 2018 in Cook County."
All parties are due in court for a status hearing Friday morning.
Contact Matt Masterson: @ByMattMasterson | [email protected] | (773) 509-5431
---
Related stories:
Van Dyke Case: Defense Seeking New Trial Venue, But Request a Tall Order
Van Dyke Case: Documents Could be Unsealed, Change of Venue Motion Pending
Van Dyke Case: Citing 'Serious Safety Concerns,' Judge Seals Courtroom for Witness Testimony
Van Dyke Case: State Supreme Court Orders Case Filings Be Made in Public