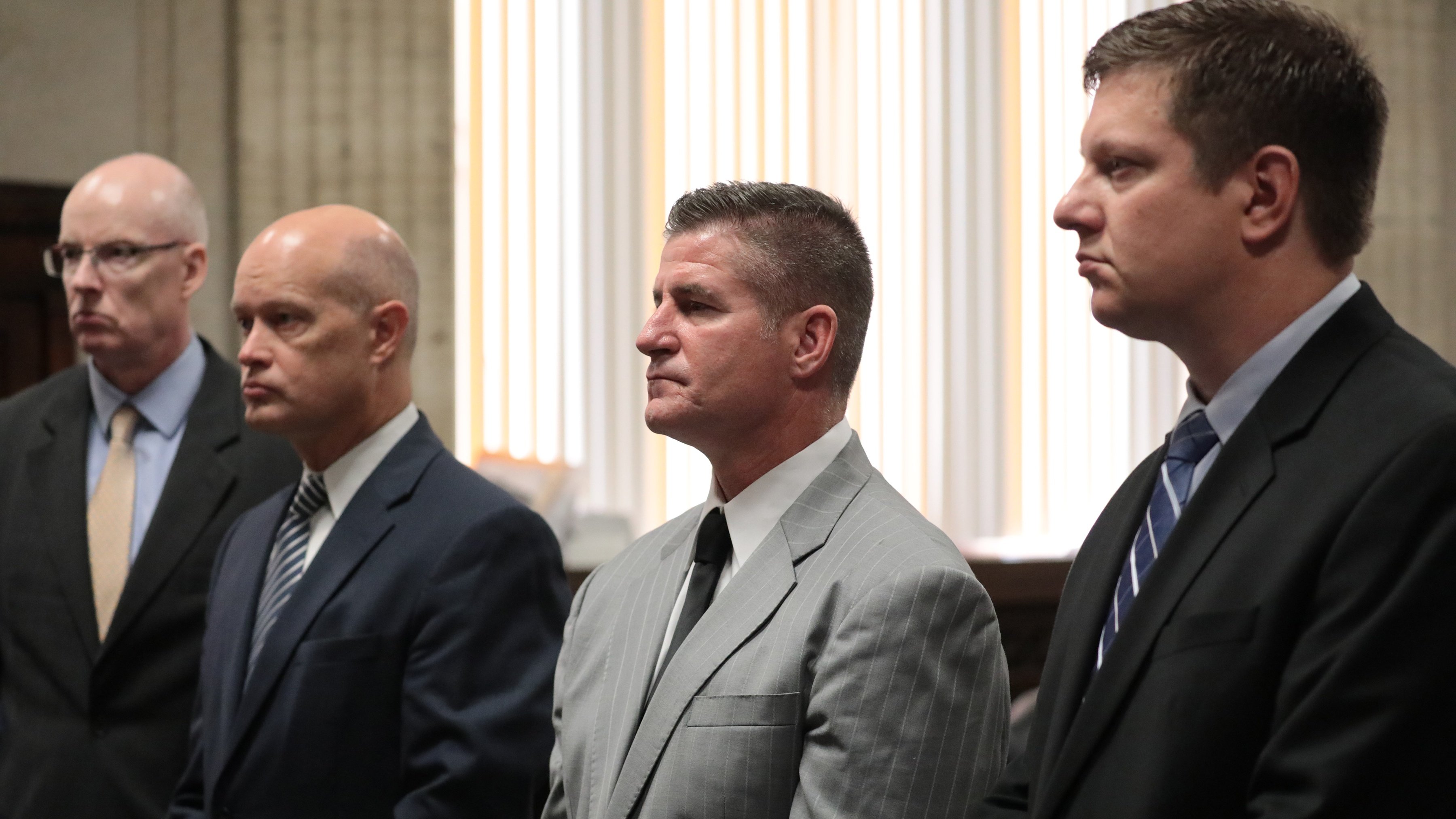 From left: Attorney Joseph Cullen, special prosecutor Joe McMahon, attorney Daniel Herbert and his client Chicago police Officer Jason Van Dyke at the trial for the shooting of Laquan McDonald at the Leighton Criminal Court Building, Friday, Sept. 14, 2018. (Antonio Perez /Pool/ Chicago Tribune)
One of the biggest questions left hanging in the murder trial of Chicago police Officer Jason Van Dyke has been answered.
Van Dyke's lead defense attorney Daniel Herbert told the court Friday morning his client will let a jury decide his fate on six first-degree murder charges in the 2014 shooting death of Laquan McDonald.
"We have the pending change of venue motion as well as the motion to strike the juror panel that has not been ruled on yet," Herbert said, "so without waiving any of those arguments that we've made, the defendant will opt for a jury trial."
The decision comes only days before opening arguments are expected to begin, an unusual development in such a high-profile case.
RELATED: Who's Who in the High-Profile Murder Trial of Jason Van Dyke
Meanwhile, Cook County Judge Vincent Gaughan delayed ruling yet again on a defense change of venue motion, saying he'll do so Monday once the final juror is sworn in. Change of venue motions are rarely granted. But if the case is moved elsewhere, it's unclear whether the jury selection process would restart or the selected jury would be maintained and moved to the new location.
While he didn't rule on that, Gaughan did deny a defense request to strike the full jury pool.
That request by Herbert came earlier this week, when he asked the judge to excuse the 200-person pool, arguing they had been prejudiced by ongoing protests outside the courthouse that called for Van Dyke to be convicted and labeling him a "racist murderer."
Herbert argued the jurors were prejudiced "upon arrival" after being forced to walk through what he described as a "gauntlet" of protesters across metal barricades.
"When they go home after rendering a verdict, they know there's not going to be barricades, there will not be armed police officers protecting them," he said, "and we think that fact alone is going to impair their judgment."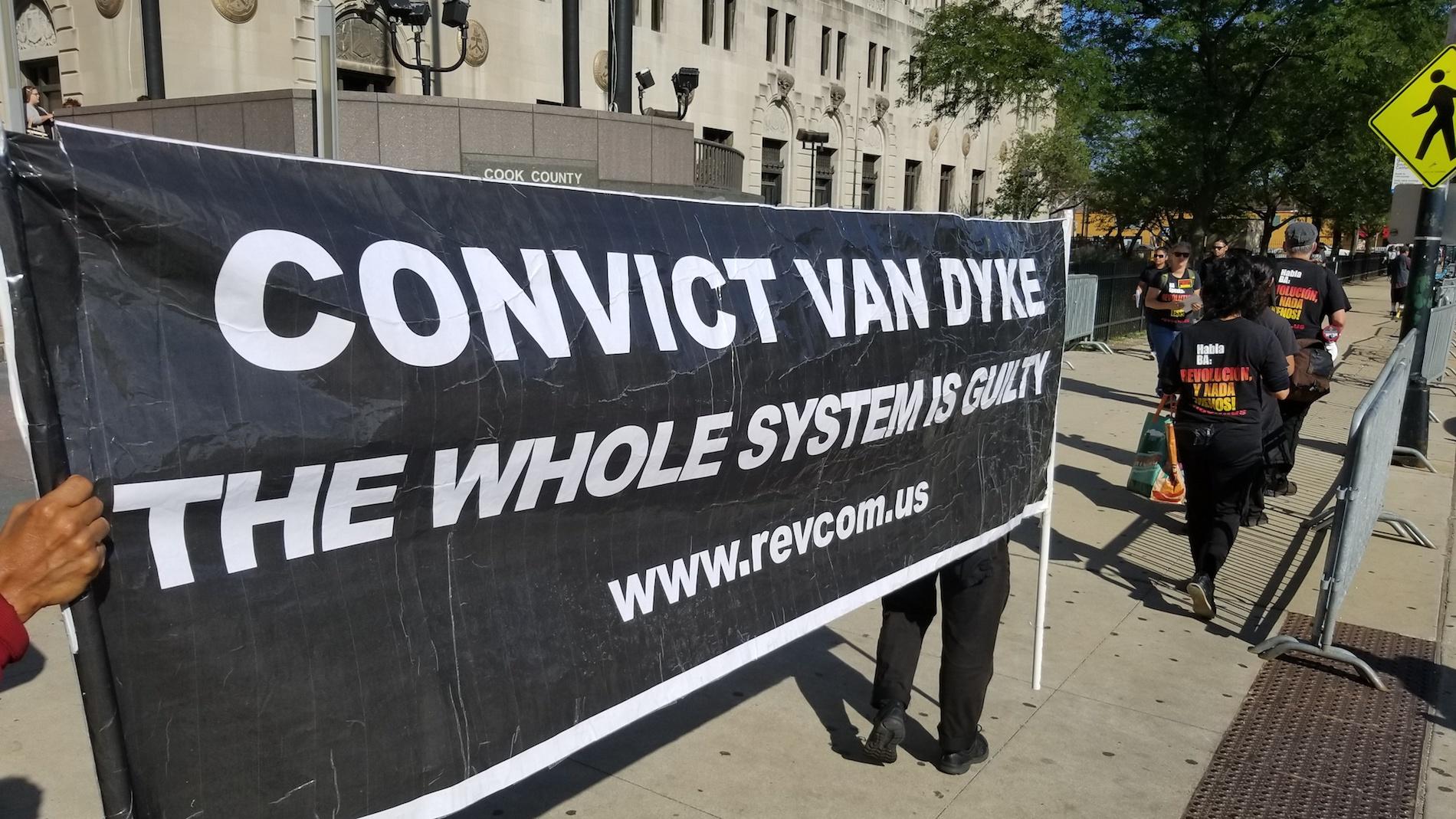 Protesters standing outside the Leighton Criminal Court building Monday on the first day of jury selection in Jason Van Dyke's murder trial. (Matt Masterson / Chicago Tonight)
Several jurors admitted they had seen those protests, but said they either didn't pay attention or were not influenced by them. And special prosecutor Joseph Cullen said anyone who was impacted was eliminated during jury selection.
"There isn't a single juror that's been impaneled that indicated he or she has experienced any fear," he said. "So the jury in no way has been poisoned by the peaceful protesters that have been outside the courtroom."
Attorneys spent three days interviewing the first 54 out of a possible 200 prospective jurors before settling on a main jury and five alternates Thursday afternoon.
The jury Van Dyke accepted is predominantly Caucasian. Seven of the 12 jurors selected are white, while only one juror is African-American. One Asian man and three Latina women were also chosen.
William Calloway, a community activist who has led some of the courthouse protests, told media following the hearing that he is "cautiously optimistic" about the trial, but said he wanted to see more diversity on the jury.
While the jury pool itself is randomly selected, it's comprised only of registered voters. Calloway said more African Americans need to register so they'll be considered for juries and "fulfill our civic obligation."
"Public education and civic engagement," Calloway responded when asked how jury pools can become more diverse. "The black community has to be registered to vote. We cannot put off jury selection, because somebody in the black community could have been selected or summonsed as a juror for this particular case and put it off."
In addition to the six murder charges, Van Dyke also faces 16 counts of aggravated battery and one count of official misconduct after shooting McDonald 16 times during a police call on a Southwest side road in October 2014.
All parties are due back in court for a hearing Monday morning.
Contact Matt Masterson: @ByMattMasterson | [email protected] | (773) 509-5431
---
Related stories:
Van Dyke Defense to Decide Friday if They'll Face Judge or Jury
Van Dyke Defense Seeking New Trial Venue, But Request a Tall Order
Van Dyke Case: 'The More You Dig Into This, The Less Open-And-Shut It Is'
Prosecutors Want Bail Revoked After Van Dyke Speaks Out
A Timeline of the Laquan McDonald Shooting
---