From left: Special prosecutor Joe McMahon, attorney Daniel Herbert and his client, Chicago police Officer Jason Van Dyke, attend a hearing on Sept. 4, 2018 concerning the shooting death of Laquan McDonald. (Antonio Perez / Pool / Chicago Tribune)
The lead attorney for suspended Chicago police Officer Jason Van Dyke says it's still too early to decide whether his client will opt for a trial by jury or a trial by judge as he faces a bevy of charges stemming from the 2014 shooting of teenager Laquan McDonald.
Day two of jury selection in the high-profile murder case got underway Wednesday morning as Cook County Judge Vincent Gaughan, special prosecutors and Van Dyke's attorneys continue interviewing a pool of 200 prospective jurors.
Gaughan began the proceedings by asking Van Dyke's lead attorney Daniel Herbert if he had decided on a jury trial or would instead opt for a bench trial, in which Gaughan alone would decide Van Dyke's fate.
Herbert told the judge he wasn't ready to make that call, and special prosecutor Joseph McMahon urged the sides to press on with jury selection. Gaughan agreed, but only after further opining on the defense's outstanding change of venue motion. Experts from both sides have weighed in on the need for a new trial venue, but the judge believes the jury selection process will prove which side is correct.
Herbert and his team have continuously pressed to move the case out of Cook County, where they argue a fair trial is impossible given public protests and extensive media coverage they claim has "poisoned" the entire jury pool against Van Dyke.
First African-American juror selected
Five more jurors were seated on the case Wednesday, bringing the total to 10. Among them is the first African-American juror – a 50-something woman who has worked as a FedEx driver for more than two decades.
The woman said she has seen dashcam footage of McDonald being shot 16 times, and felt it was "horrific" that it had been shown on television.
"I couldn't say he was guilty," she said of Van Dyke, "but I had an opinion about how many times the shots went off, I can't lie about that … that's a lot of shots."
Special prosecutors quickly issued a Batson challenge, arguing that Van Dyke's attorneys had used a peremptory strike to excuse the juror based on her race. But the move was premature, because the defense never actually used one of their strikes.
They instead argued the woman should be tossed for cause after she described the video, in part, as "horrific." Gaughan then denied both the defense request and the prosecutor's challenge, and accepted the woman as a juror.
Prosecutors issued a second Batson challenge later in the day after Van Dyke's attorneys attempted to excuse a young black male.
"The only reason he was struck is that he was a young African-American man," Kane County Assistant State's Attorney and special prosecutor Daniel Weiler said in response to the strike.
Van Dyke's attorneys argued that this man had left a large section of his jury questionnaire blank and when asked to describe what he knew about the case, he said the officer had "murdered" someone. The defense has thus far used five peremptory challenges, all against people of color. Despite that, Gaughan ruled they had not shown any pattern of striking potential jurors based on race and excused the man.
Other jurors seated
Another juror seated Wednesday is a white male who appeared to be in his early 30s.
He told Gaughan: "I'm just a big supporter of the Second Amendment, I have a lot of support for police officers. That's all there is to it."
On his pre-interview questionnaire, the man said he had not heard of the case, but upon further questioning, he admitted that he was, in fact, aware of it. He believes he can weigh the facts of the case fairly and neither side objected to his inclusion on the jury.
Also seated was a Latina mother who defense attorneys believed could struggle to follow some of the proceedings, and a white woman with family connections to Gaughan – one of the judge's brothers is the godfather of the woman's sister, while another brother stood in her father's wedding. The woman works in the billing department of a surgical practice and answered on her questionnaire that "no one is above the law."
A Hispanic woman who is training to be a Chicago police officer was then 10th juror, added Wednesday afternoon. She has wanted to be a cop since she was 12, but despite that, she said she has no fixed opinions on the case or law enforcement.
"If something is wrong," she told attorneys, "you know you did wrong."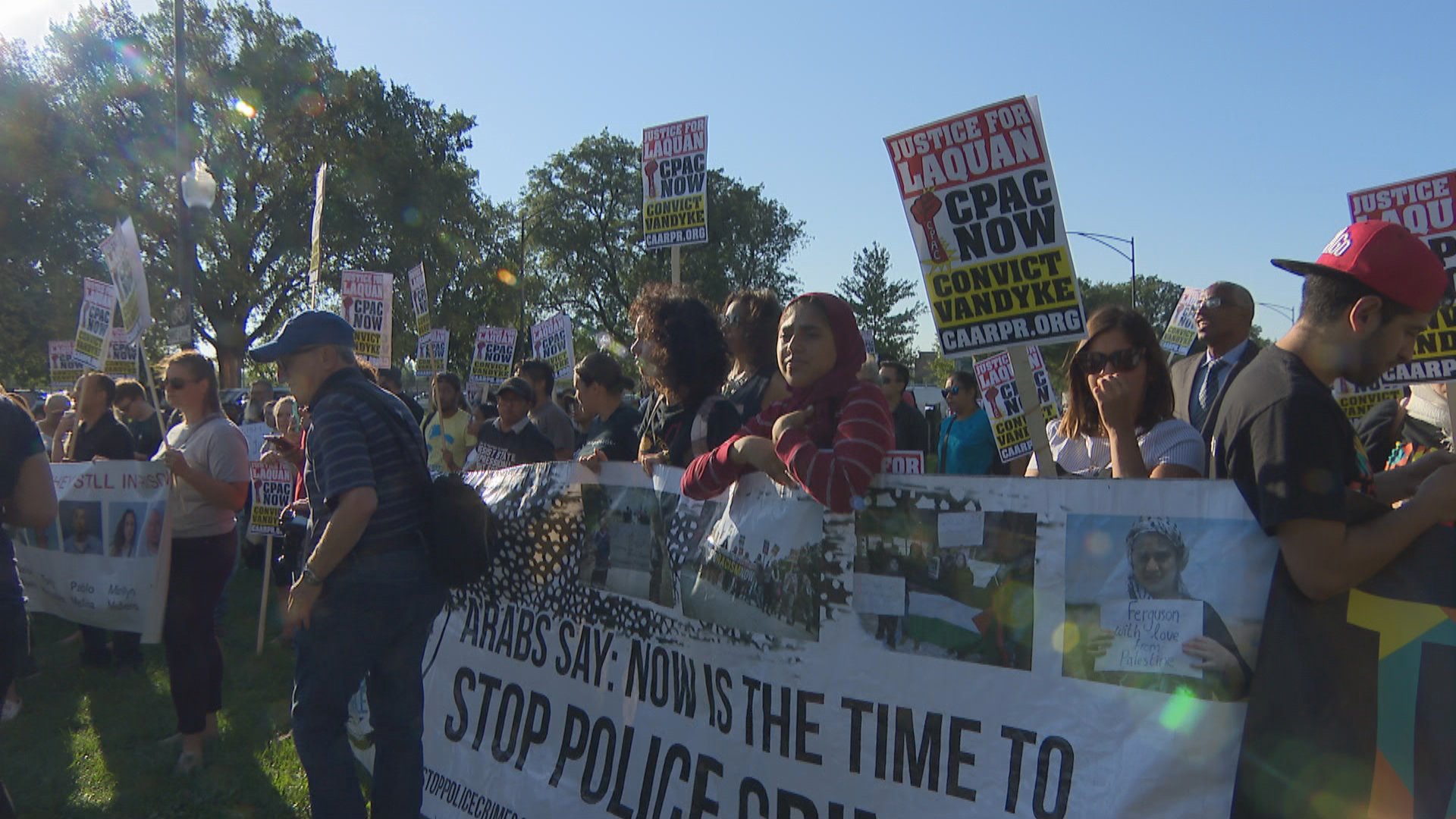 Protesters gather outside the courthouse at 26th Street and California Avenue on Sept. 5, 2018, day one of the murder trial of Chicago police officer Jason Van Dyke. (Chicago Tonight)
Multiple prospective jurors were excused Wednesday because they said they believed Van Dyke is guilty or that they couldn't give him a fair trial. That includes a white man in his 60s, who told attorneys he has seen the dashcam footage several times.
"First time I seen it I told my wife he's guilty," the man said before being excused. "When I seen it, the guy was walking away, seemed to be walking away … from the officer. The officer (came) up and started shooting,"
Herbert this week has already filed an amended change of venue motion – which asked Gaughan to toss the entire jury pool – and a support motion, which argued the jury selection process has done "little to protect the defendant's right to a fair trial."
"In the instant case, due to extensive prejudicial pretrial publicity, each and every juror who has expressed opinions regarding the case and Mr. Van Dyke's innocence should be excused for cause," Herbert wrote in a motion Tuesday, "for their claims that they can be impartial should not be believed."
The voir dire, or jury selection process, is taking place in a small room behind the courtroom. Only Van Dyke, the judge and attorneys on the case are allowed to meet with prospective jurors, along with a small group of reporters and the public.
Van Dyke is charged with six counts of first-degree murder in the death of McDonald, who the officer shot 16 times during a police call on a Southwest side road in 2014. He also faces one count of official misconduct and 16 counts of aggravated battery with a firearm – one count for each of the 16 times he shot McDonald.
Five jurors were seated Monday on the first day of jury selection. They include a stay-at-home mother of three, an Asian-American financial analyst, a gay man in his 60s and two white women. All five said they had some knowledge of the case, but said they believe they can give Van Dyke a fair trial.
Van Dyke can still opt for a bench trial until the 12th and final juror is sworn in. Four alternates will also be chosen.
Contact Matt Masterson: @ByMattMasterson | [email protected] | (773) 509-5431
---
Related stories:
Van Dyke Case: Protesters Call for Justice as Murder Trial Begins
Van Dyke Case: Judge Won't Rule on Bond Violation Until Next Week
Van Dyke Case: 'The More You Dig Into This, The Less Open-And-Shut It Is'
Van Dyke Case: Prosecutors Want Bail Revoked After Officer Speaks Out
A Timeline of the Laquan McDonald Shooting
---