A variety show is now touring a true variety of Chicago neighborhoods. Last weekend the mini-festival kicked off, bringing peace, positivity and performance to the West Side. The show even got the blessing of the legendary hip-hop group, The Wu Tang Clan.
Chicago Tonight was on location.
TRANSCRIPT
Phil Ponce: There was tapping and rapping and spoken-word stories – all told in the La Follette Park fieldhouse gym in the Austin neighborhood.
These many chapters of entertainment go by the name "Peacebook" – and they were curated by Collaboraction, a Chicago theater on a mission to cultivate homegrown culture.
Marcus Robinson, managing director, Collaboraction: Where we found the arts and the stories was in the neighborhoods … then we come back to the neighborhoods and allow them to really enjoy their work in an environment that's theirs, on their turf, their stories, on their terms.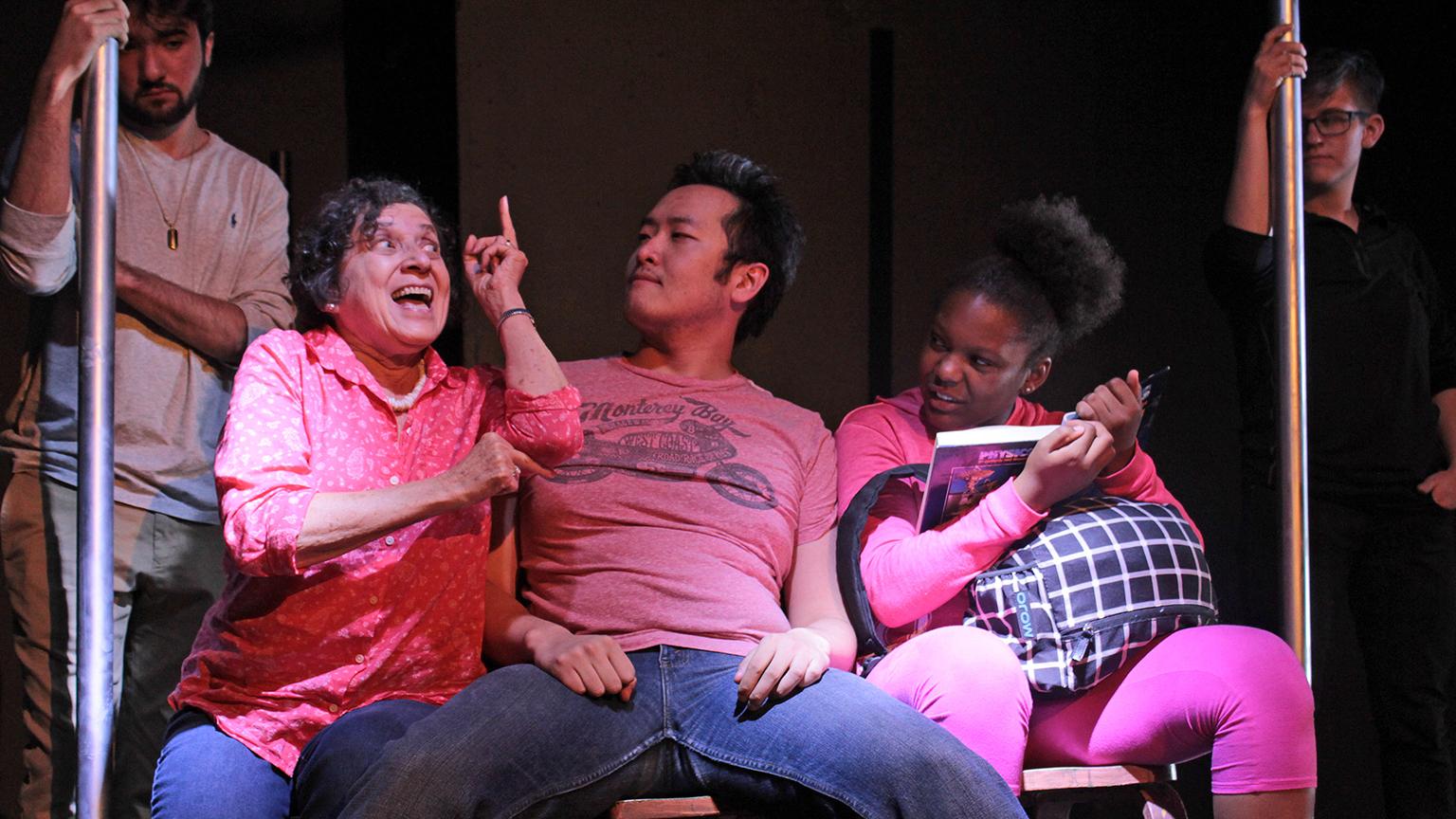 From left: Assistant stage manager Gabe Halsted-Alvarez, actors Joette Waters, Jian Zhang and Maya Hooks, and floor manager Sunniva Holmlund in "Manspread Madness," one of seven short works about peace premiering as part of Collaboraction's "Peacebook" Austin line-up. (Credit: Joel Maisonet)
It's about you and I coming together head to head, heart to heart, over some food, belly to belly, and then talk about stuff that really matters – and we use the art to break the story wide open, because sometimes they are tough stories to tell and there are hard truths to kind of swallow about ourselves, but we need to speak to ourselves in these terms so that we can make the difference in the community.
Ponce: It is the third year of the festival, and this year's theme is a three-point plan: power, love and hope.
Sometimes they tackle a serious issue with a bit of physical comedy.
Anthony Moseley, Collaboraction: We believe firmly that Chicago's writers, our singers, our music, our comedians, are our greatest natural asset so let's take that asset and point it at our greatest problem: our segregation and the violence that has come from it.
We can't wait for the police or the politicians or the schools or the churches to fix this issue – it's way too steeped in who we are as a city.  We need the people to say, "Hey I'm gonna invest myself in this issue." And it's not gonna happen quickly. It's gonna take decades, centuries, but we have to do what we can during our leg of this relay race.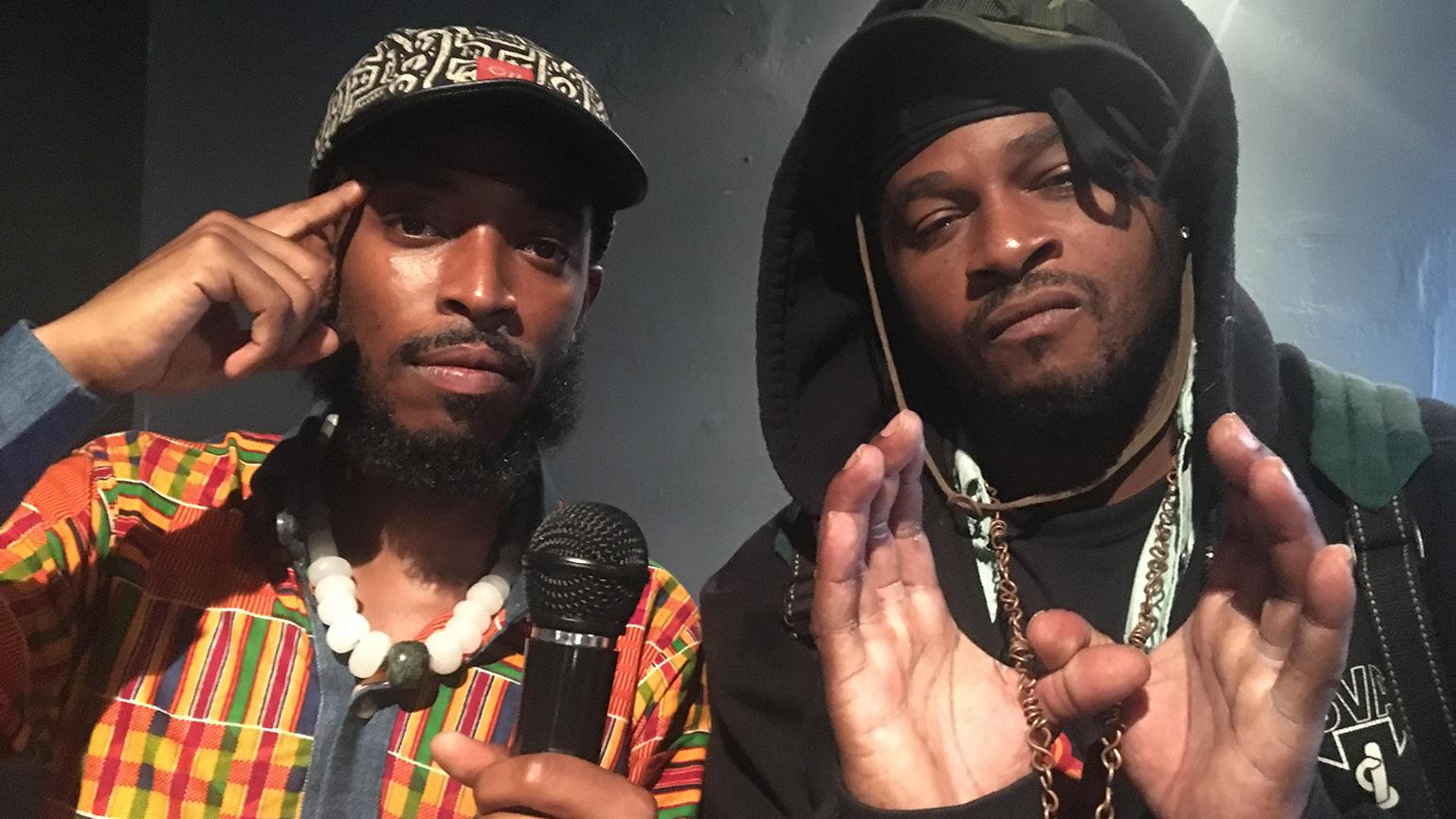 From left: Chicago rappers The Boy Illinois and Phenom star in "Tearz," adapted from Wu Tang Clan's hit single off their 1993 debut album "36 Chambers," premiering as part of Collaboraction's "Peacebook" Austin line-up. (Credit: Joel Maisonet)
Ponce: This year "Peacebook" got an assist from the Wu Tang Clan. The New York-based rap group permitted the festival to use one of their songs for a dramatic reenactment.
Oliver "Power" Grant is an executive producer and longtime associate of the Wu Tang Clan.
Oliver "Power" Grant: People need to see, people need to feel, people need to … people are visual, right? People go off their emotions and feelings so we can attack some of those emotions by way of the music and by way of the reenactment, then it's a win-win.
Moseley: We've created these conceptual barriers that keep us from crossing certain streets, and once we cross them the first time and have a good experience we can actually erase that barrier, and that's what we have to do.
Robinson: We think that if we get down to the root cause of all of this then we can come together as one people, black, white, brown, whatever, and solve this problem and bring our community together in a beautiful way. That's "Peacebook."
More on this story
"Peacebook" is part of the "Nights Out in the Park" program of the Chicago Park District. This weekend it will be at Kelvyn Park in the Hermosa neighborhood and then it will travel to Hamilton Park in Engelwood. Get the full schedule here.
---
Related stories:
Shattered Globe's Piercing Dramatization of a Dostoyevsky Classic Soars
'Radio Golf' Revival Tunes in to Hidden Wealth of August Wilson's Final Play
Funny, Heartbreaking 'No Child' Taps Into the Art of Education
---