The field of candidates for Chicago mayor continues to ebb and flow, and while the pool didn't expand on Wednesday, there may soon be tidal waves, should Cook County Board President Toni Preckwinkle run, or should County Commissioner Jesus "Chuy" Garcia take a second shot at the city's top job.
Following a board meeting Wednesday, Preckwinkle took questions from the media for the first time since Mayor Rahm Emanuel last week bowed out of a bid for a third term.
While Preckwinkle has petitions circulating that would put her on the February 2019 mayoral ballot, she refrained from committing to running. But she affirmed previous statements made by some of her top aides and said she is "interested" and that she believes she has a unique perspective given her stints leading the country board and having served previously on the City Council.
Preckwinkle said she didn't to get into what will factor into her decision, nor did she give a timeline, but she brushed aside notions from critics that she's a "machine" politician given that she recently took over as head of the Cook County Democratic Party, saying that she has been a progressive all of her life, or that – at 71 – she may be too old to become mayor.
"I have a very active schedule. I work 12 hours a day most days, and my younger staff has a hard time keeping up with me so I think I'm in pretty good shape," she said.
Meanwhile, retiring U.S. Rep. Luis Gutierrez held a press conference to say that, though he very much wants to be Chicago's next mayor, he instead will continue with plans to help to rebuild his ancestral home of Puerto Rico and to try to help daughter Jessica Gutierrez win a contested seat against 30th Ward Ald. Ariel Reboyras.
In lieu of running himself, Gutierrez says he is leading an effort to draft Garcia, who he called "a man for these times."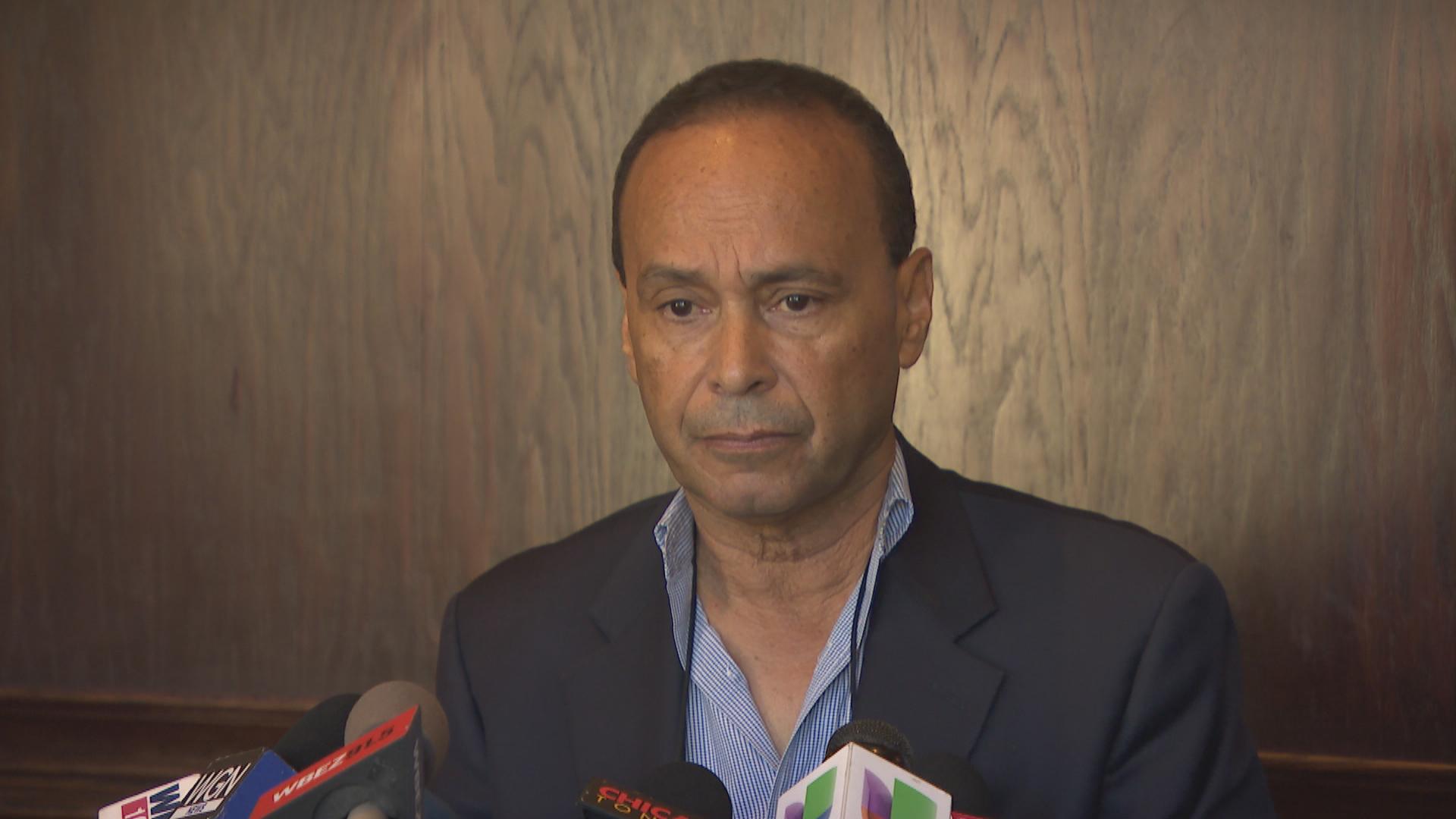 U.S. Rep. Luis Gutierrez announces Wednesday, Sept. 12, 2018 that he will not run for Chicago mayor. (Chicago Tonight)
"I can't think of a single leader who has his finger on the pulse of Chicago and cares more deeply about it," he said.
Garcia lost in a runoff to Emanuel in 2015, and is on track to take Gutierrez's seat in Washington D.C. after having won a contested 4th Congressional Democratic primary.
Gutierrez said he has talked with Garcia, and believes that Garcia may need convincing to get in the ring for mayor – a claim that some political insiders say belies what appears to be an orchestrated effort.
In a statement, Garcia thanked Gutierrez for his confidence and support.
"Calls and messages have been coming in from people all over the city urging me to run, including Congressman Gutierrez," Garcia said in the statement. "As I take a closer look at the Mayor's race I will continue to dialogue with Chicagoans from across our great city to talk about solutions that will both unify us and improve everyone's quality of life. While we have great challenges ahead of us we also have an opportunity to bring peace to a city that has been too much at war with itself. And, I look forward to forging that peace together."
There's no indication of when Preckwinkle or Garcia will make up their minds, but should either succeed after having first won their respective November races, it stands to set off another round of political wrangling.
Illinois law requires a special election to be held to fill a vacancy for a U.S. House seat; statues for filling a vacancy for county board president are more complicated. Generally speaking, if there are more than 28 months left in the term, a president pro-temp would serve as the board's figurehead; then, a sitting county board member could be elected in the 2020 general election to serve out the remainder, meaning that either way, if Preckwinkle goes to the mayor's office, a member of the county board would rise to fill her shoes.
Follow Amanda Vinicky on Twitter: @AmandaVinicky
---
Related stories:
Top Cook County Leaders Eyeing Chicago Mayor's Race
With Emanuel Out, Who's In? The Wide-Open Race for Chicago Mayor
Candidates for Chicago Mayor Face Tough Path to Ballot, City Hall
---