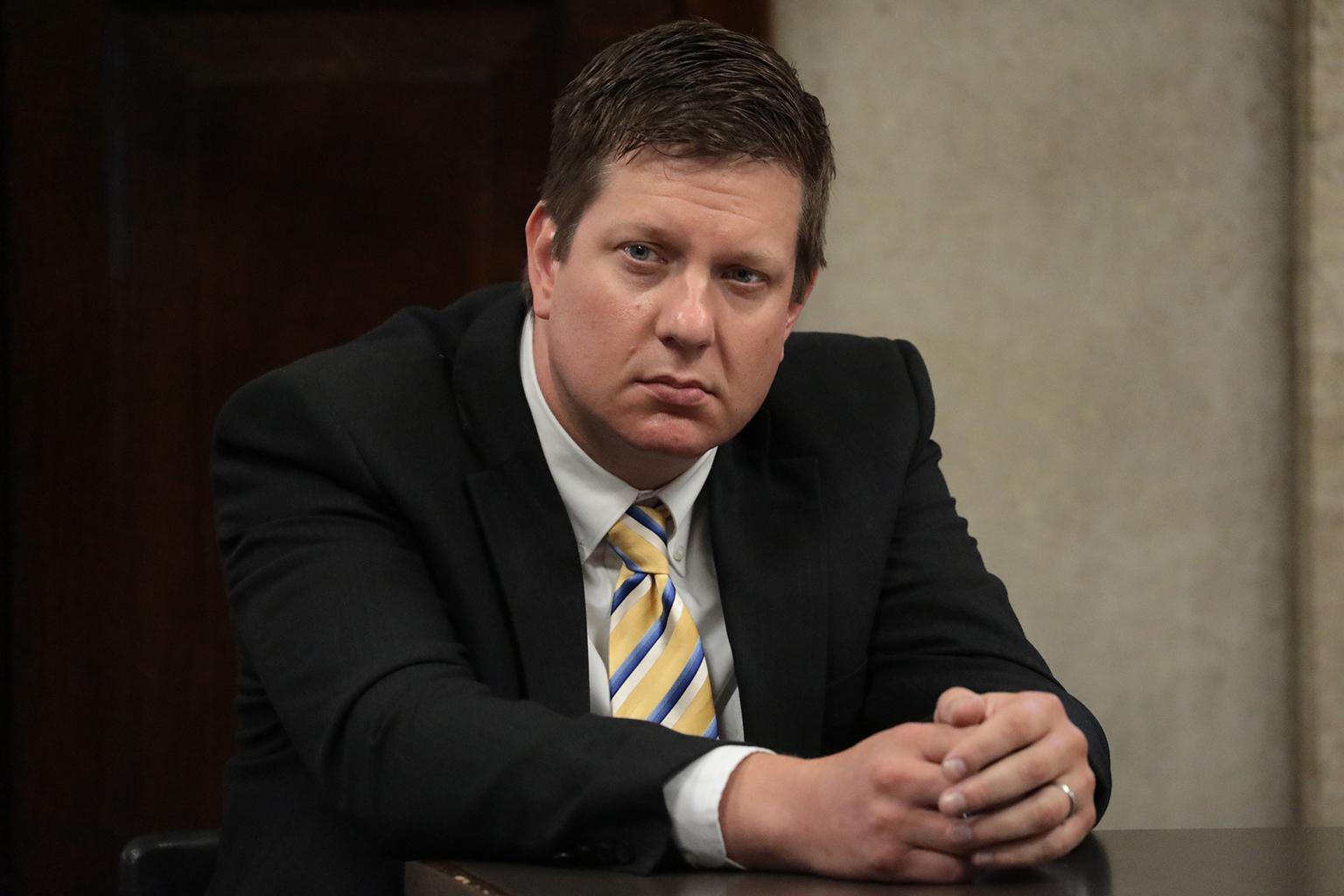 Chicago police Officer Jason Van Dyke listens to testimony at the Leighton Criminal Court Building on Friday, Aug. 3, 2018, during a hearing on the shooting death of Laquan McDonald. (Antonio Perez / Chicago Tribune / Pool)
It remains to be seen where the trial of Chicago police Officer Jason Van Dyke will be held after a daylong hearing featuring hours of expert testimony and competing surveys that attempt to show whether an unbiased jury can be impaneled within Cook County.
Cook County Judge Vincent Gaughan chose to continue a defense change of venue request until after jury selection begins next month. At that point, he will decide whether the case can remain in Cook County or must be moved elsewhere to ensure a fair trial.
Rather than relying on expert testimony to make his ruling, Gaughan wants to put into motion the jury selection process and use that to determine the next step.
Defense attorney Daniel Herbert previously made clear he wants the entire case moved out of Cook County, rather than bringing in an outside jury to the George N. Leighton Criminal Court Building to hear the case.
Defense expert Bryan Edelman, a California-based trial consultant, testified that he collected more than 3,000 news articles and conducted phone interviews with hundreds of jury-eligible residents from Cook, Lake and Madison counties. Through that process, he said it would likely be impossible for Van Dyke to receive a fair trial in the current jurisdiction.
"The defendant is in a position where he would have to prove his innocence," Edelman said.
Van Dyke is charged with first-degree murder in the shooting death of teenager Laquan McDonald, who was shot 16 times as he walked along a Southwest Side road carrying a knife in October 2014.
Van Dyke showed no emotion but watched intently as news coverage and portions of police dashcam footage of the shooting were shown in court during Friday's hearing.
His attorneys called this video the "most important piece of evidence" in the case, with Edelman going so far as calling it "in a sense … a confession," though Gaughan quickly objected to that characterization.
The defense also presented a portion of a music video by Chicago artist Vic Mensa titled "16 Shots," which shows portions of the dashcam footage as well as a reenactment of Mensa being "shot" by several uniformed officers.
In order to move a case to a new jurisdiction, defense attorneys must prove overwhelming media coverage has rendered potential jurors incapable of deciding the case fairly. That's not an easy burden to meet, as change of venue motions are seldom granted in high-profile cases. Van Dyke's attorneys have repeatedly pointed to what they've called "blatantly prejudicial" and "inflammatory" media coverage across Cook County in the years since the shooting.
In his survey, Edelman found 86 percent of the 399 Cook County residents polled were familiar with the case. Fifty-one percent of those who did know about the case said they believe Van Dyke is "definitely guilty" of murder. In Lake County, only 28 percent of similar residents polled feel he is "definitely guilty." In Madison County it is 25 percent.

Survey results offered by defense expert Bryan Edelman.
Beyond that, Edelman found that the more information people know about the case, the more likely they are to believe Van Dyke is guilty. He testified he does not believe jury selection – known as voir dire – can remedy that bias in this case, and would only put a higher burden on the defense.
Edelman also pointed to numerous pieces of inadmissible evidence – such as previous complaints made against Van Dyke and a $5 million city settlement with the McDonald family – that may have shaped public opinions of the case through media coverage, but wouldn't be allowed in trial. As he concluded, Gaughan challenged Edelman about his conclusions on voir dire and defended his own use of that process in other high-profile cases he has presided over.
"My experience with voir dire has been outstanding," the judge said, "and I believe in the jury selection process."
Special prosecutor Joseph McMahon has maintained that Cook County's massive population makes it the ideal location to find an unbiased jury. He presented his own expert witness, Katharina Castañeda, a research manager with the Halverson Group, who conducted a survey of residents in Cook and six other Illinois counties.
She testified that even using their strictest method of finding an unbiased jury population – using only those people who have not heard of the case – Cook County has a larger pool of candidates than the other six counties combined. 
Rather than relying on phone calls, Castaneda used a 10-minute online survey and collected more than 2,000 total responses, including 750 from Cook County alone. But defense attorneys argued that this survey didn't determine how many of these people are truly eligible to serve on a jury and relied on participants who were paid a small fee to fill out multiple surveys.
"It's a red flag," Edelman said in rebuttal, noting this type of survey isn't based on a random sampling of the population and participants could take paid online surveys multiple times. "It completely lacks what we call external validity – the ability to generalize from your findings to your population."
Herbert unsuccessfully sought to replace Gaughan with a different judge to decide this one issue, claiming Gaughan is "prejudiced" against a venue change and had already made up his mind to reject their request.
The next hearing in the case will be held Tuesday morning. The trial is scheduled to begin Sept. 5.
Contact Matt Masterson: @ByMattMasterson | [email protected] | (773) 509-5431
---
Related stories:
Van Dyke Case: Trial Venue Won't Be Decided By New Judge
Van Dyke Case: Defense Believes Judge Too 'Prejudiced' to Decide Trial Venue
Van Dyke Case: Defense Seeking New Trial Venue, But Request a Tall Order
Van Dyke Case: Documents Could be Unsealed, Change of Venue Motion Pending
Van Dyke Case: Citing 'Serious Safety Concerns,' Judge Seals Courtroom for Witness Testimony