Just days before her first official day as a teacher, Asia-Ana Williams is putting the final touches on her classroom, well ahead of schedule.
"I'm nervous, I'm excited, all the adjectives," she says.
"I spent the whole summer obsessing over what it would look like," she said. "I just came in here, and I had a few friends come, and we divided and conquered. The biggest thing is always the desks. You never know how to put them, you really still don't know – I don't know if this arrangement will work."
But she does know she wants to send a message to her 11th grade English students:
"I want them to walk in and know that I invested my time into this classroom, so then, obviously, I'll invest time into them," she says.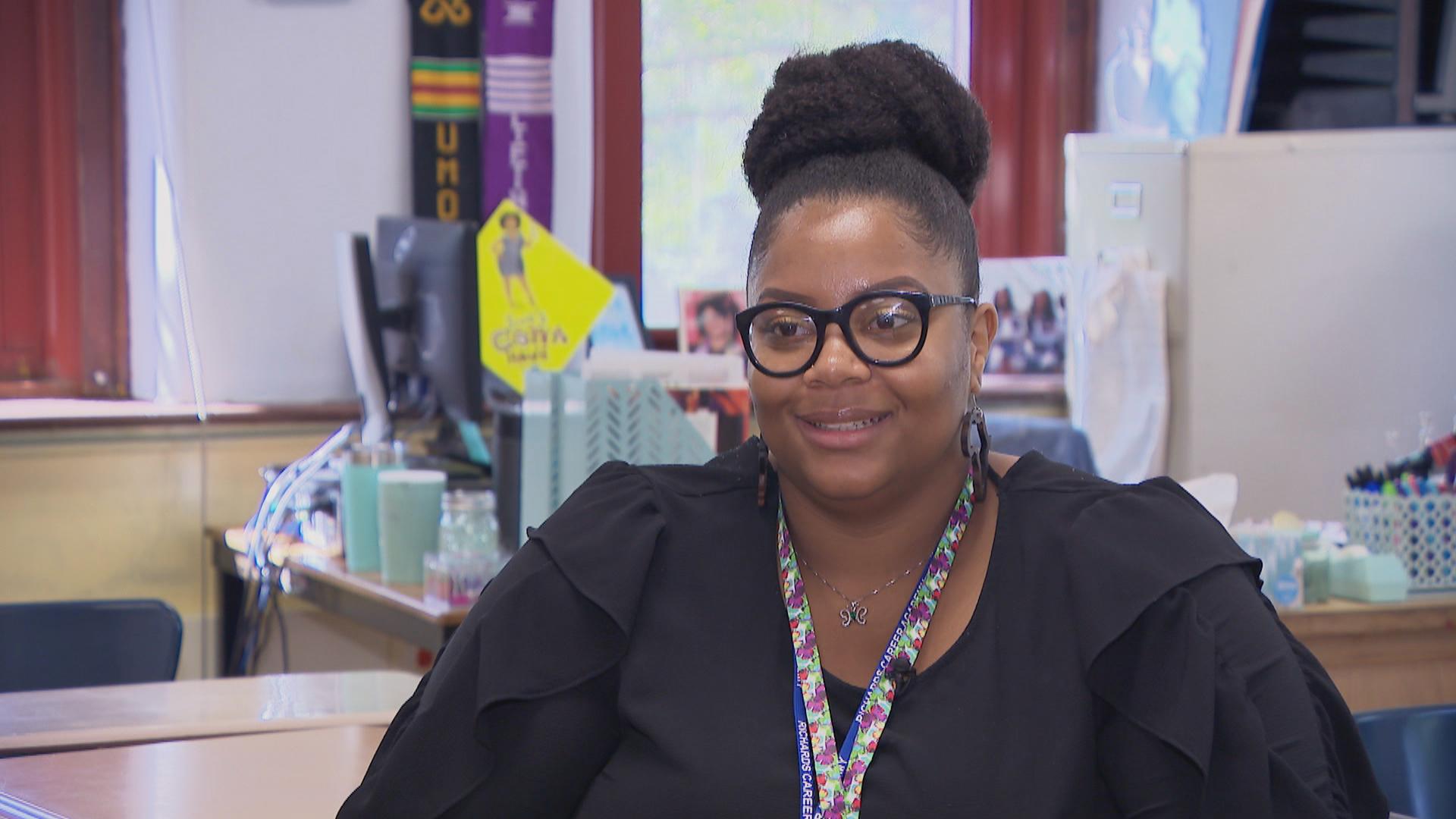 Chicago Public Schools teacher Asia-Ana Williams (Chicago Tonight)
The room will be ready, and to ensure her lesson plans are, too, she's walking through them with principal Ellen Kennedy.
Williams is among three other first-year teachers at Richards Career Academy in the Back of the Yards neighborhood.
Kennedy says it's a small school, so four new teachers is plenty. She's given all of them the same advice for their first day:
"Take the time to be intentional in your classroom, the first day, the first week. I'm not concerned about you jumping right into your physics content. Are you getting to know all the students' names? Are you learning, like, kind of what makes them tick?" she said.
Then, the first day arrives.
"Last night it was tricky to sleep, because I was anxious," Williams said. "But I would say my nerve level this morning on the way here was probably an eight."
And she was pleasantly surprised. "It went well," she said. "It was better than I could have ever anticipated."
As a Chicago Public Schools graduate herself, Williams always knew she wanted to give students what she received in high school: a good teacher.
"I wanted good teachers when I was in high school, when I was in grammar school. And my teachers, a lot of them didn't look like me, and so that was a big thing, but also … these students are my neighbors, these students are community members, and I want them to have great things, just like I'd want great things for myself," she said.
And though it's just the first day, she got that affirmation – from a student who looks like her.
"We did an activity where they wrote letters to themselves," Williams said. "She said, 'You may read,' and she drew a little woman with an afro, and she said, 'P.S., it's nice to see another afro in the hallways.' So, that was a really nice first day note to have, and reminder, I would say.
"I think this makes it more worthwhile, and makes it so much more exciting to know that you're impacting someone just for being who you are, just for being, you know, visible and present in the moment, and that makes me so happy."
Follow Brandis Friedman on Twitter @BrandisFriedman
---
Related stories:
CPS Touts Increased Graduation Rate, Acknowledges Work Ahead
New CTU Leader Jesse Sharkey Talks CPS Issues, Teacher Contract
CPS Limiting Phone, Social Media Contact Between Students and Teachers
---