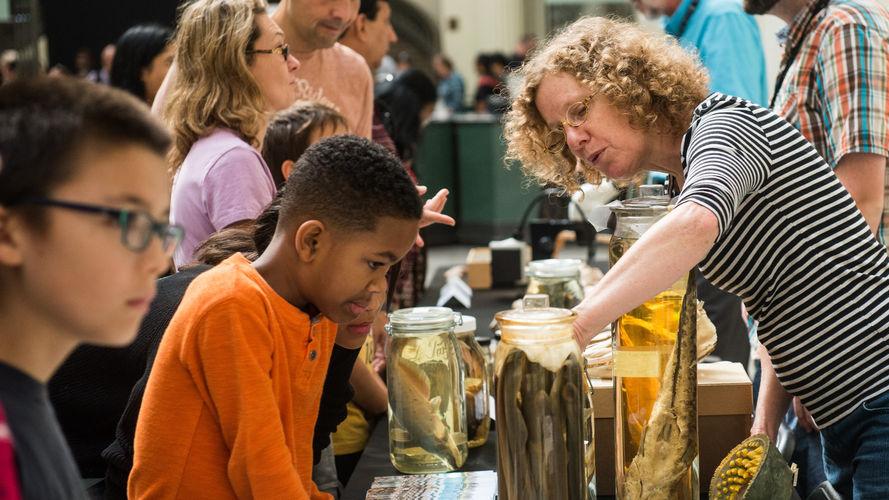 Field Museum ichthyologist Susan Mochel talks with visitors at the museum's ID Day in 2017. (Courtesy Field Museum)
If you've got a 20-foot-long snakeskin buried in a closet somewhere in your house, now's the time to dig it out.
That's exactly what one visitor showed up with last year during the Field Museum's popular ID Day, when the museum invites guests to bring in pretty much any object or specimen that's not living to have it examined by a Field scientist.
"It had been this kind of family heirloom," the event's lead organizer Kate Golembiewski said about the snakeskin, which, she learned, the man's grandmother had bought at a Moroccan bazaar in the 1920s. "So he brought it in, and our scientists were able to tell him what kind of snake it was from – it was actually from an African rock python."
Now in its fifth year, Field's ID Day is scheduled for 10 a.m. to 2 p.m. Saturday, Sept. 15, in the museum's main hall. Illinois residents receive free admission to the museum for the day.
More than a dozen Field scientists were on hand for last year's event, which was the highest attended ID Day to date, with 7,500 total visitors and 175 individual specimens brought by guests.
Visitors explore various specimens and artifacts during the Field Museum's ID Day in 2017. (Courtesy Field Museum)
To meet the demand, the Field plans to have even more scientists available this year, including staff specializing in zoology, paleontology, geology, ichthyology (also known as fish science) and more.
"I think a lot of people don't even know that we have scientists behind the scenes, that there's so much more to the museum than what you see when you go in," said Golembiewski, public relations and science communications specialist for the Field. "It's just a really wonderful way for people to get to know this other side of the Field Museum and learn about some of the things they own."
Dry bones, fossils, rocks, meteorites, seashells and other artifacts are all welcome, along with photographs of mammals, birds, reptiles, fish and insects.
Last year, a visitor brought in a 5-pound rock that his dog had dug up in the backyard. It turned out to be a smoky quartz geode, a unique type of crystal.
Even for those without their own objects, the museum's scientists will have plenty to look at from the Field's collection of nearly 40 million specimens and artifacts.
Given the timing of this year's event, which falls on the weekend of the Field Museum's 125th anniversary, some of Field's librarians will also be on hand to help guests learn about the museum's history, which traces to the 1893 World's Columbian Exposition in Chicago.
In addition to millions of scientific specimens, the Field also houses a handful of different libraries, full of archives, academic materials and documents related to the museum's history, Golembiewski said.
"We're also hoping that people's curiosity about the natural world doesn't start and end when they come for a visit to the museum," Golembiewski said, "that it's something they take with them."
Contact Alex Ruppenthal: @arupp | [email protected] | (773) 509-5623
---
Related stories:
Field Museum to Release Gin Rooted in 1893 World's Fair
99-Million-Year-Old Beetle Discovered by Field Museum Researcher
---