In the small town of Bath, Illinois, a little more than 200 miles southwest of Chicago, an annual competition to catch flying fish draws visitors from near and far.
It's called the Redneck Fishing Tournament, and its primary target is Silver carp, a type of Asian carp that jumps into the air when started by the noise and pressure waves created by boat motors. It's not uncommon for brave participants to leave the event bloody and bruised from flying fish.
"You don't use poles, you use handheld dip nets to catch the silver Asian carp that jump up out of the water," said Betty DeFord, who started the event 13 years ago. "We used to have some of the biggest bass tournaments come through here. They don't do that anymore because [the Asian carp] just tried to drive [the bass] out of the water."
The invasive species is traveling up the Mississippi River watershed and its tributaries, like the Illinois River, threatening the freshwater ecosystem of Lake Michigan by outcompeting native fish for food.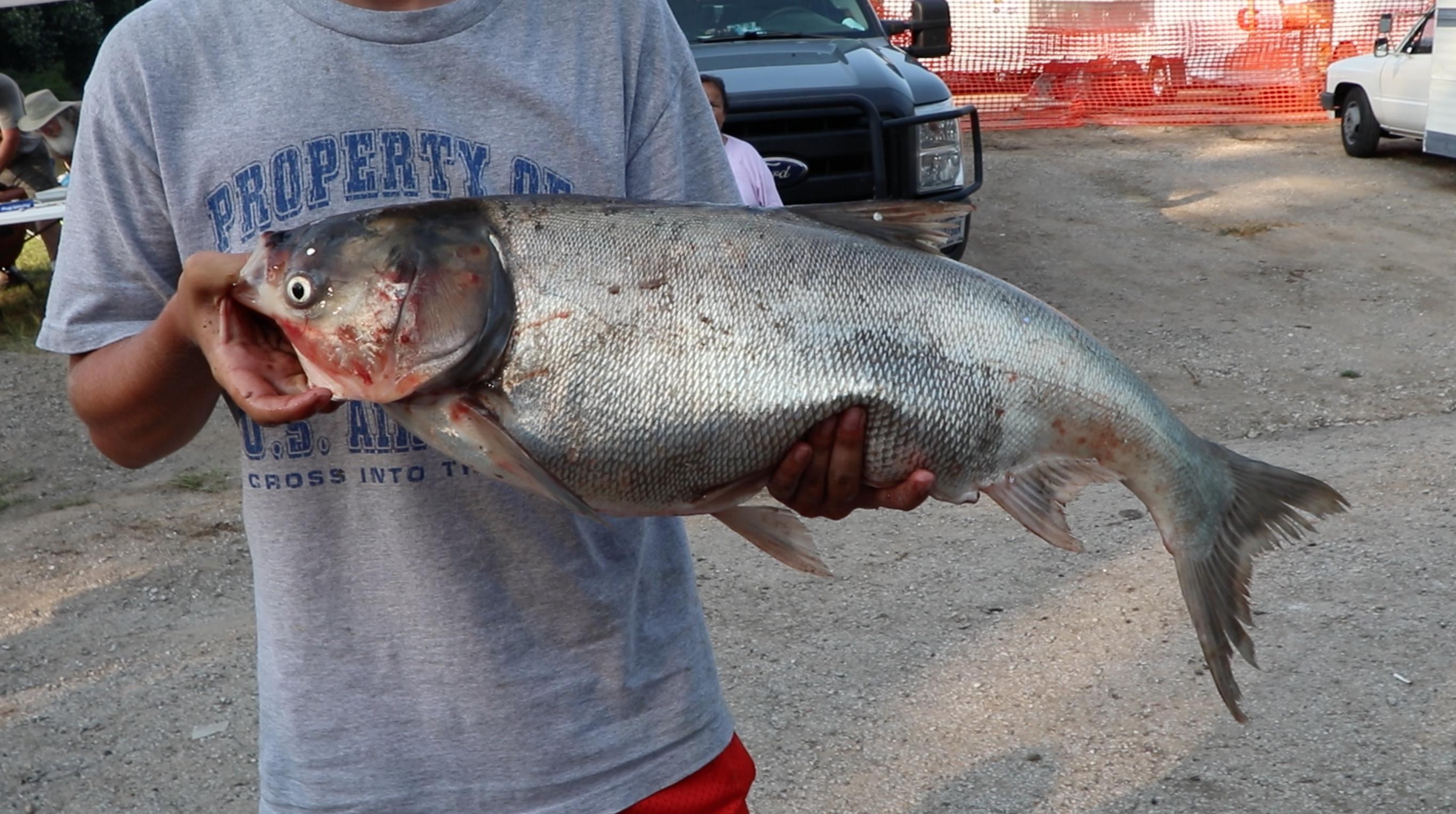 Silver carp's "startle response" is jumping out of the water due to the noise and pressure waves caused by boat motors. (Evan Garcia / Chicago Tonight)
Fish biologist Jan Hoover from the U.S. Army Engineer Research and Development Center was at the event studying specimen by collecting bone samples to age the fish and examining ovaries to learn more about their reproductive cycles.
"We're really only beginning to understand the life history of these animals," Hoover said. "They have unprecedented powers of reproduction. These fish are maturing at one year."
Monetary prizes and trophies are awarded to participants based on the most fish caught, as well as best costumes.
Organizers say proceeds from the event benefit homeless veterans in central Illinois.
Follow Evan Garcia on Twitter: @EvanRGarcia
---
Related stories:
Live Bait Shop at Montrose Harbor a Relic of Chicago's Fishing Heyday
Lakefront Fishing a Break from 'Hustle and Bustle' of City
---