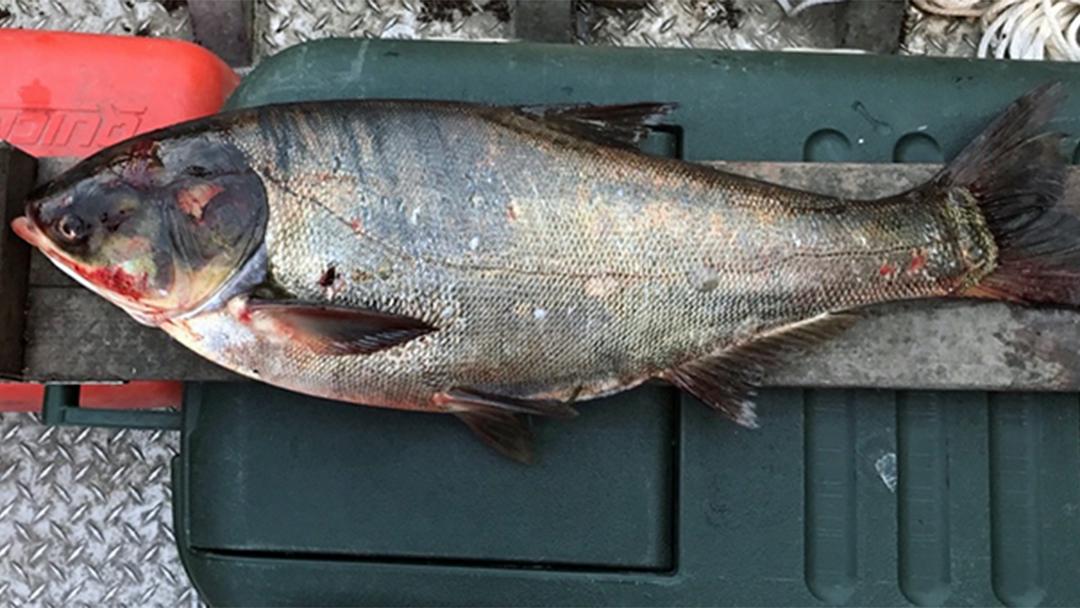 A silver carp captured in June 2017 in the Illinois Waterway below the T.J. O'Brien Lock and Dam, about 9 miles from Lake Michigan. (Courtesy Illinois Department of Natural Resources)
If you can't beat 'em, eat 'em.
That's the apparent strategy behind a new state grant program that will provide funding to companies that harvest and sell Asian carp, an invasive fish species that has infested the Mississippi and Illinois rivers and poses a threat to aquatic life throughout the region.
The new Asian Carp Market Value Program will offer grants of up to $8,000 per applicant to help companies market their Asian carp products, according to the Illinois Department of Natural Resources, which is overseeing the program.
"We want to help businesses increase their sales of Asian carp products as part of the state of Illinois' effort to reduce the numbers of Asian carp and aid in managing this pesky but tasty fish," said Kevin Irons, manager of IDNR's Aquatic Nuisance Species Program, in a statement. "Taking more Asian carp out of Illinois waters helps prevent their spread, as well as reduce impacts where they are present."
Several species of Asian carp have been found in area waterways and are threatening to invade the Great Lakes, which environmental and fishing advocates say could have a devastating effect on the marine food chain and the region's fishing industry.
The state's new program will provide grants to cover costs of attending trade shows and conferences related to market development and sales of Asian carp products, according to IDNR.
Those eligible to receive grants include companies or individuals that process Asian carp or that have sold Asian carp products over the past year. Applicants must have purchased Asian carp caught in Illinois, according to IDNR. They must also have a "clearly-defined plan for growth of new Asian carp products and achievable, quantifiable goals that will result from this grant funding," according to the agency.
The new program comes as federal officials work toward the finalization of a long-awaited project to prevent Asian carp from reaching the Great Lakes. The project, which centers around the construction of an upgraded lock and dam along the Des Plaines River in Joliet, is projected to cost $778 million and could be approved by Congress later this year.
For more information about Illinois' new grant program, visit IDNR's website.
Contact Alex Ruppenthal: @arupp | [email protected] | (773) 509-5623
---
Related stories:
Rauner to Michigan Gov. Snyder: Let's Use Asian Carp Funding Now, Not Later
---