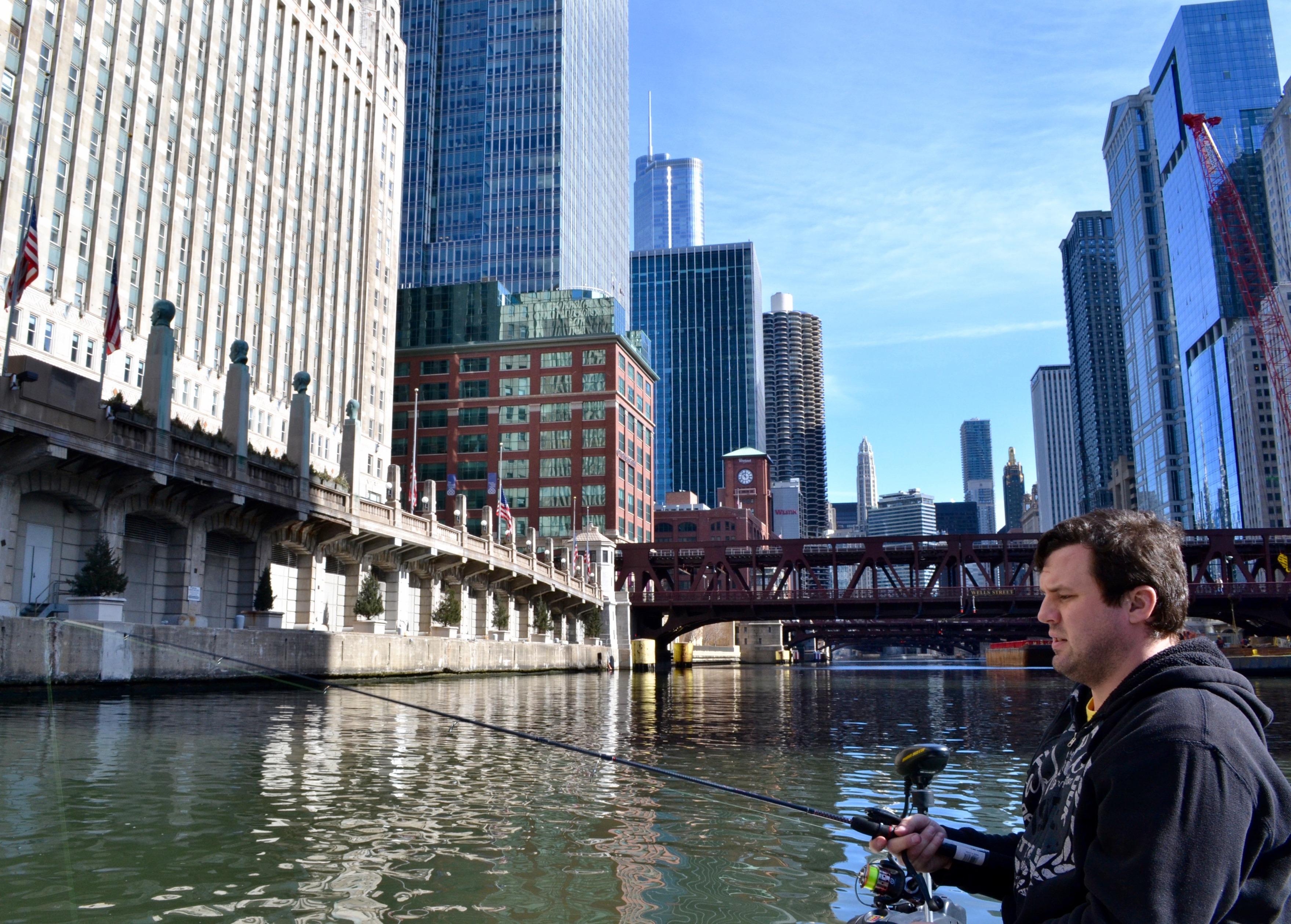 Tim Frey fishing for bass on the Main Branch of the Chicago River. (Evan Garcia)
Fisherman Tim Frey runs a Lake Michigan fishing charter that also makes trips on the Chicago River. He says he knows of "at most" five boats that fish the river, a waterway he calls underused and certainly under-fished. Largemouth and smallmouth bass, carp, perch, crappie, bluegill and catfish are there to be reeled in.
Frey eats what he catches from Lake Michigan, but has a catch-and-release policy on the river.
"I ate some perch and crappie last year and survived to talk about it," he said.
"It had a little funk to it."
The Chicago River is a paradox: From afar, the river's three flowing branches spread serenity through the city's bustling landscape. But the river also includes bacteria levels from human waste that routinely exceed state standards.
Efforts to rehabilitate the river are apparently working, however. When the nonprofit Friends of the Chicago River formed in 1979, there were less than 10 fish species in the river, largely due to pollution. Today, the organization says there are more than 70 species living there.
One of those efforts includes the release of 195,000 juvenile channel catfish – a joint project with the Illinois Department of Natural Resources aimed at creating a spawning, or breeding, habitat to benefit recreational fishing, among other things.
Frey took us along for a mid-February fishing trip on the Chicago River.
Photos by Evan Garcia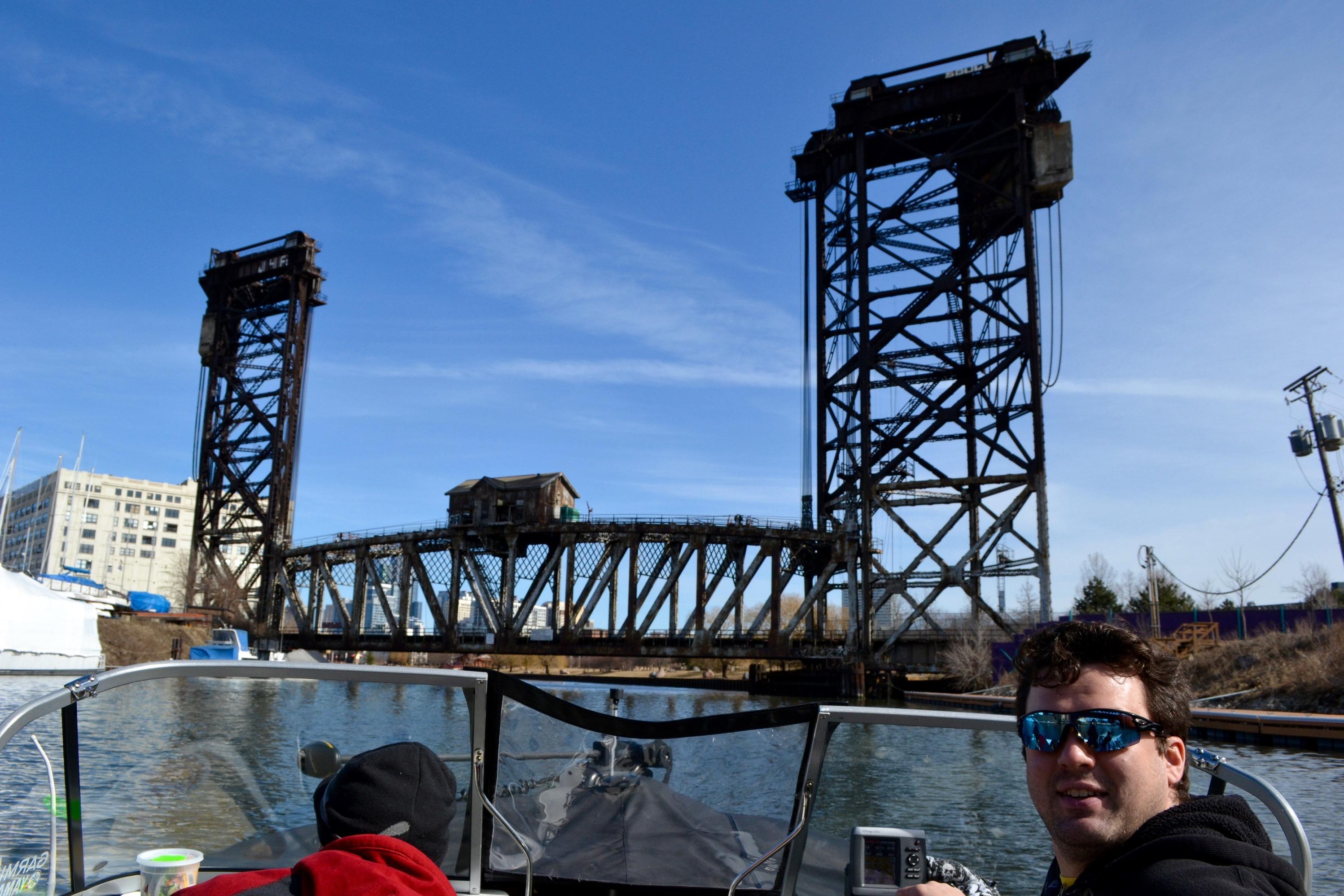 Frey, right, set off on his 20-foot plastic boat, dubbed "Research," from the Richard J. Daley Park boat launch on the Lower West Side, the sole Chicago River launch point for motorized boats within city limits. The Canal Street Railroad Bridge ahead is the only vertical-lift operating bridge spanning the Chicago River.
---
Commercial barges are still common on the South Branch, harkening back to the city's industrial past. Barges like this one haul everything from scrap metal to sand down the river.
---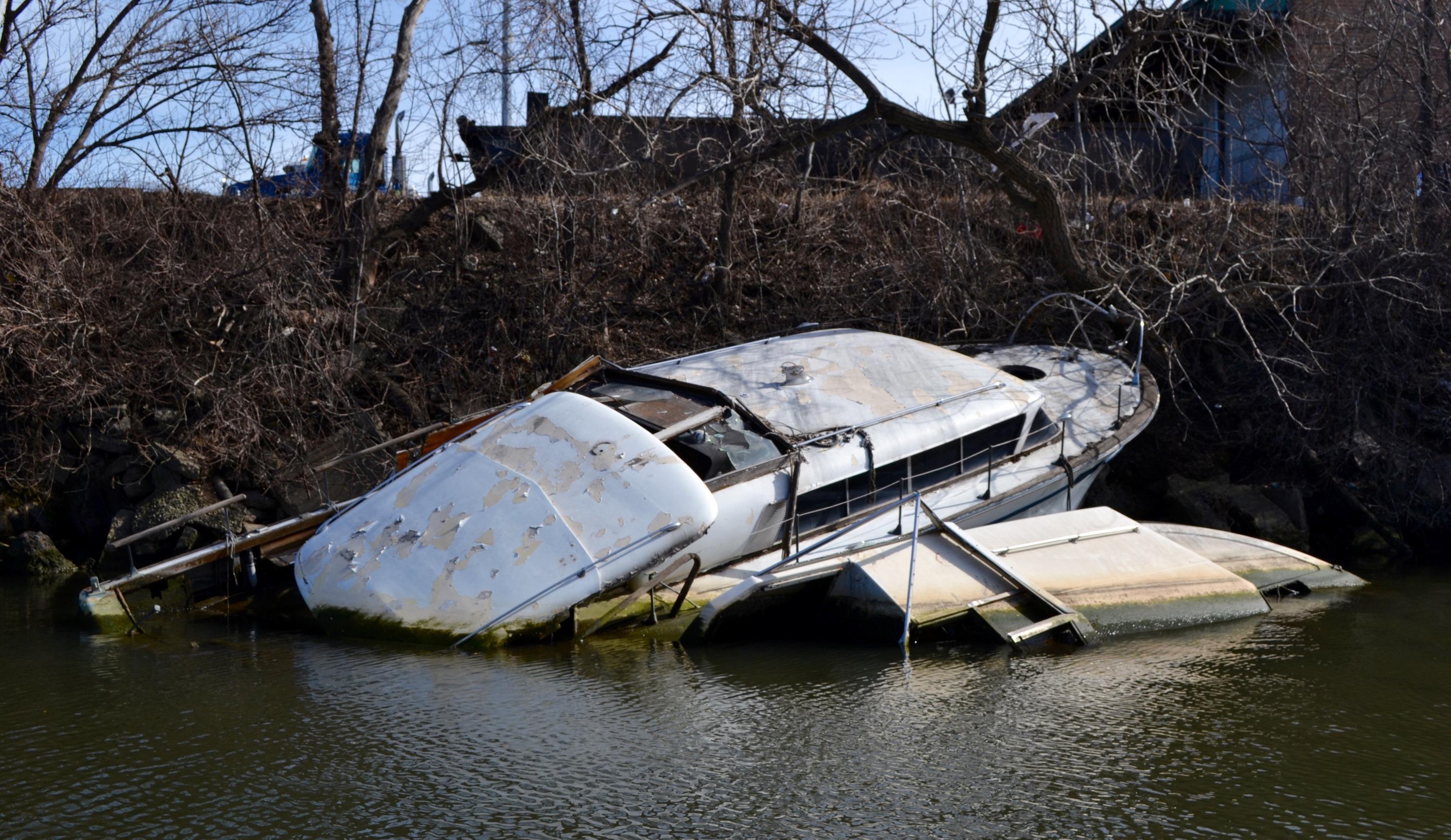 Frey said he's seen these two abandoned boats – which appeared to have Indiana registrations – decaying in the river for at least eight years. "They probably got tired and just left," he said. "I'd say it's an insurance job, but the insurance company would've pulled them out."
---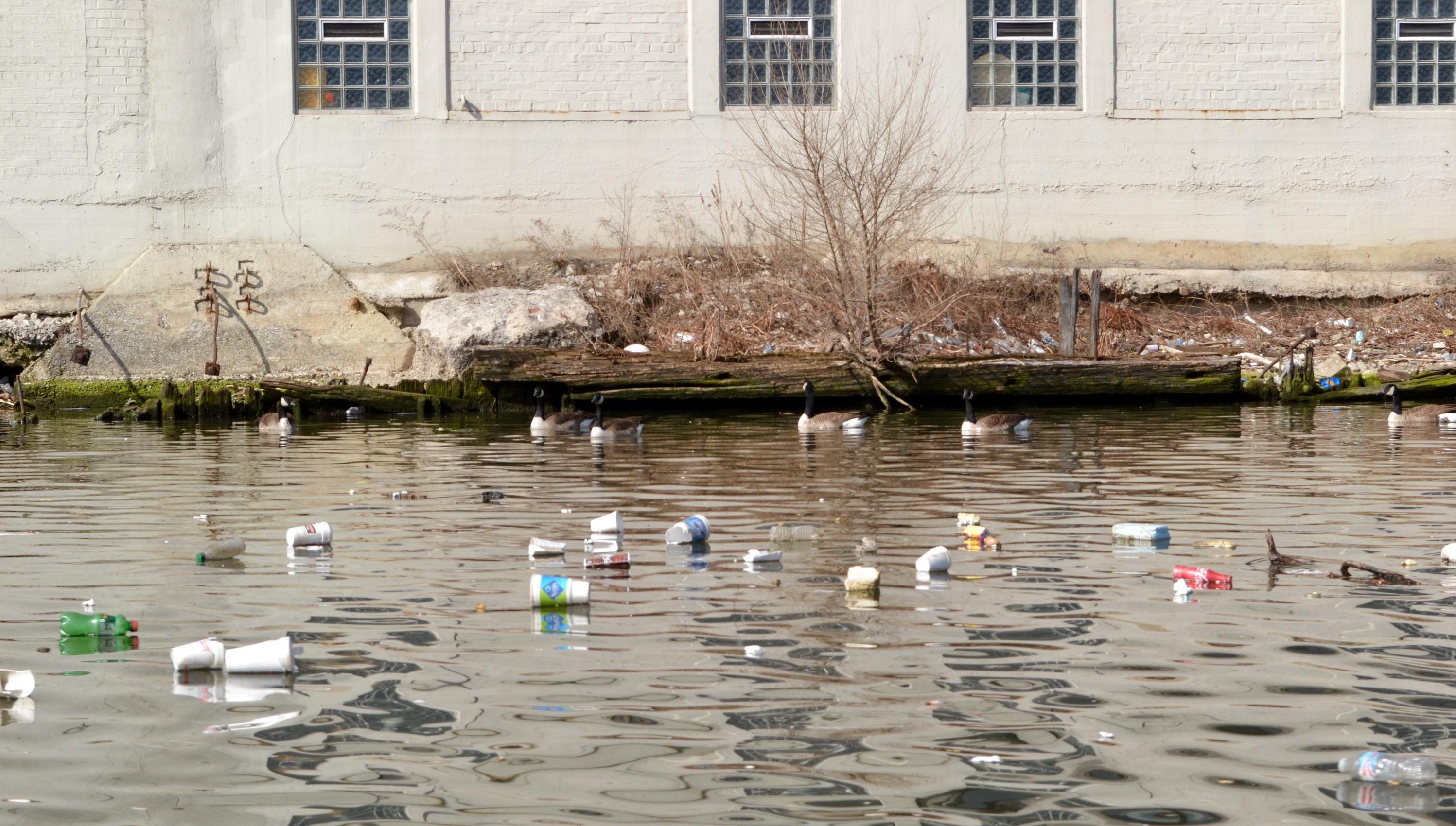 Man-made pollution reminds us the river's rehabilitation is far from complete.
---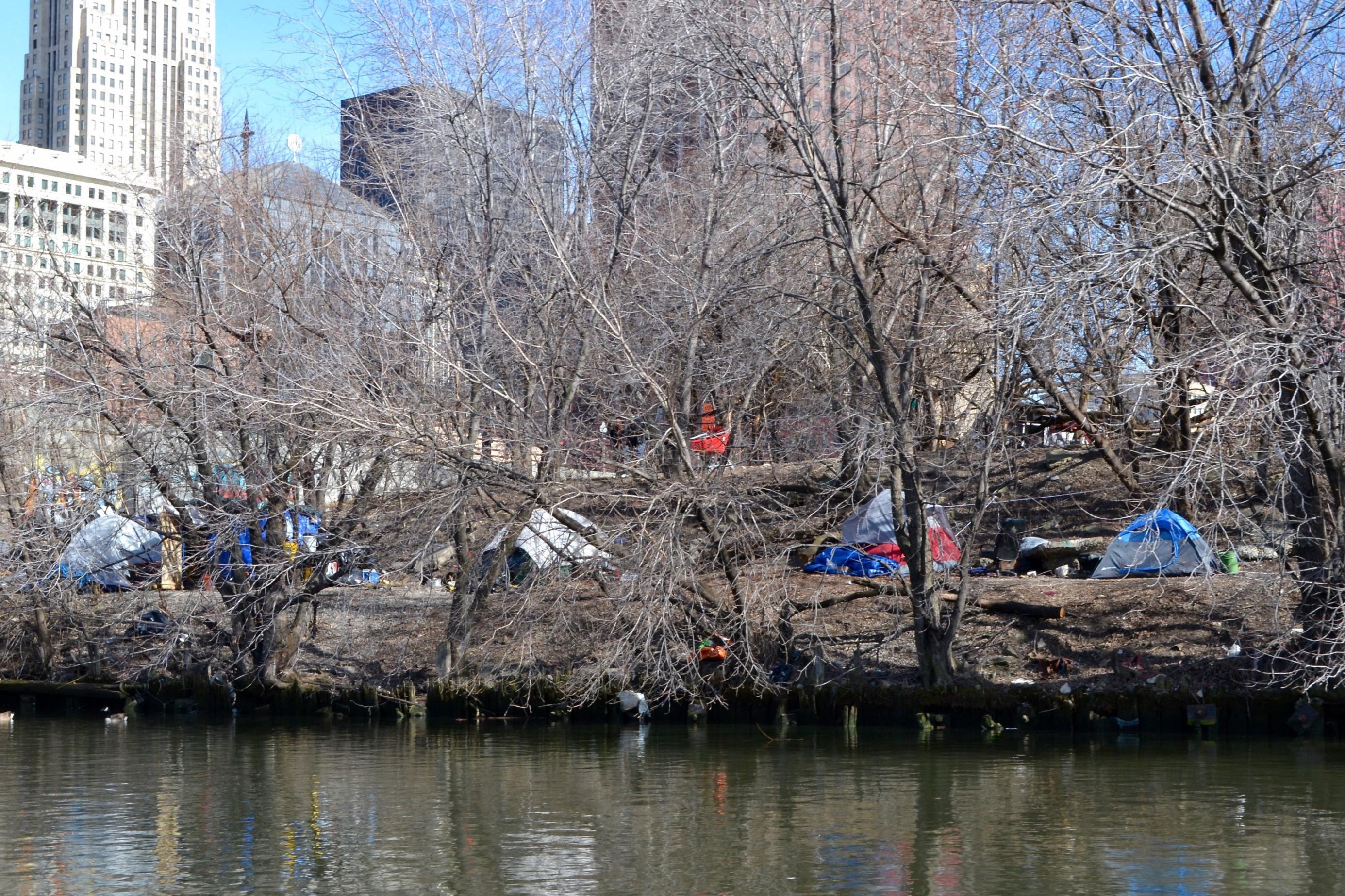 The South Loop tent city "Chicago Tonight" explored two weeks ago is clearly visible from the river.
---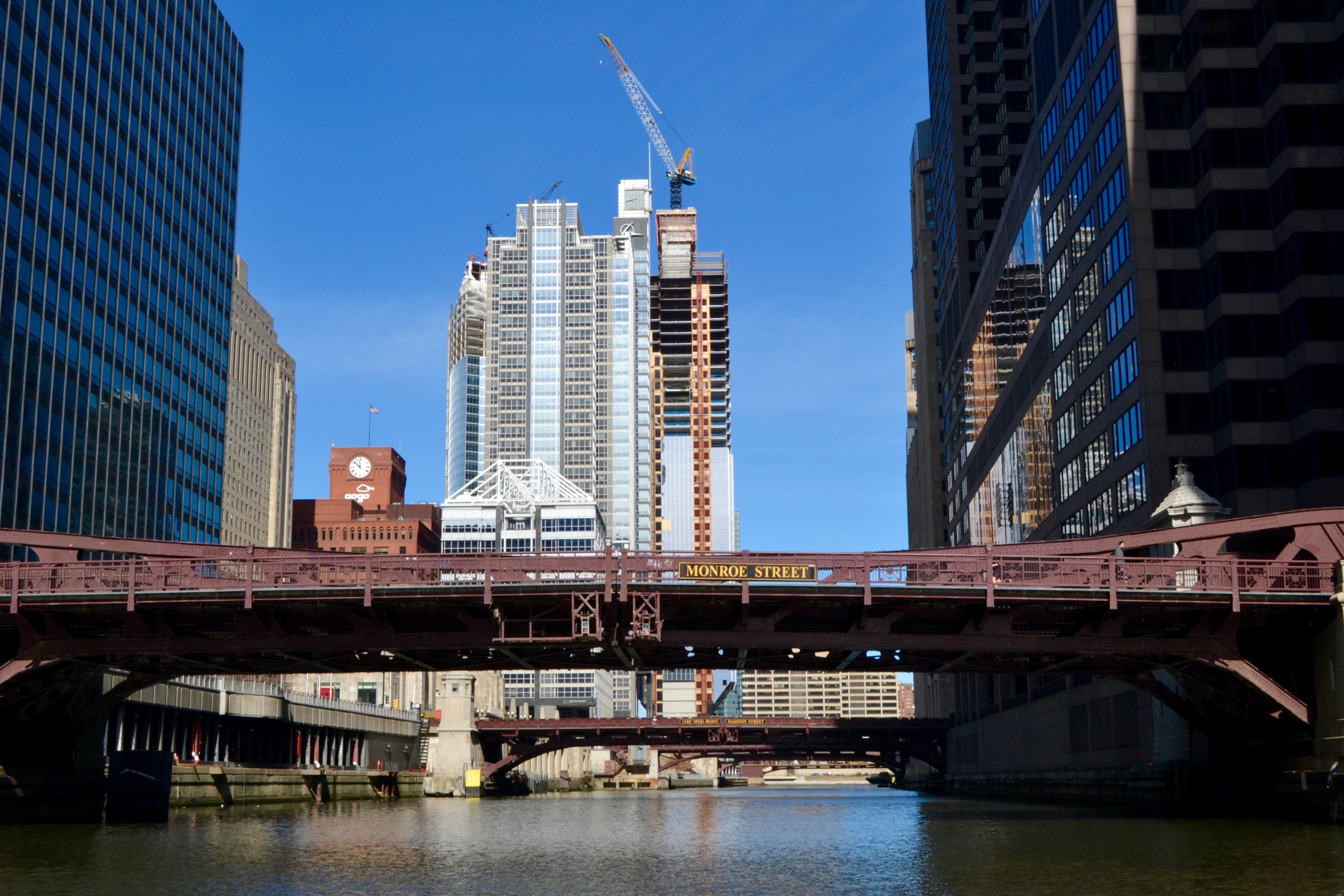 Frey said ice on the river was his prime obstacle this time of year. But an unseasonably warm week (and overall warming climate) melted enough ice for him to venture out a full month before spring starts. "We're the first fishing boat on the river this year," he said. "I'm sure of it."
---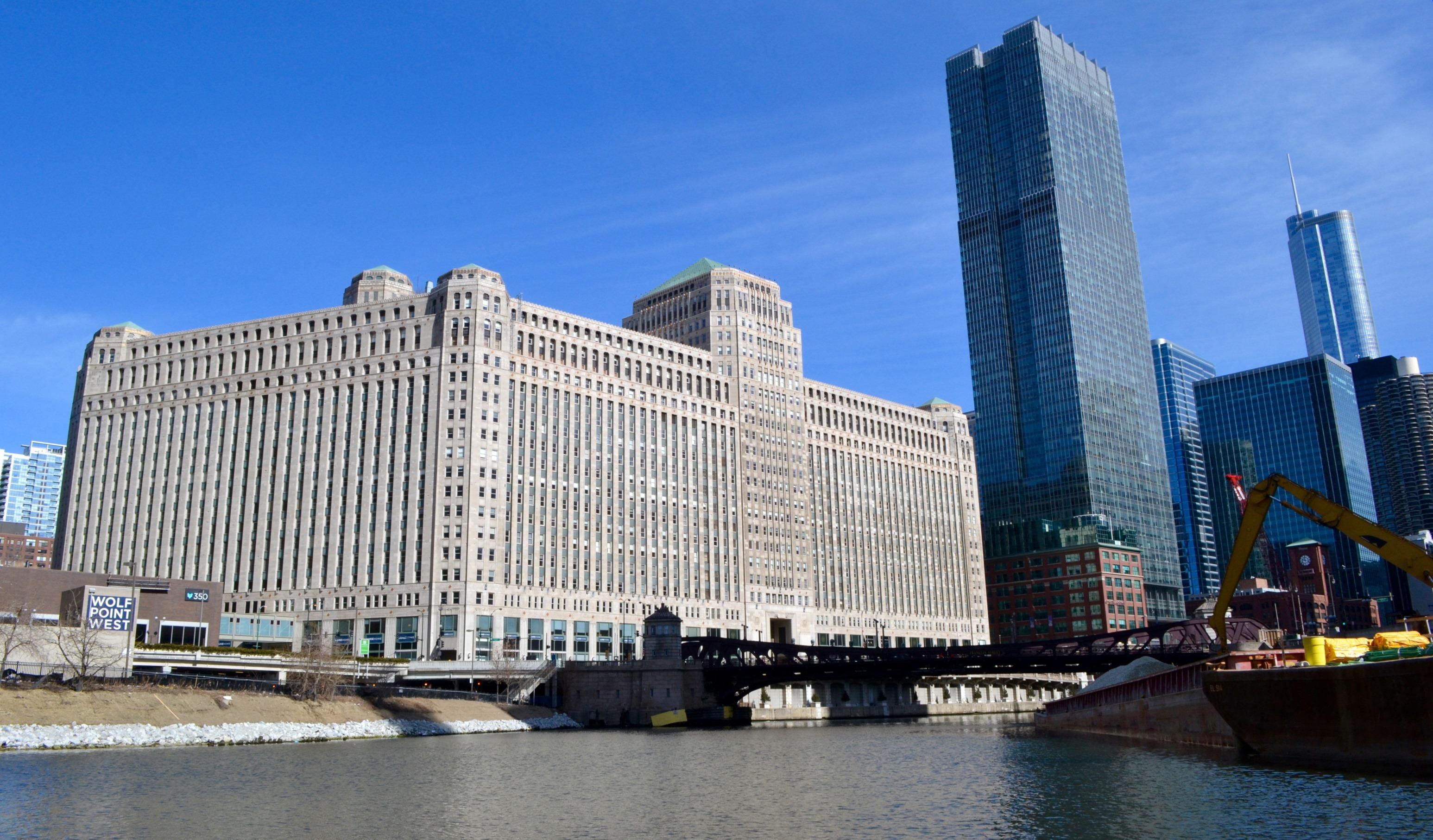 The first fishing spot downtown was at Wolf Point, where the three branches of the Chicago River meet.
---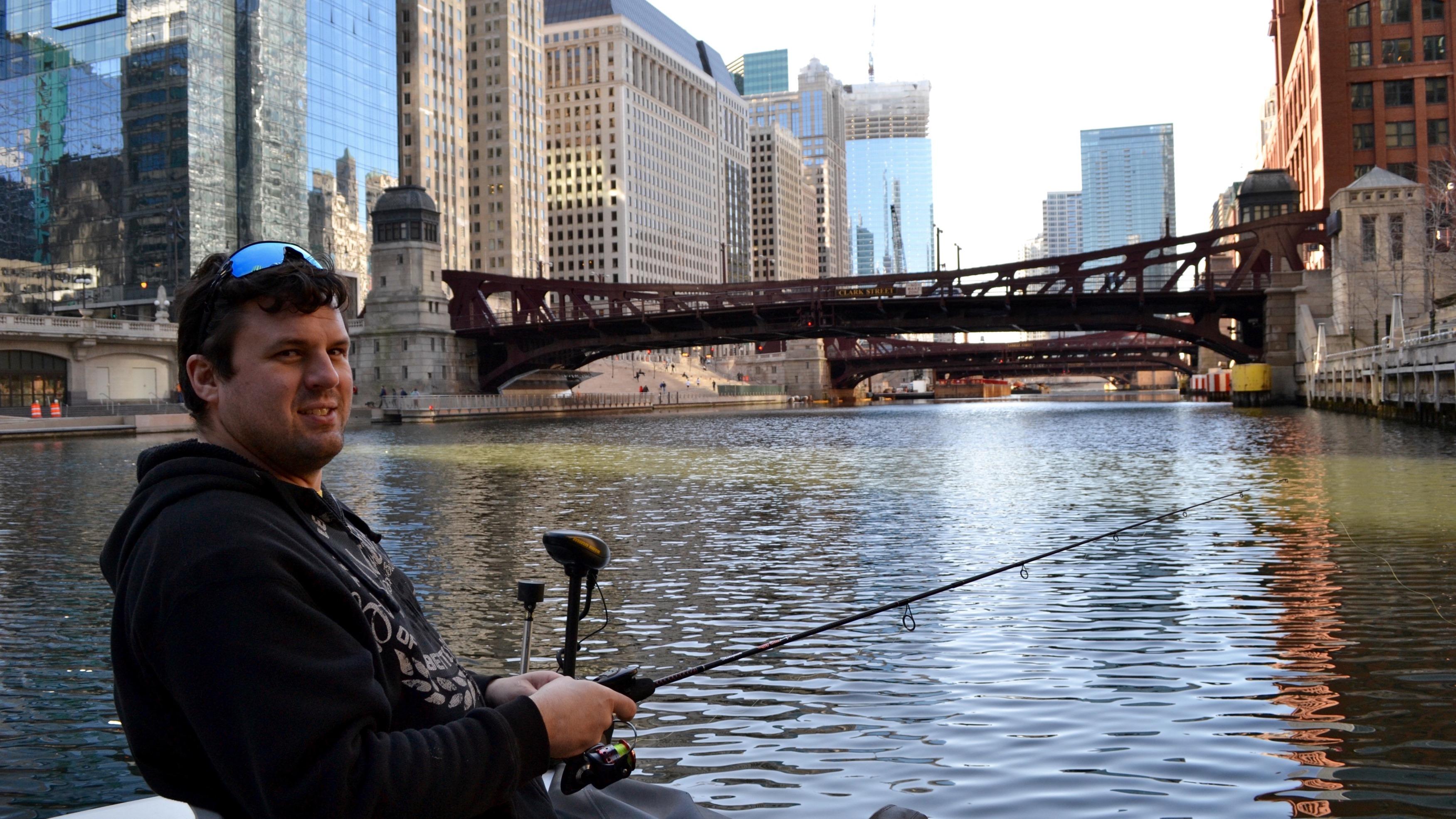 Frey, who lives in northwest suburban Schiller Park, is a third-generation Chicago-area fisherman. "When I was younger, there was no chance of getting me out of bed to go fishing," he said. "But I progressed into fishing as I got older.
"For me, it's about the hunt. I've caught a lot of fish, so it's not a big deal to catch one, but searching like heck for them and finding them is where my passion is."
---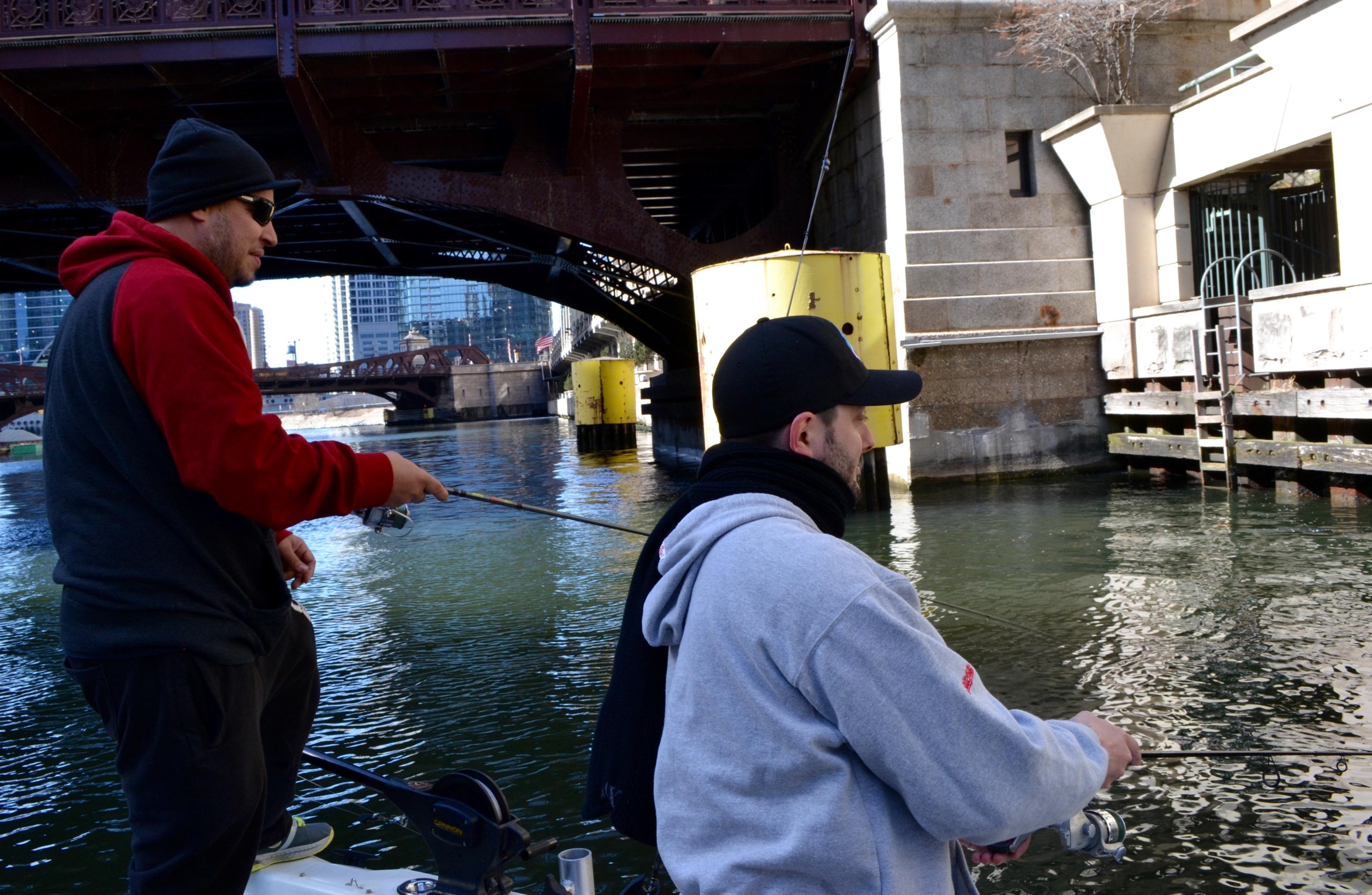 Frey's friends and fellow fishermen Marco Reyes, left, and John Venturini, right, came along for the trip. They share Frey's aversion to eating anything caught from the river. Still, as lifelong fishing fanatics, they're doing this for sport, not sustenance. "There's such a stigma with the Chicago River," Venturini said. "When I tell my friends we fish the river all the time, they say, 'Fish can live in there?'"
---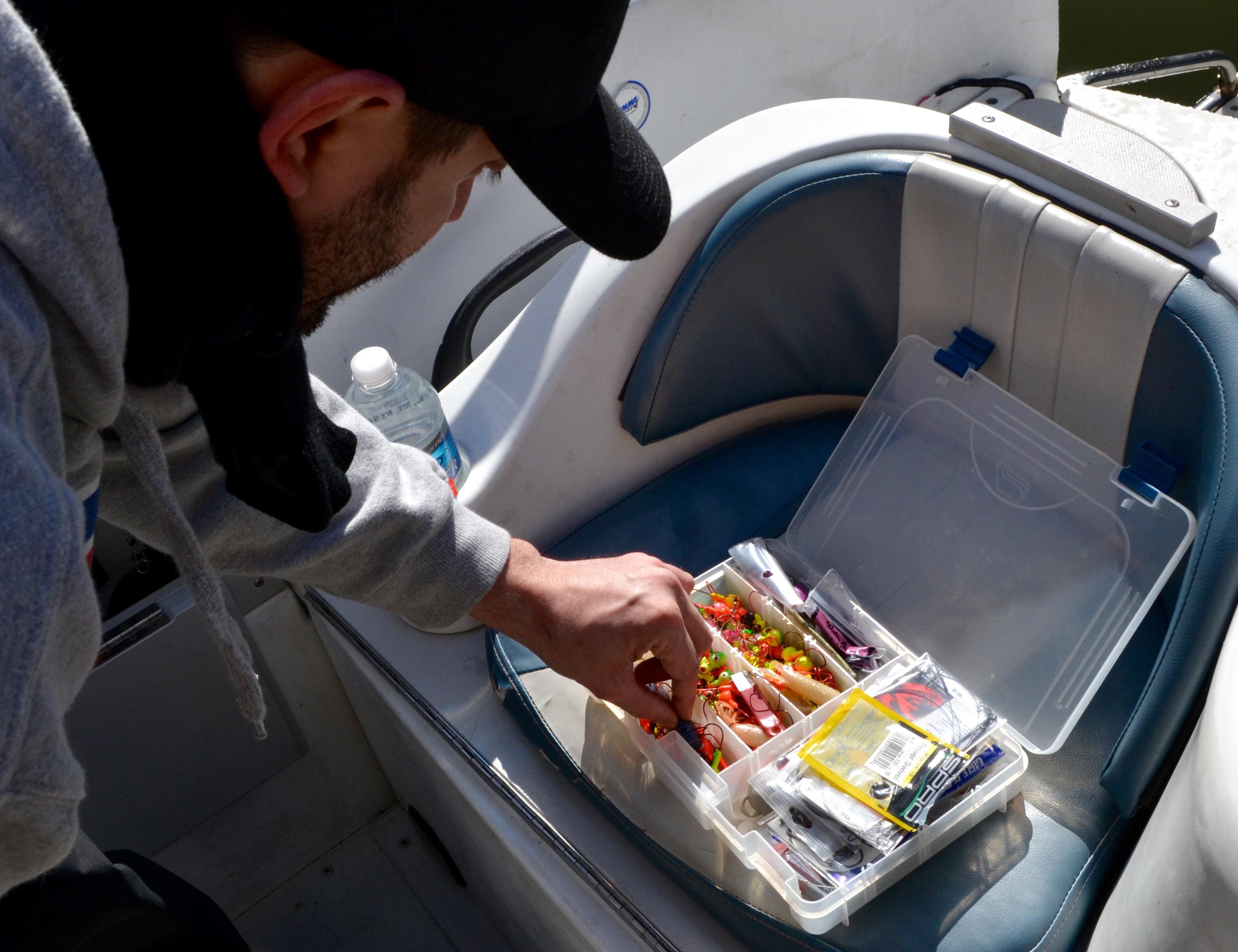 Venturini, above, picked out plastic bait for bass fishing while Frey, below, tried his luck with shrimp.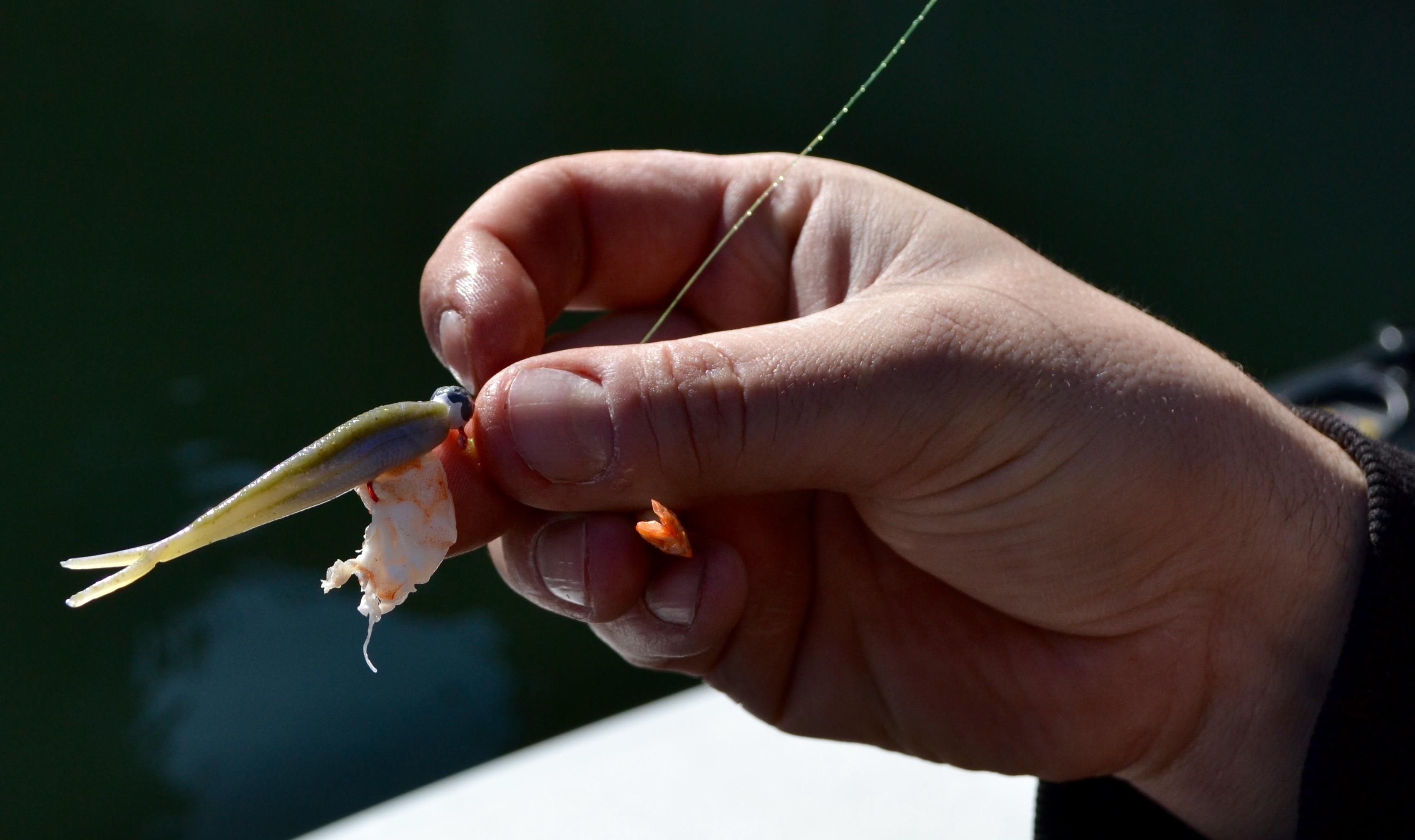 ---
The water was still fairly cold, so Frey recommended a slower cast or "presentation" of the bait since fish would be moving slowly.
---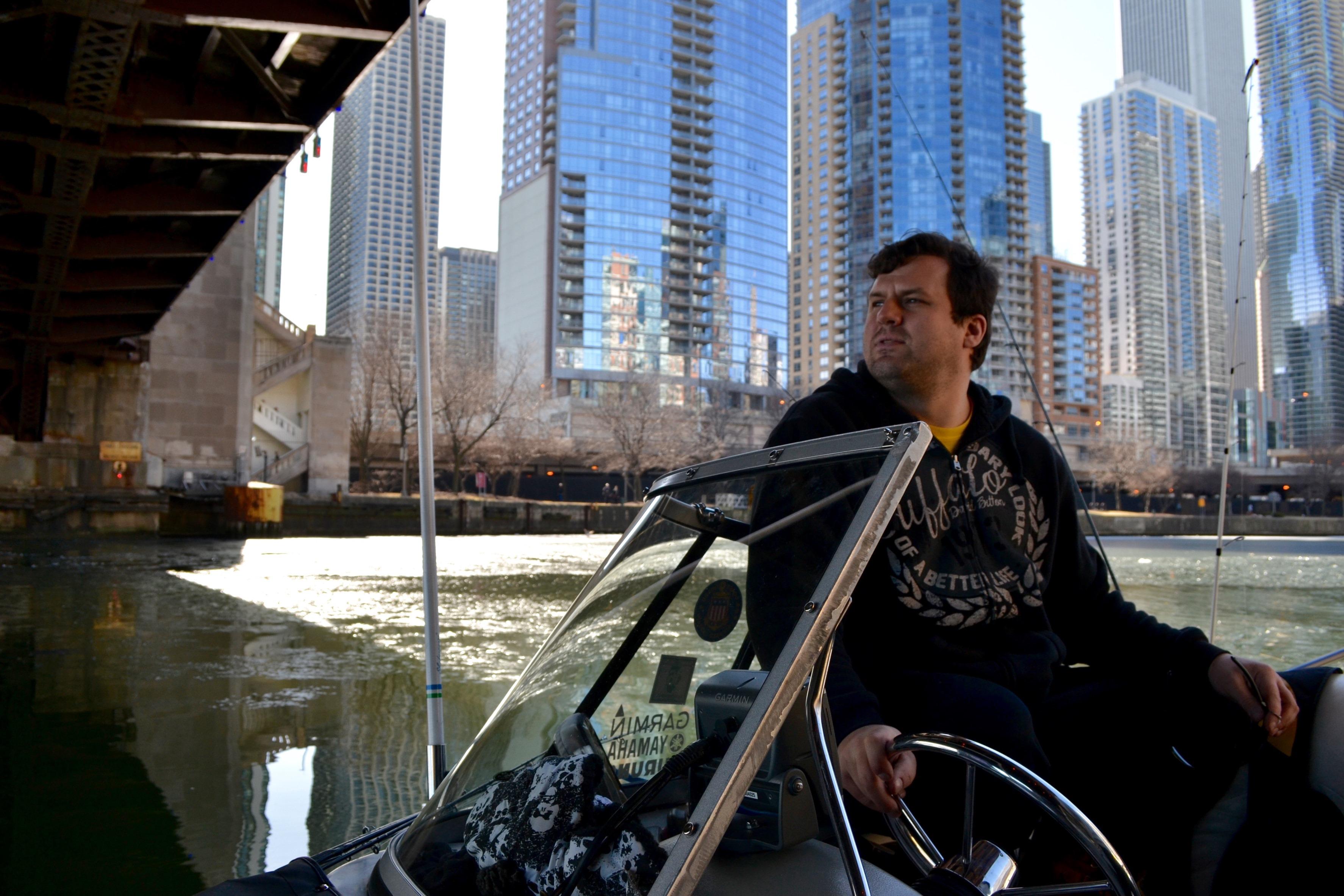 In fact, although it was sunny and relatively cool, the water was only slightly above freezing at 35 degrees Fahrenheit. Frey warned us the pleasant weather above the water's surface can hide the danger below it.
"You fall in right now and you've got about a minute or so to live," Frey said. "And if you're wearing any kind of gear, like boots, you become a waterlog."
Frey's boat was stocked with safety gear and he gave instructions for radioing the Coast Guard in case of emergency.
---
Unfortunately, the fish weren't biting during our trip. The fishermen blamed the wintry waters. Fish go into a sort of short-term hibernation state in colder water called torpor. They'll reduce their body temperature, slow their primary body functions and remain in a state of decreased activity in deeper parts of water. This inactivity period is bad news for anyone trying to catch fish.
---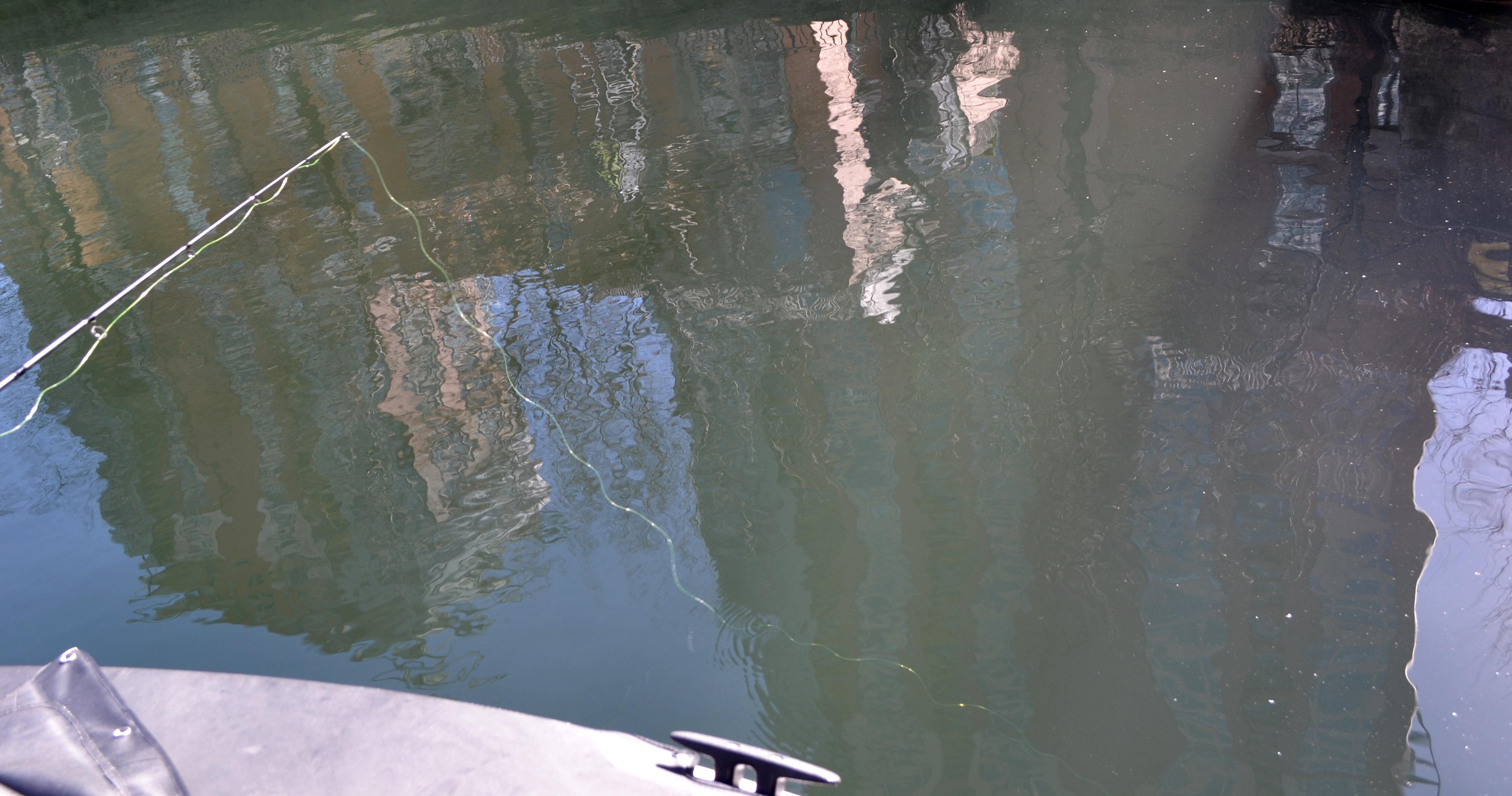 The river's slightly unsettling opaque appearance can actually benefit fishermen. "If the water's too clear, sometimes the fish will get spooked when they see you or your boat," Venturini said. "We probably don't have to worry about this river getting too clear for a while."
---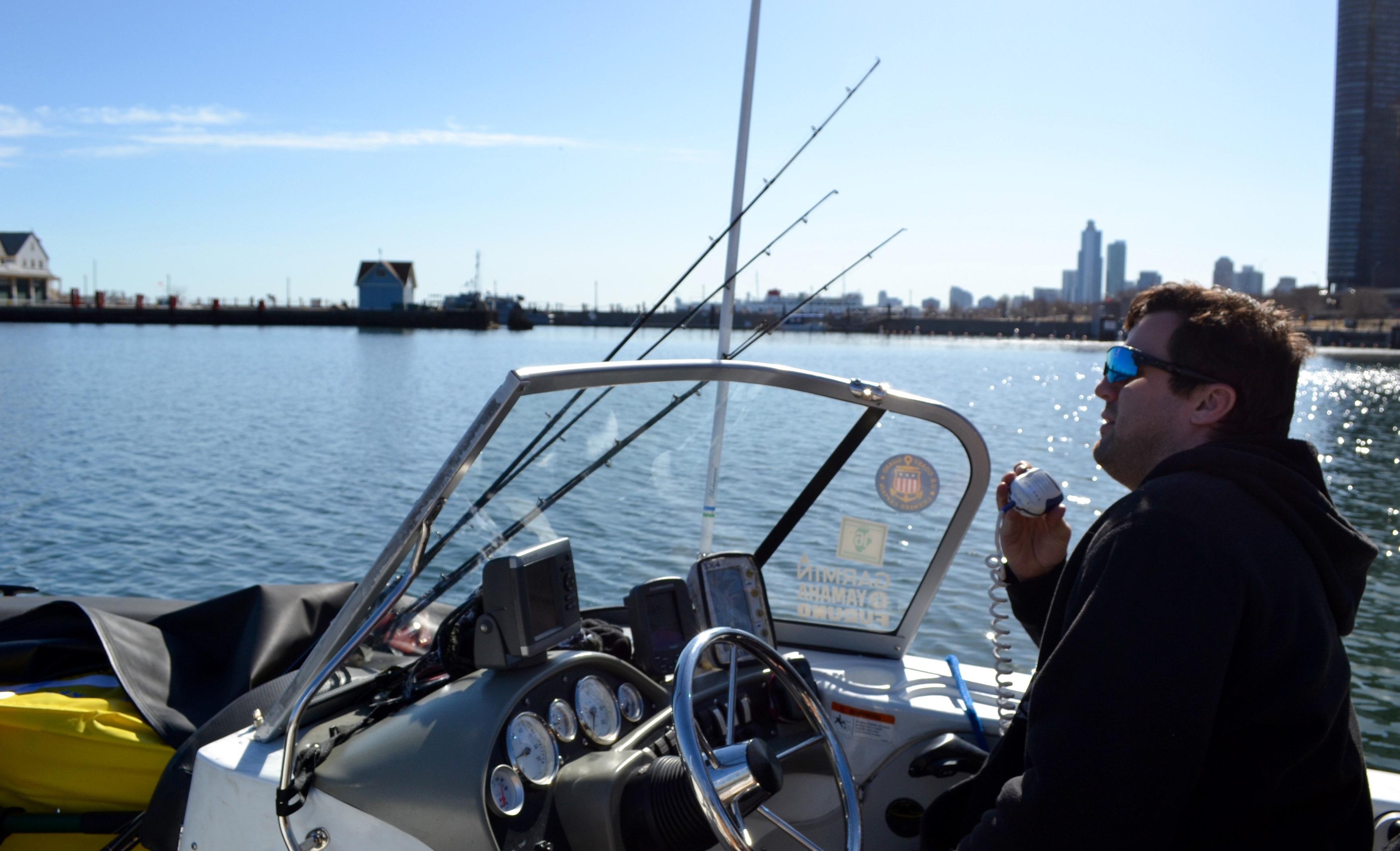 Frey drove east towards the Chicago Harbor Lock, the entrance to Lake Michigan – where he said the "real fishing" was. The lock is operated 24/7 by the U.S. Army Corps of Engineers. Frey radioed to ask if it was open for boat traffic.
---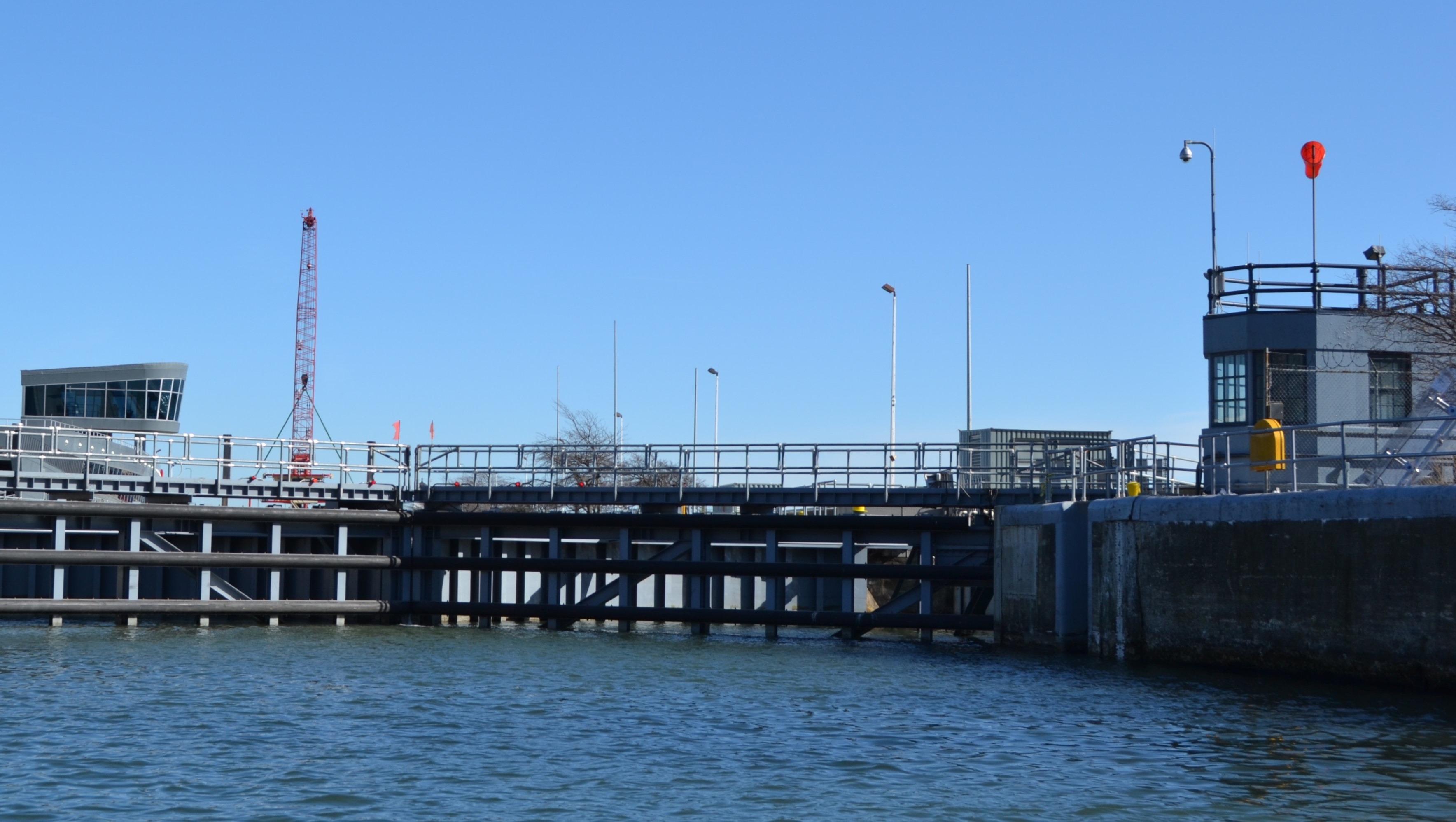 He was told the lock was closed for the next month to replace some of its doors, pictured below.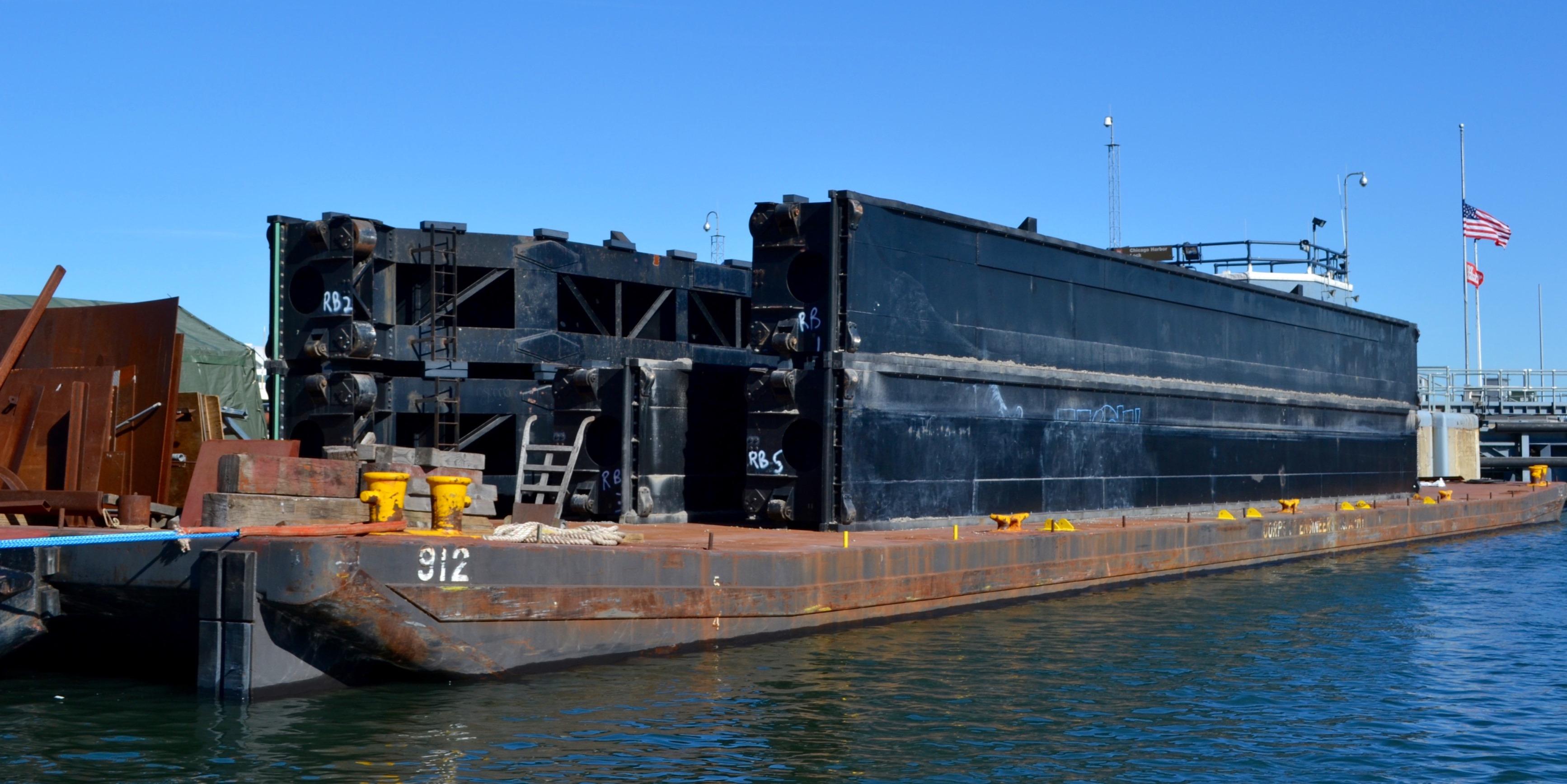 ---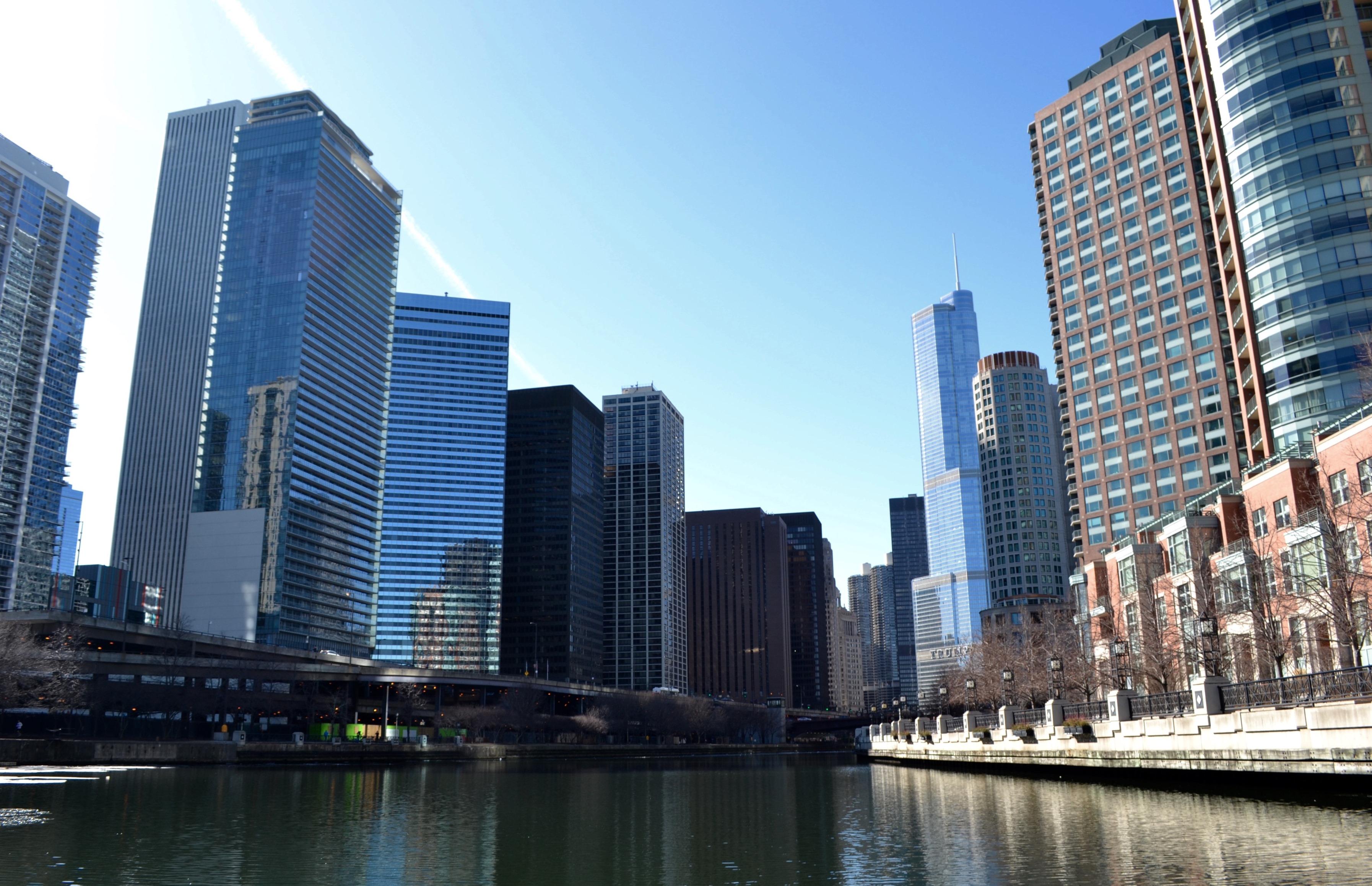 We headed back down the Main Branch for a final attempt at bass fishing under the river's bridges. A recurrent topic of conversation was how rarely the river is used.
"Ninety percent of the boats parked in the city year-round don't move," Frey said. "They might go out for Fourth of July. You just don't see people out here, even on a beautiful day like this, and you definitely don't see them fishing."
---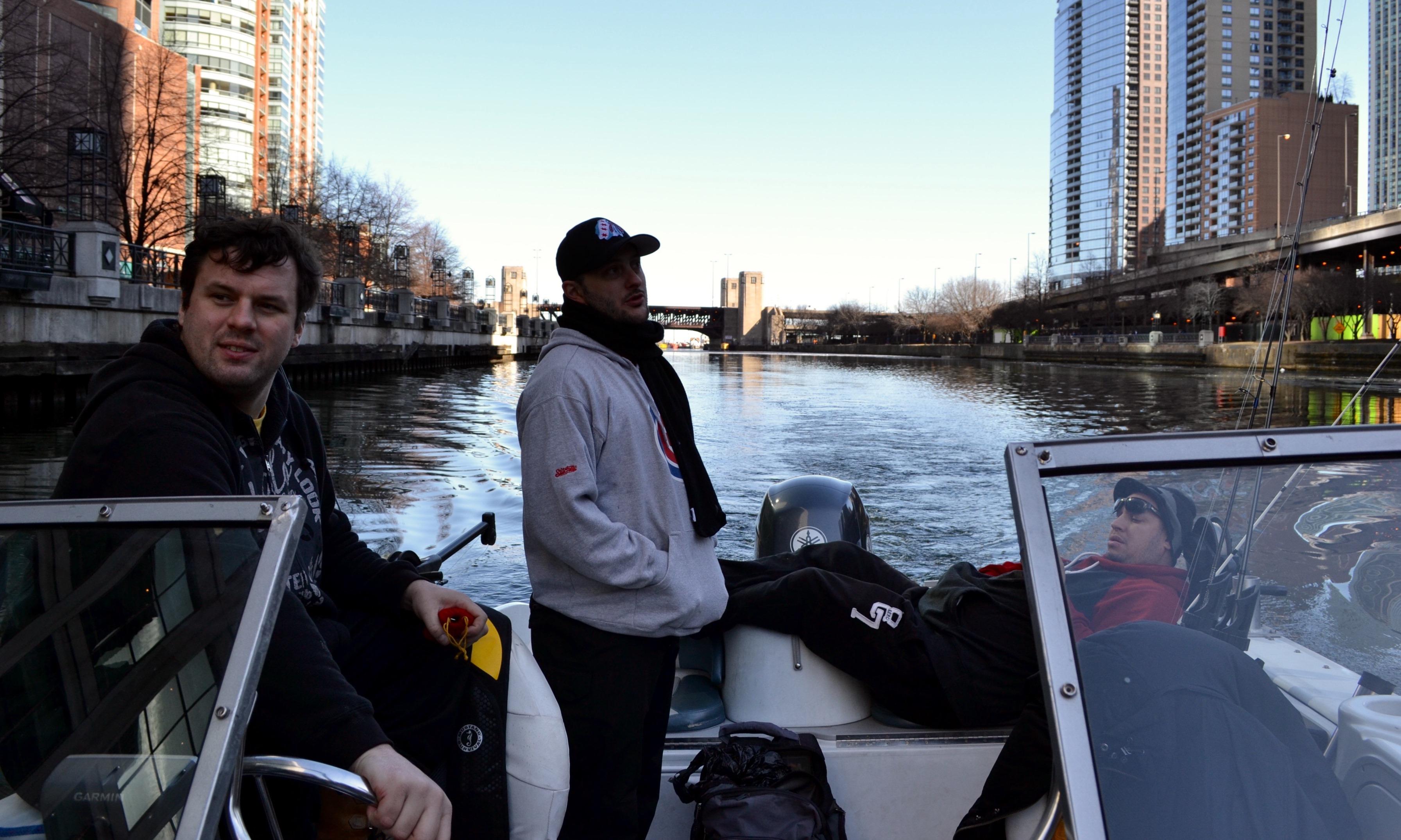 As the day's end neared, Frey became more determined to catch a fish. After all, this is the same man who last year reeled in a massive, 30-pound lake trout off Lake Michigan that might've broken a record.
---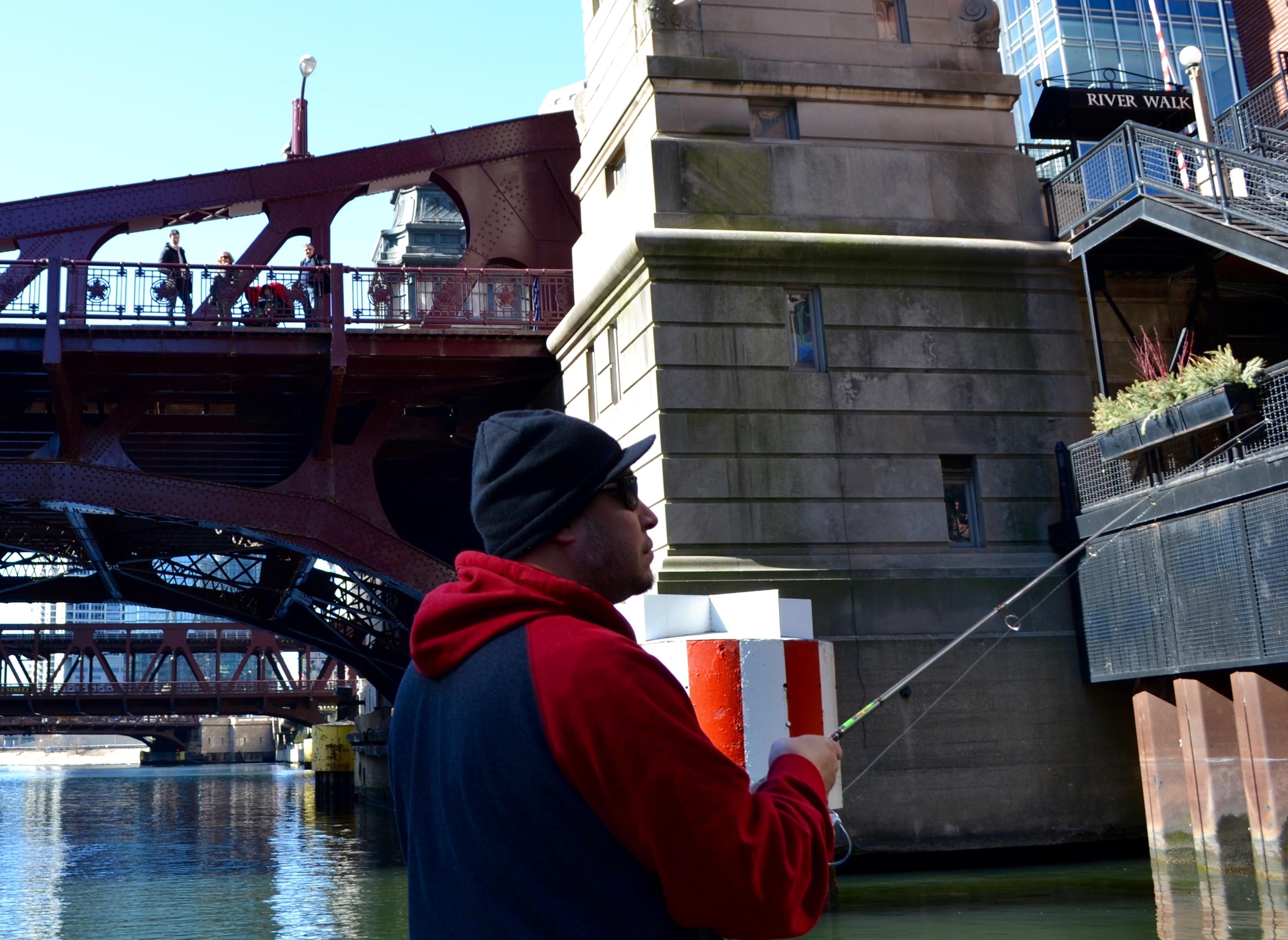 Frey and his friends regularly attract the attention of passersby when fishing on the river. "City limits fishing is great," Reyes said. "It's a great feeling when you pull out a big bass and you have all these people watching you."
Frey agreed. "I love the attention," he said. "I give everyone a big, fat wave. They're staring because we're doing something pretty cool."
---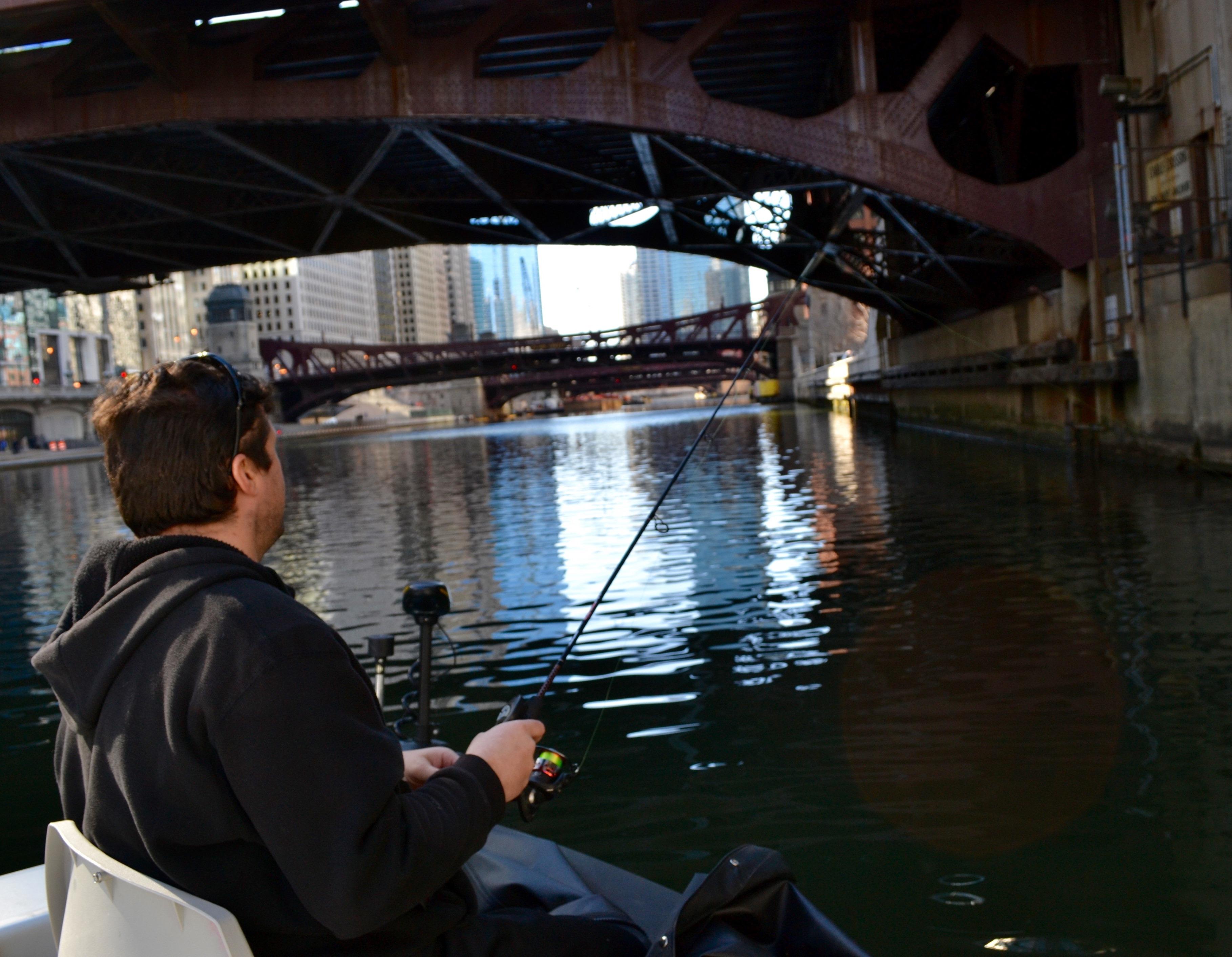 They casted their lines under bridges, docks and other structures downtown. "The fish like to conserve energy," Frey said. "They'll hang out under bridges and behind structures so they don't get blown down the river. They also hide behind corners to 'peekaboo' and attack smaller fish for food."
---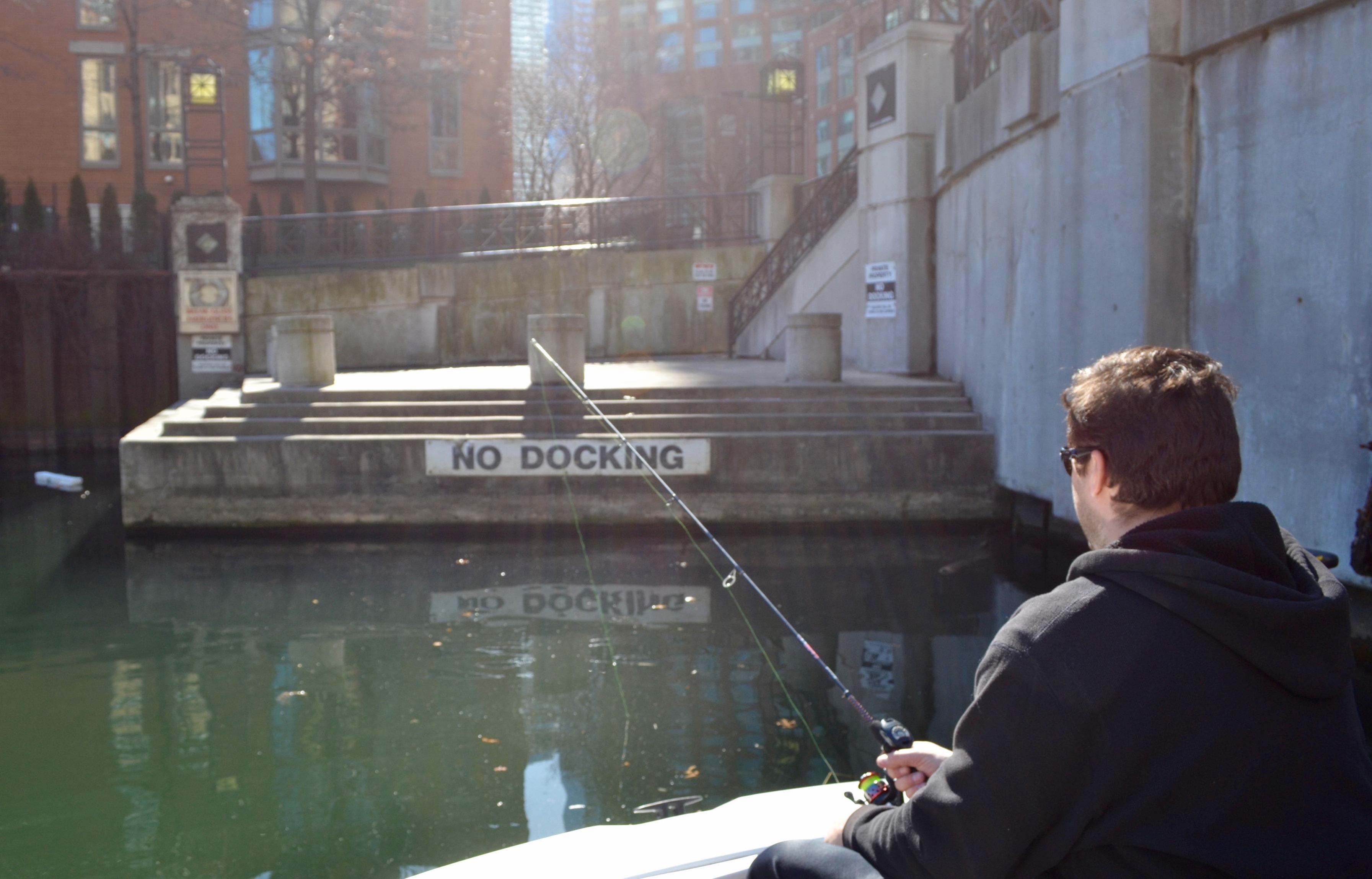 Frey said the recent channel catfish release into the river was a "great idea." Other fishermen told him they caught some, but threw them back since they're still very little. "I think they'll survive," he said. "Years ago, Mayor [Richard M.] Daley put the bass in the river we're fishing for now."
---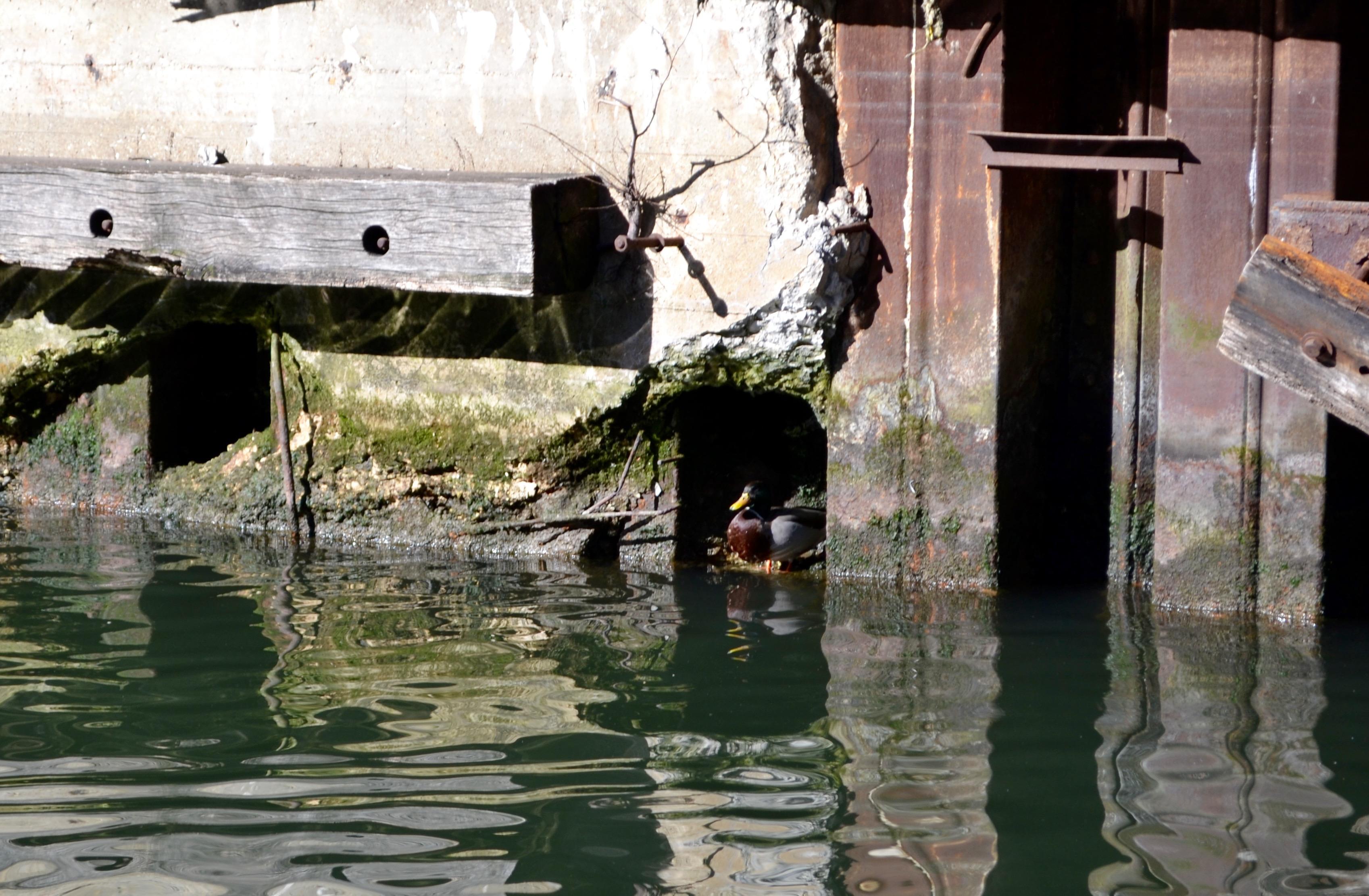 One finds nature in the strangest places along the river.
---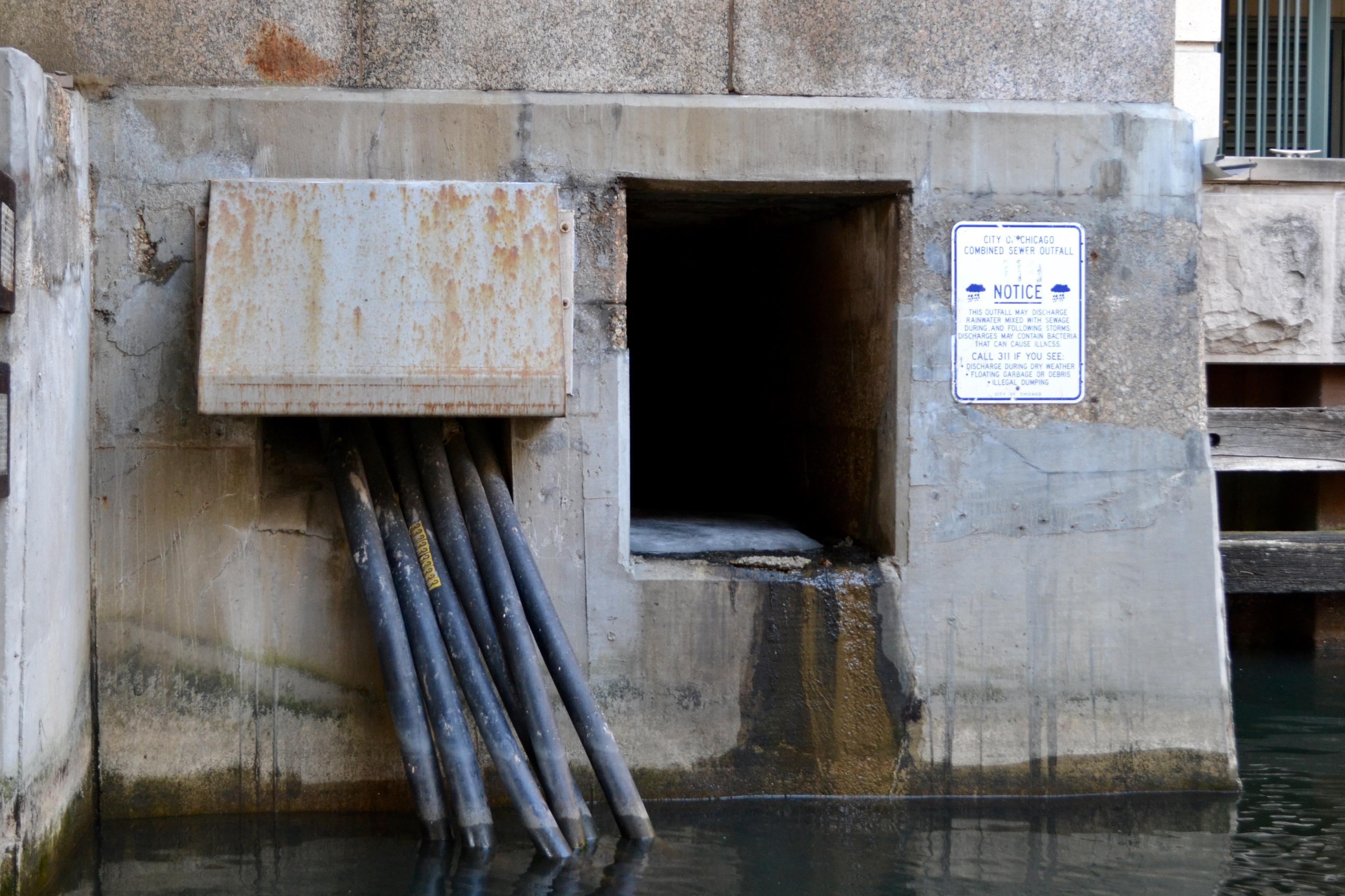 Sewer outfalls are the inescapable, ugly truth of the Chicago River. Rainwater and raw sewage are dumped into the water from them during and after heavy storms on account of the city's outdated combined sewer system. They smelled terrible and emanated a disgusting steam or mystery gas. The signs next to them warn that bacteria from the outfalls' discharge can cause illness and advise residents to call 311 if they "see discharge during dry weather."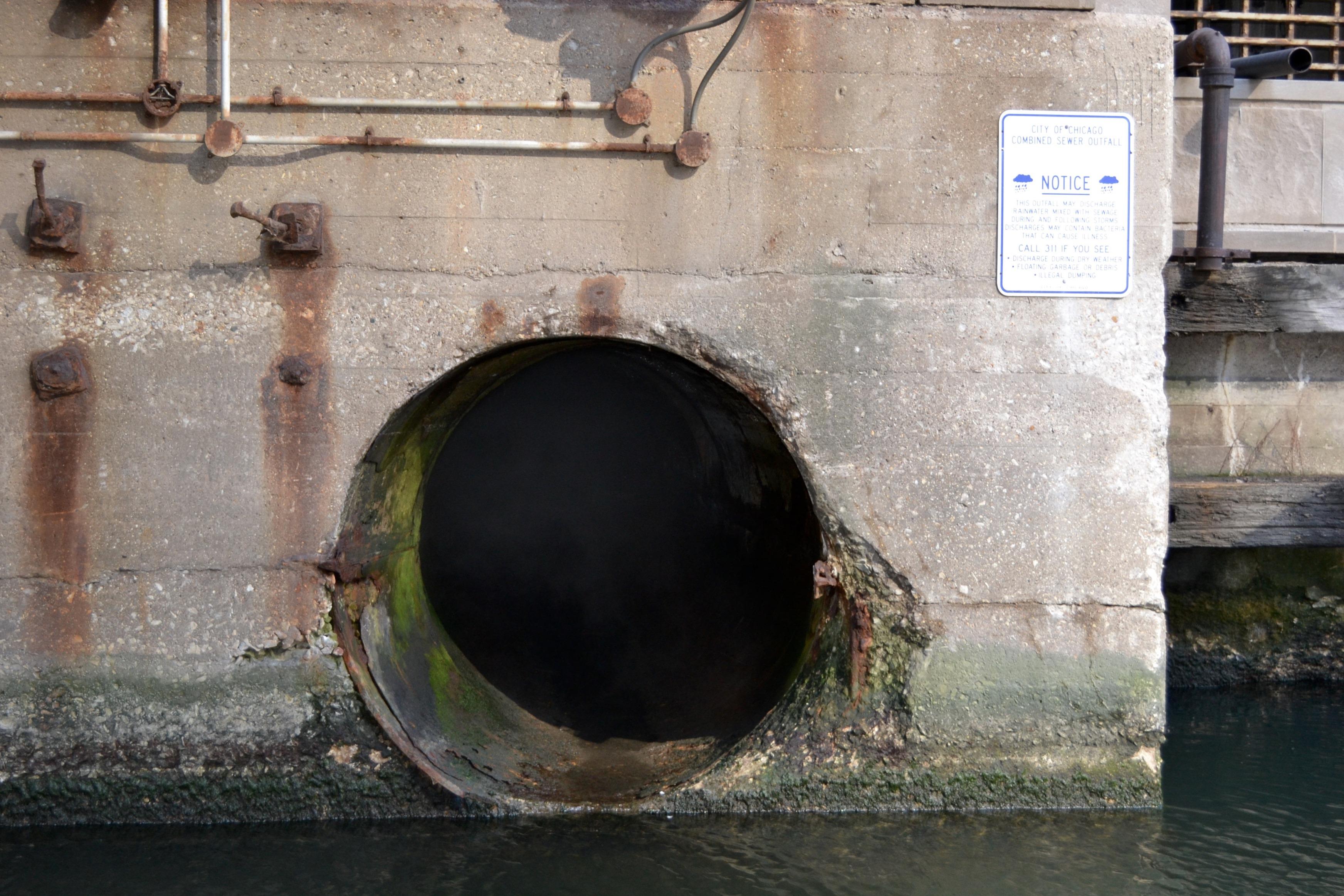 ---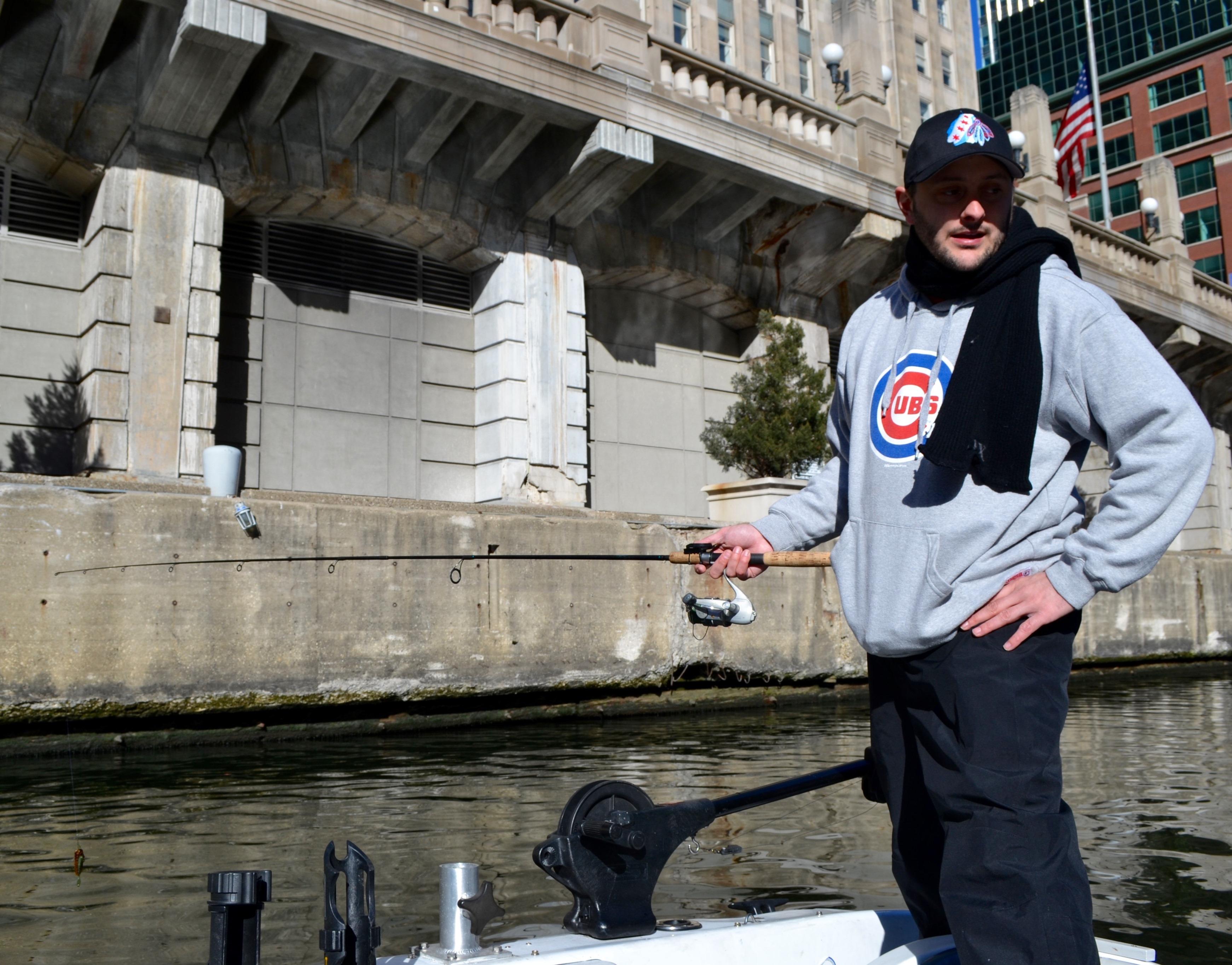 Ironically, Venturini is an avid fisherman who doesn't eat much fish. It's a "texture thing," he said. Selling his catch is illegal since he's not a licensed commercial fishermen, but he found a non-monetary loophole: If he reels in a nice fish from Lake Michigan, he'll trade it for a recipe with his Humboldt Park neighbor, who's a chef.
---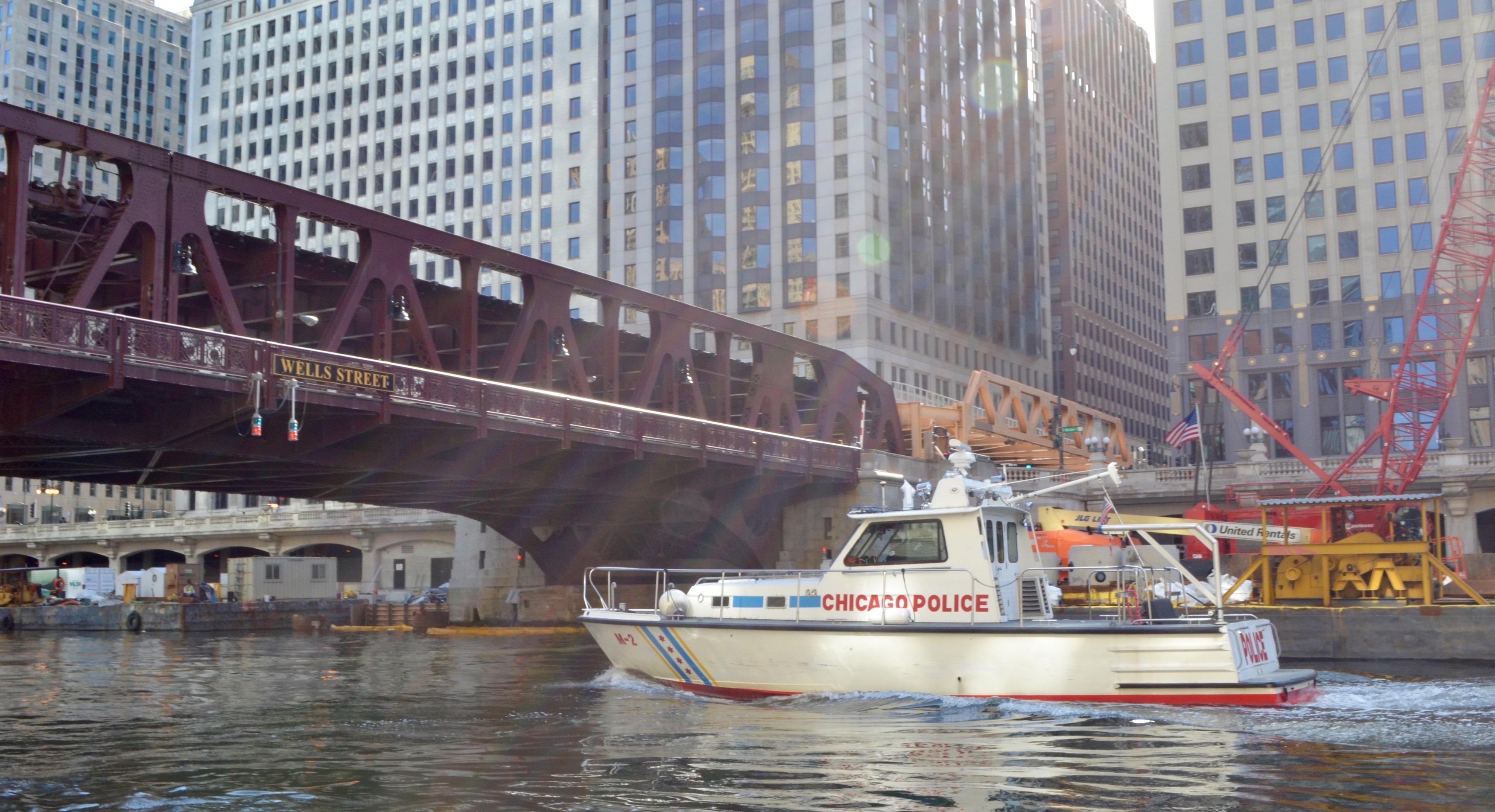 Aside from the occasional commercial barge, the police were the only other boats on the river. They pulled up to ask Frey where he launched his boat from.
---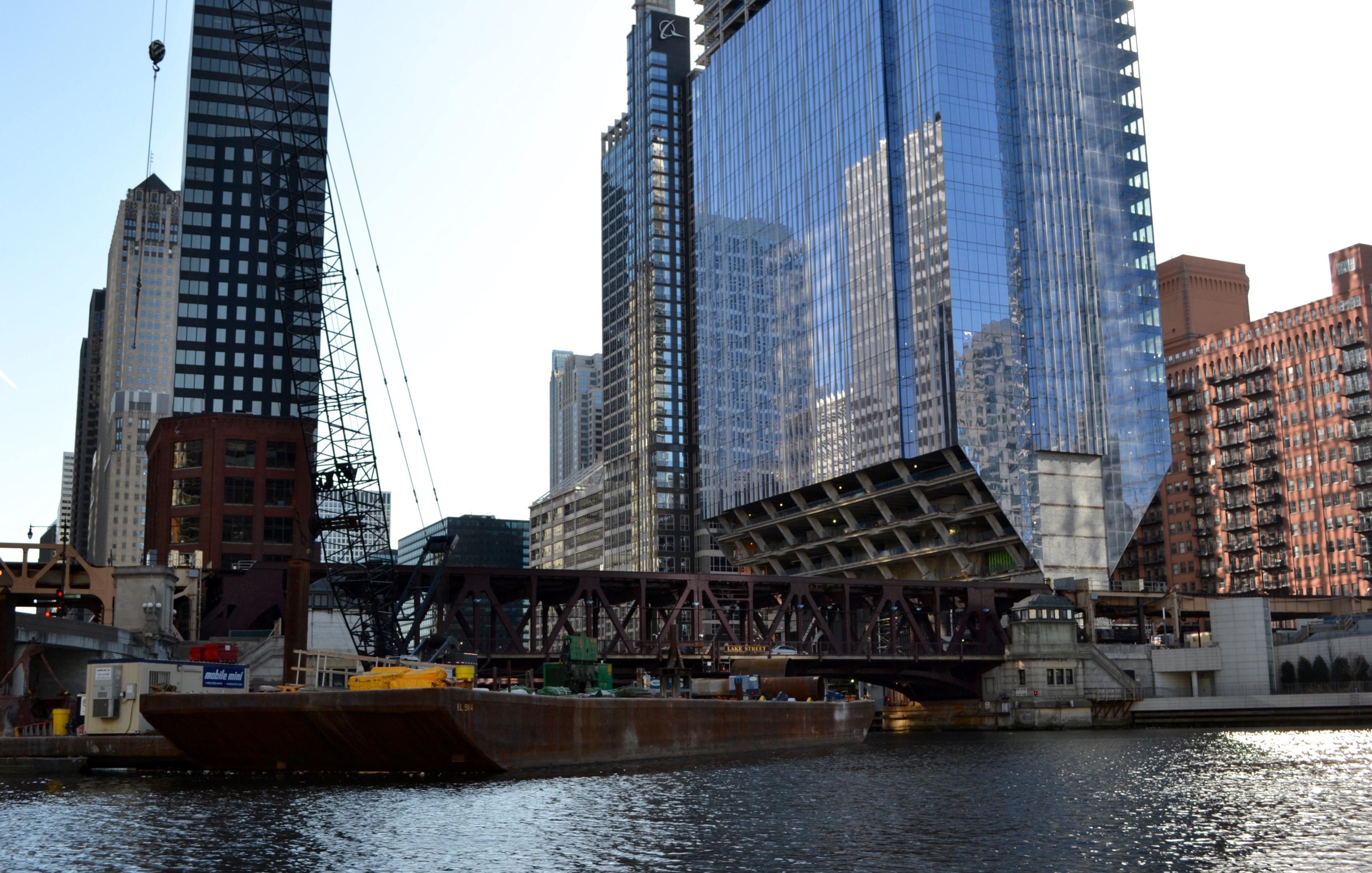 Then there's the ubiquitous construction of the city's Riverwalk, which may be a sore sight for the time being, but the attention and activity the finished attraction will bring to the river should make it worthwhile.
---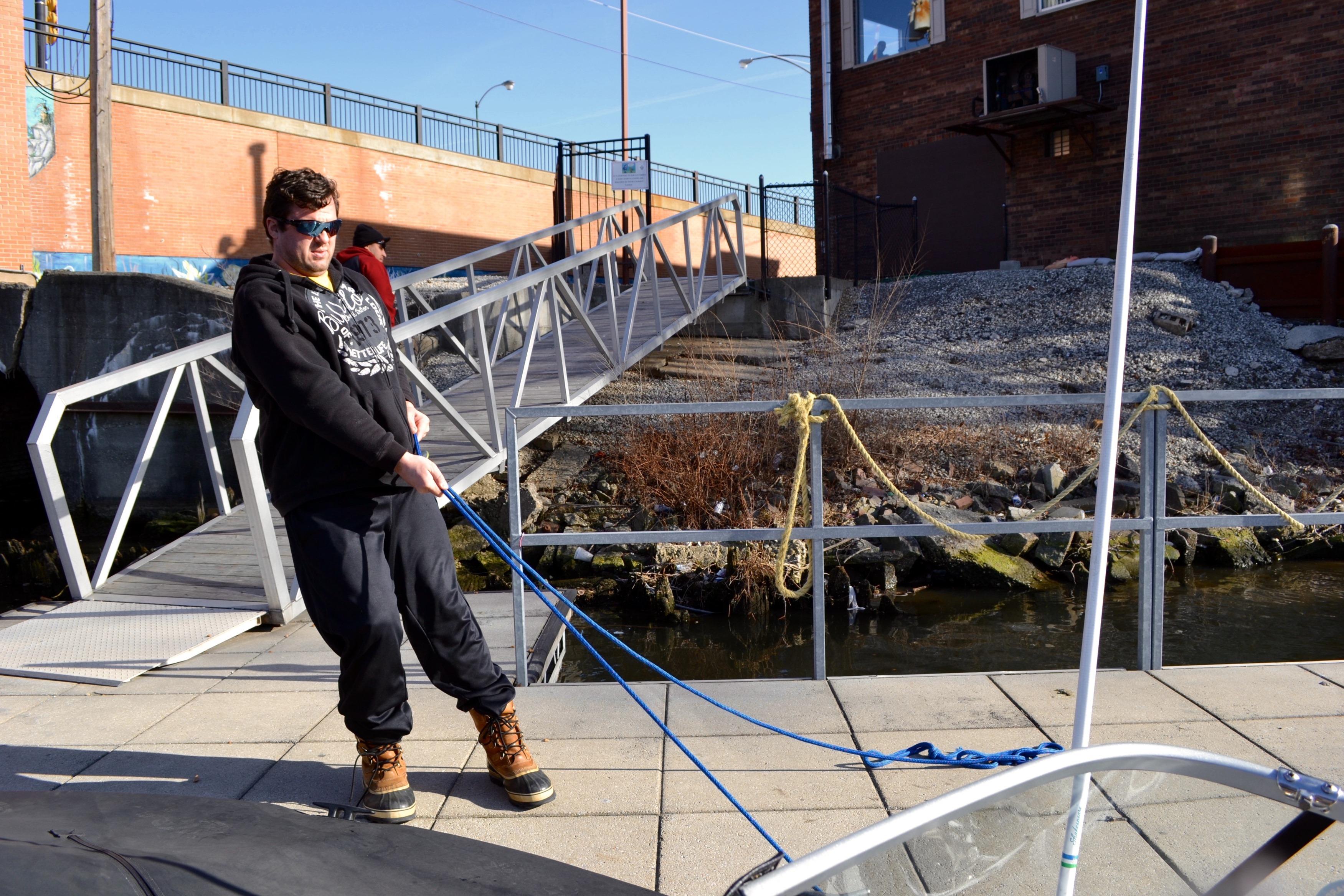 After several hours on the river without a bite, the group resigned themselves to the reality that they'd end the excursion without reeling in a single fish. It was time to dock the boat and drown some sorrows in fried seafood at Lawrence's Fish and Shrimp, a popular Chinatown restaurant offering riverside access.
---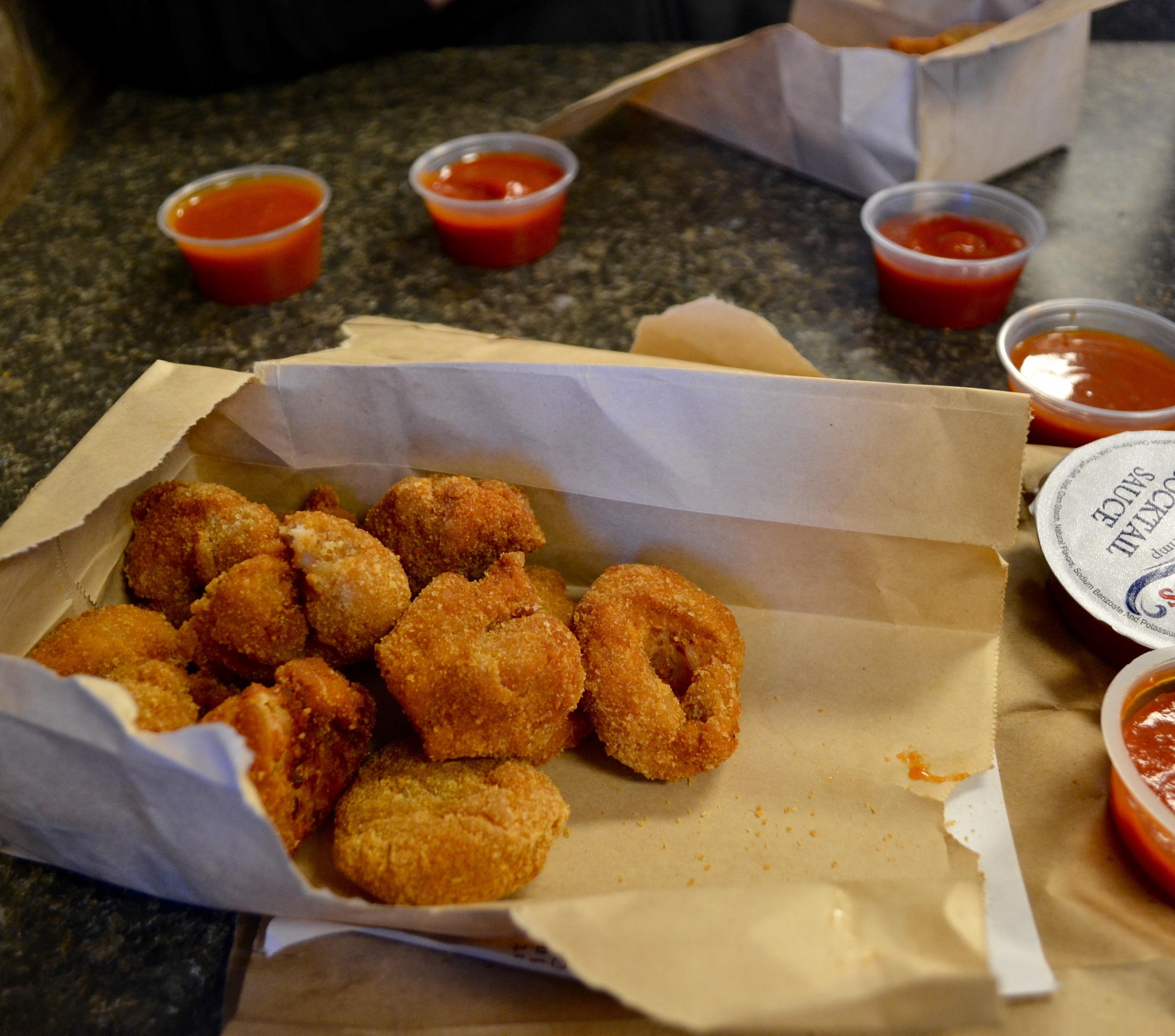 If seafood wasn't caught, then seafood would be bought.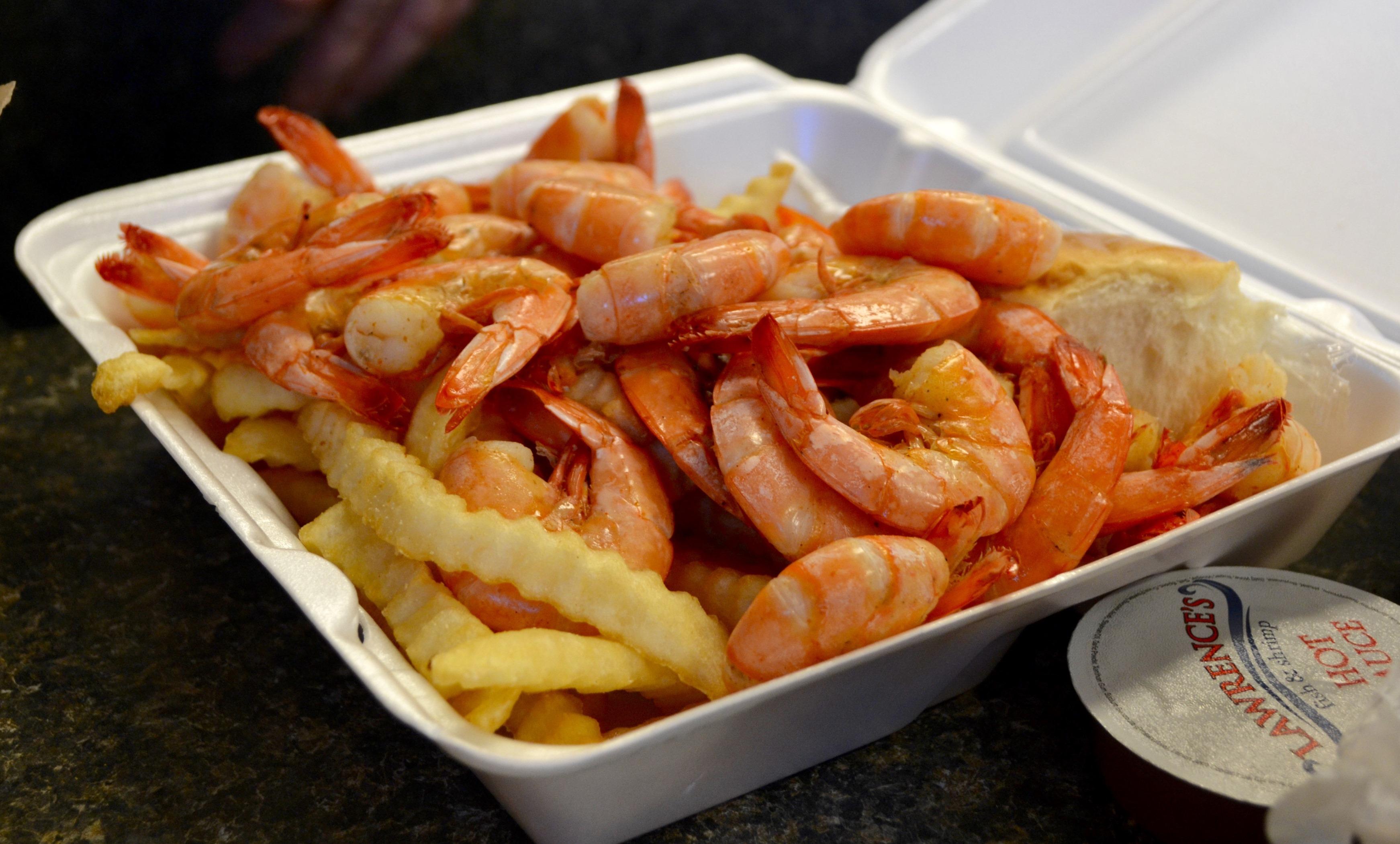 ---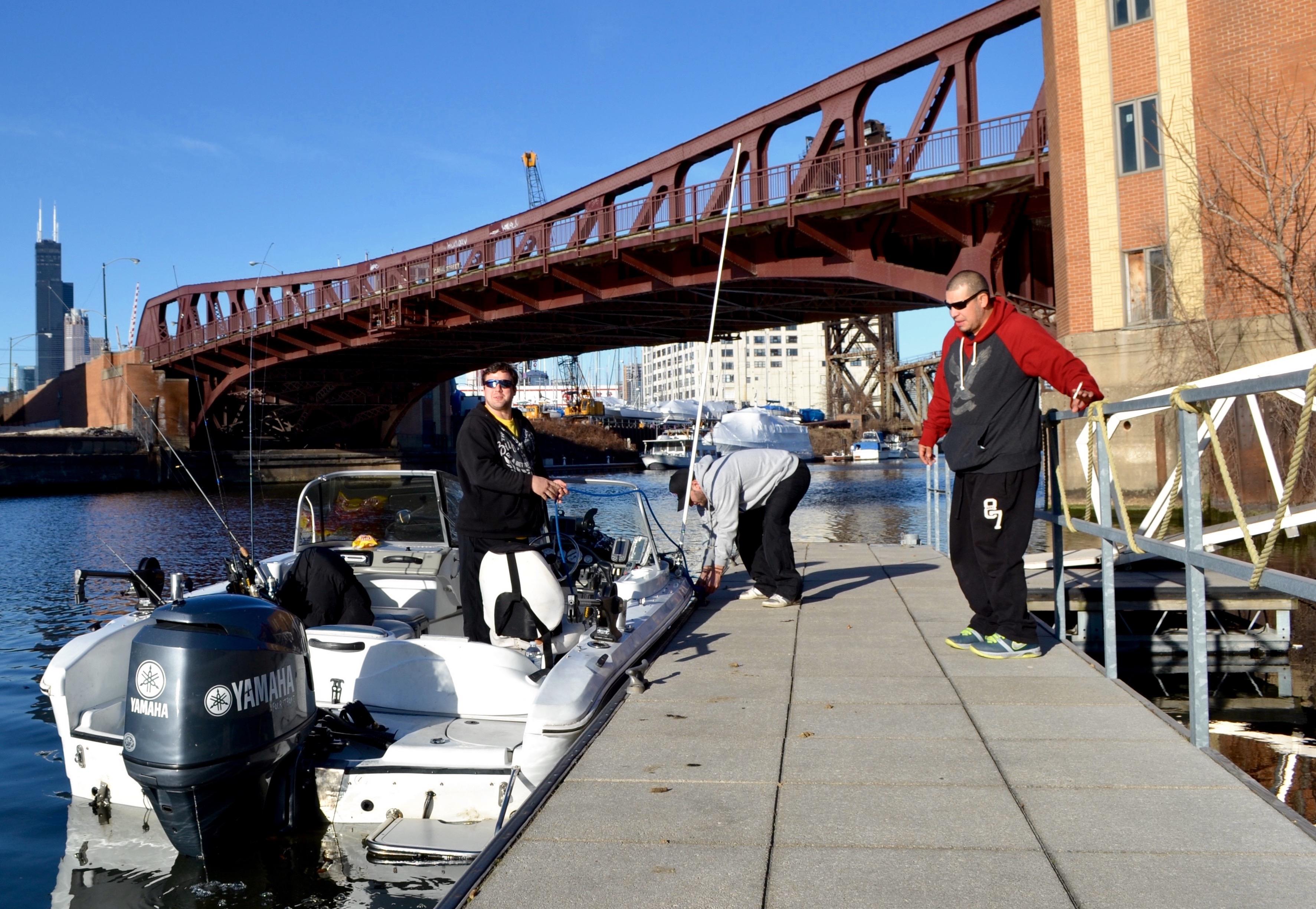 After the meal, the guys boarded for their final destination: the Richard J. Daley Park boat launch ramp.
---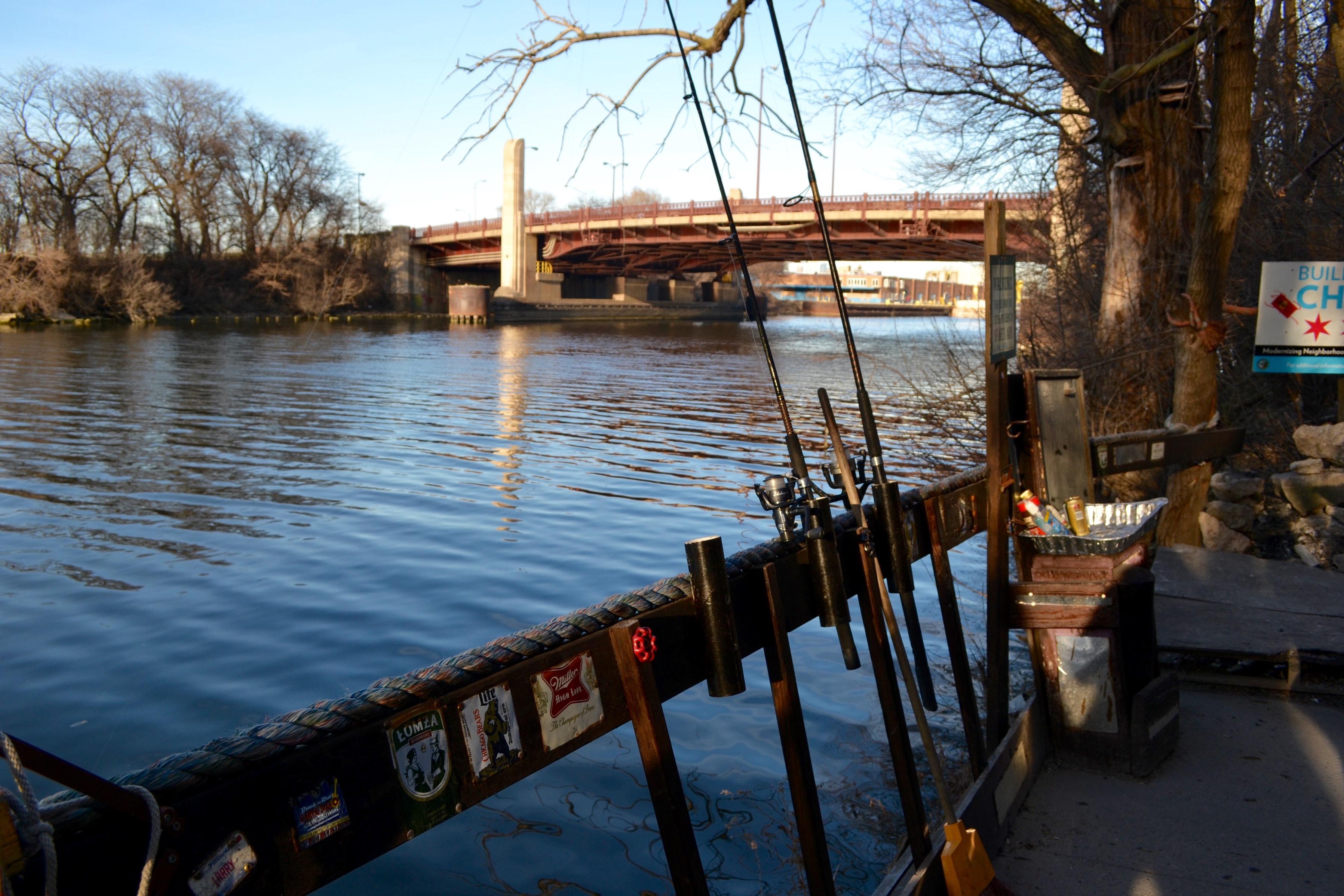 Frey pointed out this shoddy-looking concrete fishing dock jutting out from the riverbank just a few yards from the boat launch.
---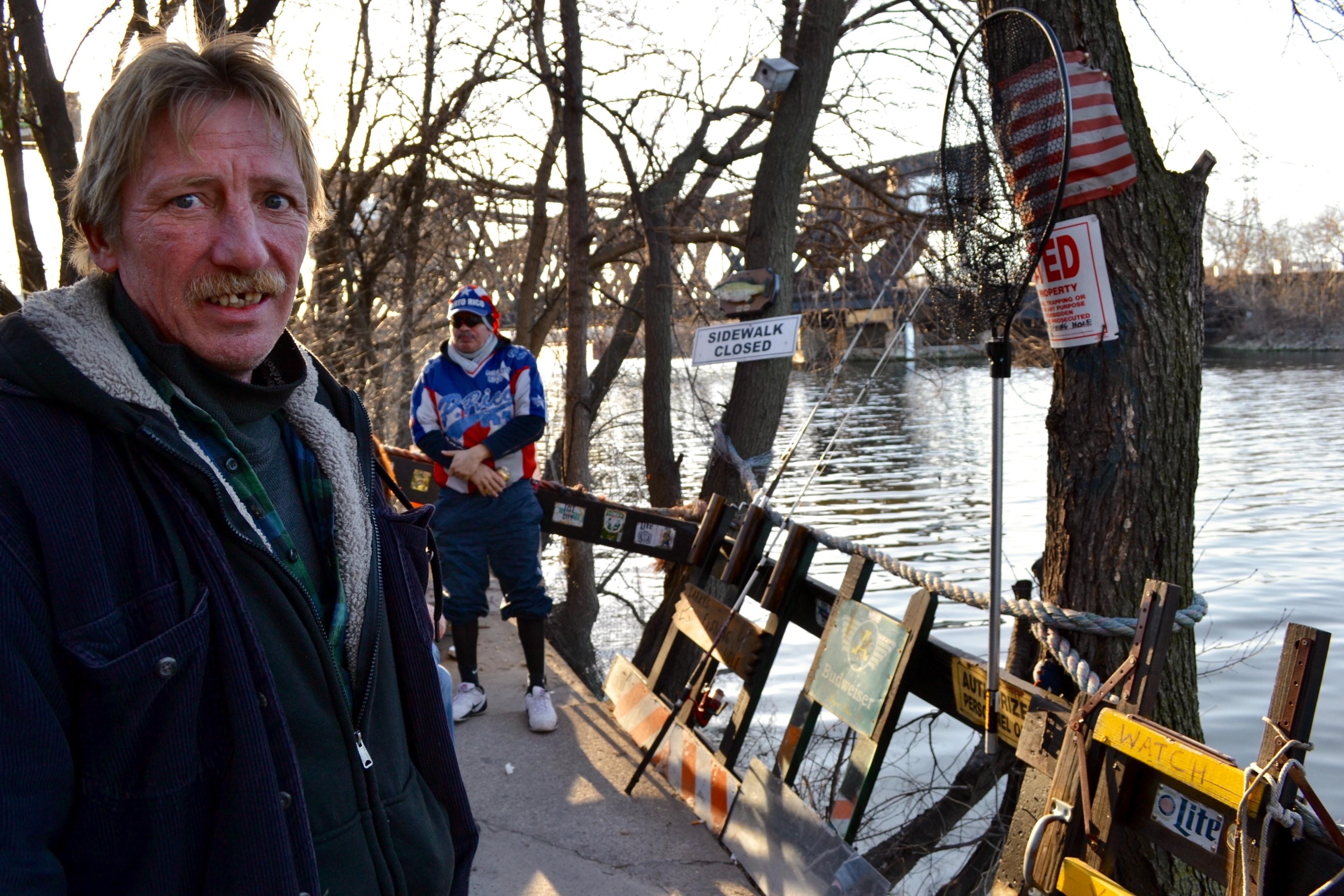 Dubbed "Larry's Fishing Spot," it was constructed last year by 53-year-old Larry Farmer, left, for a fishing buddy diagnosed with cancer. Frey might've been unable to catch a fish, but Farmer fared pretty well that day.
---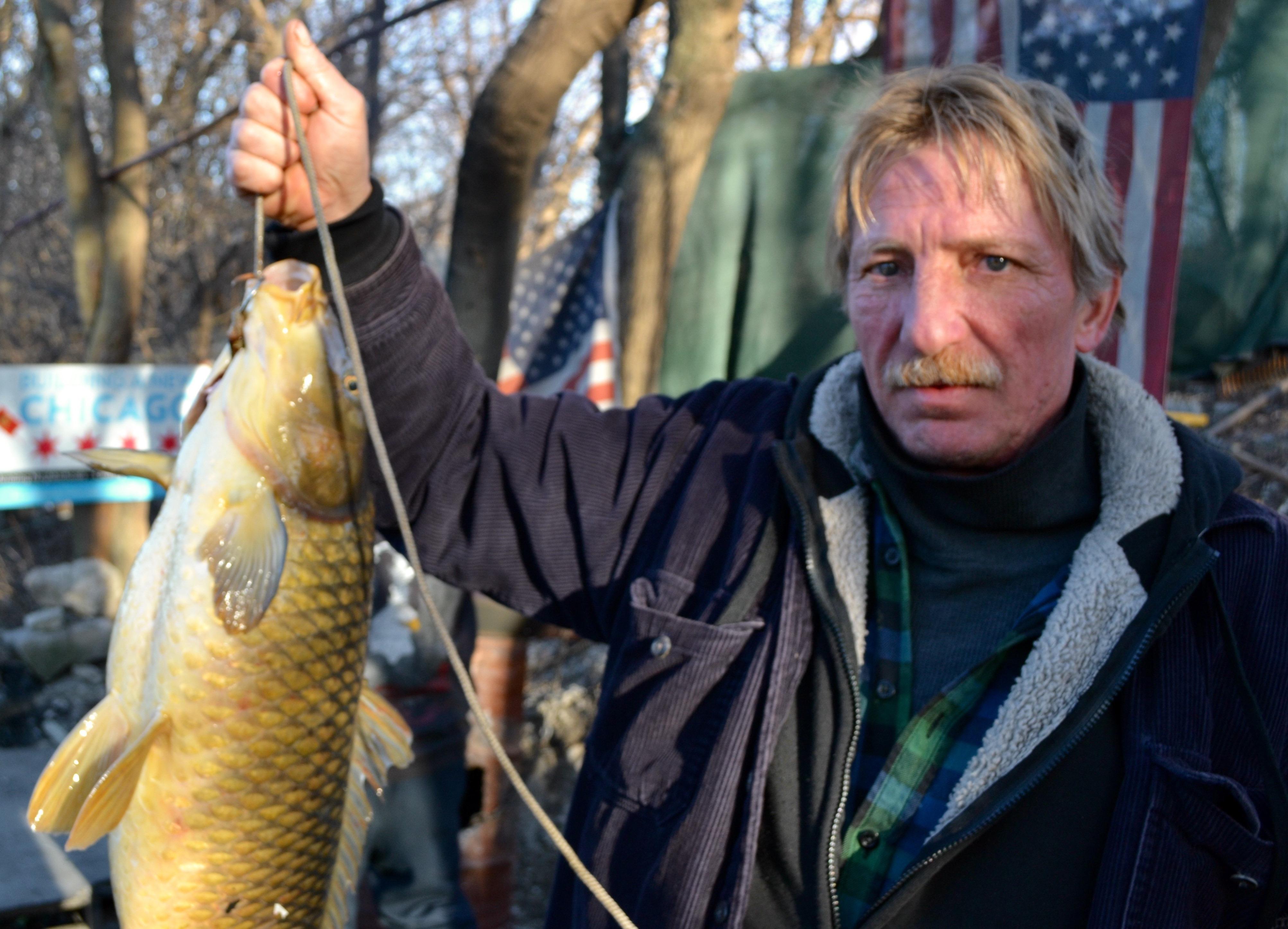 He had just caught a sizable carp off the river using corn as bait, an apparent favorite food for the species. He imparted this reasoning, which could double as a life motto, when asked what his secret was: "You can't catch no fish if you don't have a pole in the water."
---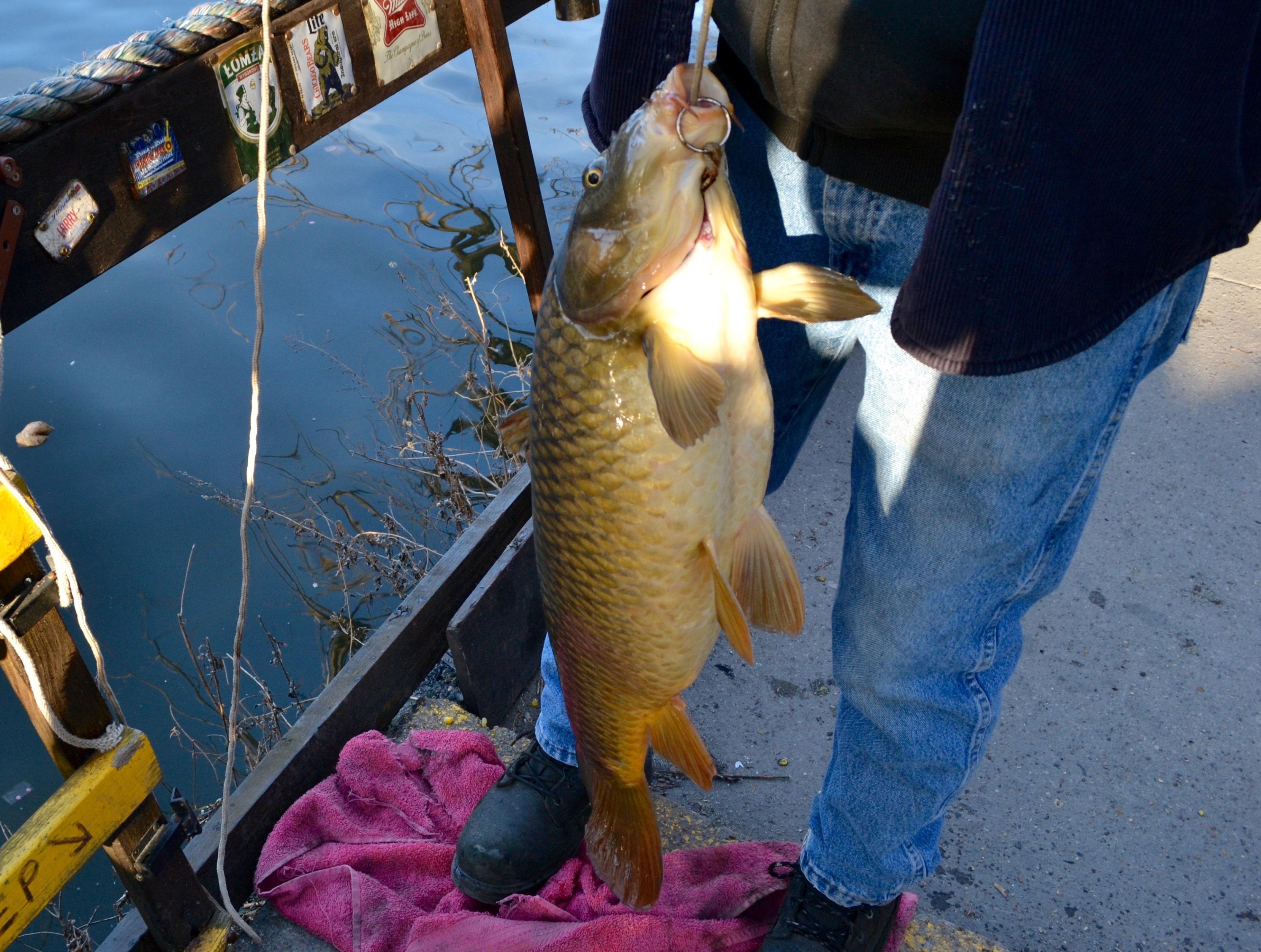 Farmer said the fish fought for almost half an hour before he pulled it out and, unlike Frey and company, he intended to eat the carp and wasn't bothered by its taste.
---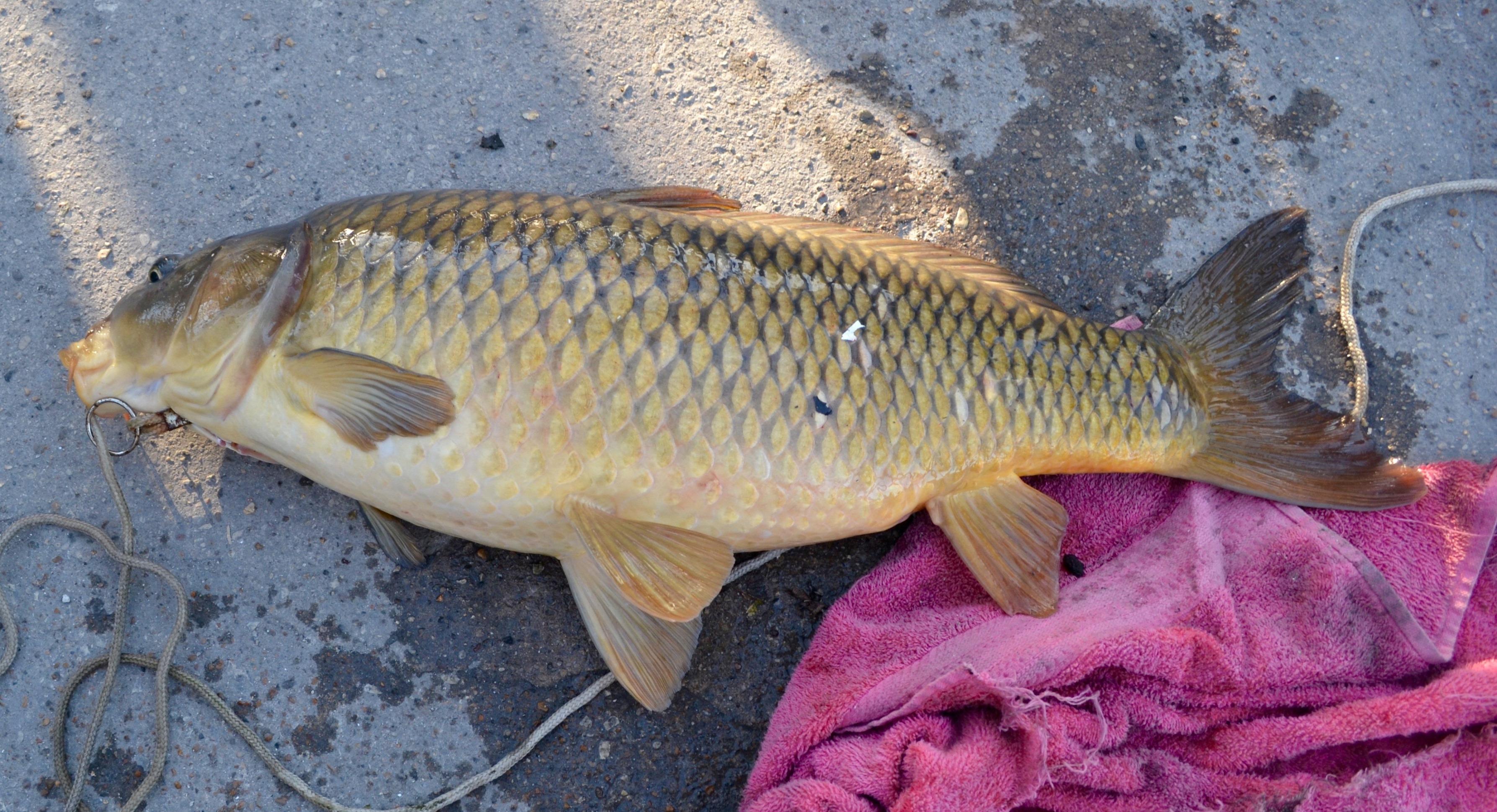 The fish hadn't been measured or weighed yet, but to the naked eye, it looked like it was at least a foot-and-a-half long. While Farmer wasn't concerned about eating the fish, the Illinois Department of Public Health has issued warnings about the presence of polychlorinated biphenyls (PCBs) in the river.
PCBs are man-made chemical contaminants that served as hydraulic fluids or cooling agents, among other purposes, for industrial machinery. They entered the Chicago River's ecosystem during manufacture from 1929 until their 1979 U.S. ban. The chemicals have been demonstrated to cause cancer.
According to the state's fish advisory for the river, Farmer should not eat this carp since it's likely over a foot long and thus may contain harmful levels of PCBs.
---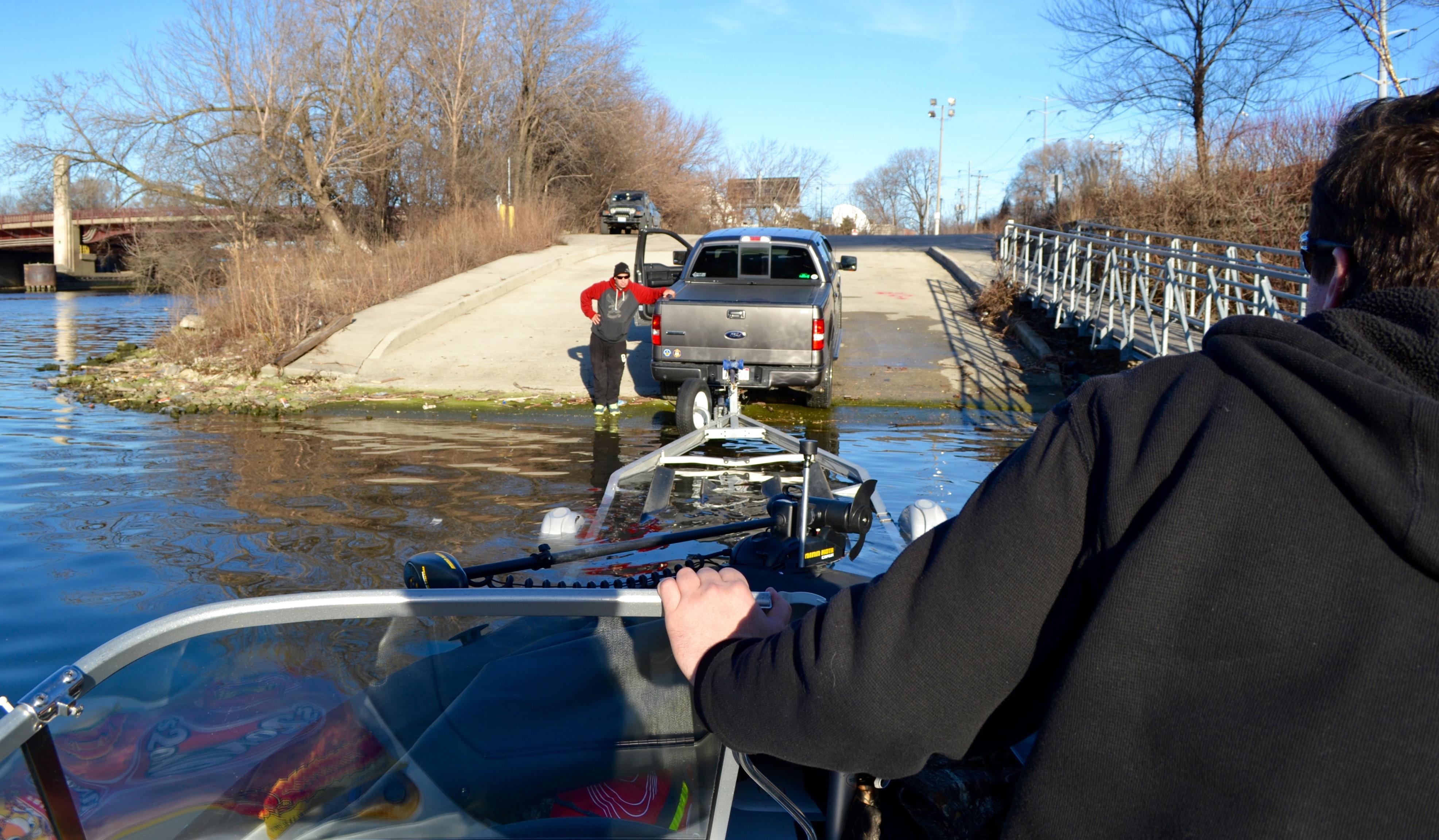 The fishermen were slightly disappointed as they guided Frey's boat onto his trailer at the launch ramp. But despite not catching a thing, the opportunity to comfortably fish in mid-February was a rare seasonal event. And witnessing Farmer's catch proved that at least some marine wildlife can survive in these waters.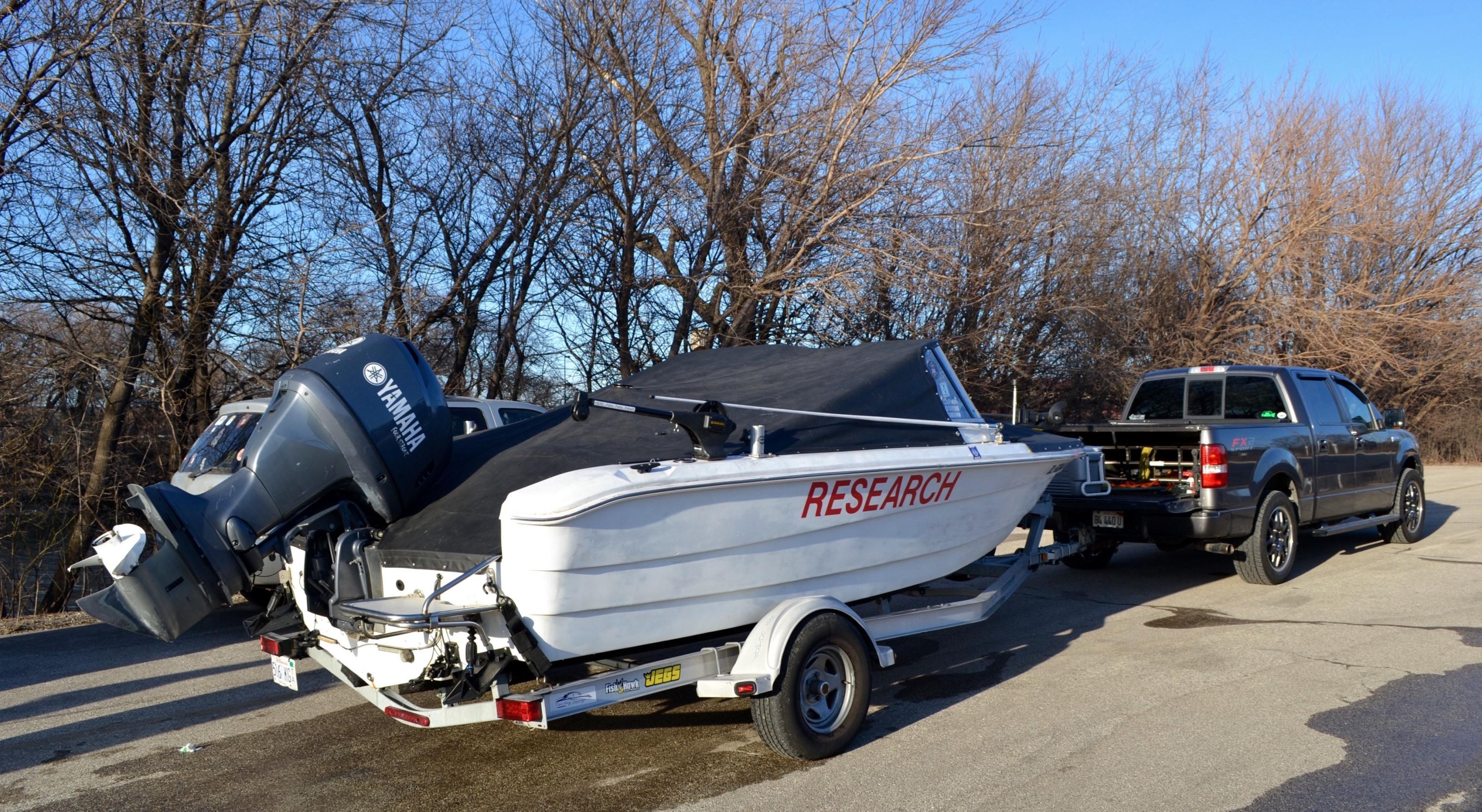 ---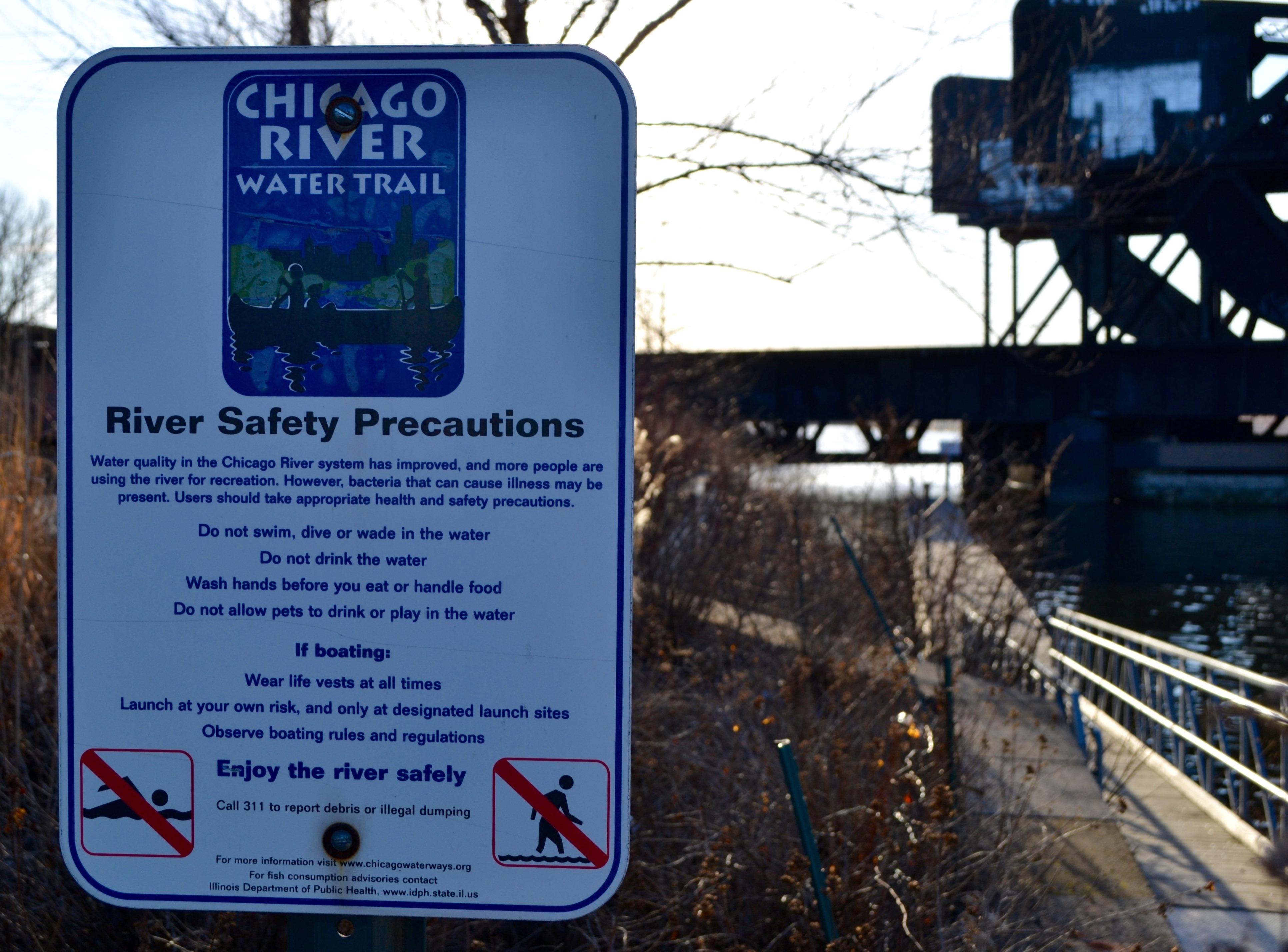 This warning sign sums up the constant evolution of the river. The water is getting cleaner and thriving with newfound nature every day, but it's still not ideal for recreation and even poses health risks. Who knows how long it will be, if ever, until signs like these are unnecessary? The river seems to be on its way, though.
Follow Evan Garcia on Twitter: @EvanRGarcia
---
Related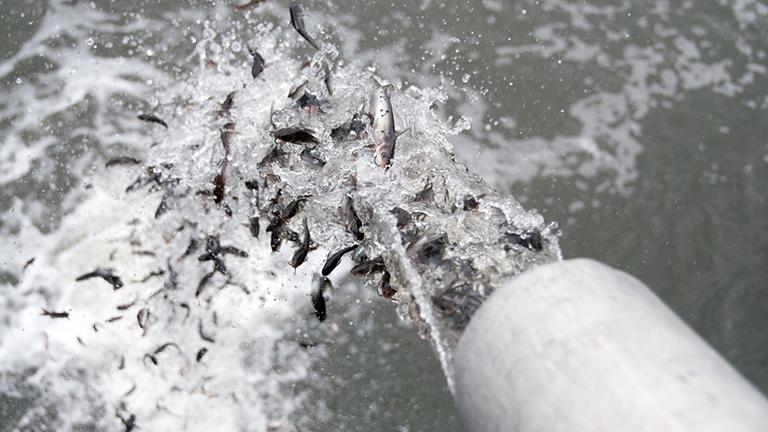 Why Catfish Are the Future for Cleaner Chicago Water
January 19, 2016: Two organizations have joined forces to release nearly 200,000 fish into the Chicago and Calumet waterways over the past two years. Not only are these new residents helping to rehabilitate the rivers, they're also the inspiration behind an upcoming art installation along the Chicago Riverwalk.
---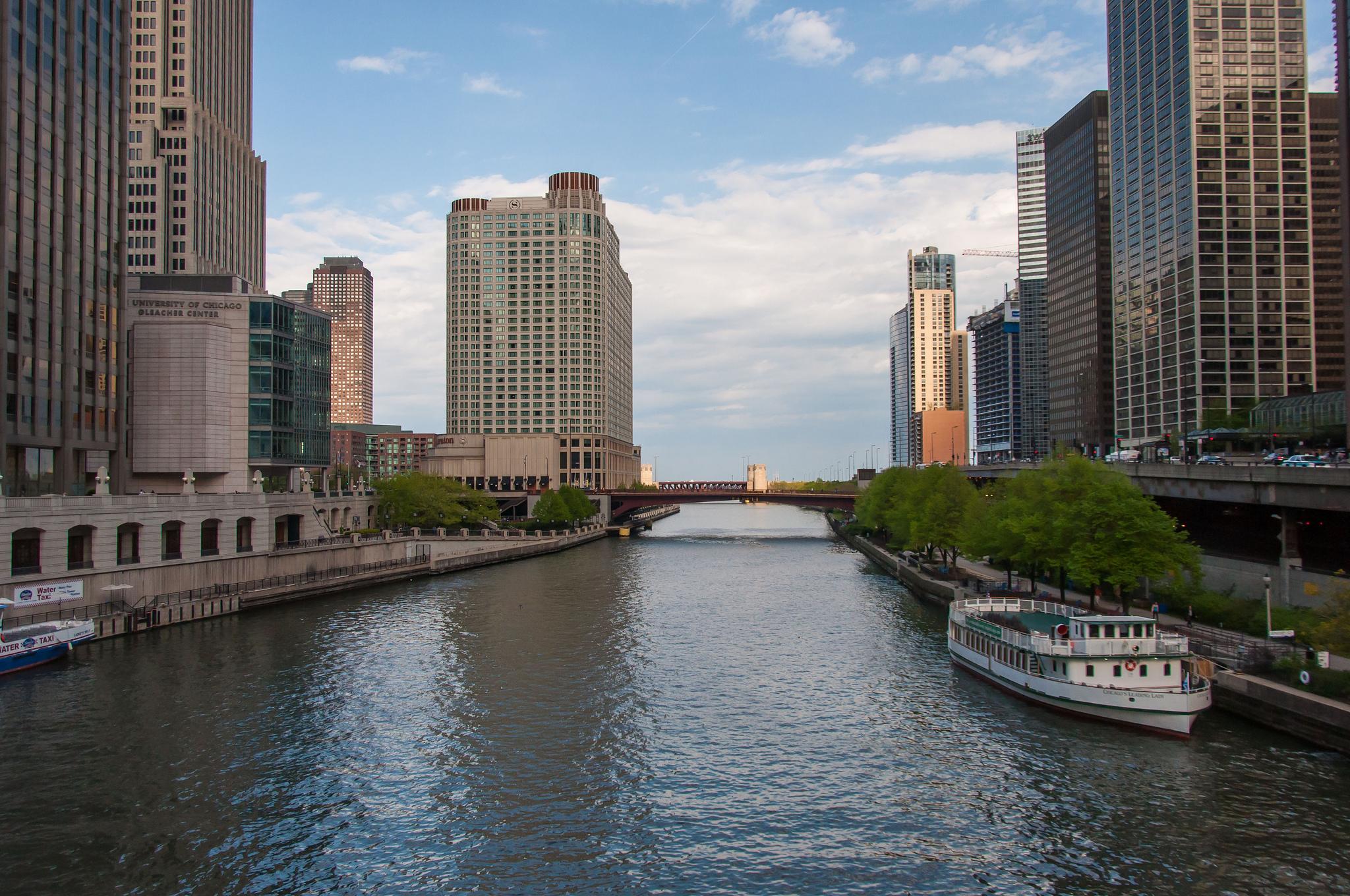 Cruise the Chicago River from the Comfort of Your Home
January 26, 2016: The Chicago River is now visible via Google Street View. A small team spent nearly 10 hours documenting the waterway with a 360-degree camera in October. Here's what it looks like.
---