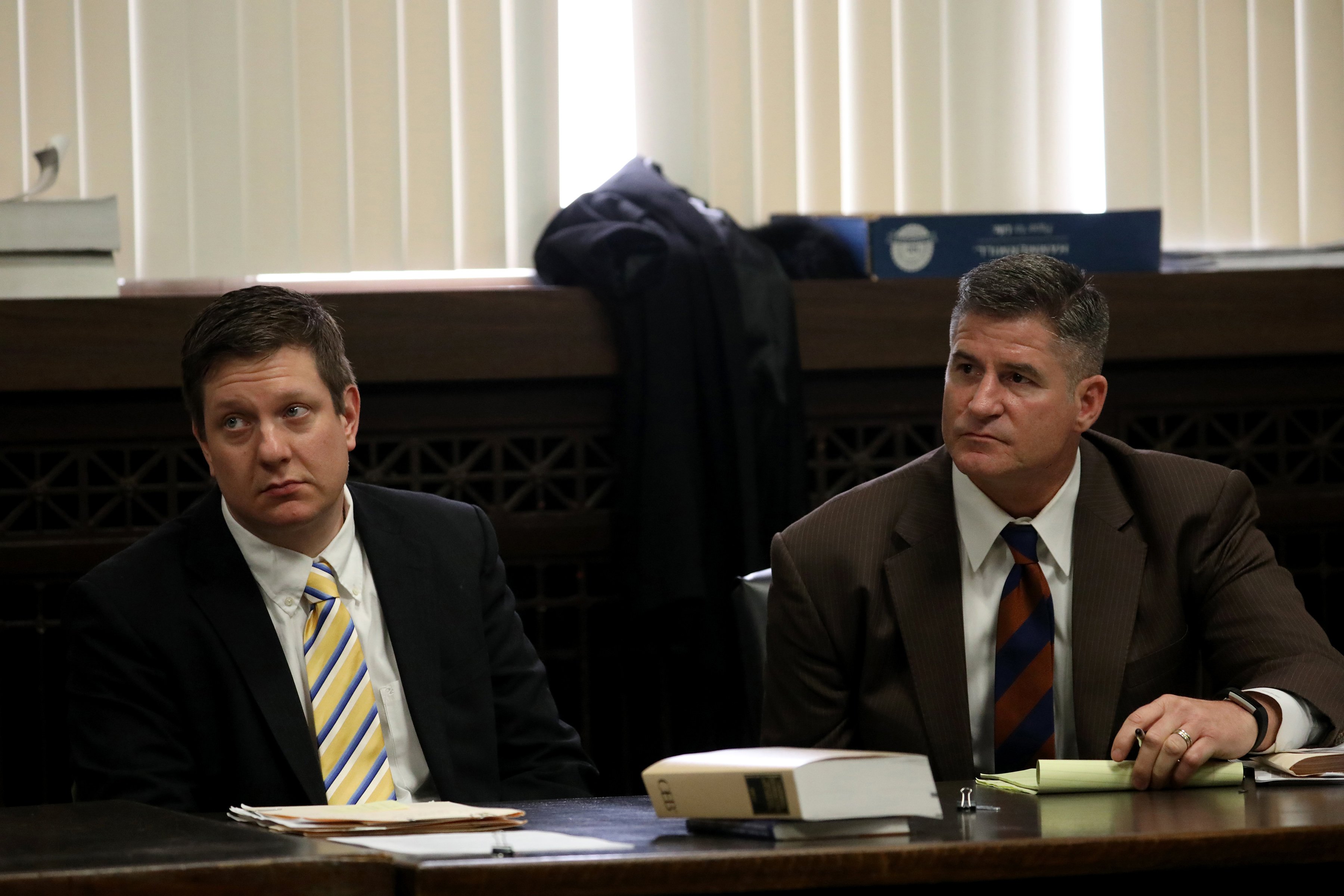 Jason Van Dyke, left, sits with his attorney Daniel Herbert at his hearing at Leighton Criminal Court in Chicago Wednesday April 18, 2018. (Nancy Stone / Chicago Tribune / Pool)
Some of the sealed documents withheld from public view in a high-profile murder case could be made available later this month.
Cook County Circuit Court Judge Vincent Gaughan on Wednesday ordered both prosecutors and the defense team for suspended Chicago police Officer Jason Van Dyke to ready any objections they may have to a list of more than 100 documents filed in the case that have not yet been viewed by the public.
Van Dyke faces first-degree murder charges in the fatal shooting of 17-year-old Laquan McDonald, who was shot 16 times as he walked along a Southwest Side road carrying a knife in October 2014.
Gaughan has ordered both sides to compile a list of records they want to remain sealed. Those attorneys have already objected to about two-thirds of those filings being released.
Attorneys representing local public media outlets have argued for the release of case filings currently held under a decorum order – an order made by Gaughan preventing the public unsealing of these documents in an effort to preserve Van Dyke's right to a fair trial.
The judge scheduled a hearing for next Thursday to discuss what court filings the attorneys believe should be withheld and which should be made public. He expects to issue rulings on those filings at that date.
Change of venue motion
Also on Wednesday, a defense expert studying a possible change of venue in the case said he believes he'll have an opinion formed by mid-June. But Gaughan is pushing him to wrap up his examination sooner, and told attorneys on both sides he wants them ready for trial as soon as the consultant announces whether or not he believes the case needs to be moved outside Cook County.
"I want this thing ready for trial by the time he comes in with the documentation for his opinion," Gaughan said during a pretrial hearing Wednesday.
"We're still shooting for a summer date," he added later.
Van Dyke's attorneys hired Bryan Edelman, co-founder of Los Angeles-based Trial Innovations, in January to determine whether local media coverage of the case has made a fair trial in Cook County untenable.
Since then, Edelman has been combing through thousands of newspaper articles and surveying hundreds of Illinoisans to gauge their opinions on the case, he testified on Wednesday. The defense is seeking a continuance to allow Edleman the time he needs to finish that process and issue his opinion.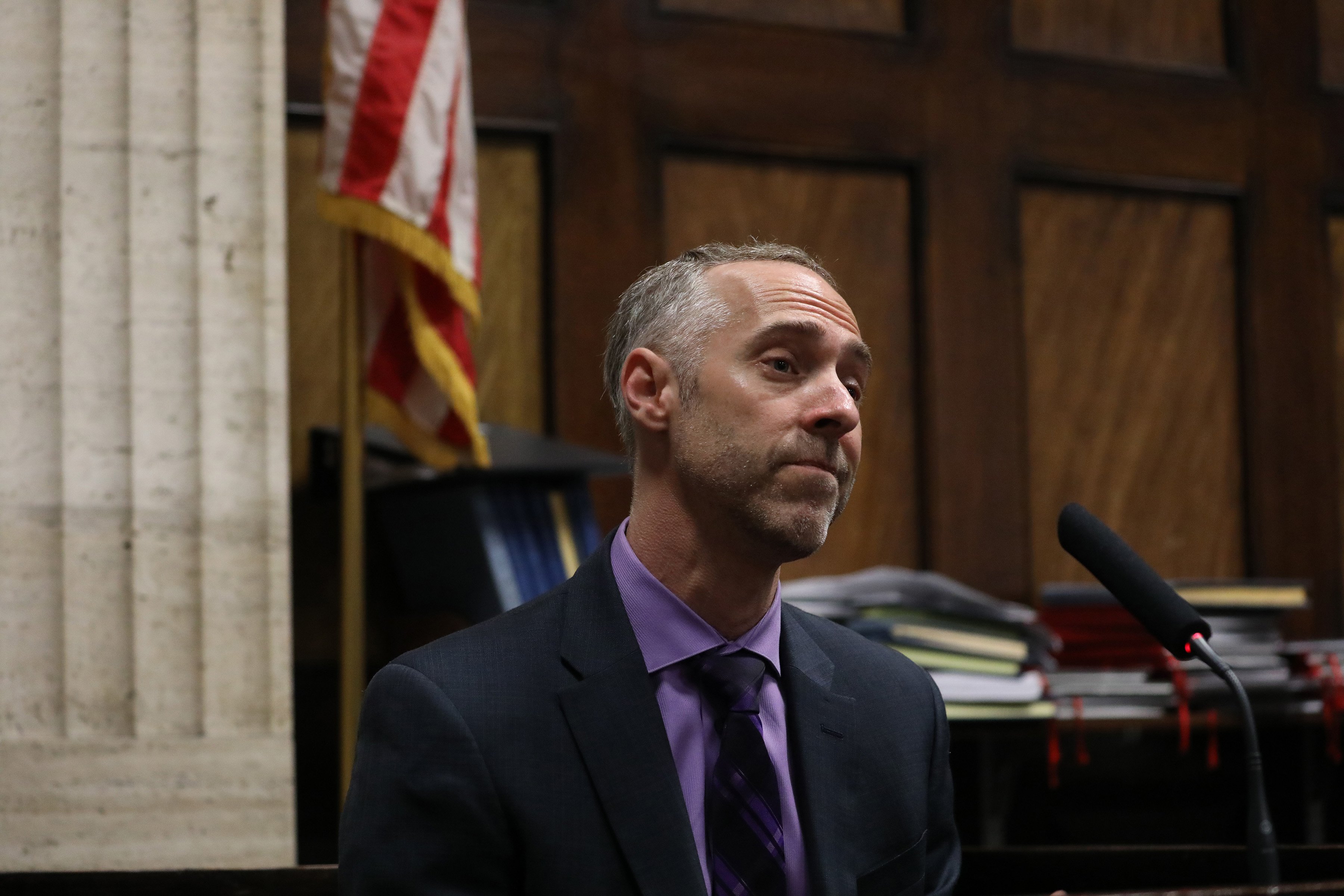 Witness Bryan Edelman, a trial consultant hired by the defense to conduct change-of-venue polls, answers questions at the hearing in the Jason Van Dyke case at Leighton Criminal Court in Chicago Wednesday April 18, 2018. (Nancy Stone / Chicago Tribune / Pool)
Change of venue motions are granted infrequently in high-profile cases. Even Edleman acknowledged he rarely finds that such a move is necessary, often opting instead to rely on simpler measures like jury questionnaires and individual voir dire to weed out potentially biased jurors.
Gaughan had urged Van Dyke's attorneys to speed up the review process, and last month ordered them to produce either Edleman or his findings at Wednesday's hearing. They have pushed back, saying their client has the right to a fair trial and their expert should be given the time needed to complete his study.
Edleman, who's been hired in high-profile cases including the 2011 shooting of then-U.S. Rep. Gabby Giffords and the 2012 Aurora movie theater massacre, said this case is among the "top three or four" he's worked in terms of media coverage.
He estimates he's collected more than 2,000 Chicago Tribune and Chicago Sun-Times articles related to the shooting and subsequent legal proceedings. But Edleman said it's not about how many people are aware the case; rather it's how firmly they hold their beliefs about it.
"It's strength of opinion and depth of knowledge," he said. "Is there even a need for a change of venue? Maybe there's not … So you start with where the case is, not where you want it to be."
Gaughan asked Edleman if he could complete his work by the end of May. He said he would do whatever he can to do so, but also acknowledged another complicating factor: the upcoming trial of three Chicago police officers charged with covering up the McDonald shooting.
That case is scheduled to go to trial in July. Edleman said testimony and evidence brought forth and reported there could have a significant impact on the public perception of Van Dyke's case, even if that same information is inadmissible at his trial.
He suggested holding off on a change of venue hearing until after the other officers' trial is completed, suggesting he'll have to conduct another, smaller survey to gauge its impact.
"The most efficient use of time," Edleman said, "is to wait until that's over to see if opinions have been changed by media coverage of the trial."
This story has been updated.
Contact Matt Masterson: @ByMattMasterson | [email protected] | (773) 509-5431
---
Related stories: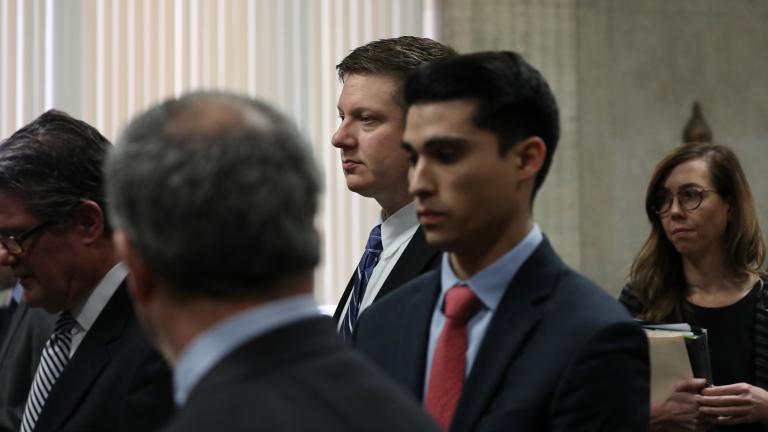 Van Dyke Case: Judge Planning for Summer Trial
March 28: It's been more than two years since Jason Van Dyke pleaded not guilty to murder charges in the death of Laquan McDonald. The judge in the case now says he wants the trial to get moving in the coming months.
---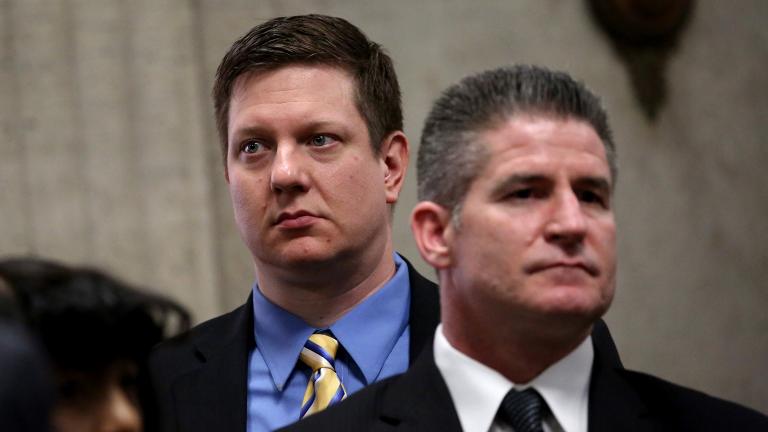 Van Dyke Judge: Trial Timeline Won't Be 'Run By The Public'
March 8: In 2015, Chicago Police Officer Jason Van Dyke pleaded not guilty in the fatal shooting of Laquan McDonald. But a start date for the trial is likely still months away.
---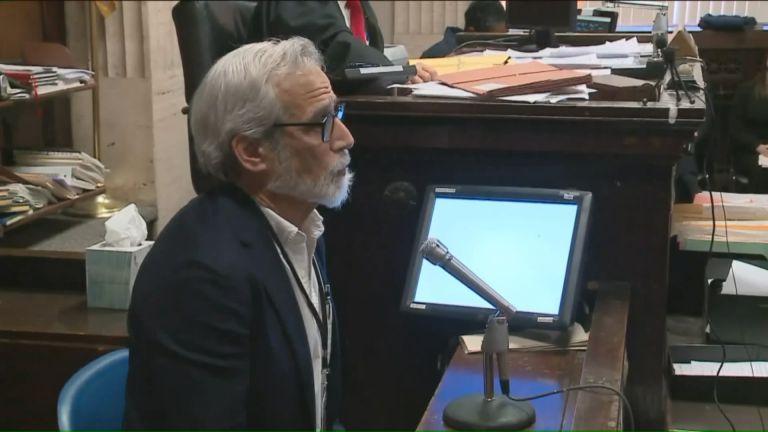 Van Dyke Attorneys Want Reporter to Reveal Sources
Dec. 6: Should Jamie Kalven, the reporter who broke the story of the Laquan McDonald shooting, be forced, under oath, to reveal his sources?
---