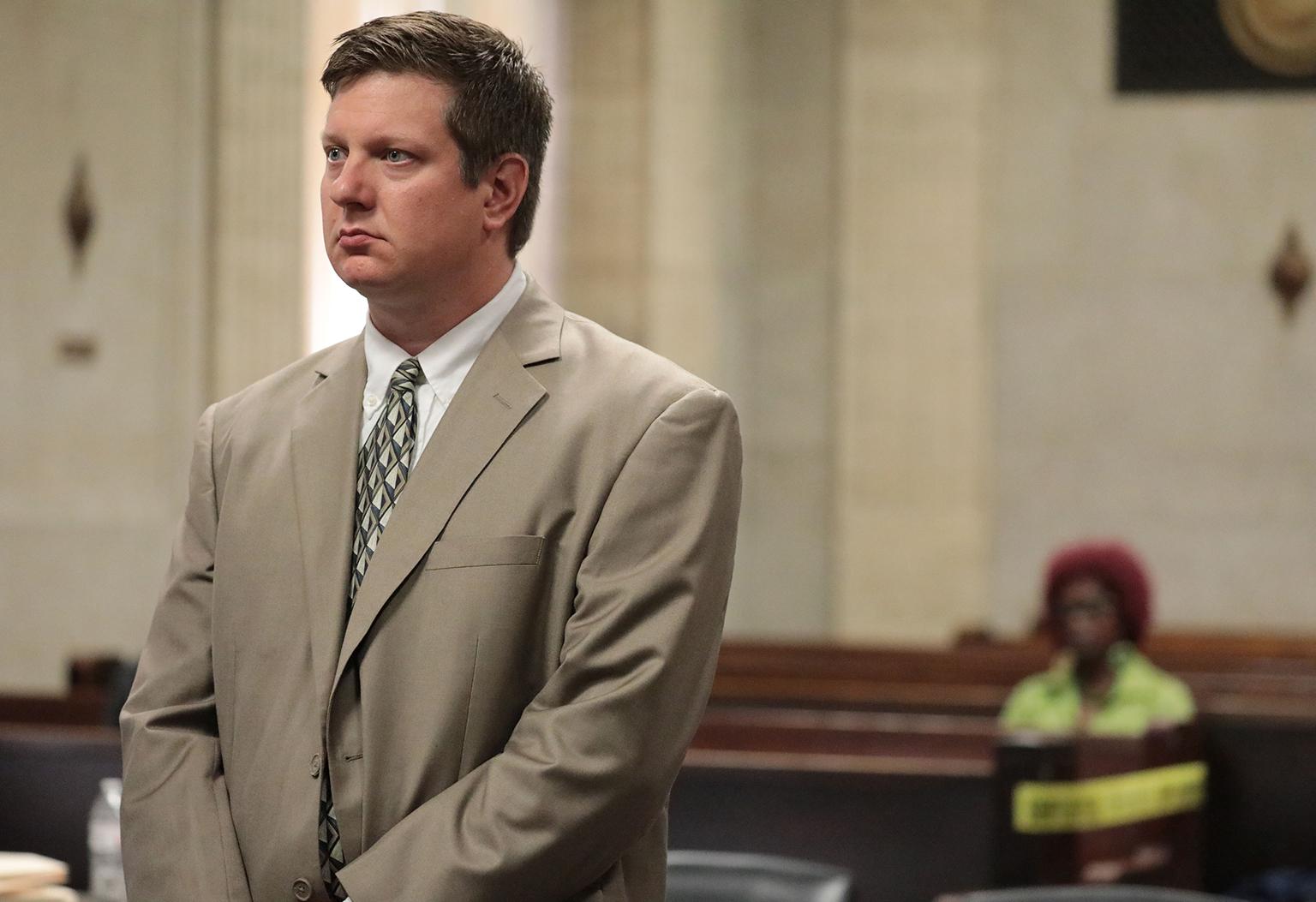 Chicago police Officer Jason Van Dyke listens to court arguments during a hearing Tuesday, July 31, 2018 at the Leighton Criminal Court Building in Chicago. Van Dyke is charged with first-degree murder in the shooting death of Laquan McDonald. (Antonio Perez / Chicago Tribune / Pool)
A new judge won't be brought on to hear a change of venue request later this week in the Jason Van Dyke murder case after defense attorneys argued the presiding judge was prejudiced against their motion to move the trial out of Cook County.
Cook County Criminal Division Chief Judge LeRoy K. Martin Jr. said Van Dyke's attorneys presented a "novel" argument unlike anything he has seen before, but ultimately denied their request and assigned the case back to Judge Vincent Gaughan, who has overseen it since charges were first filed in 2015.
Defense attorney Daniel Herbert argued Gaughan was prejudiced strictly against the motion itself, but asked that the judge not be removed from the case entirely.
"I just don't think that the statute allows that," Martin said. "I would respectfully have to deny the motion."
Van Dyke is charged with first-degree murder in the shooting death of teenager Laquan McDonald, who was shot 16 times as he walked along a Southwest Side road carrying a knife in October 2014.
Herbert filed the request last week, claiming Gaughan had already made up his mind on the request to relocate the high-profile trial, comparing an upcoming hearing on the matter to that of a "professional wrestling match," and arguing the outcome has been predetermined.
All parties convened for a hearing in Gaughan's fifth-floor courtroom Tuesday morning, but the judge then transferred case to the first floor so Martin could rule on the defense's request.
In their motion, Van Dyke's attorneys argued Gaughan's decision to set a September trial date and arrange for technological improvements within his courtroom demonstrated that he is set on keeping the trial within Cook County.
Herbert reiterated those issues in oral arguments before Martin, but also focused heavily on security and safety concerns, saying potential jurors entering and leaving the courthouse through throngs of protestors could face death threats like the ones Herbert said have been made against himself and his client.
"You know there is going to be intense animosity when this case goes to trial," he said, adding that if jurors are faced daily with signs displaying Van Dyke's face next to words like "killer" and "murderer" then "not only are they going to be intimidated, they're going to be prejudiced."
Herbert also made clear that he does not simply want a jury brought in from another county, but instead wants the case moved entirely out of the area, saying this is the only way to ensure a fair trial.
Special prosecutor Joseph McMahon argued the state statute on the matter "leaves no room for debate," stating in a response memo that the defense cannot obtain only a partial substitution of judge to resolve a single issue in the case.
His assistant, Jody Gleason, told Martin that simply setting a trial date doesn't imply Gaughan has made up his mind on the venue, saying the judge has given no indication he is unwilling to reschedule the trial should he decide to move the case elsewhere.
She also noted the security issues raised by the defense were not included in their motion and argued they are irrelevant to the issue of change of venue – which is based solely on the ability to impanel a fair and unbiased jury. Given the vast population and resources available within Cook County in comparison to surrounding areas, Gleason said there is no better place to hold the trial.
Martin noted the defense presented an "interesting argument," saying he'd never seen a case where attorneys wanted a judge removed on one portion of the case and retained for the rest. But he agreed with prosecutors that the only issue before him Tuesday was to decide whether Gaughan could fairly decide the venue issue. He believes Gaughan can.
"I just don't believe that the facts as argued here today are sufficient to show the judge has made up his mind," Martin said.
That decision is expected to come after a hearing Friday. Herbert will present survey results from Bryan Edelman, a defense-contracted trial consultant, who believes a change of venue is necessary based on survey results that found Cook County residents familiar with the case are more likely to believe Van Dyke is guilty.
Herbert has also claimed "inflammatory and prejudicial" media coverage in the years since charges were first filed has made it impossible to find a fair jury within Cook County.
But McMahon's office claims there are "severe flaws" in Edelman's survey process, including the use of suggestive questions and phone interviews, rather than those conducted in person. He has argued widespread publicity does not mean the jury pool has been inherently prejudiced against Van Dyke and claims those potential jurors who are biased can be removed through the jury selection, or voir dire, process.
"There is no presumption of prejudice in this case," McMahon wrote in a state response last week. "The presumption is that potential jurors will be fair and impartial. It is for this reason that we have the voir dire process to begin with. Those jurors who cannot judge the case solely on the evidence would be excused for cause."
Below, a timeline of events related to the shooting.
Contact Matt Masterson: @ByMattMasterson | [email protected] | (773) 509-5431
---
Related stories:
Van Dyke Case: Defense Believes Judge Too 'Prejudiced' to Decide Trial Venue
Van Dyke Case: Defense Seeking New Trial Venue, But Request a Tall Order
Van Dyke Case: Documents Could be Unsealed, Change of Venue Motion Pending
Van Dyke Case: Citing 'Serious Safety Concerns,' Judge Seals Courtroom for Witness Testimony