There's a shortage of male teachers in Illinois classrooms, particularly those who are African-American and Latino.
The University of Illinois at Chicago is hoping to change that. The school is implementing the program Call Me MISTER that would prepare African-American and Latino men to become elementary teachers in the Chicago Public Schools system.
"The research is clear that students benefit from having male teachers of color," said Alfred Tatum, dean of UIC's College of Education. "There are academic benefits, and then you have the reduction in suspensions, and [higher] graduation rates."
In 2017, just under a quarter of Illinois teachers were men (23.3 percent) and just 16.7 percent were non-white. Yet, that same year, minority students made up just over half of enrollment (51.5 percent), according to the Illinois State Board of Education's Annual Report.
In Chicago Public Schools, nearly 84 percent of the student body is African-American or Latino, but about 43 percent of the system's teachers are African-American or Latino.
Call Me MISTER, which stands for "Mentors Instructing Students Toward Effective Role Models," launched out of Clemson University in 2000, when African-American male educators made up less than 1 percent of South Carolina's elementary school teachers.
"The program has more than doubled the number of Black male teachers serving in South Carolina Elementary schools since 2004, when our first graduates began to enter their careers in a classroom," said Roy Jones, executive director of Call Me MISTER, in an email to Chicago Tonight.
The program has since grown to 31 universities across the U.S.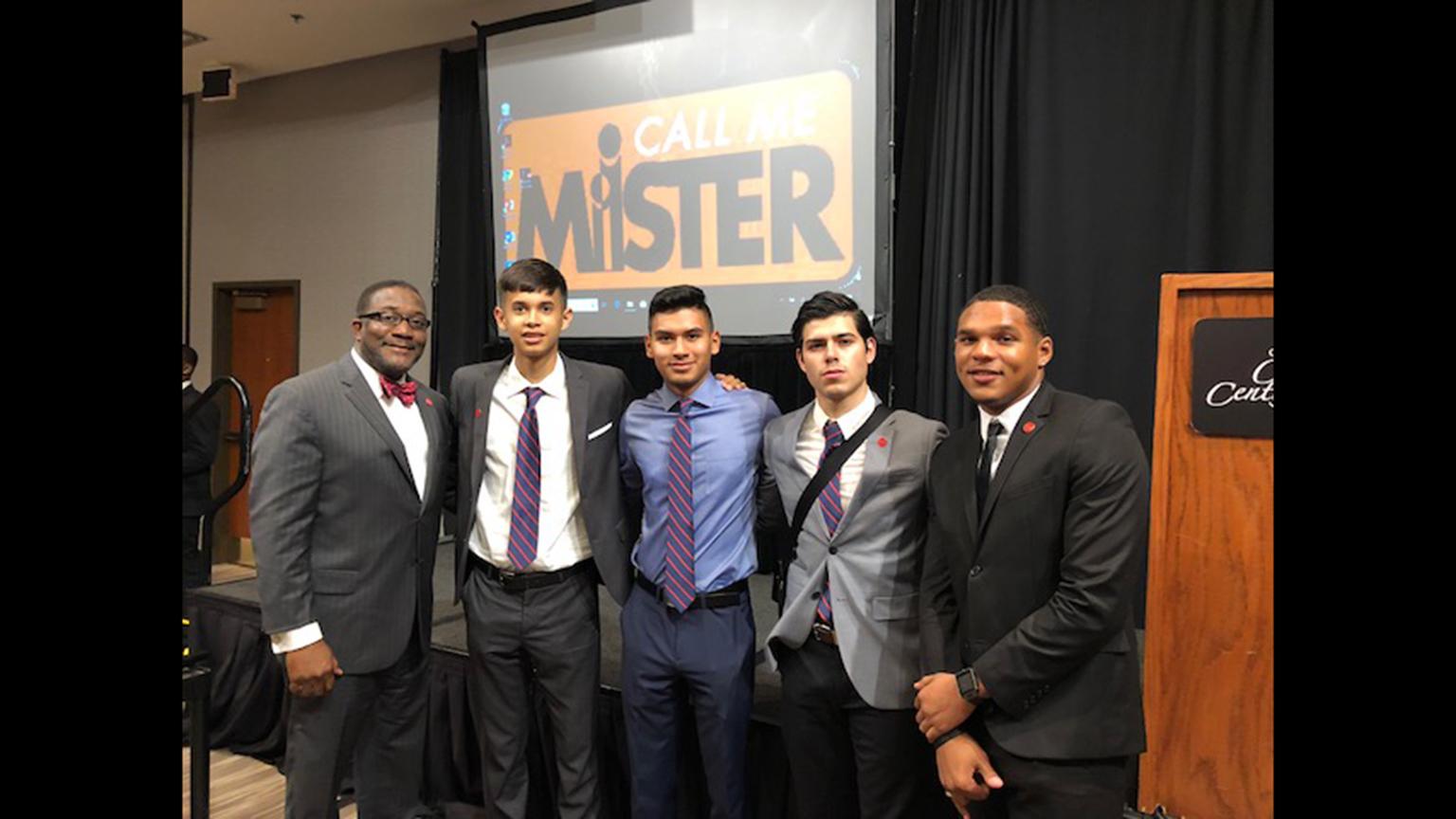 Six students will participate in UIC's Call Me MISTER program, which aims to get more male teachers of color into classrooms. From left: Alfred Tatum, Armando Rivera, Juan Hernandez, Jesus Flores and Juwaun Williams. (Credit: UIC Photo)
UIC is the first large urban research university to become a partner. The university's inaugural cohort will include six male students who were selected from Chicago-area schools with a population that was predominantly African-American and Latino, Tatum said.
"They also had to express commitment to want to teach in elementary grades in Chicago," Tatum said.
The program offers the students full tuition and room and board, and a faculty member who will help guide the student throughout his time at UIC.
"[Call Me MISTER] would not only teach me how to be an effective educator in the classroom with subject matter and coursework, but also how to be an effective role model for my students who often times never seen a male figure as a teacher in elementary schools," said Juan Hernandez, one of the students who will participate in UIC's inaugural cohort.
The 18-year-old said he didn't have a male teacher until his sophomore year in Oak Lawn Community High School.
"I feel like if I had a male teacher early on, I could have discovered more about myself and learn early on what I wanted to do with teaching," he said.
In fact, Hernandez didn't always want to be a teacher; his sights was once set on being an attorney, but that changed under the guidance of his pre-calculus teacher during his senior year.
"It was how he was in the classroom that made me realize the impact that I could have on students as a teacher, and it was also how he inspired me to work hard in sports and everything," Hernandez said.
He said his teacher inspired him to "want to impact a student's life inside a classroom and outside of it."
Tatum and Hernandez join us in conversation.
---
Related stories:
NTA Families Seek Injunction to Halt Controversial School Transition Plan
Critics Say CPS Budget Promotes Inequality Across District
CPS to Revise Student Suspension, Bullying Guidelines
---