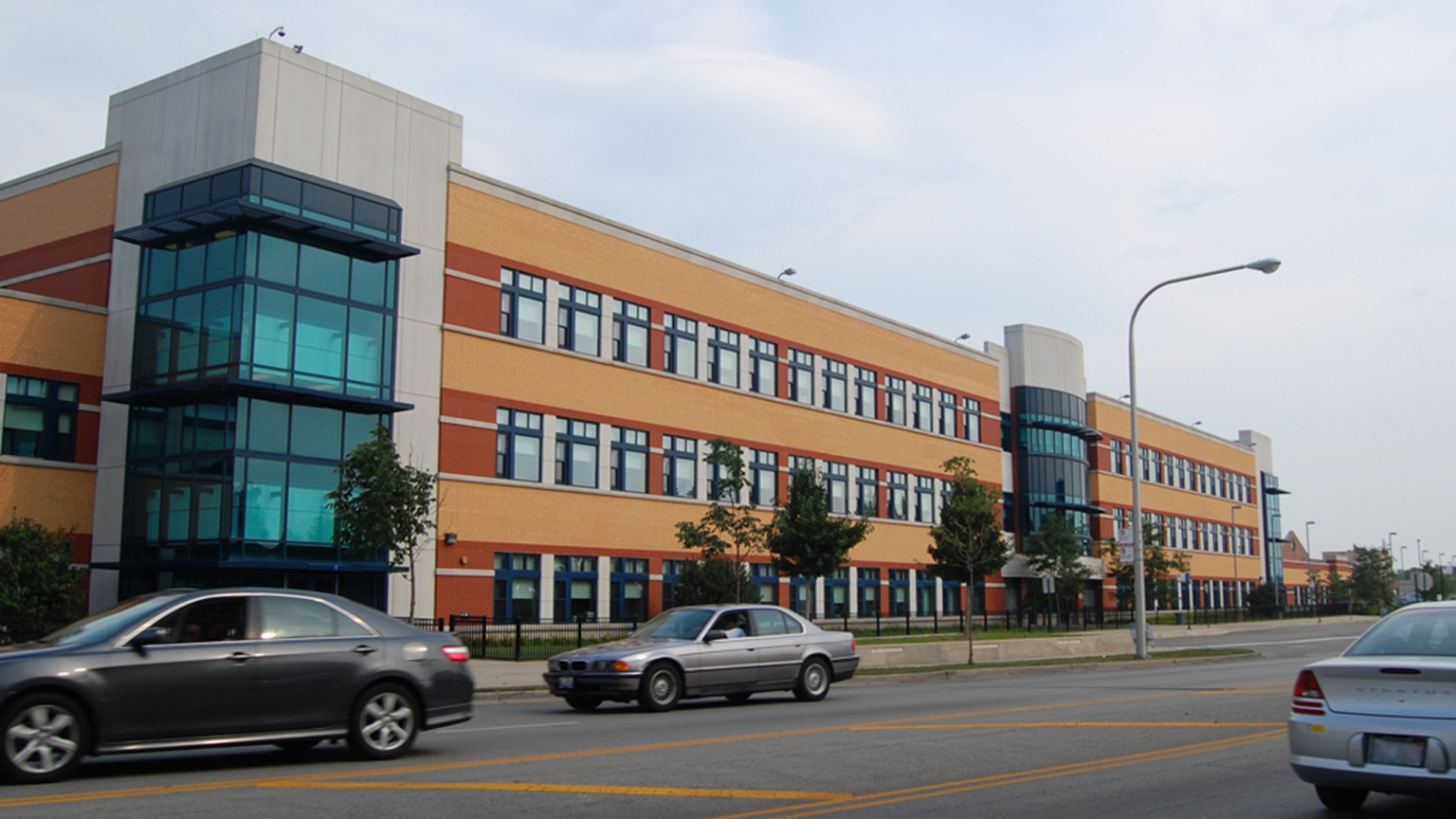 Simeon Career Academy (Eric Allix Rogers / Flickr)
Parents from Simeon Career Academy are calling on Chicago Public Schools leaders to bring back their ousted principal, a month after he was removed amid an ongoing investigation into sexual abuse at the South Side high school.
Simeon principal Sheldon House was one of two school leaders the district removed from their respective spots in June after an internal investigation revealed "systemic issues" and found they had failed to "effectively safeguard" students.
Despite that finding, a group of Simeon parents and school officials want their exiled principal returned to his position, painting the portrait of a man who turned their school around and comparing the damage created by his absence to that of a "Category 5 hurricane."
"Please make Simeon a priority and return our leader, Dr. House, to the house that House built," parent and former Local School Council chair Jovanna Mobley said.
CPS began an internal audit months ago to look into student safety practices at Simeon, focusing specifically on a history of volunteer athletic coaches who were allowed to volunteer and work at the school without completing proper background checks.
One of those volunteers, Gerald Gaddy, had multiple felony convictions on his record before he became an assistant coach at Simeon in 2010. But because the school didn't properly check his background, he was allowed to volunteer. Gaddy was eventually convicted after raping a Simeon student 40 times. His story was included in the Chicago Tribune's bombshell "Betrayed" series, which detailed several cases of adult-on-student sexual abuse within district schools.
During its audit, CPS also became aware of a new sexual abuse allegation against a volunteer at the school, which they say was not handled properly. While that volunteer has been removed from the school, the district is continuing its investigation.
"As a result of district-led investigations into allegations of sexual abuse, two CPS principals were removed from their positions ... due to initial findings that suggest they did not effectively safeguard their students," CPS CEO Janice Jackson said in a statement last month.
District spokesmen did not respond to a request for comment Wednesday afternoon about the status of that investigation. After House was removed, Patricia Woodson, a retired former district principal, was named as administrator in charge at the school until its LSC hires a full-time replacement.
Since the Tribune series was published last month, CPS has undertaken several reforms intended to shore up sexual abuse and harassment prevention policies. Among them, the district has committed to re-doing more than 45,000 staff background checks and worked to strengthen its mandated reporter policy.
House had been at Simeon since 2010 and parents say he helped transform it from an underperforming Level 3 school  – the lowest rung of the CPS School Quality Rating Policy – into a Level 1 school in good standing with the district. Last year, House was among 29 CPS principals added to the district's Independent Schools Principals program, which offers more autonomy to leaders at high-performing schools.
Tanesha Burgin-Reed is a parent of three Simeon graduates. Her eldest son, Demarius, was a member of the first graduating class under House. A talented athlete, Demarius went on to play football at Eastern Michigan University before he was shot and killed inside his campus apartment in 2013.
Burgin-Reed told the board House spoke at her son's funeral services and provided social and emotional support to her middle child, who was then just a freshman at Simeon.
"I also think that while you guys are concluding the investigation, that you think long and hard about who Dr. House is to the Simeon community, to the families and to the future of our community," she said. "He is an asset to the Auburn-Gresham community and I just ask that you take careful consideration in bringing Dr. House back."
Contact Matt Masterson: @ByMattMasterson | [email protected] | (773) 509-5431
---
Related stories:
CPS Pulls 2 Principals From Schools After Sexual Abuse Investigation
CPS Takes 'Unprecedented Step' of Redoing Employee Background Checks
Erin's Law Meant to Protect Students from Sexual Abuse. What Happens When It's Not Enforced?