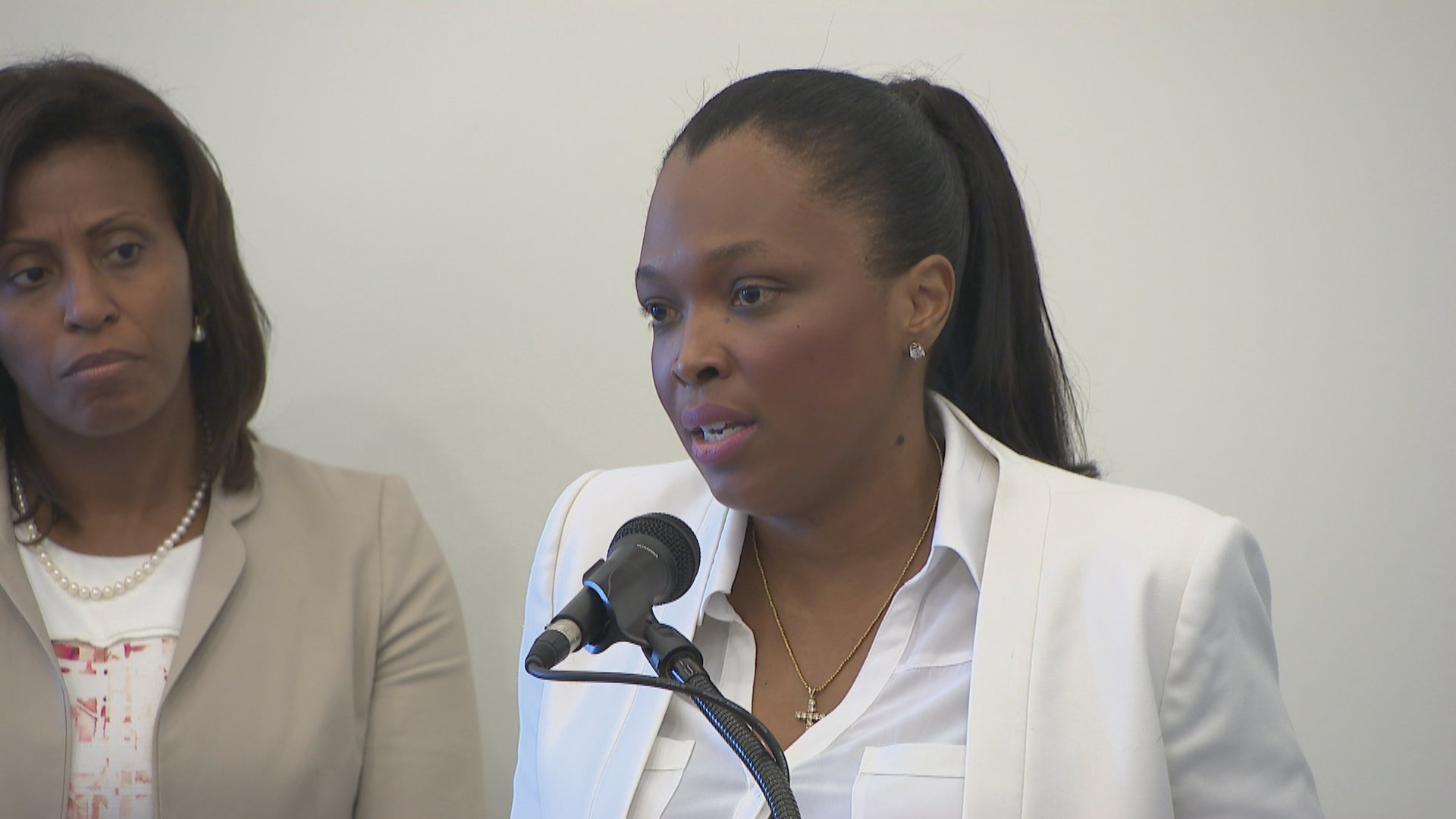 CPS CEO Janice Jackson speaks during a press conference on Monday, June 18, 2018. (Chicago Tonight)
As Chicago Public Schools continues to try and save face following an extensive sexual abuse scandal, the district is asking its employees to be hypervigilant in reporting and stopping sexual abuse within its schools.
The Board of Education on Wednesday unanimously approved changes to its sexual abuse reporting policies, telling employees to "over-report" anything they believe could be sexual abuse or misconduct within district schools.
These moves come in the wake of the Chicago Tribune's "Betrayed" series, which examined how CPS allowed hundreds of students over the last decade to fall victim to sexual abuse or misconduct inside their own schools.
Since then, CPS has revised some of its internal policies and has brought in a former assistant U.S. attorney to run a top-to-bottom review of its sexual misconduct response procedures. The district on Wednesday also announced an all-new office created to better handle cases of student sexual harassment and abuse, and ensure district compliance with Title IX.
The board updated its mandated reporter policy, expanding responsibilities from school-based staff to all CPS employees. It now requires anyone with a reasonable suspicion of neglect or abuse to contact not only the Illinois Department of Children and Family Services (DCFS), but also their direct supervisor or school principal.
Reporters who fail to do so can face punishment up to and including termination. Similarly, principals or supervisors who discourage reporters from contacting DCFS may also be fired. Already this week the district has removed two high school principals following internal investigations into sexual abuse allegations made against staff at Simeon and Goode STEM.
CPS has also put a new emphasis on "grooming," or any inappropriately intimate behavior between an adult and minor, even if it doesn't rise to the level of sexual abuse. Like all other sexual misconduct, employees who have a reasonable suspicion that grooming is occurring in their school now must file a report with their principal and DCFS. 
"We've all worked in schools, we know what it looks like when it's not right," Jackson said. "I also think it's important to remember … this is pervasive throughout our culture in America and it's allowed to persist because people that are predators know how to make things look normal."
The message CPS is sending to its employees is clear: if you see something – anything – say something. Chief Talent Officer Matt Lyons used an example of seeing a teacher and student sitting too closely to each other in an otherwise empty classroom as something that should be reported.
"We want over-reporting," he said.
If a report is made and it turns out there is no abuse or misconduct, Lyons said the worst that could happen is that the district would investigate and find the claims to be unsubstantiated. But Chicago Teachers Union Vice President Jesse Sharkey has concerns with that policy. He said teachers who abuse kids "don't belong in our profession," but also worried about what this policy would mean for educators or tutors who can be removed from their classrooms over an innocuous meeting with a student. 
"Maybe it's clear from a policy point of view, but it's a lot less clear about what that means in the practice for educators and what we have to do in order to make sure we're not being removed from our classrooms for the crime of tutoring our students," he said. "We're going to need real clarity on those things in terms of the way the rubber hits the road on that stuff."
Sharkey wants better communication between CPS and teachers about permissible interactions between school staff and students.
The board on Wednesday also approved a measure moving investigatory power over sexual abuse claims to Inspector General Nicholas Schuler's office (OIG). Along with new investigations, the OIG will be tasked with reviewing hundreds of cases involving CPS students dating back to 2000.
What remains to be seen is what additional resources Schuler will receive to oversee this process. He said he'll need a bigger budget to hire 10-12 additional full-time staffers, but the board resolution approved Wednesday didn't list any specific numbers, stating only that it will provide "additional funding and resources necessary."
Schuler previously told Chicago Tonight he's confident the board will come through. If it doesn't, his office would essentially need to shut down all other work in order to handle this review.
Contact Matt Masterson: @ByMattMasterson | [email protected] | (773) 509-5431
---
Related stories:
CPS Pulls 2 Principals From Schools After Sexual Abuse Investigation
Erin's Law Meant to Protect Students from Sexual Abuse. What Happens When It's Not Enforced?
CPS Chief Responds to Scathing Investigation into Student Sexual Abuse
2 Former CPS Students Sue Board of Ed Over Failure to Prevent Sex Abuse
CPS Failed to Protect Students from Sex Abuse: Tribune Report
---