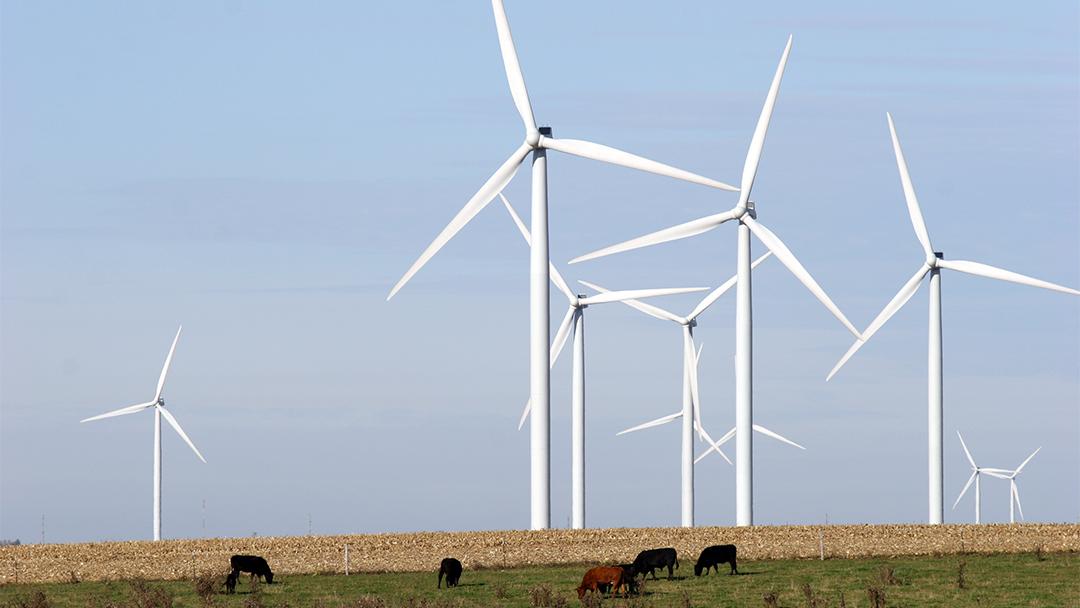 (Courtesy of U.S. Department of Energy Office of Science)
A new report from an environmental advocacy group criticizes Illinois and more than two dozen other states for adopting renewable energy plans that allow for dirty energy sources. 
The report, published Tuesday by the advocacy group Food & Water Watch, gave Illinois a D grade for its renewable energy standards, based largely on the fact that the state allows pollution-heavy energy sources as part of those standards.  
The group evaluated the cleanliness and quality of Renewable Portfolio Standards adopted by Illinois and 28 other states. Each state's RPS program establishes a renewable power goal and target date, and defines which sources of energy count toward fulfilling the goals.
Like Illinois, which includes two "dirty energy sources" in its RPS, the majority of states in the study received grades of D or worse.
The report cites burning waste methane and burning paper mill residue as polluting energy sources in Illinois.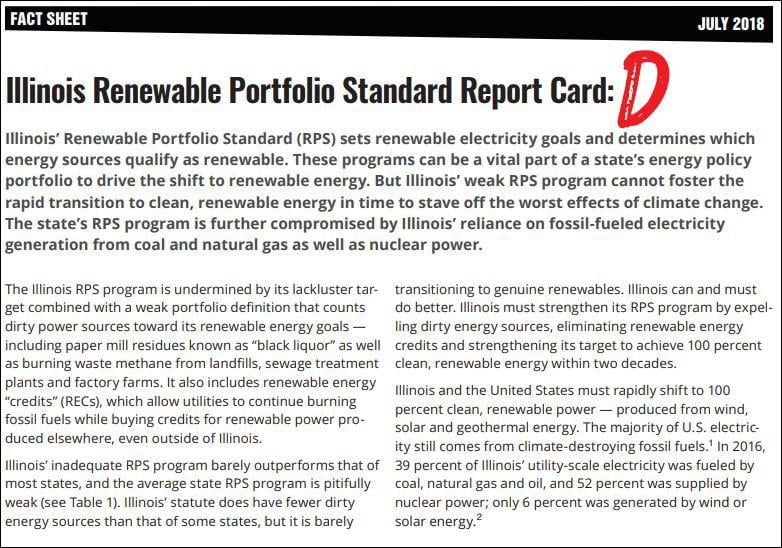 A new report gives Illinois a "D" grade for its renewable energy program. (Courtesy Food & Water Watch) The former involves burning methane from landfills, sewage treatment plants and animal waste collected on factory farms. According to the report, this methane is often referred to as biogas, the burning of which releases greenhouse gases and other harmful pollutants, including nitrogen oxides, ammonia and hydrogen sulfide.
The latter involves something known as "black liquor," a toxic industrial waste from the paper milling process that can be burned for electricity. Burning black liquor emits lung-damaging particulate matter and greenhouse gases that contribute to global warming, according to the report.
The energy sources in Illinois' RPS are part of a long-term renewable energy procurement plan adopted by the state in 2007, which states a goal of "contributing to a cleaner and healthier environment for the citizens of this state." 
"Counting filthy energy as clean, renewable power is a cynical, hazardous ploy to reward polluting industries while avoiding the real work required to transition Illinois to a real clean energy future," said Wenonah Hauter, executive director of Food & Water Watch, in a statement.
According to the nonprofit, in 2016, nearly 40 percent of Illinois' large-scale electricity supply was fueled by coal, natural gas and oil; 52 percent came from nuclear power; and just 6 percent was generated by wind or solar energy.
The report also found that Illinois is projected to miss its target of 25 percent renewable energy by 2025, despite the growing market for solar, wind and other clean sources. Earlier this year, an industry report found that Illinois' solar market is expected to boom over the next five years.
"These Renewable Portfolio Standards, there's no reason they shouldn't be increased due to all the benefits of the transition," said Mark Jacobson, director of Stanford University's Atmosphere/Energy program and a globally recognized expert on renewable energy, during a conference call Tuesday with reporters. "There's so many benefits and so little downside to a transition."
Despite its critiques, the report noted that Illinois' renewable energy plan does not include several common "dirty energy sources" found in other states' portfolios, including garbage incineration, nuclear power and wood-burning power.
Contact Alex Ruppenthal: @arupp | [email protected] | (773) 509-5623
---
Related stories:
Federal Judge: Illinois Environmental Officials Subject to Ethics Rules
Chicago Commits to Renewable Energy for 900-Plus Government Buildings