Salvador Dali once said: "I don't do drugs. I AM drugs." The painter was addressing the inspiration for the surreal content of his dreamlike paintings.
An unusual new art show in Chicago has a direct link to the great Spanish artist. It's a look at fantastic and strange paintings made by Chicago and Midwestern artists in the mid-20th century.
TRANSCRIPT
Jay Shefsky: Some of them seem inspired by sunny daydreams … others by nightmares.
A show at the Arts Club of Chicago looks at how Chicago artists reflected European surrealism and redefined it for themselves.
Janine Mileaf, The Arts Club of Chicago: There's a lot of definitions of it, but in this context it was very much based on the individual psyche. In Europe, there were moments when it was much more political or movement-based, but here I think it was an exploration of the mind, of what could be portrayed of the mind, and of the interests of the individual artist and how their imaginative take on the world could be portrayed for other viewers to maybe be transported to a different kind of approach.
Shefsky: Artists include Ivan Albright, whose deeply dimensional still life is a meditation on time. And Gertrude Abercrombie, Chicago painter of peculiar landscapes that often double as self-portraits.
And there are lesser-known painters, including Julia Thecla, an eccentric who lived in a tiny apartment with chickens and rabbits – and who developed her own method of painting with watercolors.
And Dorothea Tanning, an artist from Galesburg, Illinois, who married the German surrealist Max Ernst.
Mileaf: Surrealism in Chicago is recognizable through meticulous handling and representational imagery, but at the same time when you look closely at that imagery you realize that something's wrong: A woman has her hands down by her side, but her shadow is holding something out in front of her. Or, a man is sitting at a table drawing a stick figure in front of a pot of flowers, so he's not drawing the right thing, the room that he's sitting in crumbles behind him and outside of it you see another reality.
Shefsky: These midcentury artists from the Midwest knew the work of their European contemporaries – including Salvador Dali, who exhibited at the Century of Progress in 1933 and the Arts Club of Chicago in 1941.
Dali sent the Arts Club this decorative letter of thanks.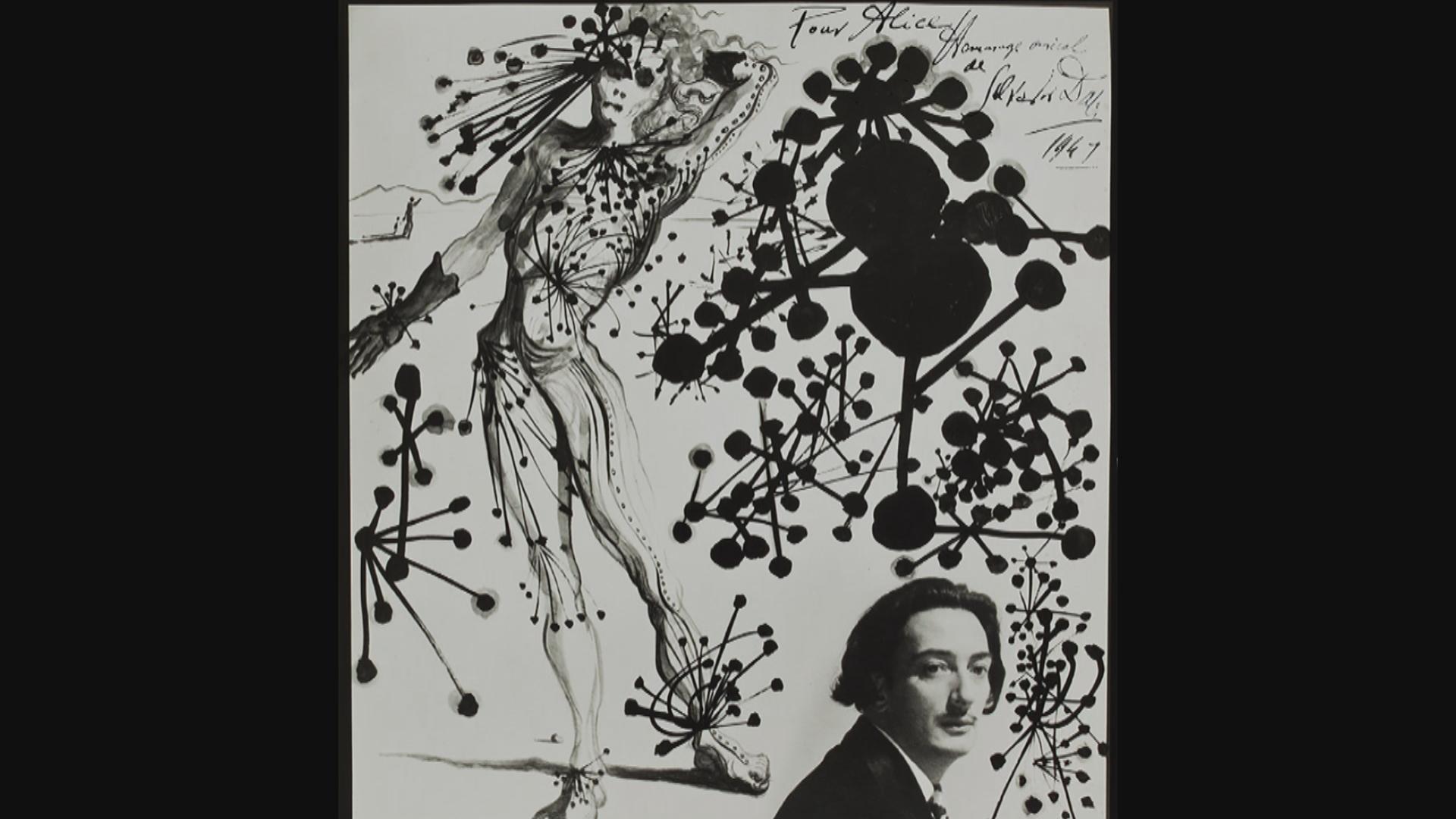 Prominent Chicago collectors also brought surrealist work from Europe to the city.
Mileaf: Chicago has always been known as a place where European surrealism was collected, but the contributions of the homegrown artists have been less recognized, and I think it was just that importation of surrealism was just as important to the painters as it was to the collectors. And that's the story that this show wants to tell.
Shefsky: The Arts of Club of Chicago is a private club, but this exhibition, "A Home for Surrealism," is open to the public.
Mileaf: "A Home for Surrealism" at the Arts Club was supported by the Terra Foundation's initiative Art Design Chicago, and in fact we wouldn't have been able to do this scale of an exhibition without their support.
Shefsky: The Midwestern artists featured here were bucking the trends of the era.
Mileaf: So in the '40s and the 1950s if you asked what was going on in the art world most people would turn to abstract expressionism – giant, heroic painting by men exhibited at large scale – and an interest in abstraction. … But I would say that Chicago did not jump onto that bandwagon, and the painters here just sort of kept at what they were doing.
I do think that the sort of realism of their surrealism was attractive to a Midwestern audience, it was almost like "OK, we'll take your craziness as long as you give it to us in a vocabulary that we can believe in."
More on this story
The exhibition is called "A Home for Surrealism – Fantastic Painting in Midcentury Chicago." It is at the Arts Club of Chicago and open to the public through Aug. 17. For more information, visit the Arts Club's website.
---
Related stories:
130 Artists Unite to Complete Chicagoan's Graphic Novel
Ivan Albright, 'Master of the Macabre,' in the 'Flesh' at Art Institute
Remembering the Lasting Contributions of Art Shay and Art Paul
---