Community reaction is coming in Thursday for the new Lincoln Yards proposal. Slated to be a city-within-a-city, it will include several high rises, offices, music venues and a soccer stadium near Lincoln Park.
Neighborhood groups are asking for a seat at the table, and prominent South Side pastor, the Rev. Michael Pfleger, is slamming the whole idea. This, just weeks after Pfleger led a march calling for more investment on the South Side.
The proposal takes up 52 acres on the former Finkl Steel site along the Chicago River, west of Lincoln Park and east of Bucktown. The developer, Sterling Bay, unveiled the proposals Wednesday night at a community meeting. It calls for, among other things, 5,000 new residential units, about the same number of office space, and high-rises as tall as 70 stories. They estimate the project will create 23,000 permanent on-site jobs and an annual economic impact of $4.2 billion. They've also proposed a soccer stadium in a joint venture with Cubs owner Tom Ricketts, and music venues in a partnership with the Live Nation corporation.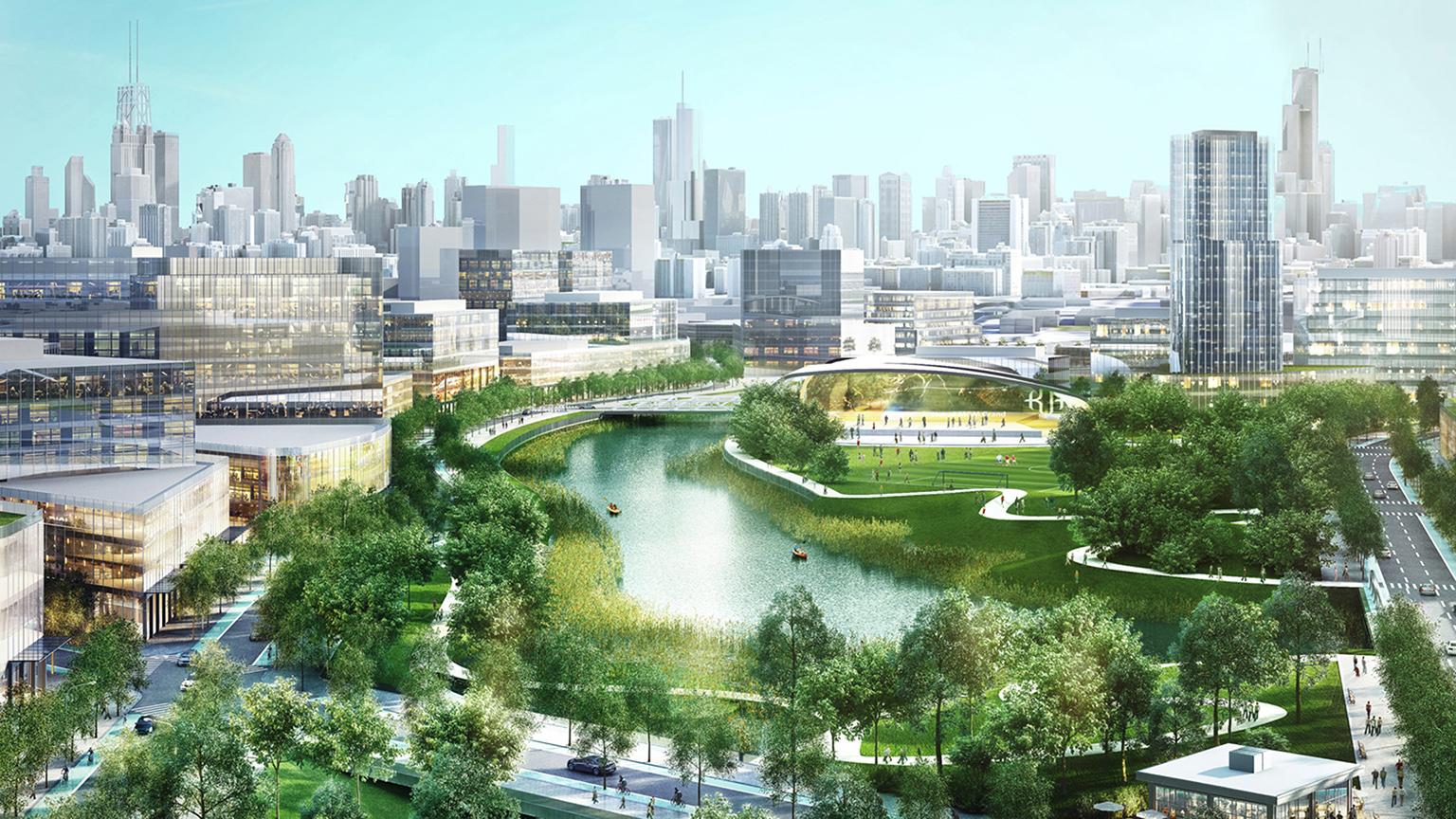 Lincoln Yards artist's rendering (Courtesy Sterling Bay)
Traffic is chief among the concerns of community groups. The area is already congested, so what happens when tens of thousands of new residents and office tenants move in? New roads will have to be built, others will have to be widened and narrowed. They are also proposing public transit options like a busway to the central business district and shuttles to Metra and CTA stations.
Meanwhile, Pfleger tweets:
Yesterday we read that employment is up in Downtown Chicago but still FAILING on South and West sides...Today we hear of a $5 Billion Plan for the North Side.....Perhaps our Elected Officials didn't understand the DAN RYAN SHUTDOWN????

— Fr. Michael Pfleger (@MichaelPfleger) July 19, 2018
---
Ald. Michele Smith, 43rd Ward, has been sharply critical of the plan, saying the city is losing an opportunity to create a new riverfront park – the plan calls for 6 acres of park space. The plan will have to be approved by City Council. Ald. Brian Hopkins, 2nd Ward, says the project is a long way from that.
Follow Paris Schutz on Twitter: @paschutz
---
Related stories:
How Will Lincoln Yards Impact Chicago's Music Scene?
Mayor Emanuel Touts 'Second Waterfront' in Chicago
City Approves Big Changes to Chicago River's North Branch District
---