From a distance, 1229 West Concord in Lincoln Yards looks like every other glass tower in Chicago. (Patty Wetli / WTTW News)
From a distance, 1229 West Concord looks like every other glass tower in Chicago.
But not to birds.
The new eight-story, 150-foot building — a life science lab that's Sterling Bay's first completed structure at its $6 billion Lincoln Yards riverfront development — was constructed with bird-friendly glass. The use of the material is one of several features intended to minimize the sorts of deadly bird collisions Chicago just witnessed in record numbers.
"Most people don't even notice it," the building's architect, Michael Townsend, a principal at Gensler, said of the glass.
By "it," Townsend is referring to the two-by-four pattern of ceramic dots baked into the glass, which was used in the building's lower stories, up to 60 feet, in keeping with recommendations from the American Bird Conservancy.
Video: Patterned glass used at 1229 West Concord will prevent bird collisions. (Patty Wetli / WTTW News)
---
Every year, thousands of birds are killed in collisions with Chicago's glass buildings.
A pattern like the one at 1229 West Concord, known as "fritted" glass, provides a visual cue to discourage birds from attempting to fly "through" glass that either confuses them by mirroring the surrounding landscape or is so transparent that it appears invisible.
Additional bird-friendly measures taken at 1229 West Concord include glass with low reflectivity as well as overhangs that further obscure the glass on the building's river-facing facade.
To lessen the deadly distraction posed to birds by Chicago's bright urban lights, outdoor lighting at the site will be shielded and the building will participate in Chicago's "Lights Out" program — turning off lights during periods of high bird migration, said Rick Kintigh, Sterling Bay's vice president of architecture.
It's a significant win for conservationists to have bird-friendly design showcased at a high-profile megadevelopment like Lincoln Yards.
For one, it raises basic awareness of the issue of bird collisions.
"With some of these big projects adopting bird-friendly design, people will understand glass kills birds," said Judy Pollock, president of Chicago Audubon Society. "We have buildings killing birds like crazy." 
And then there's the value in blazing a trail for others to follow.
"The fact that the big players are showing an ability, that will set an example and promote the product and materials we need," said Annette Prince, director of Chicago Bird Collision Monitors.
Video: Lincoln Yards embraces nature in an urban setting on the Chicago River. (Patty Wetli / WTTW News)
---
While planned developments like Lincoln Yards are required by the city of Chicago to comply with the Chicago Sustainable Development Policy — a policy that includes a buffet of options developers can pick and choose from to reach a "sustainable" target — advocates for bird-safe design have said the policy's bird-friendly menu items have been selected too rarely by too few developers.
Back in 2020, Chicago City Council directed the Department of Planning and Development to strengthen the policy's bird-friendly guidelines. Those revisions have yet to be finalized, though they are expected to be introduced for public comment by the end of the year.
For Sterling Bay, Lincoln Yards' "brand" dictated the prioritization of wildlife when considering sustainable goals at 1229 West Concord.
"We tend to be very contextual designers. The whole of the (Lincoln Yards) neighborhood is being built on a brand of wellness and a connection to the outdoors," said Kintigh.
The development is being laid out to take full advantage of its setting on the Chicago River, where the acreage — the one-time home of Finkl Steel — is being transformed into commercial, retail and residential uses. New parks and native habitat are being created along the riverfront. This habitat is certain to lure more birds, along with pollinators and other critters.
Opting for bird-friendly design was "the right thing to do," Kintigh said. "You might as well do it in a way you're proud of."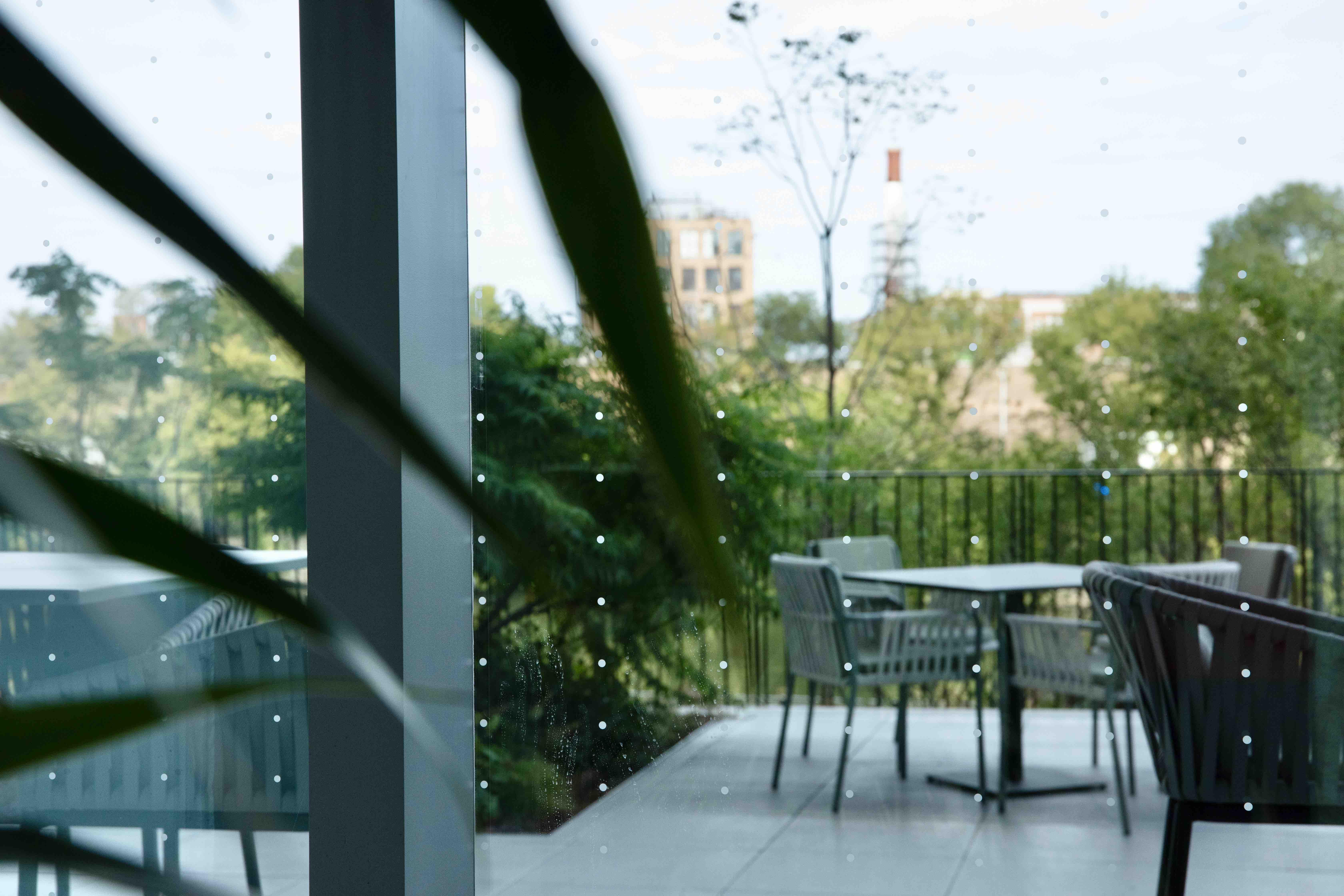 The view from inside 1229 West Concord, looking out through fritted glass. (Michael Izquierdo / WTTW News)
When it came to developing solutions that would best serve birds and the eventual yet-to-be-announced occupants of the building, "we leaned on our consultants and we leaned on the science," Kintigh said.
And in Townsend, Sterling Bay had an architect up for the challenge of incorporating bird-friendly design without sacrificing the building's views of the riverfront and downtown.
A native of Kansas, Townsend grew up the son of avid birders, taking part in Christmas bird counts and traveling to Nebraska to witness the great migration of sandhill cranes. These weren't, he admits, the adventures of a 10-year-old's dreams but they impressed upon him an appreciation for nature and the environment.
In his practice, Townsend said, he routinely raises the issues surrounding glass in terms of bird mortality, and he has seen the pendulum beginning to swing toward bird-friendly design.
When it comes to shifting momentum toward bird-friendly design, Townsend said, three influences come into play.
One is regulatory, like the type of ordinance passed by New York City, which mandates bird-friendly design in new construction and retrofits of older buildings. Advocates are pushing for a similar ordinance in Chicago, particularly in the wake of a recent mass mortality event at McCormick Place.
The other influences are public will and attitudes within the developer community, including a willingness by the latter to invest in bird-friendly solutions that are, at the moment, pricey, Townsend said.
Because the market for something like fritted glass is comparatively small, the pool of manufacturers is limited and the product commands a premium. Kintigh estimates the frit added 20% to the cost of glass at 1229 West Concord. 
But as adoption increases, prices would be expected to fall.
"If more and more people use them, that will lead to ideas and innovation and motivation," said Prince. "We'll see prices go down and it will be easier and easier to build bird-friendly."
Additional bird-friendly measures at 1229 West Concord include overhangs that obscure the glass.(Sterling Bay / Kendall McCaugherty, Hall + Merrick Photographers)
Townsend said he views 1229 West Concord as the "first step for a bigger movement" as bird-friendly design moves toward the mainstream in Chicago — what was once optional will ultimately become expected.
It's an end goal advocates such as Pollock say is closer than ever to becoming reality after years of bird-friendly design being treated as a fringe issue.
"I really do think we're going to see a change," Pollock said. "I think this is kind of the beginning of the turning of the Titanic."
Contact Patty Wetli: @pattywetli | (773) 509-5623 |  [email protected]