The leader of a massive anti-violence protest that shut down the Dan Ryan Expressway on Saturday morning says his next step is to meet with gubernatorial and mayoral candidates to discuss what they'll do to improve safety in South and West Side communities.
The Rev. Michael Pfleger of St. Sabina Catholic Church said he wants to meet with Mayor Rahm Emanuel, Illinois Gov. Bruce Rauner and those who are running for their seats. Youth organizers with the church hope to discuss how those officials and candidates will reduce gun violence in their communities.
Pfleger said they have already heard back from some parties – but wouldn't yet identify who is willing to meet.
"By the end of this week, anybody who has not contacted us, we will contact to try and set up these meetings and then from that we'll go to see what the results are," he told Chicago Tonight on Monday. "If they refuse to meet or if the youth are unsatisfied with the results of the meetings, then there will be the next direct action planned."
Photos: Pfleger, Activists Shut Down Expressway for Anti-Violence Protest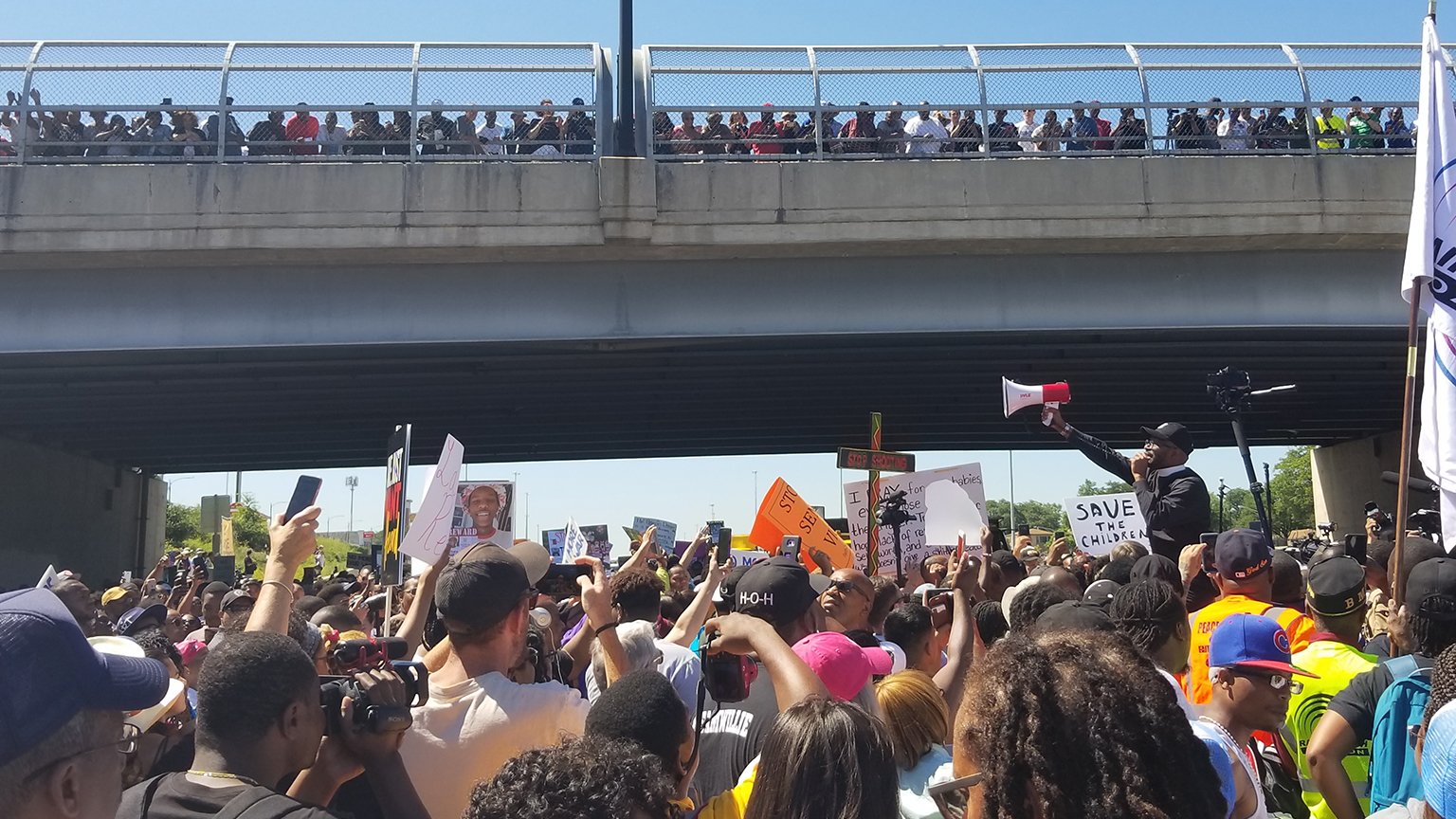 Protesters on the Dan Ryan Expressway on July 7, 2018. (Matt Masterson / Chicago Tonight)
Thousands of protesters marched Saturday onto the Dan Ryan Expressway, shutting down all inbound lanes of the busy artery for about an hour. The march initially took over only two lanes of traffic, but protesters negotiated with Chicago and Illinois State Police to close down every northbound lane until the event concluded.
Pfleger said the response to the march has been extremely positive, calling the protest "a huge success."
"We had gang members out there, we had grandmothers out there, we had children, we had families," he said. "I think there was a sense at the end of real empowerment; that people felt we had stated our concern and the many, many different issues that we all had for a better South and West Side."
No arrests were made during the protest. Pfleger was critical of the state police, which sent out hundreds of officers and Illinois Department of Corrections buses onto the expressway in the event of mass arrests. He described that presence as similar to "a scene from 1960."
.@MichaelPfleger and @Chicago_Police Supt. Eddie Johnson walking off the 67th St. exit arm-in-arm pic.twitter.com/Pr3bqjkAAA

— Matt Masterson (@ByMattMasterson) July 7, 2018
---
But he had positive words for the Chicago Police Department, particularly Police Superintendent Eddie Johnson, who served as an intermediary between protesters and the state police during negotiations to close off the full expressway.
Johnson finished the protest marching arm-in-arm with Pfleger and the Rev. Jesse Jackson as they exited the Dan Ryan.
"He really stepped up and I think he made it clear at that point he was worried about safety and that if the state police were not willing to shut it down (the expressway), he would," Pfleger said.
"I said to him, 'Would you like to walk with us?' and he said 'I'd be happy to.' I think that alone says a whole lot."
Contact Matt Masterson: @ByMattMasterson | [email protected] | (773) 509-5431
---
Related stories:
Dan Ryan March: Pfleger, Activists Shut Down Expressway for Anti-Violence Protest
Mayor Emanuel: Anti-Violence Protesters Should be Allowed to March on Dan Ryan
Youth Activists Hope Dan Ryan March Will Focus Attention on Violence
'Reckless' Anti-Violence March on Dan Ryan Expressway Could Lead to Arrests: State Police
---