When biking through Chicago, the fastest route from point A to point B isn't always the safest – or the most relaxing.
Take, for example, Milwaukee Avenue (also known as the "Hipster Highway"): the thoroughfare linking Wicker Park and other fast-growing North and West Side neighborhoods to downtown is often cited as the busiest biking street in the city. And while it has protected and separated bike lanes, the sheer amount of traffic, from both cars and autos, may overwhelm some bikers looking for a lower-stress route.
Enter transportation journalist John Greenfield's Mellow Chicago Bike Map, which highlights "low-stress north-south and east-west routes spaced roughly a mile apart" in Chicago.
Used in conjunction with the city's official bike map, which lists major bikeways and paths, the two maps provide a comprehensive resource for cyclists to find routes that suit their needs – and perhaps skill levels.
Greenfield knows these streets well – he says he's biked them for nearly 30 years.
Beyond his posts as editor of Streetsblog Chicago and transportation columnist for the Chicago Reader, Greenfield has worked for the Chicago Department of Transportation, as a bike courier and a bike shop worker.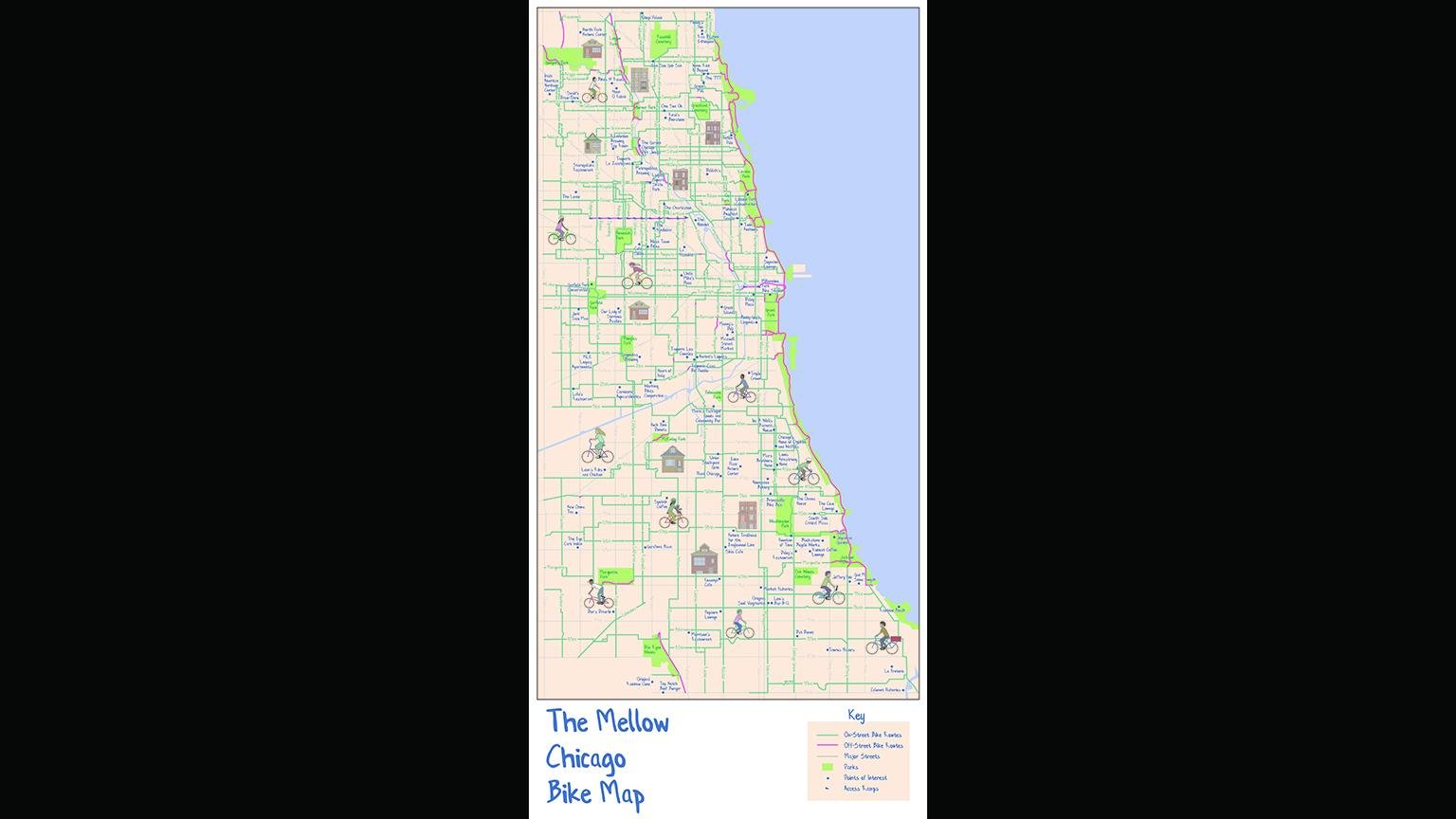 Click to enlarge
While drawing the map, Greenfield sought counsel from cyclists across the city to form a clearer picture of biking conditions in different neighborhoods.
"I ran the draft by dozens of local bike advocates, mostly South and West Siders, women, and people of color, who might know routes and be aware of issues, such as personal security issues that might be off my radar," Greenfield said.
Along with highlighting less-congested streets, the map lists recommended cafés, shops, bars and restaurants.
"The map is also kind of my love letter to Chicago, highlighting many of my favorite parks, trails, points of interest, and eating and drinking establishments," Greenfield said. "And showing how the different parts of Chicago are woven together, and how it can be relatively easy to visit various neighborhoods by bike without dealing with a lot of dangerous and stressful traffic."
The map's current boundaries are, from north to south: Devon Avenue and 95th Street; and, from west to east: Cicero Avenue to Lake Michigan. Greenfield said the map will be expanded to cover all of Chicago by Sept. 1.
Greenfield joins Chicago Tonight to discuss the Mellow Chicago Bike Map.
Follow Evan Garcia on Twitter: @EvanRGarcia
---
Related stories:
Dockless Bikes Roll Out on Chicago's South Side
Navy Pier Flyover Won't Be Completed Until 2019. Why?
Chicago's Bike Infrastructure is Evolving, But Inequality Persists
---