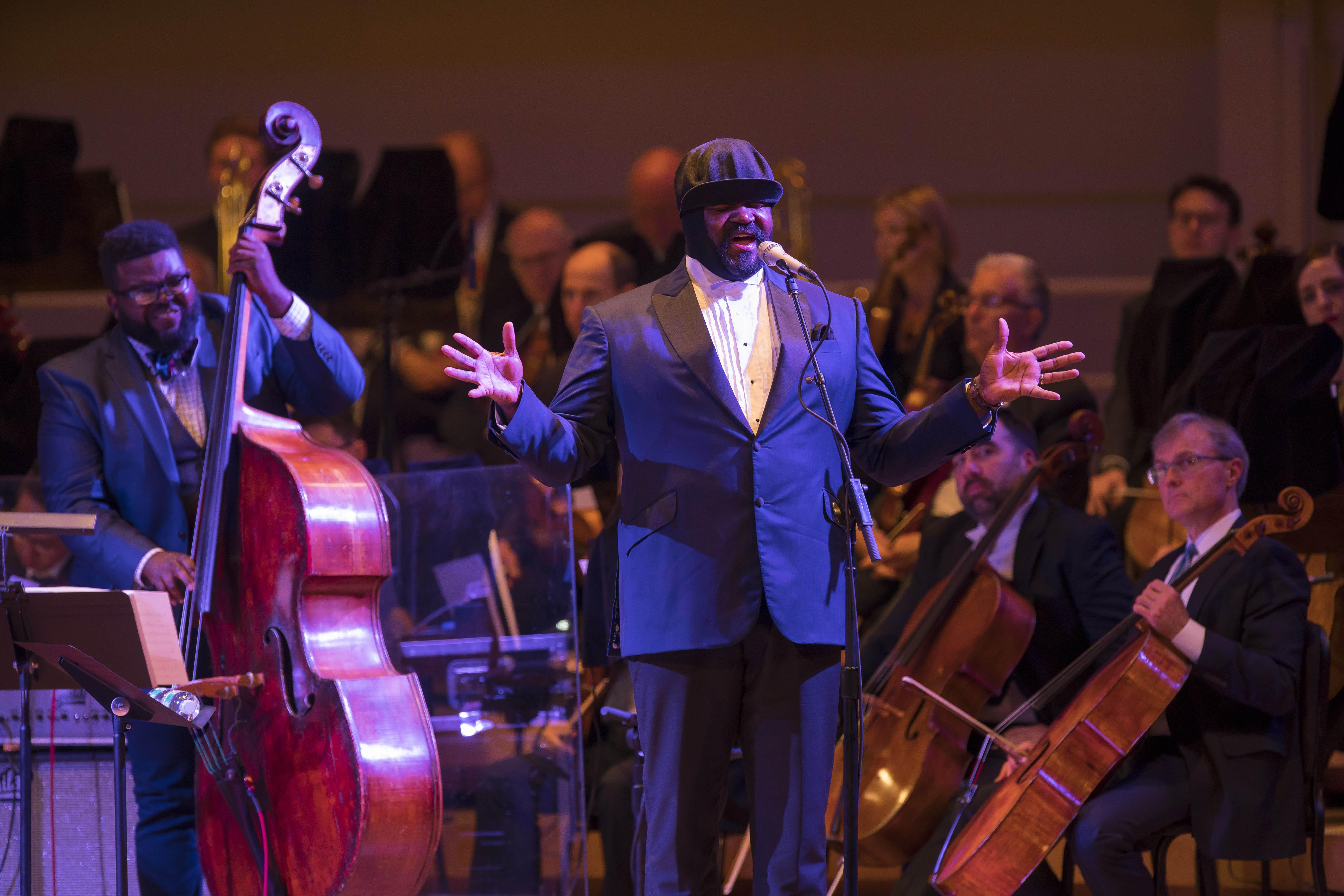 Gregory Porter performs selections from his latest Blue Note album, "Nat King Cole and Me," with the Chicago Symphony Orchestra on June 11, 2018. (Credit: Todd Rosenberg)
Although I don't ordinarily write about fundraisers, the 29th annual Corporate Night concert at Symphony Center on Monday – which raised more than $1 million for the Chicago Symphony Orchestra – was so beguiling that it deserves attention.
The musicians of the CSO were onstage, working their magic throughout, and the multi-faceted conductor Edwin Outwater got things off to a rip-roaring start by leading a performance of Leonard Bernstein's irresistibly wild and zany overture to "Candide" at such a breakneck speed that it probably cut its usual running time in half. The remarkable thing was that every note was precision-tooled and crystal clear, with the flute and percussion accents like musical shooting stars. Musical whiplash in "the best of all possible worlds."
From there it was on to "Rhapsody in Blue," George Gershwin's signature work that in many ways encapsulates the Jazz Age of the 1920s, and remains one of the most sophisticated mash-ups of classical music and jazz ever devised. Pianist Marc-André Hamelin brought such a rippling fluidity to his performance that at moments it felt as if he were improvising.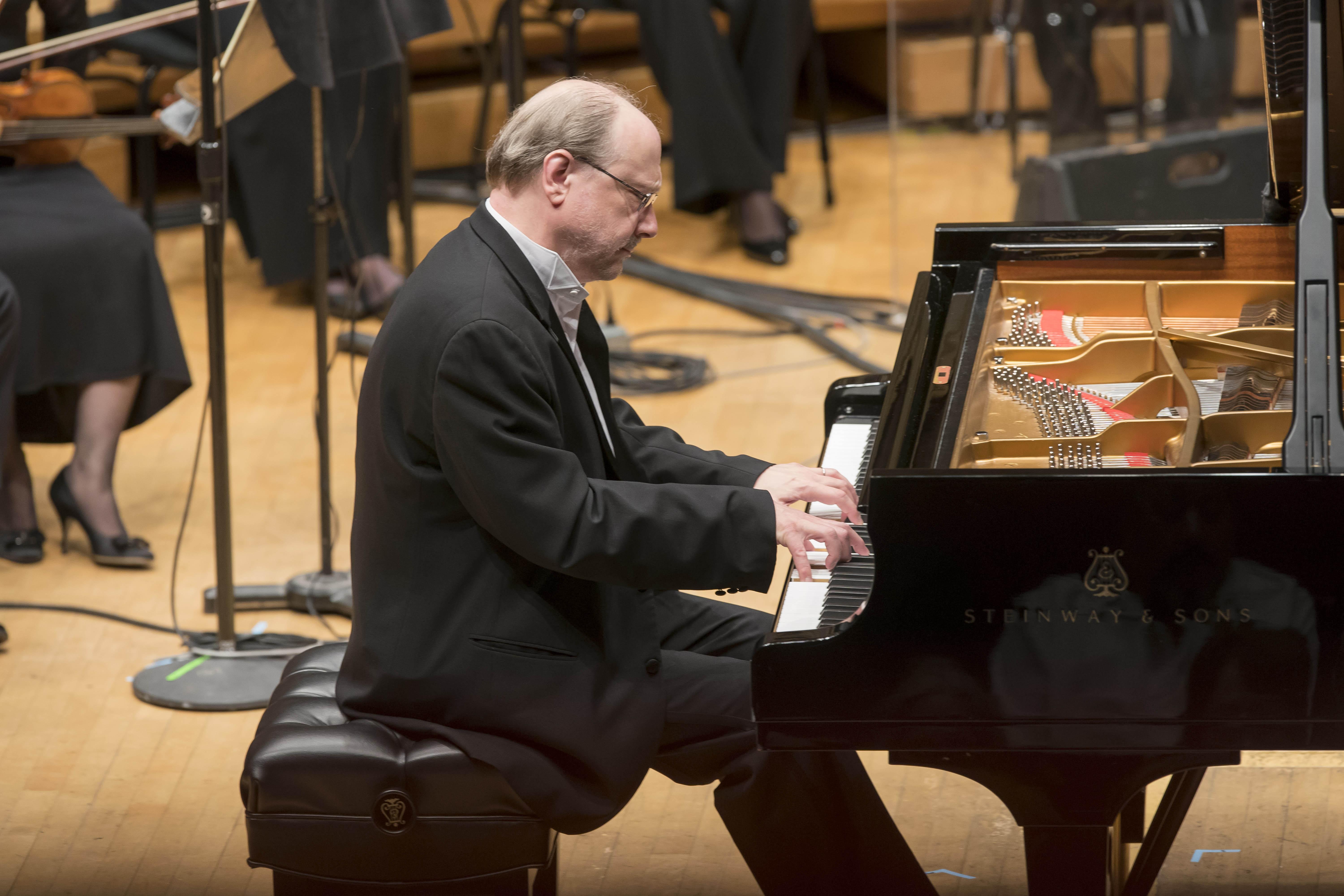 Marc-André Hamelin performed Gershwin's Rhapsody in Blue with the Chicago Symphony Orchestra for the CSOA's 29th annual Corporate Night Concert on June 11, 2018. (Credit: Todd Rosenberg)
The featured performer of the evening was singer-songwriter Gregory Porter, a powerful figure of a man (a football player in his youth), with a special connection to the Nat King Cole songbook.
An unabashed but unsentimental romantic, with a rich, warm baritone that has echoes of his idol Cole's unique timbre (and also is marked by impeccable diction), Porter wore his heart on his sleeve in a program titled "Nat 'King' Cole and Me," which echoes the title of his CD. Above all, he is a master storyteller who brings an immediacy and deep meaning to such familiar classics as "Mona Lisa" and "Nature Boy."
Porter is all about the power of love, whether in his mesmerizing interpretation of "When Love Was King," or his wonderful self-penned song, "Be Good (Lion's Cage)," or his quietly aching take on "I Wonder Who My Daddy Is" (full of yearning for his own absentee father), or his song filled with hope for his son (with the refrain "Boy, don't you lose your head of dreams").
Porter was winningly "backed" by the CSO as well as by the superb members of his own band, including the extraordinary Tivon Pennicott on tenor saxophone, Jahmal Nichols on bass, Chip Crawford on piano and Emanuel Harrold on drums.
Leaving Symphony Hall I kept thinking: Someone should write a musical for this man. Better yet, maybe he should write one for himself.
---
Uchida and CSO Put Their Bravura Stamp on Bartok's Piano Concerto No. 3
A Musical Marvel as CSO, Salonen Soar in Mahler's Haunting Symphony No. 9
John Malkovich joins CSO and Muti in Copland's 'Lincoln Portrait'
---